Abstract
There has been an increasing interest in the evolution of urban forests. This research uses historic and digital aerial photography to quantify changes in tree density in Los Angeles, California since the 1920's. High-resolution geographic information system analysis (4 to 6 time periods) of three regions (San Fernando Valley, Hollywood, Los Angeles Basin) of Los Angeles reveals that there has not always been an increase in tree density with time. Tree densities on public and private land were highest in the 1940's in Hollywood, while the San Fernando Valley and Los Angeles Basin experienced a near linear increase in tree density on both private and public land since the 1920's. When historic tree density reconstructions were examined for the 15 Los Angeles city council districts from the 1920's, 1950's and 2006, most districts in Los Angeles have experienced a significant increase in tree density, however, there has been wide variation in tree densities among city council districts. Trees densities have generally been higher on private land since the 1920's and currently tree densities on private land are significantly higher than on public land. Results suggest the evolution of urban forests in Los Angeles mirrors the dynamics of urban forests in desert and grassland cities. It is possible to reconstruct the development of urban forests in sections of cities using historic and contemporary aerial photography. We estimated that Los Angeles averages approximately 104 trees per hectare (82 private land, 22 public land) based on 2006 imagery at 0.3 m resolution, however, field validation suggests that we identified only 73% of trees. Although there is still space to plant trees on public land, private land owners will need to be heavily involved in order to achieve the goals of Los Angeles' Million Tree Initiative.
Access options
Buy single article
Instant access to the full article PDF.
USD 39.95
Price excludes VAT (USA)
Tax calculation will be finalised during checkout.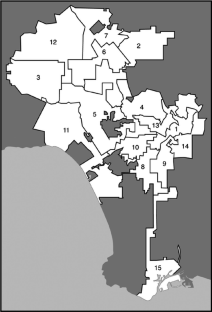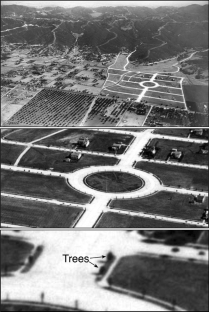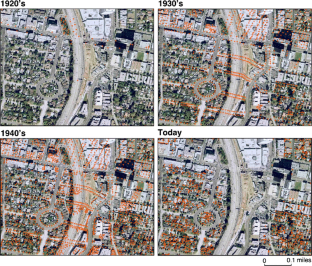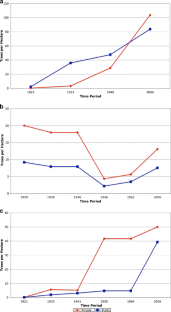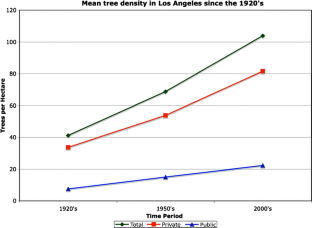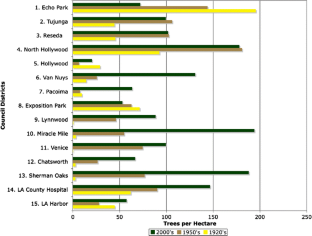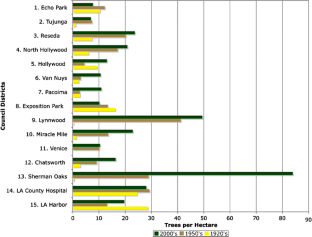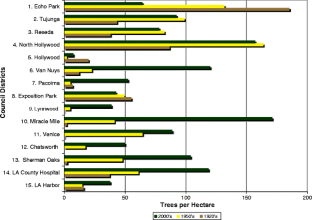 References
Anderson JR, Hardy EE, Roach JT, Witmer RE (1976) A land use and land cover classification system for use with remote sensor data. US Geol Survey Prof Paper 964

Cauley SM, Goetz SJ (2004) Mapping residential density patterns using mulit-temporal Landsat data and a decision-tree classifier. Inter J Rem Sens 25:1077–1094

Grimm NB, Faeth SH, Golubiewski NE, Redman CL, Wu J, Bai X, Briggs JM (2008) Global change and ecology of cities. Science 319:756–760

Grimmond CSB, Souch C, Hubble MD (1996) Influence of tree cover on summertime surface energy balance fluxes, San Gabriel Valley, Los Angeles. Clim Res 6:45–57

Groom G, Mucher CA, Ihse M, Wrkba T (2006) Remote sensing in landscape ecology: experiences and perspectives in a European context. Land Ecol 21:391–408

Jensen JR (2007) Remote sensing of the environment: a earth resource perspective. Wiley, New York

Longcore T, Li C, Wilson J (2004) Applicability of city green urban ecosystem analysis software to a densely built urban neighborhood. Urban Geogr 25:173–186

Luck M, Wu J (2002) A gradient analysis of urban landscape patterns: a case study from the Phoenix metropolitan region, Arizona, USA. Land Ecol 17:327–339

Luttik J (2000) The value of trees, water and open space as reflected by house prices in the Netherlands. Landsc Urban Plan 48:161–167

Mast JN, Veblen TT, Hodgson ME (1997) Tree invasion within a pine/grassland ecotone: an historic approach with historic aerial photography and GIS modeling. For Ecol Manag 93:181–194

McDonnell MJ, Hahs AK (2008) The use of gradient analysis studies in advancing our understanding of the ecology of urban landscapes: current status and future directions. Land Ecol 23:1143–1155

McPherson GE, Haip RA (1989) Emerging desert landscape in Tucson. Geogr Rev 79:435–449

McPherson GE, Nowak D, Heisler G, Grimmond S, Souch C, Grant R, Rowntree R (1997) Quantifying urban forest structure, function, and value: the Chicago Urban Forest Climate Project. Urban Ecosyst 1:49–61

McPherson GE, Simpson JR, Xiao Q, Wu C (2008) Los Angeles 1-million tree canopy cover assessment. PSW-GTR-207, United States Department of Agriculture

McPherson GE, Simpson JR, Xiao Q, Wu C (2011) Million trees Los Angeles canopy cover and benefit assessment. Landsc Urban Plan 99:40–50

Nowak DJ, Rowntree RA, McPherson EG, Sisinni SM, Kerkmann ER, Steves JC (1996) Measuring and analyzing urban tree cover. Landsc Urban Plan 36:49–57

Pauleit S, Duhme F (2000) GIS assessment of Munich's urban forest structure for urban planning. J Arboric 26:133–141

Pincetl SS (2003) Transforming California: a political history of land use development. John Hopkins, Baltimore

Pincetl SS (2009) The regional management of growth in California: a history of failure. Int J Urban Reg Res 18:256–274

US Census (2009) Historic resident population of Los Angeles County. http://www.census.gov

Zipperer WC, Sisinni SM, Pouyat RV (1997) Urban tree cover: an ecological perspective. Urban Ecosyst 1:229–246
Acknowledgements
We thank Lisa Sarno, Lauren Sullivan, and Kirsten O'Neil for comments on this manuscript. Chase Langford provided assistance with graphics. We thank John DeGoode and Luis Aguilar for help with field validation. We thank the National Science Foundation (NSF HSD 0624177) and the Environmental Protection Agency (EPA-G2006-STAR-H1) for funding this research.
About this article
Cite this article
Gillespie, T.W., Pincetl, S., Brossard, S. et al. A time series of urban forestry in Los Angeles. Urban Ecosyst 15, 233–246 (2012). https://doi.org/10.1007/s11252-011-0183-6
Published:

Issue Date:

DOI: https://doi.org/10.1007/s11252-011-0183-6
Keywords
Aerial photography

Geographic information system

Los Angeles

Public and private land

Time series

Tree density

Urban forests