Abstract
Chironomid assemblages of 22 artificial water bodies, mainly fountains, in two South American cities were surveyed. We found surprisingly low diversities, with a total of 11 taxa, averaging two taxa per site. The typical fountain assemblages mainly consisted of common species that have a wide distribution pattern and are tolerant to organic pollution. Also taxa independent of the natural aquatic sources, such as tap-water and semi-terrestrial species were represented. There was no significant difference between the taxa richness of the two S. American regions, however, the assemblage structures of the water bodies of Quito and Bogotá differed significantly. There was no correlation between sample similarities and distances among the sites either. The low number of taxa recorded can be attributed to the combination of naturally limited species pool and the heavy pollution in natural water bodies as colonization sources.
Access options
Buy single article
Instant access to the full article PDF.
USD 39.95
Price excludes VAT (USA)
Tax calculation will be finalised during checkout.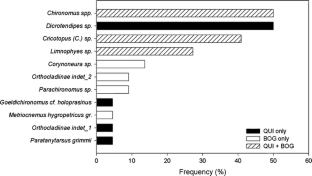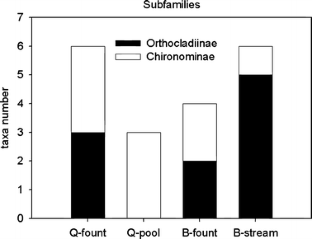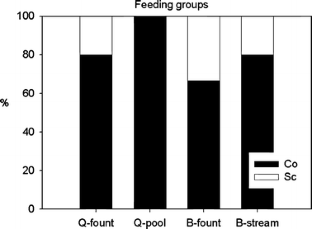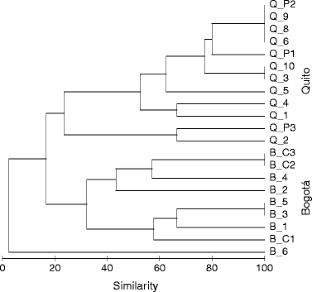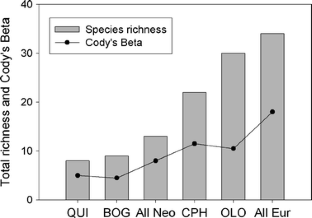 References
Abellán SF, Millán A, Botella F, Sánchez-Zapata JA, Giménez A (2006) Irrigation pools as macroinvertebrate habitat in a semi-arid agricultural landscape (SE Spain). J Arid Environ 67:255–269

Batzer DP, Resh VH (1992) Macroinvertebrates of a California seasonal wetland and responses to experimental habitat manipulation. Wetlands 12:1–7

Bazzanti M, Seminara M, Tamorri C (1989) A note on Chironomids (Diptera) of temporary pools in the National Park of Circeo, Central Italy. Hydrobiol Bull 23(2):189–183

Boulton AJ (1989) Over-summering refuges of aquatic macroinvertebrates in two intermittent streams in central Victoria. Trans R Soc S Aust 113:23–34

Boulton AJ, Lake PS (1992) The ecology of two intermittent streams in Victoria, Australia. III. Temporal changes in faunal composition. Freshw Biol 27:123–138

Clarke KR, Green RH (1988) Statistical design and analysis for a biological effect study. Mar Ecol Prog Ser 46:213–226

Cook WM, Faeth SH (2006) Irrigation and land use drive ground arthropod community in an urban desert. Environ Entomol 35(6):1532–1540

Cranston PS, Judd DD (1987) Metriocnemus (Diptera: Chironomidae)—An ecological survey and description of a new species. J NY Entomol Soc 95:534–546

Delettre YR (2005) Short-range spatial patterning of terrestrial Chironomidae (Insecta: Diptera) and farmland heterogeneity. Pedobiologia 49:15–27

Delettre YR, Morvan N (2000) Dispersal of adult aquatic Chironomidae (Diptera) in agricultural landscapes. Freshw Biol 44:399–411

Donato M, Paggi AC, Epler JH (2008) New record, geographic variation and redescription of Apedilum elachistus Townes (Diptera: Chironomidae: Chironominae). Stud Neotrop Fauna Environ 43(2):125–134

Epler JH (2001) Identification Manual for the larval Chironomidae (Diptera) of North and South Carolina. North Carolina Department of Environment and Natural Resources. Division of Water Quality, p 528

Faeth SH, Warren PS, Shochat E, Marussich WA (2005) Trophic dynamics in urban communities. Bioscience 55:399–407

Grimm NB, Faeth SH, Golubiewski NE, Redman CL, Wu J, Bai X, Briggs JM (2008) Global change and the ecology of cities. Science 319:756–760

Hamerlík L (2007) Chironomidae (Diptera) from fountains new for Czech Republic. Lauterbornia 61:137–140

Hamerlík L, Brodersen KP (2010) Non-biting midges (Diptera: Chironomidae) from fountains of two European cities: micro-scale island biogeography. Aquat Insects 32(1):67–79

Jones RC, Clark CC (1987) Impact of watershed urbanization on stream insect communities. Water Resour Bull 23:1047–1055

Langton PH (1991) A key to pupal exuviae of West Palaearctic Chironomidae. Privately published by P. H. Langton, 3, St. Felix Road, Ramsey Forty Foot, Huntingdon, Cambridgeshire. England PE17 1YH, p 386

Magurran A (1988) Ecological diversity and its measurement. Princeton University Press, Princeton, p 179

McLachlan A (1993) Can two species of midge coexist in a single puddle of rain-water? Hydrobiologia 259:1–8

Moog O (e.) (1995) Fauna Aquatica Austriaca. Wasserwirtschaftskataster, Bundesministerium für Land- und Forstwirtschaft, Wien

Paul MJ, Meyer JL (2001) Streams in the urban landscape. Annu Rev Ecol Syst 32:333–365

Sæther OA (1995) Metriocnemus van der Wulp; seven new species, revision of species, and new records (Diptera: Chironomidae). Ann Limnol 31:35–64

Seaby RMH, Henderson PA (2004) Community Analysis Package 3.0. Pisces Conservation Ltd, Lymington

Siri A, Paggi AC (2010) A new species of the genus Ablabesmyia Johannsen from the Neotropics and description of the pupa of Ablabesmyia bianulata Paggi (Diptera: Chironomidae: Tanypodinae). Zootaxa 2386:49–58

Verberk WCEP, van Duinen GA, Brock AMT, Leuven RSEW, Siepel H, Verdonschot PFM, van der Velde G, Esselink H (2006) Importance of landscape heterogeneity for the conservation of aquatic macroinvertebrate diversity in bog landscapes. J Nat Conserv 14:78–90

Wiederholm T (ed) (1983) Chironomidae of the Holarctic region. Keys and diagnoses. Part I. Larvae. Ent Scand 19:1–457

Wiederholm T (ed) (1986) Chironomidae of the Holarctic region. Keys and Diagnoses. Part II. Pupae. Ent Scand 28:1–482

Wiederholm T (ed) (1989) The adult males of the Chironomidae (Diptera) of the Holarctic region. Keys and diagnoses. Ent Scand 34:1–532

Williams DD (1996) Environmental constraints in temporary fresh waters and their consequences for the insect fauna. J N A Benthol Soc 15(4):634–650

Williams P, Whitfield M, Biggs J, Bray S, Fox G, Nicolet P, Sear D (2003) Comparative biodiversity of rivers streams, ditches and ponds in an agricultural landscape in Southern England. Biol Conserv 115:329–341

Wilson MV and Shmida A (1984) Measuring Beta diversity with presence-absence data. J Ecol 72:1055–1064

Wood PJ, Greenwood MT, Barker SA, Gunn J (2001) The effects of amenity management on the conservation value of aquatic invertebrate communities in old industrial pools. Biol Conserv 102:17–29

Zilli F, Marchese M, Paggi A (2009) Life cycle of Goeldichironomus holoprasinus Goeldi (Diptera: Chironomidae) in laboratory. Neotrop Entomol 38(4):472–476
Acknowledgement
We wish to thank to Laura and Paula de Paiva for sampling assistance. We are also grateful for the field assistance from Signe M. Vie and Jesper Kuhn, as well as Heather Mariash for proof reading and helpful notes. This work was funded by Dean Jacobsen's Biodiversity grant 2008 from the WWF-Novozymes.
Appendix 1
Appendix 1
Table 2
About this article
Cite this article
Hamerlík, L., Jacobsen, D. & Brodersen, K.P. Low species richness of non-biting midges (Diptera: Chironomidae) in Neotropical artificial urban water bodies. Urban Ecosyst 14, 457–468 (2011). https://doi.org/10.1007/s11252-011-0163-x
Published:

Issue Date:

DOI: https://doi.org/10.1007/s11252-011-0163-x
Keywords
Chironomidae

Urban ecology

Artificial water bodies

Colonization

Ecuador

Colombia