Abstract
The aim of this study is to propose the application of landscape ecology in planning urban ecological networks to conserve nature in urban landscapes and to develop a sustainable use of urban lands. Compared to the classical planning approach based on socio-economic land suitability, the principles of landscape ecology are helpful simultaneously conserving the ecological processes of landscapes and their steady changes. This approach could help in defining sustainable landscape development, aiming for a balance between both physical and natural systems in urban areas. This research is focused on the ecological networks in Tehran's metropolitan area as a case study to provide a model for network planning in other urban areas, where urbanization seriously threats the natural environment. In concluding this research, the spatial structure and function of the area are studied and categorized based on the patch-corridor-matrix model. The paper concludes with methods of intervention and suggestions for the structural and functional improvement of urban landscapes towards achieving a more sustainable form of land use planning.
Access options
Buy single article
Instant access to the full article PDF.
US$ 39.95
Tax calculation will be finalised during checkout.
Subscribe to journal
Immediate online access to all issues from 2019. Subscription will auto renew annually.
US$ 79
Tax calculation will be finalised during checkout.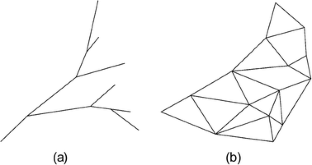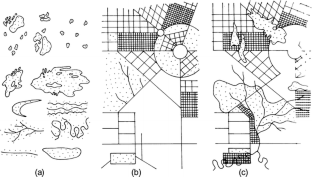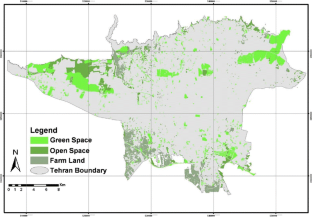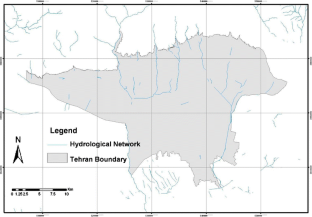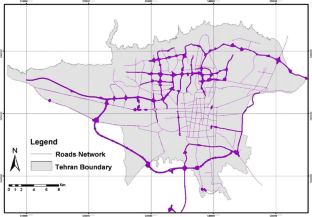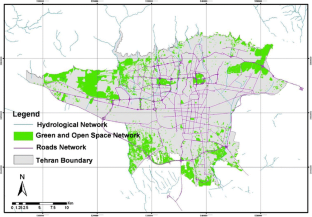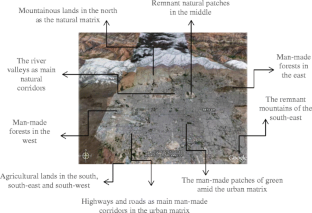 References
Ahern J (1995) Greenways as a planning strategy. Landsc Urban Plan 33:131–155. doi:10.1016/0169-2046(95)02039-V

Ahern J (2002) Greenways as strategic landscape planning: theory and application. Dissertation, Wageningen University, Wageningen, the Netherlands

Cook E, Vanlier HN (1994) Landscape planning and ecological networks. Elsevier, Amsterdam

Cranz G, Boland M (2005) Defining the sustainable park: a fifth model for urban parks. Landsc J 23(2–04):102–120

Fabos JG (2004) Greenway planning in the United States: its origins and recent case studies. Landsc Urban Plan 68:321–342. doi:10.1016/j.landurbplan.2003.07.003

Forman R (1997) Land mosaics: The ecology of landscapes and regions. Cambridge University Press, Cambridge

Forman RTT (1995) Land mosaics: The ecology of landscapes and regions. Cambridge University Press, Cambridge, UK

Forman RTT, Godron M (1986) Landscape ecology. Wiley & sons, New York

Ingegnoli V (2002) Landscape ecology: A widening foundation. Springer, Berlin

Jongman R, Pungetti G (2004) Ecological networks and greenways concept, design, implementation. Cambridge University Press, UK

Jongman RHG (1995) Nature conservation planning in Europe: developing ecological networks. Landsc Urban Plan 32:163–183. doi:10.1016/0169-2046(95)00197-O

Linehan JR, Gross M (1998) Back to future, back to basics: the social ecology of landscapes and future of landscape planning. Landsc Urban Plan 42:207–224. doi:10.1016/S0169-2046(98)00088-7

Little CE (1999) Greenway for America. Johns Hopkins University Press, Baltimore

Makhzoumi J (2000) Landscape ecology as a foundation for landscape architecture: application in Malta. Landsc Urban Plan 50:167–177. doi:10.1016/S0169-2046(00)00088-8

Makhzoumi J, Pungetti G (1999) Ecological landscape design and planning: The mediterranean context. E & FN Spon, London

Maruani T, Cohen I (2007) Open space planning models: A review of approaches and methods. Landsc Urban Plan 81:1–13. doi:10.1016/j.landurbplan.2007.01.003

McHarg IL (1969) Design with nature. The Natural History Press, Garden City, New York, USA

Opdam P, Steingrover E, Rooij S (2006) Ecological networks: A spatial concept for muti-actor planning of sustainable landscapes. Landsc Urban Plan 75:322–332

Pickett STA, Cadenasso ML, Grove JM, Nilon CH, Pouyat RV, Zipperer WC, Costanza R (2001) Urban ecological systems: linking terrestrial ecological, physical, and socioeconomic components of metropolitan areas. Annu Rev Ecol Syst 32:127–157

Sanderson J, Harris LD (2000) Landscape ecology a top-down approach. Lewis, Boca Raton, Florida, USA

Schreiber K-F (ed) (1988) Connectivity in landscape ecology. Proc. 2nd Int. Seminar of IALE, Münster 1987. Münster, Schuningh, Münsterische geographische Arbeiten

Steiner F (2000) The living landscape, in An ecological Approach to Landscape Planning. McGraw hill, New York, USA

TPL (The Trust for Public Land) (2006) The excellent city park system. San Francisco, CA, USA

Turner T (1995) Greenways, blueways, skyways and other ways to a better London. In: Fabos JG, Jack A (eds) Greenways: The beginning of an international movement. Elsevier, New York, pp 269–282

Turner T (2006) Greenway planning in Britain: recent work and future plans. Landsc Urban Plan 76:240–251. doi:10.1016/j.landurbplan.2004.09.035

Yavari AR, Sotoudeh A, Parivar P (2007) Urban environmental quality and landscape structure in Arid Mountain environment. Int J Environ Res 1(4):325–340

Yavari AR (2002) Ecological restoration of urban landscape: natural river valley corridors, the 1st seminar on infrastructure and urban development. University of Tehran, Faculty of Engineering, Tehran
Acknowledgements
This paper is based on the findings of a research project carried out at the Center of Excellence for the Sustainable Urban Development of the University of Tehran with the financial support of the Vice-Chancellor for Research.
About this article
Cite this article
Aminzadeh, B., Khansefid, M. A case study of urban ecological networks and a sustainable city: Tehran's metropolitan area. Urban Ecosyst 13, 23–36 (2010). https://doi.org/10.1007/s11252-009-0101-3
Keywords
Natural systems

Ecological urban networks

Landscape planning

Patches and corridors

Tehran metropolitan area