Abstract
As rapid urbanization continues, existing natural areas within urban zones will play a critical role in safeguarding remaining biodiversity. Ants are an integral part of almost every terrestrial ecosystem, including urban environments, and understanding which environmental characteristics influence their persistence is critical. In this study, 24 protected natural areas within urban parks including mosaic, scrub, herbaceous and forest habitats were surveyed for ants with 563 pitfall traps. The data provide insights into the distribution and abundance of ant fauna in San Francisco natural areas, as well as which characteristics of parks have the most influence on ant community composition. A total of 2,068 ant individuals representing 15 species were collected. A regression analysis revealed that urban forests reduced ant richness and abundance and that there was little or no impact of the Argentine ant on native ants. Natural area size and shape were not important in explaining variations in overall ant species richness and abundance, with many smaller natural areas harboring ant populations that are just as diverse and robust as larger areas.
This is a preview of subscription content, log in to check access.
Access options
Buy single article
Instant access to the full article PDF.
US$ 39.95
Tax calculation will be finalised during checkout.
Subscribe to journal
Immediate online access to all issues from 2019. Subscription will auto renew annually.
US$ 99
Tax calculation will be finalised during checkout.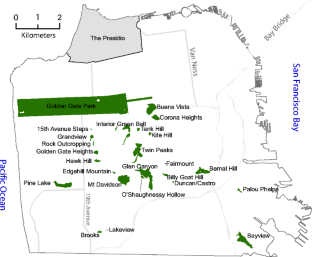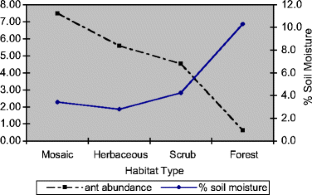 References
Adams LW (2005) Urban wildlife ecology and conservation: a brief history of the discipline. Urban Ecosyst 8:139–156

Adams LW, Dove LE (1989) Wildlife reserves and corridors in the urban environment. National Institute for Urban Wild, Columbia, MD

Ahrens CD (1994) Meteorology today. West Publishing, St. Paul, MN

Andersen AN (1995) A classification of Australian ant communities, based on functional-groups which parallel plant life-forms in relation to stress and disturbance. J Biogeogr 22:15–29

Andersen AN, Hoffmann BD, Muller WJ, Griffiths AD (2002) Using ants as bioindicators in land management: simplifying assessment of ant community responses. J Appl Ecol 39:8–17

Angilletta MJ, Wilson RS, Niehaus AC, Sears MW, Navas CA, Ribeiro PL (2007) Urban physiology: city ants possess high heat tolerance. PLoS ONE 2:e258

Azevedo J, Morgan DL (1974) Fog precipitation in coastal California forests. Ecology 55:1135–1141

Baur B, Baur A (1993) Climatic warming due to thermal-radiation from an urban area as possible cause for the local extinction of a land snail. J Appl Ecol 30:333–340

Beattie AJ (1985) The evolutionary ecology of ant–plant mutualisms. Cambridge Univ. Press, Cambridge, UK

Bestelmeyer BT, Wiens JA (2001) Ant biodiversity in semiarid landscape mosaics: the consequences of grazing vs. natural heterogeneity. Ecol Appl 11:1123–1140

Beyer HL (2004) Hawth's analysis tools for ArcGIS. Available at http://www.spatialecology.com/htools

Bolger DT, Suarez AV, Crooks KR, Morrison SA, Case TJ (2000) Arthropods in urban habitat fragments in southern California: area, age, and edge effects. Ecol Appl 10:1230–1248

Bond W, Slingsby P (1984) Collapse of an ant–plant mutualism—the Argentine ant (Iridomyrmex humilis) and myrmecochorous Proteaceae. Ecology 65:1031–1037

Clark WH, Prusso DC (1986) Desmidiospora myrmecophila found infesting the ant Camponotus semitestaceus. Mycologia 78:865–866

Colwell RK, Coddington JA (1994) Estimating terrestrial biodiversity through extrapolation. Philos Trans R Soc Lond B Biol Sci 345:101–118

Connor EF, Hafernik J, Levy J, Moore VL, Rickman J (2003) Insect conservation in an urban biodiversity hotspot: the San Francisco Bay area. J Insect Conserv 6:247–259

Crooks KR, Soulé ME (1999) Mesopredator release and avifaunal extinctions in a fragmented system. Nature 400:563–566

Dauber J, Bengtsson J, Lenoir L (2006) Evaluating effects of habitat loss and land-use continuity on ant species richness in seminatural grassland remnants. Conserv Biol 20:1150–1160

Dickman CR (1987) Habitat fragmentation and vertebrate species richness in an urban-environment. J Appl Ecol 24:337–351

Drayton B, Primack RB (1996) Plant species lost in an isolated conservation area in Metropolitan Boston from 1894 to 1993. Conserv Biol 10:30–39

Dreistadt SH, Dahlsten DL, Frankie GW (1990) Urban forests and insect ecology. Bioscience 40:192–198

EIP Associates (2005) Significant natural resources management plan. Prepared for San Francisco Recreation and Parks Department, Natural Areas Program. June 2005

Fisher BL (1997) A comparison of ant assemblages (Hymenoptera, Formicidae) on serpentine and non-serpentine soils in northern California. Insectes Soc 44:23–33

Fisher BL, Davis L, Ward PS (2007) Antweb: ants of the bay area, Available via http://www.antweb.org/bayarea.jsp. Cited August 23, 2007

Folgarait PJ (1998) Ant biodiversity and its relationship to ecosystem functioning: a review. Biodivers Conserv 7:1221–1244

Forman RT (1995) Land mosaics: the ecology of landscapes and regions. Cambridge Univ. Press, NY

Frankie GW, Ehler LE (1978) Ecology of insects in urban environments. Ann Rev Entomol 23:367–387

Gaston KJ (1996) Biodiversity. A biology of numbers and differences. Blackwell, London, UK

Gibb H, Hochuli DF (2002) Habitat fragmentation in an urban environment: large and small fragments support different arthropod assemblages. Biol Conserv 106:91–100

Gilliam H (1962) Weather of the San Francisco Bay region. Univ. of California Press, Berkeley, CA

Gotelli NJ, Ellison AM (2002) Biogeography at a regional scale: determinants of ant species density in New England bogs and forests. Ecology 83:1604–1609

Hafernik JE, Reinhard H (1995) Butterflies by the bay: winners and losers in San Francisco's urban jungle. Am Butterflies 3:4–11

Hitchings SP, Beebee TJ (1998) Loss of genetic diversity and fitness in common toad (Bufo bufo) populations isolated by inimical habitat. J Evol Biol 11:269–283

Hölldobler B, Wilson E (1990) The ants. Harvard Univ. Press, Cambridge, MA

Holway DA (1999) Competitive mechanisms underlying the displacement of native ants by the invasive Argentine ant. Ecology 80:238–251

Holway DA, Suarez AV (2006) Homogenization of ant communities in Mediterranean California: the effects of urbanization and invasion. Biol Conserv 127:319–326

Holway DA, Suarez AV, Case TJ (2002) The role of abiotic factors in governing susceptibility to invasion: a test with a widespread invasive social insect. Ecology 83:1610–1619

Human KG, Gordon DM (1996) Exploitation and interference competition between the invasive Argentine ant, Linepithema humile, and native ant species. Oecologia 105:405–412

Human KG, Gordon DM (1997) Effects of Argentine ants on invertebrate biodiversity in northern California. Conserv Biol 11:1242–1248

Jim CY (1998) Soil characteristics and management in an urban park in Hong Kong. Environ Manag 22:683–695

Johnson RA (1992) Soil texture as an influence on the distribution of the desert seed-harvester ants Pogonomyrmex rugosus and Messor pergandei. Oecologia 89:118–124

Knight RL, Rust MK (1990) The urban ants of California with distribution notes of imported species. Southwest Entomol 15:167–178

Laakkonen J, Fisher RN, Case TJ (2001) Effect of land cover, habitat fragmentation and ant colonies on the distribution and abundance of shrews in Southern California. J Anim Ecol 70:776–788

Lassau SA, Hochuli DF (2004) Effects of habitat complexity on ant assemblages. Ecography 27:157–164

Lessard JP, Buddle CM (2005) The effects of urbanization on ant assemblages (Hymenoptera: Formicidae) associated with the Molson Nature Reserve, Quebec. Can Entomol 137:215–225

Lopez-Moreno IR, Diaz-Betancourt ME, Landa TS (2003) Social insects in human environments—ants in the city of Coatepec, Veracruz, Mexico. Sociobiology 42:605–621

MacArthur RH, Wilson EO (1967) The theory of island biogeography. Princeton Univ. Press, Princeton, NJ

Magurran AE (2004) Measuring biological diversity. Blackwell, Maldan, MA

Majer JD (1994) Spread of Argentine ants (Linepthema humile), with special reference to Western Australia. In: Williams DF (ed) Exotic ants: biology, impact, and control of introduced species. Westview Press, Boulder, CO, pp 163–173

Mangel M, Tier C (1994) 4 facts every conservation biologist should know about persistence. Ecology 75:607–614

McFrederick QS, LeBuhn G (2006) Are urban parks refuges for bumble bees Bombus spp. (Hymenoptera: Apidae)? Biol Conserv 129:372–382

McIntyre NE, Rango J, Fagan WF, Faeth SH (2001) Ground arthropod community structure in a heterogeneous urban environment. Landsc Urban Plan 52:257–274

Melbourne BA (1999) Bias in the effect of habitat structure on pitfall traps: an experimental evaluation. Aust J Ecol 24:228–239

Moffatt SF, McLachlan SM, Kenkel NC (2004) Impacts of land use on riparian forest along an urban–rural gradient in southern Manitoba. Plant Ecol 174:119–135

Montanucci RR (1989) The relationship of morphology to diet in the horned lizard genus phrynosoma. Herpetologica 45:208–216

Newell W, Barber TC (1913) The Argentine ant. Bureau of Entomology Bulletin 122. USDA, Washington, DC

Niemela J (1999) Ecology and urban planning. Biodivers Conserv 8:119–131

Null J (1992) The climatology of San Francisco rainfall 1849–1991. MA Thesis, San Jose State University

Pacheco R, Vasconcelos HL (2007) Invertebrate conservation in urban areas: ants in the Brazilian Cerrado. Landsc Urban Plan 81:193–199

Patton DR (1975) A diversity index for quantifying habitat 'edge'. Wildl Soc Bull 3:171–173

Perfecto I, Vandermeer J (1996) Microclimatic changes and the indirect loss of ant diversity in a tropical agroecosystem. Oecologia 108:577–582

Poland TM, McCullough DG (2006) Emerald ash borer: invasion of the urban forest and the threat to North America's ash resource. J For 104:118–124

Pyle R, Bentzien M, Opler P (1981) Insect conservation. Ann Rev Entomol 26:233–258

Sanders NJ, Barton KE, Gordon DM (2001) Long-term dynamics of the distribution of the invasive Argentine ant, Linepithema humile, and native ant taxa in northern California. Oecologia 127:123–130

Saunders DA, Hobbs RJ, Margules CR (1991) Biological consequences of ecosystem fragmentation—a review. Conserv Biol 5:18–32

Soulé ME (1987) Viable populations for conservation. Cambridge Univ. Press, NY

SPSS (2001) SPSS for Windows, Rel. 11.0.1. SPSS, Chicago

Suarez AV, Bolger DT, Case TJ (1998) Effects of fragmentation and invasion on native ant communities in coastal southern California. Ecology 79:2041–2056

Suarez AV, Holway DA, Case TJ (2001) Patterns of spread in biological invasions dominated by long-distance jump dispersal: insights from Argentine ants. Proc Natl Acad Sci U S A 98:1095–1100

Thompson B, McLachlan S (2007) The effects of urbanization on ant communities and myrmecochory in Manitoba, Canada. Urban Ecosyst 10:43–52

Tilden JW (1956) San Francisco's vanishing butterflies. Lep News 10:3–4

Tschinkel WR (1987) Seasonal life-history and nest architecture of a winter-active ant, Prenolepis imparis. Insectes Soc 34:143–164

Underwood EC, Fisher BL (2006) The role of ants in conservation monitoring: if, when, and how. Biol Conserv 132:166–182

United Nations (2004) World urbanization prospects: the 2003 revision. Population Division, Department of Economic and Social Affairs, United Nations, New York

U.S. Census Bureau (2000) County and city data book: 2000. US Department of Commerce, Bureau of the Census, Washington, DC Table C-1

Vega SY, Rust MK (2001) Developing marking techniques to study movement and foraging of Argentine ants (Hymenoptera: Formicidae). Sociobiology 37:27–39

Walters AC (2006) Invasion of Argentine ants (Hymenoptera: Formicidae) in South Australia: impacts on community composition and abundance of invertebrates in urban parklands. Austral Ecol 31:567–576

Wang CL, Strazanac JS, Butler L (2001) Association between ants (Hymenoptera: Formicidae) and habitat characteristics in oak-dominated mixed forests. Environ Entomol 30:842–848

Ward PS (1987) Distribution of the introduced Argentine ant (Iridomyrmex mumilis) in natural habitats of the lower Sacramento Valley and its effects on the indigenous ant fauna. Hilgardia 55:1–16

Ward PS (2005) A synoptic review of the ants of California (Hymenoptera: Formicidae). Zootaxa 936:3–68

Way MJ, Cammell ME, Paiva MR, Collingwood CA (1997) Distribution and dynamics of the Argentine ant Linepithema (iridomyrmex) humile (Mayr) in relation to vegetation, soil conditions, topography and native competitor ants in Portugal. Insectes Soc 44:415–433

Yamaguchi T (2005) Influence of urbanization on ant distribution in parks of Tokyo and Chiba City, Japan II. Analysis of species. Entomol Sci 8:17–25

Yilmaz S, Toy S, Irmak MA, Yilmaz H (2007) Determination of climatic differences in three different land uses in the city of Erzurum, Turkey. Build Environ 42:1604–1612

Zar JH (1999) Biostatistical analysis, 4th edn. Prentice-Hall, Upper Saddle River, NJ
Acknowledgements
We thank The San Francisco Recreation and Parks Natural Areas Program for data and access to study sites, Edward F. Connor for advice on statistical analysis and manuscript comments and Barry Nickel at San Francisco State for help with GIS. We are grateful for help in the field from Maureen Harrison and the constructive comments from members of the LeBuhn Lab. Kevin M. Clarke was supported by the California Academy of Sciences Graduate Assistantship Program and SFSU SEPAL GK-12 Partnership Program funded by the National Science Foundation.
Appendix 1
Appendix 1
About this article
Cite this article
Clarke, K.M., Fisher, B.L. & LeBuhn, G. The influence of urban park characteristics on ant (Hymenoptera, Formicidae) communities. Urban Ecosyst 11, 317–334 (2008). https://doi.org/10.1007/s11252-008-0065-8
Keywords
Urbanization

Natural areas

Argentine ant

San Francisco

Forest

Conservation