Abstract
The present study examines the effectiveness of incorporating worked examples with prompts for self-explanation into a middle school math textbook. Algebra 1 students (N = 75) completed an equation-solving unit with textbooks either containing the original practice problems or in which a portion of those problems were converted into a combination of correct, incorrect, and incomplete examples. Students completed pre- and posttest measures of algebraic feature knowledge, equation-solving skills, and error anticipation. Example-based textbook assignments increased students' equation-solving skills and their ability to anticipate errors one might make when solving problems. Differences in students' anticipation of various types of errors are also examined. Error anticipation, a particular form of negative knowledge, is a potentially important skill that relates to algebraic feature knowledge and equation-solving skills.
Access options
Buy single article
Instant access to the full article PDF.
USD 39.95
Price excludes VAT (USA)
Tax calculation will be finalised during checkout.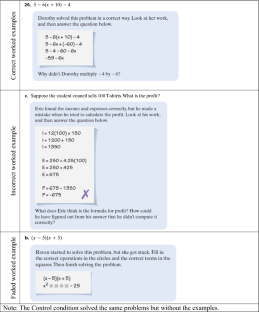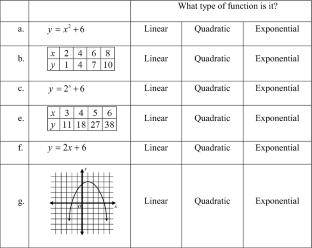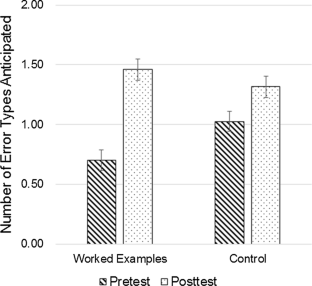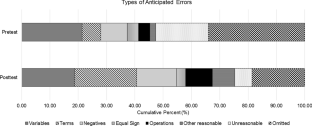 Data availability
The data that support the findings of this study are available on request from the corresponding author. The data are not publicly available due to privacy or ethical restrictions.
References
Adams, D. M., McLaren, B. M., Durkin, K., Mayer, R. E., Rittle-Johnson, B., Isotani, S., & Van Velsen, M. (2014). Using erroneous examples to improve mathematics learning with a web-based tutoring system. Computers in Human Behavior, 36, 401–411.

Armstrong, R. A. (2014). When to use the Bonferroni correction. Ophthalmic and Physiological Optics, 34(5), 502–508.

Barbieri, C., & Booth, J. L. (2016). Support for struggling students in algebra: Contributions of incorrect worked examples. Learning and Individual Differences, 48, 36–44.

Barbieri, C. A., & Booth, J. L. (2020). Mistakes on display: Explaining displayed errors refines algebraic equation solving. Applied Cognitive Psychology, 34, 862–878.

Begolli, K. N., & Richland, L. E. (2016). Teaching mathematics by comparison: Analog visibility as a double-edged Sword. Journal of Educational Psychology, 108(2), 194–213.

Begolli, K. N., Richland, L. E., Lyons, E., Jaeggi, S., & Matlen, B. (2018). Executive functions in learning mathematics by comparing representations: Incorporating everyday classrooms into the science of learning. Thinking and Reasoning. https://doi.org/10.1080/13546783.2018.1429306

Benjamini, Y., & Hochberg, Y. (1995). Controlling the false discovery rate: A practical and powerful approach to multiple testing. Journal of the Royal Statistical Society: Series B (methodological), 57(1), 289–300.

Bertsch, S., Pesta, B. J., Wiscott, R., & McDaniel, M. A. (2007). The generation effect: A meta-analytic review. Memory & Cognition, 35(2), 201–210.

Bonferroni, C. (1936). Teoria statistica delle classi e calcolo delle probabilita. Pubblicazioni Del R Istituto Superiore Di Scienze Economiche e Commericiali Di Firenze, 8, 3–62.

Booth, J. L., Barbieri, C., Eyer, F., & Paré-Blagoev, E. J. (2014). Persistent and pernicious errors in algebraic problem solving. The Journal of Problem Solving, 7(1), 3.

Booth, J. L., Cooper, L. A., Donovan, M. S., Huyghe, A., Koedinger, K. R., & Paré-Blagoev, E. J. (2015). Design-based research within the constraints of practice: AlgebraByExample. Journal of Education for Students Placed at Risk (JESPAR), 20(1–2), 79–100.

Booth, J. L., Lange, K. E., Koedinger, K. R., & Newton, K. J. (2013). Using example problems to improve student learning in algebra: Differentiating between correct and incorrect examples. Learning and Instruction, 25, 24–34.

Borasi, R. (1994). Capitalizing on errors as "springboards for inquiry": A teaching experiment. Journal for Research in Mathematics Education, 25, 166–208.

Cangelosi, R., Madrid, S., Cooper, S., Olson, J., & Hartter, B. (2013). The negative sign and exponential expressions: Unveiling students' persistent errors and misconceptions. The Journal of Mathematical Behavior, 32(1), 69–82.

Carroll, W. M. (1994). Using worked examples as an instructional support in the algebra classroom. Journal of Educational Psychology, 86(3), 360–367.

Castle, C. (2014, Sep 10). University of Iowa center looks to start high school STEM academy. Press - Citizen Retrieved from http://search.proquest.com/docview/1561031112?accountid=14270.

Cherepinsky, V. (2011). Self-reflective grading: Getting students to learn from their mistakes. Primus, 21(3), 294–301.

D'Mello, S., & Graesser, A. (2014). Confusion and its dynamics during device comprehension with breakdown scenarios. Acta Psychologica, 151, 106–116.

Dunlosky, J., Rawson, K. A., Marsh, E. J., Nathan, M. J., & Willingham, D. T. (2013). Improving students' learning with effective learning techniques: Promising directions from cognitive and educational psychology. Psychological Science in the Public Interest, 14(1), 4–58.

Durkin, K., & Rittle-Johnson, B. (2012). The effectiveness of using incorrect examples to support learning about decimal magnitude. Learning and Instruction, 22, 206–214.

Ericsson, K. A., Charness, N., Feltovich, P. J., & Hoffman, R. R. (Eds.). (2006). Handbook on Expertise and Expert Performance. Cambridge University Press.

Faul, F., Erdfelder, E., Lang, A. G., & Buchner, A. (2007). G* Power 3: A flexible statistical power analysis program for the social, behavioral, and biomedical sciences. Behavior Research Methods, 39(2), 175–191.

Frese, M., & Keith, N. (2015). Action errors, error management, and learning in organizations. Annual Review of Psychology, 66, 661–687.

Frese, M., & Zapf, D. (1994). Action as the core of work psychology: A German approach. Handbook of Industrial and Organizational Psychology, 4(2), 271–340.

Gartmeier, M., Bauer, J., Gruber, H., & Heid, H. (2008). Negative knowledge: Understanding professional learning and expertise. Vocations and Learning, 1(2), 87–103.

Gorsky, P., & Finegold, M. (1994). The role of anomaly and of cognitive dissonance in restructuring students' concepts of force. Instructional Science, 22(2), 75–90.

Große, C. S., & Renkl, A. (2007). Finding and fixing errors in worked examples: Can this foster learning outcomes? Learning and Instruction, 17(6), 612–634.

Gruber, H. & Palonen, T. (2007). Learning in the workplace: new developments in the relation between working and learning. In Gruber, Hans and Palonen, Tuire, (Eds.) Learning in the Workplace: New developments. Research in Educational Sciences, 32. Finnish Educational Research Association (FERA) (pp. 11–18). ISBN 978-952-5401-32-5.

Heemsoth, T., & Heinze, A. (2014). The impact of incorrect examples on learning fractions: A field experiment with 6th grade students. Instructional Science, 42(4), 639–657.

Henderson, C., & Harper, K. A. (2009). Quiz corrections: Improving learning by encouraging students to reflect on their mistakes. Physics Teacher, 47(9), 581–586.

Karpicke, J. D., & Roediger, H. L. (2008). The critical importance of retrieval for learning. Science, 319(5865), 966–968.

Keith, N., & Frese, M. (2008). Effectiveness of error management training: A meta-analysis. Journal of Applied Psychology, 93(1), 59.

Lannin, J., Townsend, B., & Barker, D. (2006). The reflective cycle of student error analysis. For the Learning of Mathematics, 26(3), 33–38.

Lappan, G., Fey, J., Fitzgerald, W., Friel, S., & Philips, E. (2006). Connected Mathematics 2. Prentice Hall (School Division).

Lee, C., & Chen, M. (2015). Effects of worked examples using manipulatives on fifth graders' learning performance and attitude toward mathematics. Journal of Educational Technology & Society, 18(1), 264–275.

McNeil, N. M. (2014). A change–resistance account of children's difficulties understanding mathematical equivalence. Child Development Perspectives, 8(1), 42–47.

Metcalfe, J. (2017). Learning from errors. Annual Review of Psychology, 68, 465–489.

Mueller, M. M., Palkovic, C. M., & Maynard, C. S. (2007). Errorless learning: Review and practical application for teaching children with pervasive developmental disorders. Psychology in the Schools, 44(7), 691–700.

National Mathematics Advisory Panel. (2008). Foundations for Success: The Final Report of the National Mathematics Advisory Panel. US Department of Education.

Ohlsson, S. (1996). Learning from performance errors. Psychological Review, 103(2), 241–262.

Oser, F., & Spychiger, M. (2005). Lernen ist schmerzhaft. Zur Theorie des Negativen Wissens und zur Praxis der Fehlerkultur [Learning is Painful. On the Theory of Negative Knowledge and the Practice of Error Culture]. Beltz.

Overoye, A. L., & Storm, B. C. (2015). Harnessing the power of uncertainty to enhance learning. Translational Issues in Psychological Science, 1(2), 140–148.

Pashler, H., Bain, P. M., Bottge, B. A., Graesser, A., Koedinger, K., McDaniel, M., & Metcalfe, J. (2007). Organizing Instruction and Study to Improve Student Learning. IES Practice Guide. NCER 2007–2004. National Center for Education Research.

Peeters, G., & Czapinski, J. (1990). Positive-negative asymmetry in evaluations: The distinction between affective and informational negativity effects. European Review of Social Psychology, 1(1), 33–60.

Perneger, T. V. (1998). What's wrong with Bonferroni adjustments. BMJ, 316(7139), 1236–1238.

Pol, H. J., Harskamp, E. G., Suhre, C. J., & Goedhart, M. J. (2009). How indirect supportive digital help during and after solving physics problems can improve problem-solving abilities. Computers & Education, 53(1), 34–50.

Retnowati, E., Ayres, P., & Sweller, J. (2010). Worked example effects in individual and group work settings. Educational Psychology, 30(3), 349–367.

Santagata, R. (2004). "Are you joking or are you sleeping?" Cultural beliefs and practices in Italian and U.S. teachers' mistake-handling strategies. Linguistics and Education, 15, 141–164.

Siegler, R. S. (1996). Emerging Minds: The Process of Change in Children's Thinking. Oxford University Press.

Siegler, R. S. (2002). Microgenetic studies of self-explanations. In N. Granott & J. Parziale (Eds.), Microdevelopment: Transition Processes in Development and Learning (pp. 31–58). Cambridge University Press.

Siegler, R. S., & Chen, Z. (2008). Differentiation and integration: Guiding principles for analyzing cognitive change. Developmental Science, 11(4), 433–453.

Stevenson, H., & Stigler, J. W. (1994). Learning Gap: Why Our Schools Are Failing and What We Can Learn from Japanese and Chinese Educ. Simon and Schuster.

Tulis, M. (2013). Error management behavior in classrooms: Teachers' responses to student mistakes. Teaching and Teacher Education, 33, 56–68.

Van Dyck, C., Frese, M., Baer, M., & Sonnentag, S. (2005). Organizational error management culture and its impact on performance: A two-study replication. Journal of Applied Psychology, 90(6), 1228.

Ward, M., & Sweller, J. (1990). Structuring effective worked examples. Cognition and Instruction, 7(1), 1–39.

Yerushalmi, E., & Polingher, C. (2006). Guiding students to learn from mistakes. Physics Education, 41(6), 532–538.
Funding
Funding for this research was provided by the Institute of Education Sciences, the United States Department of Education, through Grant R305C100024 to WestEd. The opinions expressed are those of the authors and do not represent views of the Institute or the United States Department of Education.
Ethics declarations
Conflicts of interest
The authors declare that they have no conflict of interests.
Additional information
Publisher's Note
Springer Nature remains neutral with regard to jurisdictional claims in published maps and institutional affiliations.
About this article
Cite this article
Barbieri, C.A., Booth, J.L., Begolli, K.N. et al. The effect of worked examples on student learning and error anticipation in algebra. Instr Sci 49, 419–439 (2021). https://doi.org/10.1007/s11251-021-09545-6
Received:

Accepted:

Published:

Issue Date:

DOI: https://doi.org/10.1007/s11251-021-09545-6
Keywords