Abstract
We report on a design based research study exploring how the organization of classroom activity impacts early elementary students' critical criteria for evaluating representations in science class. The ability to critique representations produced by others as well as one's own is an important practice when working with representations. Effective critique requires understanding the purpose of the representation and the context of its use. We use Activity Theory to explore how a change in teacher prompts can facilitate a shift in how the teacher and the students organize their collective activity ultimately resulting in a change to the nature of their critical criteria for evaluating their peers' representations. To explore this relationship, we worked with a teacher to iteratively adapt and refine whole-group discussions of students' representations to provide a context in which students critique their peers' work on scientific grounds. After each representational activity, the teacher engaged the students in discussing the representations (three groups of students across a total of six sessions, N = 39). Findings indicate that contextual cues lead to a statistically significant shift in students talk. Video analysis indicates that shifts in contextual cues resulted in dramatic shifts in how the activity is mediated, resulting in the verbalization and application of increasingly robust scientific criteria across three different sessions.
Access options
Buy single article
Instant access to the full article PDF.
USD 39.95
Price excludes VAT (USA)
Tax calculation will be finalised during checkout.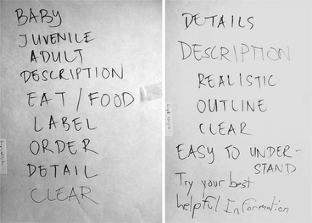 References
Ainsworth, S., Prain, V., & Tytler, R. (2011). Drawing to learn in science. Representations, 3, 5.

Brenneman, K., & Louro, I. F. (2008). Science journals in the preschool classroom. Early Childhood Education Journal, 36(2), 113–119. doi:10.1007/s10643-008-0258-z.

Chang, H.-Y., & Linn, M. C. (2013). Scaffolding learning from molecular visualizations. Journal of Research in Science Teaching, 50(7), 858–886. doi:10.1002/tea.21089.

Cobb, P., Confrey, J., diSessa, A. A., Lehrer, R., & Schauble, L. (2003). Design experiments in educational research. Educational Researcher, 32(1), 9–13.

Cole, M. (1996). Cultural psychology: A once and future discipline. Cambridge, MA: Belknap Press of Harvard University Press.

Danish, J. A. (2010). The primary interactive pathway: An analytic tool for examining and comparing students' representational activities. In Paper presented at the Annual Conference of the American Educational Research Association, Denver, CO.

Danish, J. A., & Enyedy, N. (2007). Negotiated representational mediators: How young children decide what to include in their science representations. Science Education, 91(1), 1–35.

Danish, J. A., & Phelps, D. (2010). Representational practices by the numbers: How kindergarten and first-grade students create, evaluate, and modify their science representations. International Journal of Science Education, 33(15), 2069–2094. doi:10.1080/09500693.2010.525798.

Danish, J. A., & Saleh, A. (2014). Examining how activity shapes students' interactions while creating representations in early elementary science. International Journal of Science Education, 1–21. doi:10.1080/09500693.2014.923127.

diSessa, A. A. (2004). Meta-representation: Native competence and targets for instruction. Cognition and Instruction, 22(3), 293–331.

diSessa, A. A., Hammer, D., Sherin, B., & Kolpakowski, T. (1991). Inventing graphing: Meta-representationsal expertise in children. Journal of Mathematical Behavior, 10, 117–160.

Engeström, Y. (1987). Learning by expanding: An activity—theoretical approach to developmental research. Helsinki: Orienta-Konsultit Oy.

Enyedy, N. (2005). Inventing mapping: Creating cultural forms to solve collective problems. Cognition and Instruction, 23(4), 427–466.

Enyedy, N., Danish, J. A., Delacruz, G., & Kumar, M. (2012). Learning physics through play in an augmented reality environment. International Journal of Computer-Supported Collaborative Learning, 1–32.

Ero-Tolliver, I., Lucas, D., & Schauble, L. (2013). Young children's thinking About decomposition: Early modeling entrees to complex ideas in science. Research in Science Education, 43(5), 2137–2152. doi:10.1007/s11165-012-9348-4.

Greeno, J. G., & Hall, R. P. (1997). Practicing representation. Phi Delta Kappan, 78(5), 361–367.

Hall, R. (1996). Representation as shared activity: Situated cognition and Dewey's cartography of experience. Journal of the Learning Sciences, 5(3), 209–238.

Kelly, G. J. (2014). Discourse practicies in science learning and teaching. Handbook of Research on Science Education, 2, 321–336.

Lehrer, R., & Schauble, L. (2000). Developing model-based reasoning in mathematics and science. Journal of Applied Developmental Psychology, 21(1), 39–48.

Lehrer, R., & Schauble, L. (2005). Developing modeling and argument in the elementary grades. In T. A. Romberg, T. P. Carpenter, & F. Dremock (Eds.), Understanding mathemat:cs and science matters (pp. 29–53). New Jersey: Lawrence Erlbaum.

Lehrer, R., & Schauble, L. (2012). Seeding evolutionary thinking by engaging children in modeling its foundations. Science Education, 96(4), 701–724. doi:10.1002/sce.20475.

Lidar, M., Almqvist, J., & Östman, L. (2010). A pragmatist approach to meaning making in children's discussions about gravity and the shape of the earth. Science Education, 94(4), 689–709. doi:10.1002/sce.20384.

NRC. (2007). Taking science to school: Learning and teaching science in grades K-8. Washington, DC: National Academies Press.

Parnafes, O. (2010). Representational practices in the activity of student-generated representations (SGR) for promoting conceptual understanding. In K. Gomez, L. Lyons, & J. Radinsky (Eds.), Learning in the disciplines: Proceedings of the 9th international conference of the learning sciences (ICLS 2010) (Vol. 1, pp. 301–308)., Full papers Chicago: International Society of the Learning Sciences.

Prain, V., Tytler, R., & Peterson, S. (2009). Multiple representation in learning about evaporation. International Journal of Science Education, 31(6), 787–808.

Roth, W.-M. (2007). On mediation: Toward a cultural-historical understanding. Theory Psychology, 17(5), 655–680. doi:10.1177/0959354307081622.

Roth, W.-M., & McGinn, M. K. (1998). Inscriptions: Toward a theory of representing as social practice. Review of Educational Research, 68(1), 35–59.

Sandoval, W. A. (2005). Understanding students' practical epistemologies and their influence on learning through inquiry. Science Education, 89(4), 634–656.

Schwendimann, B. (2009). Critiquing concepts maps for a coherent understanding of biology. In J. Shen (Ed.), Critique to learn science. Symposium conducted at the meeting of the National Association for Research in Science Teaching, Garden Grove, CA.

Shen, J. (2009). Nurturing students' critical knowledge using technology-enhanced scaffolding strategies in science education. Journal of Science Education and Technology, 19(1), 1–12. doi:10.1007/s10956-009-9183-1.

van Dijk, A. M., Gijlers, H., & Weinberger, A. (2013). Scripted collaborative drawing in elementary science education. Instructional Science, 42, 1–20.

Vlach, H. A., & Carver, S. M. (2008). The effects of observation coaching on children's graphic representations. Early Childhood Research and Practice, 10. http://ecrp.uiuc.edu/v10n1/vlach.html.

Vygotsky, L. S. (1978). Mind in society: the development of higher psychological processes. Cambridge, MA: Harvard University Press.

Waldrip, B., & Prain, V. (2012). Learning from and through representations in science. In B. J. Fraser, K. Tobin, & C. J. McRobbie (Eds.), Second international handbook of science education (Vol. 24, pp. 145–155). Dordrecht: Springer.

Willats, J. (2005). Making sense of children's drawings. Mahwah, NJ: L. Erlbaum Associates.

Witte, S. P., & Haas, C. (2005). Research in activity: An analysis of speed bumps as mediational means. Written Communication, 22(2), 127–165. doi:10.1177/0741088305274781.
Acknowledgments
Portions of this work were funded by the Proffitt Endowment to Indiana University. We would also like to thank David Phelps, DiAnna Washington, Johanna Keene and Alejandro Andrade-Lotero for their help in completing this research. As always, we are also indebted to the teachers and students who participated in this study.
About this article
Cite this article
Danish, J.A., Saleh, A. The impact of classroom context upon 1st and 2nd grade students' critical criteria for science representations. Instr Sci 43, 665–682 (2015). https://doi.org/10.1007/s11251-015-9355-8
Received:

Accepted:

Published:

Issue Date:

DOI: https://doi.org/10.1007/s11251-015-9355-8
Keywords
Science representations

Activity theory

Early elementary