Abstract
While a great deal of research has studied the messages students contribute to electronic discussion forums, productive participation in online learning conversations requires more than just making posts. One important pre-condition for productive interactivity and knowledge construction is engagement with the posts contributed by others. In this study, these actions (how learners interact with the existing discussion; which posts they attend to, when, and how) are conceptualized as "online listening behaviors" and are studied in the context of a large undergraduate business course taught in a blended format. Clickstream data was collected for 96 participants from 3 week-long online discussions to solve organizational behavior challenges in groups of 10–13. Listening behaviors accounted for almost three-quarters of the time learners spent in the discussions, and cluster analysis identified three distinct patterns of behavior: (1) Superficial Listeners, Intermittent Talkers; (2) Concentrated Listeners, Integrated Talkers; and (3) Broad Listeners, Reflective Talkers. The clusters differed in the depth, breadth, temporal contiguity, and reflectivity of their listening as well as in their patterns of speaking. An illustrative case study of how the listening behaviors were enacted by one student from each cluster over time was used to deepen the characterization and interpretation of each cluster. The results indicate that online listening is a complex phenomenon and a substantial component of students' participation in online discussions. Findings are compared to the previous work on student learning approaches and implications for practice and future research are discussed.
Access options
Buy single article
Instant access to the full article PDF.
USD 39.95
Price includes VAT (USA)
Tax calculation will be finalised during checkout.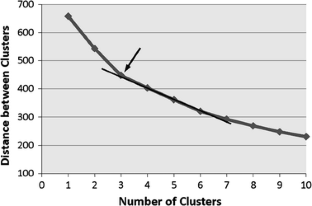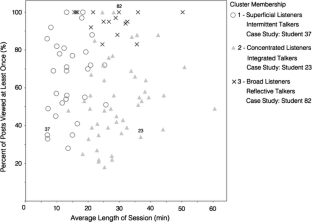 References
Allen, I. E., Seaman, J., & Garrett, R. (2007). Blending in: The extent and promise of blended education in the United States. Needham, MA: The Sloan Consortium. Retrieved month date, year, from http://www.sloan-c.org/publications/survey/pdf/Blending_In.pdf. Accessed 25 April 2012.

Barab, S. A., Bowdish, B. E., & Lawless, K. A. (1997). Hypermedia navigation: Profiles of hypermedia users. Educational Technology Research and Development, 45(3), 23–41.

Bliuc, A. M., Ellis, R., Goodyear, P., & Piggott, L. (2010). Learning through face-to-face and online discussions: Associations between students' conceptions, approaches and academic performance in political science. British Journal of Educational Technology, 41(3), 512–524.

del Valle, R. (2006). Online learning: Learner characteristics and their approaches to managing learning. Unpublished doctoral dissertation. Indiana University, Bloomington Indiana.

del Valle, R., & Duffy, T. M. (2007). Online learning: Learner characteristics and their approaches to managing learning. Instructional Science, 37(2), 129–149.

Dennen, V. P. (2005). From message posting to learning dialogues: Factors affecting learner participation in asynchronous discussion. Distance Education, 26(1), 127–148.

Dennen, V. P. (2008). Pedagogical lurking: Student engagement in non-posting discussion behavior. Computers in Human Behavior, 24, 1624–1633.

Dweck, C. S. (1986). Motivational processes affecting learning. American Psychologist, 41(10), 1040–1048.

Elliot, A. J., & Harackiewicz, J. M. (1996). Approach and avoidance goals and intrinsic motivation: A mediational analysis. Journal of Personality and Social Psychology, 70(3), 968–980.

Entwistle, N. (2009). Teaching for understanding at university: Deep approaches and distinctive ways of thinking. New York: Palgrave Macmillan.

Hamann, K., Pollock, P. H., & Wilson, B. M. (2009). Learning from "listening" to peers in online political science classes. Journal of Political Science Education, 5(1), 1–11.

Herring, S. (1999). Interactional coherence in CMC. Journal of Computer-Mediated Communication, 4(4). Retrieved month date, year, from http://jcmc.indiana.edu/vol4/issue4/herring.html. Accessed 25 April 2012.

Hew, K. F., Cheung, W. S., & Ng, C. S. L. (2008). Student contribution in asynchronous online discussion: A review of the research and empirical exploration. Instructional Science, 38(6), 571–606.

Hewitt, J. (2001). Beyond threaded discourse. International Journal of Educational Telecommunications, 7(3), 207–221.

Hewitt, J. (2003). How habitual online practices affect the development of asynchronous discussion threads. Journal of Educational Computing Research, 28(1), 31–45.

Hewitt, J. (2005). Toward an understanding of how threads die in asynchronous computer conferences. Journal of the Learning Sciences, 14(4), 567–589.

Hewitt, J., Brett, C., & Peters, V. (2007). Scan rate: A new metric for the analysis of reading behaviors in asynchronous computer conferencing environments. American Journal of Distance Education, 21(4), 215–231.

Liu, M., & Bera, S. (2005). An analysis of cognitive tool use patterns in a hypermedia learning environment. Educational Technology Research and Development, 53(1), 5–21.

Luppicini, R. (2007). Review of computer mediated communication research for education. Instructional Science, 35(2), 141–185.

Mayes, T. (2001). Learning technology and learning relationships. In J. Stephenson (Ed.), Teaching and learning online: New pedagogies for new technologies (pp. 16–26). Abingdon, Oxon: Routledge Falmer.

Meece, J. L., Blumenfeld, P. C., & Hoyle, R. (1988). Students' goal orientations and cognitive engagement in classroom activities. Journal of Educational Psychology, 80(4), 514–523.

Morris, L. V., Finnegan, C., & Wu, S. (2005). Tracking student behavior, persistence, and achievement in online courses. The Internet and Higher Education, 8(3), 221–231.

Muller, M., Shami, N. S., Millen, D. R., & Feinberg, J. (2010). We are all lurkers: Consuming behaviors among authors and readers in an enterprise file-sharing service. In Proceedings of GROUP'10 (pp. 201–210), New York: ACM.

Nagel, L., Blignaut, A. S., & Cronjé, J. C. (2009). Read-only participants: A case for student communication in online classes. Interactive Learning Environments, 17(1), 37–51.

Nonnecke, B., Preece, J., Andrews, D., & Voutour, R. (2004). Online lurkers tell why (pp. 1–7). New York: Proceedings of the Tenth American Conference on Information Systems.

Palmer, S., Holt, D., & Bray, S. (2008). Does the discussion help? The impact of a formally assessed online discussion on final student results. British Journal of Educational Technology, 39(5), 847–858.

Phan, H. P. (2008). Unifying different theories of learning: Theoretical framework and empirical evidence. Educational Psychology, 28(3), 325–340.

Poole, D. M. (2000). Student participation in a discussion-oriented online course: A case study. Journal of Research on Computing in Education, 33(2), 162–177.

Rafaeli, S., Ravid, G., & Soroka, V. (2004). De-lurking in virtual communities: A social communication network approach to measuring the effects of social and cultural capital. Proceedings of the HICSS-37, Big Island, Hawaii.

Shank, G., & Cunningham, D. (1996). Mediated phosphor dots: Toward a post-cartesian model of CMC via the semiotic superhighway. In C. Ess (Ed.), Philosophical perspectives on computer-mediated communication. Albany, NY: State University of New York Press.

Statistics Canada. (2007). Language highlight tables, 2006 Census. Retrieved month date, year from http://www12.statcan.ca/census-recensement/2006/dp-pd/hlt/97-555/Index-eng.cfm. Accessed 25 April 2012.

Sutton, L. A. (2001). The principle of vicarious interaction in computer-mediated communications. International Journal of Educational Telecommunications, 7(3), 223–242.

Thomas, M. J. W. (2002). Learning within incoherent structures: The space of online discussion forums. Journal of Computer Assisted Learning, 18(3), 351–366.

Ward, J. H. (1963). Hierarchical grouping to optimize an objective function. Journal of the American Statistical Association, 58(301), 236–244.

Webb, E., Jones, A., Barker, P., & van Schaik, P. (2004). Using e-learning dialogues in higher education. Innovations in Education and Teaching International, 41(1), 93–103.

Wise, A. F., Hsiao, Y. T., Marbouti, F., Speer, J., & Perera, N. (2012a). Initial validation of "listening" behavior typologies for online discussions using microanalytic case studies. In Proceedings of the international conference of the learning sciences 2012. Sydney, Australia: International Society of the Learning Sciences (in press).

Wise, A. F., Marbouti, F., Speer, J., & Hsiao, Y. T. (2011). Τowards an understanding of 'listening' in online discussions: A cluster analysis of learners' interaction patterns. In H. Spada, G. Stahl, N. Miyake & N. Law (Eds.), Connecting computer supported collaborative learning to policy and practice: CSCL2011 conference proceeding (Vol. I), Long papers (pp. 88–95), International Society of the Learning Sciences.

Wise, A. F., Perera, N., Hsiao, Y., Speer, J., & Marbouti, F. (2012b). Microanalytic case studies of individual participation patterns in an asynchronous online discussion in an undergraduate blended course. Internet and Higher Education, 15(2), 108–117.
Acknowledgments
This work was supported by the Social Sciences and Humanities Council of Canada.
Additional information
An earlier version of this work was presented at the 9th International Conference on Computer-Supported Collaborative Learning. This article draws on small portions of the published conference proceedings with the permission of the International Society of the Learning Sciences.
About this article
Cite this article
Wise, A.F., Speer, J., Marbouti, F. et al. Broadening the notion of participation in online discussions: examining patterns in learners' online listening behaviors. Instr Sci 41, 323–343 (2013). https://doi.org/10.1007/s11251-012-9230-9
Received:

Accepted:

Published:

Issue Date:
Keywords
Online learning

Computer mediated communication

Asynchronous discussion groups

Learning strategies

Student participation

Mixed methods