Abstract
This study aimed to determine the effects of chicken genotype (fast-growing and slow-growing), various semi-intensive production systems (extensive indoor, free-range, and traditional free-range), and season (spring and summer) on animal performance, mortality, growth curve, and slaughter results under semi-environmentally controlled conditions in a subtropical region. Production systems were applied in conformity with the EU standards. While the summer experiment improved performance during brooding (1st–28th days), hot conditions led to a decline in performance during the growing period. In addition, negative effects were determined for all parameters of Gompertz growth curve in summer (P < 0.05, for all). In spring, fast-growing showed 36% higher final live weights than slow-growing, and this difference decreased in summer (16% for extensive indoor and 25% for free-range) (P < 0.05, for all). Fast-growing in extensive indoor and free-range displayed similar weight gains in the growing period, whereas grazing ones consumed less feed (P < 0.05) and thus showed better (P < 0.05) feed conversion. The same situation was true for slow-growing in spring. The mortality was approximately 1% in all groups in spring, while it was 17.36 and 18.06% for fast-growing in extensive indoor and free-range and 1.39, 2.78, and 4.29 for slow-growing in extensive indoor, free-range, and traditional free-range in summer. It is advantageous to choose fast-growing if short-term (56 days) fattening especially under optimum conditions is to be preferred. If the growing period coincides with summer, slow-growing should definitely be preferred and the fattening period should be extended to 82 days. Grazing improved feed conversion (P < 0.05) by reducing cereal-based diet consumption in both genotypes but did not affect carcass yield. However, grazing had a positive effect on fleshing.
Access options
Buy single article
Instant access to the full article PDF.
US$ 39.95
Tax calculation will be finalised during checkout.
Subscribe to journal
Immediate online access to all issues from 2019. Subscription will auto renew annually.
US$ 79
Tax calculation will be finalised during checkout.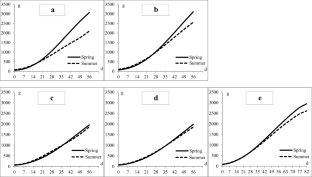 References
Aksoy, T., Narinç, D., İlaslan-Çürek, D., Önenç, A. and Yapıcı, N., 2010. Comparison of fast and medium-growing broiler genotypes raised indoors: Growth performance, slaughter results and carcass parts. Journal of Animal and Veterinary Advances, 9, 1485–1490.

Anonymous, 2000. The welfare of chickens kept for meat production (broilers). Report of the Scientific Committee on Animal Health and Animal Welfare Adopted 21 March 2000. European Commission, Health and Consumer Protection Directorate-General. https://ec.europa.eu/food/sites/food/files/safety/docs/sci-com_scah_out39_en.pdf (28.06.2017)

Bogosavljević-Boškovic, S., Pavlovski, Z., Petrović, M.D., Dosković, V. and Raconjack, S., 2011. The effect of rearing system and length of fattening period on selected parameters of broiler carcass quality, Archive für geflügelkunde, 75, 158–163.

Bokkers, E.A.M. and Koene, P., 2003. Behaviour of fast- and slow growing broilers to 12 weeks of age and the physical consequences, Applied Animal Behaviour Science, 81, 59–72.

Cahaner, A. and Leenstra, F., 1992. Effects of high temperature on growth and efficiency of male and female broilers from lines selected for high weight gain, favorable feed conversion, and high or low fat content, Poultry Science, 71, 1237–1250.

Castellini, C., Dal Bosco, A., Mugnai, C. and Bernardini, M., 2002a. Performance and behaviour of chickens with different growing rate reared according to the organic system, Italian Journal of Animal Science, 1, 291–300.

Castellini, C., Mugnai, C. and Dal Bosco, A., 2002b. Effect of organic production system on broiler carcass and meat quality, Meat Science, 60, 219–225.

Cömert, M., Şayan, Y., Kırkpınar, F., Bayraktar, Ö.H. and Mert, S., 2016. Comparison of carcass characteristics, meat quality, and blood parameters of slow and fast grown female broiler chickens raised organic or conventional production system, Asian Australas Journal Animal Science, 29,987–997.

Diktas, M., Sekeroglu, A., Duman, M. and Yildirim, A., 2015. Effect of different housing systems on production and blood profile of slow-growing broilers, Kafkas Üniversitesi Veteriner Fakültesi Dergisi, 21, 521–526.

Fanatico, A.C., Pillai, P.B., Cavitt, L.C., Owens, C.M. and Emmert, J.L., 2005. Evaluation of slower-growing broiler genotypes grown with and without outdoor access, growth performance and carcass yield, Poultry Science, 84, 1321–1327.

Fanatico, A.C., Pillai, P.B., Hester, P.Y., Falcone, C., Mench, J.A., Owens, C.M. and Emmert, J.L., 2008. Performance, livability, and carcass yield of slow- and fast-growing chicken genotypes fed low-nutrient or standard diets and raised indoors with outdoor access, Poultry Science, 87, 1012–1021.

Ghayas, A., Hussain, J., Mahmud, A. and Jaspal M.H., 2020. Evaluation of three fast- and slow-growing chicken strains reared in two production environments, South African Journal of Animal Science, 50, 378–388.

Grashorn, M.A., 2006. Fattening Performance, Carcass and Meat Quality of Slow and Fast Growing Broiler Strains under Intensive and Extensive Feeding Conditions. XII. European Poultry conference, Verona, Italy.

Ipek, A. and Sozcu A., 2017. The effects of access to pasture on growth performance, behavioural patterns, some blood parameters and carcass yield of a slow-growing broiler genotype, Journal of Applied Animal Research, 45, 464-469.

İpek, A., Karabulut, A., Şahan, Ü., Canbolat, O. and Yılmaz-Dikmen, B., 2009. The effects of different feeding management systems on performance of a slow-growing broiler genotype, British Poultry Science, 50, 213–217.

Lewis, P.D., Perry, G.C., Farmer, L.J. and Patterson, R.L.S., 1997. Responses of two genotypes of chicken to the diets and stocking densities typical of UK and 'Label Rouge' production systems, I. Performance, behaviour and carcass composition, Meat Science, 45, 501–516.

Mikulski, D., Celej, J., Jankowski, J., Majewska, T. and Mikulska, M., 2011. Growth performance, carcass traits and meat quality of slower-growing and fast-growing chickens raised with and without outdoor access, Asian-Australian Journal of Animal Science, 24, 1407–1416.

Milošević, N., Perić, L., Strugar, V., Žikić, D. and Pavlovski, Z. 2005. Rearing of fattening chickens on free range and extensively in chicken coop, Biotechnology in Animal Husbandry, 21, 217–221.

Moyle, J.R., Arsi, K., Woo-Ming, A., Arambel, H., Fanatico, A., Blore, P.J., Clark, F.D., Donoghue, D.J. and Donoghue, A.M., 2014. Growth performance of fast-growing broilers reared under different types of production systems with outdoor access: Implications for organic and alternative production systems, Journal of Applied Poultry Resources, 23, 212–220.

Muth, P. C., and Zárate, A. V., 2017. Breast meat quality of chickens with divergent growth rates and its relation to growth curve parameters, Archives Animal Breeding, 60, 427–437.

N'Dri, A.L., Mignon-Grasteau, S., Sellier, N., Tixier-Boichard, M., Beaumont, C., 2006. Genetic relationships between feed conversion ratio, growth curve and body composition in slow-growing chickens, British Poultry Science, 47, 273–80.

Pavlovski, Z., Škrbić, Z., Lukić, M., Petrićević, V. and Trenkovski, S., 2009. The effect of genotype and housing system on production results of fattening chickens, Biotechnology in Animal Husbandry, 25, 221–229.

Ponte, P.I.P., Rosado, C.M.C., Crespo, J.P., Crespo, D.G., Mourão, M.A., Chaveriro-Soares, M.A., Brás, J.L.A, Mendes, L., Gama, T., Prates, J.A.M., Ferreira, L.M.A. and Fontes, C.M.G.A., 2008. Pasture intake improves the performance and meat sensory attributes of free-range broilers, Poultry Science, 87, 71–79.

Ricklefs, R.E., 1985. Modification of growth and development of muscles of poultry. Poultry Science, 64, 1563–1576.

Sales, J., 2014. Effect of access to pasture on performance, carcass composition, and meat quality in broilers: A meta-analysis, Poultry Science, 93, 1523–1533.

Santos, A.L., Sakomura, N.K., Freitas, E.R., Fortes, C.M.S. and Carrilho, E.N.V.M., 2005. Comparison of free range broiler chicken strains raised in confined or semi-confined systems, Brazilian Journal of Poultry Science, 7, 85–92.

SAS Institute Inc., 2009. SAS/STAT User's Guide, Version 9.2. SAS Institute Inc., Cary, NC.

Sarıca, M., Yamak, U.S., Boz, M.A., Erensoy, K., Cilavdaroğlu, E. and Noubandiguim, M., 2019. Performance of fast, medium and slow growing broilers in indoor and free-range production systems, South African Journal of Animal Science, 49, 1127–1137.

Şekeroğlu, A., Demir, E., Sarıca, M. and Ulutaş, Z., 2009. Effect of housing system on growth performance, blood plasma constituents and meat fatty acids in broiler chickens, Pakistan Journal of Biological Sciences, 12, 631–636.

Settar, P., Yalçın, S., Türkmut, L., Ozkan, S. and Cahaner, A., 1999. Season by genotype interaction related to broiler growth rate and heat tolerance, Poultry Science, 78, 1353–1358.

Stadig, L.M., Rodenburg, T.B., Reubens, B., Aerts, J., Duquenne, B. and Tuyttens, F.A.M., 2016. Effects of free-range access on production parameters and meat quality, composition and taste in slow-growing broiler chickens, Poultry Science, 95, 2971–2978.

Torres, A., Muth, P. C., Capote, J., Rodríguez, C., Fresno, M., and Zárate, A. V., 2019. Suitability of dual-purpose cockerels of 3 different genetic origins for fattening under free-range conditions, Poultry Science, 98, 6564–6571.

Wang, K.H., Shi, S.R., Dou, T.C. and Sun, H.J. 2009. Effect of a free-range raising system on growth performance, carcass yield, and meat quality of slow-growing chicken, Poultry Science, 88, 2219–2223.

Wang, Z. and Zuidhof, M.J., 2004. Estimation of growth parameters using a nonlinear mixed Gompertz model, Poultry Science, 83, 847–852.

Yalçın, S., Settar, P., Ozkan, S. and Cahaner, A., 1997. Comparative evaluation of three commercial broiler stocks in hot versus temperate climates, Poultry Science, 76, 921–929.

Yalçın, S., Özkan, S., Açıkgöz, Z. and Özkan, K., 1998. Influence of dietary enegy on bird performance, carcass parts yields and nutrient composition of breast meat of heterozygous naked neck broilers reared at natural optimum and summer temperatures, British Poultry Science, 39, 633–638.

Zaid, M., Hussain, J., Mahmud, A., Javed, K., Shaheen, M.S., Usman, M., Ghayas, A. and Ahmad, S., 2020. Carcass traits, meat quality, and sensory attributes of fast-growing broilers given outdoor access at different ages. Turkish Journal of Veterinary and Animal Sciences, 44, 1039–1046.
Acknowledgements
We would like to thank Ege-Tav (Turkey) company for supplying chicks and Polimed (Turkey) for feed additives and vaccines.
Funding
This research was funded by the Scientific and Technological Research Council of Turkey (Project No.: 105 O 432).
Ethics declarations
Ethical statement
All methods and procedures employed in this study complied with the recommendations by the Animal Welfare and Ethics Board of Akdeniz University (Antalya, Turkey).
Conflict of interest
The authors declare no competing interests.
Additional information
Publisher's note
Springer Nature remains neutral with regard to jurisdictional claims in published maps and institutional affiliations.
About this article
Cite this article
Aksoy, T., Çürek, D.İ., Narinç, D. et al. Effects of season, genotype, and rearing system on broiler chickens raised in different semi-intensive systems: performance, mortality, and slaughter results. Trop Anim Health Prod 53, 189 (2021). https://doi.org/10.1007/s11250-021-02629-y
Received:

Accepted:

Published:
Keywords
Extensive indoor

Free-range

Traditional free-range

Gompertz

Feed consumption

Meat yield