Abstract
The subtropical monsoon climate characterized by high or low temperature and humidity can induce cold and heat stress for newborn animals, which results in adverse effect on birth weight and even pre-weaning mortality. However, this early growth performance on indigenous goats is affected by cold and heat climatic environments and is still unclear in subtropical climate. In this study, we continuously measured (July 2011 to June 2016) the birth weight and mortality of an indigenous goat species (n = 530), and collected temperature, humidity, temperature–humidity index (THI) in original farming area, Chongqing, southwest China. As the result, the mean birth weights in cold months (January and February, mean temperature < 10 °C and THI < 56) and heat months (July and August, mean temperature > 29 °C and THI > 76) were significantly lower (P < 0.05) compared to the other months (June and October, mean temperature = 16~25 °C and THI = 61~75). Meanwhile, the birth weight was positively correlated (P < 0.01) with gestational THI from November to May, and was negatively correlated (P < 0.01) with those parameters from June to October, respectively. The maximum pre-weaning mortality, occurring in the 1st month after birth, is 16.17 ± 2.56%. However, when the birth weight was 20% lower than annual average (2.09 ± 0.54 kg), the mortality was significantly enhanced (P < 0.01) to 46%. In addition, cold and heat climates respectively enhanced mortality in the 1st month and 2nd~4th months after birth. In conclusion, annually chronic heat and cold climates could play important roles in lowering birth weight and their survival in subtropical monsoon region. Low birth weight and cold temperature play critical role to contribute the advent of higher mortality after birth. Our results potentially provide the appropriate ranges of temperature (16~26 °C) and THI (61~75) as pregnant goat and kids raising condition to avoid these negative influences.
Access options
Buy single article
Instant access to the full article PDF.
US$ 39.95
Tax calculation will be finalised during checkout.
Subscribe to journal
Immediate online access to all issues from 2019. Subscription will auto renew annually.
US$ 79
Tax calculation will be finalised during checkout.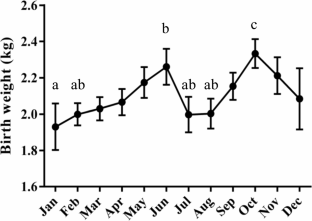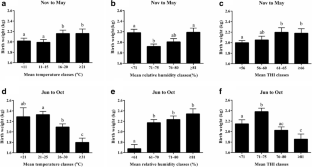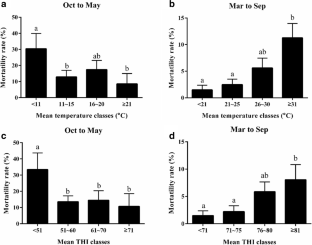 References
Abecia, J.A., Arrebola, F., Macias, A., Lavina, A., Gonzalez-Casquet, O., Benitez, F. and Palacios, C., 2016. Temperature and rainfall are related to fertility rate after spring artificial insemination in small ruminants. International Journal of Biometeorology, 60(10): 1603-1609.

Baiden, R. Y. 2007. Birth weight, birth type and pre-weaning survivability of west african dwarf goats raised in the Dangme West District of the Greater Accra Region of Ghana. Tropical Animal Health and Production, 39(2): 141-147.

Banerjee, D., Upadhyay, R. C., Chaudhary, U. B., Kumar, R., Singh, S., Ashutosh, Das, Das, T. K. and De, S., 2015. Seasonal variations in physio-biochemical profiles of Indian goats in the paradigm of hot and cold climate. Biological Rhythm Research, 46(2): 221-236.

Battini, M., Barbieri, S., Fioni, L., and Mattiello, S., 2016. Feasibility and validity of animal-based indicators for on-farm welfare assessment of thermal stress in dairy goats. Int J Biometeorol, 60(2): 289-296.

Chen, X. C., Fahy, A. L., Green, A. S., Anderson, M. J., Rhoads, R. P., and Limesand, S. W., 2010. beta(2)-Adrenergic receptor desensitization in perirenal adipose tissue in fetuses and lambs with placental insufficiency-induced intrauterine growth restriction. Journal of Physiology-London, 588(18): 3539-3549.

Chowdhury, S. A., Bhuiyan, M. S. A., and Faruk, S., 2002. Rearing black bengal goat under semi-intensive management 1. Physiological and reproductive performances. Asian-Australasian Journal of Animal Sciences, 15(4): 477-484.

de Souza, P. T., Salles, M. G. F., da Costa, A. N. L., Carneiro, H. A. V., de Souza, L. P., Rondina, D., and de Araujo, A. A., 2014. Physiological and production response of dairy goats bred in a tropical climate. International Journal of Biometeorology, 58(7): 1559-1567.

Galan, H. L., Regnault, T. R. H., Le Cras, T. D., Tyson, R. W., Anthony, R. V., Wilkening, R. B., and Abman, S. H., 2001. Cotyledon and binucleate cell nitric oxide synthase expression in an ovine model of fetal growth restriction. Journal of Applied Physiology, 90(6): 2420-2426.

Garcia-Ispierto, I., Lopez-Gatius, F., Bech-Sabat, G., Santolaria, P., Yaniz, J. L., Nogareda, C., De Rensis, F., and Lopez-Bejar, M., 2007. Climate factors affecting conception rate of high producing dairy cows in northeastern Spain. Theriogenology, 67(8): 1379-1385.

Habibu, B., Kawu, M. U., Makun, H. J., Aluwong, T., and Yaqub, L. S., 2016. Seasonal variation in body mass index, cardinal physiological variables and serum thyroid hormones profiles in relation to susceptibility to thermal stress in goat kids. Small Ruminant Research, 145: 20-27.

Holmes, J. H. G., Prasetyo, S., Miller, H. M., and Scheurmann, E. A., 1986. Effect of Chronic Heat Load during Pregnancy on Birth-Weight, Behavior and Body-Composition of Australian Feral Goat Kids. Tropical Animal Health and Production, 18: 185-190.

Iniguez, L., 2004. Goats in resource-poor systems in the dry environments of West Asia, Central Asia and the Inter-Andean valleys. Small Ruminant Research, 51(2): 137-144.

Kabuga, J. D., and Akowuah, F., 1990. Influence of Month and Climatic Factors on the Period of Birth, Litter Size, Birth-Weight and Preweaning Mortality of Sheep in Ghana. International Journal of Biometeorology, 34(3): 164-169.

Kaliber, M., Koluman, N., and Silanikove, N., 2016. Physiological and behavioral basis for the successful adaptation of goats to severe water restriction under hot environmental conditions. Animal, 10(1): 82-88.

Kljajevic, N. V., Tomasevic, I. B., Miloradovic, Z. N., Nedeljkovic, A., Miocinovic, J. B., and Jovanovic, S. T., 2018. Seasonal variations of Saanen goat milk composition and the impact of climatic conditions. J Food Sci Technol, 55(1): 299-303.

Lai, M., Zhou, R. Q., Huang, H. C., and Hu, S. J., 2011. Prevalence and risk factors associated with intestinal parasites in pigs in Chongqing, China. Research in Veterinary Science, 91(3): E121-E124.

Limesand, S. W., Rozance, P. J., Zerbe, G. O., Hutton, J. C., and Hay, W. W., 2006. Attenuated insulin release and storage in fetal sheep pancreatic islets with intrauterine growth restriction. Endocrinology, 147(3): 1488-1497.

McGregor, B. A., 2016. The effects of nutrition and parity on the development and productivity of Angora goats: 1. Manipulation of mid pregnancy nutrition on energy intake and maintenance requirement, kid birth weight, kid survival, doe live weight and mohair production. Small Ruminant Research, 145: 65-75.

Mellor, D. J., 1988. Integration Of Perinatal Events, Pathophysiological Changes And Consequences for the Newborn Lamb. British Veterinary Journal, 144(6), 552-569.

Muns, R., Nuntapaitoon, M., and Tummaruk, P., 2016. Non-infectious causes of pre-weaning mortality in piglets. Livestock Science, 184: 46-57.

Poisky, L., and von Keyserlingk, M. A. G., 2017. Invited review: Effects of heat stress on dairy cattle welfare. Journal of Dairy Science, 100(11): 8645-8657.

Soares, F. N., Oliveira, M. E. F., Padilha-Nakaghi, L. C., de Oliveira, L. G., Feliciano, M. A. R., de Oliveira, F. B. B., Teixeira, P. P. M., Vicente, W. R. R., Faturi, C., and Rodrigues, L. F. D., 2015. Reproductive and productive performances of Santa Ins ewes submitted to breeding in different periods of the Amazonian humid tropical climate. Tropical Animal Health and Production, 47(8): 1465-1471.

Thom, E. C., 1959. The Discomfort Index. Weatherwise, 12(2): 57-61.

Turkson, P. K., Antiri, Y. K., and Baffuor-Awuah, O., 2004. Risk factors for kid mortality in West African Dwarf goats under an intensive management system in Ghana. Tropical Animal Health and Production, 36(4): 353-364.

Wilson, R. T., and Sayers, A. R., 1987. Livestock Production in Central Mali - Effects of Climatic Variables on the Period of Birth and on Litter Size in Traditionally Managed Goats and Sheep. Agricultural and Forest Meteorology, 40(1): 31-36.

Yates, D. T., Green, A. S., and Limesand, S. W., 2011. Catecholamines mediate multiple fetal adaptations during placental insufficiency that contribute to intrauterine growth restriction: lessons from hyperthermic sheep. Jounary of Pregnancy, 2011: 740408.

Young, B. A., 1983. Ruminant cold stress: effect on production. Journal of Animal Science, 57(6): 1601-1607.

Zhang, C., Luo, Y.-M., Zhang, J.-H., He, J.-J., Jin, L., and Zhao, Z.-Q., 2011. Variation of plasma INH B, ACT A and FSH concentrations during an estrus cycle in Dazu black goat and Sannen dairy goat. Hereditas (Beijing), 33(6): 607-612.

Zhao, Y. J., Zhang, J. H., Wei, H., Sun, X. M., Mu, B. A., Yu, M. J., and Wang, L. B., 2010. Efficiency of methods applied for goat estrous synchronization in subtropical monsoonal climate zone of Southwest China. Tropical Animal Health and Production, 42(6): 1257-1262.

Zhao, Y., Zhang, J., Zhao, E., Zhang, X., Liu, X., and Zhang, N., 2011. Mitochondrial DNA diversity and origins of domestic goats in Southwest China (excluding Tibet). Small Ruminant Research, 95(1): 40-47.

Zhao, Z. Q., Wang, L. J., Sun, X. W., Zhang, J. J., Zhao, Y. J., Na, R. S., and Zhang, J. H., 2015. Transcriptome analysis of the Capra hircus ovary. PLoS One, 10(3): e0121586.
Acknowledgments
We appreciate the Chongqing key laboratory of forage and herbivore and Chongqing engineering research center for providing data of this study and technical assistance. And we also thank the China Scholarship Council for providing a scholarship fund to the first author.
Funding
This work was supported by the National Natural Science Foundation of China (No. 31602021, No. 31772564), the Research and Innovation Project of Chongqing Graduate Students (No. CYB17073), the Innovation Team Building Program in Chongqing universities (CXTDG201602004), and the National Key Research and Development Program of China (No. 2018YFD0502003).
Ethics declarations
This study was approved by the Southwest University Institutional Animal Care and Use Committee (No. [2007] 3). All experiments were carried out at the Dazu Black goat farm in Southwest University, Beibei district, Chongqing, China
Conflict of interest
The authors declare that they have no conflicts of interest.
Additional information
Publisher's note
Springer Nature remains neutral with regard to jurisdictional claims in published maps and institutional affiliations.
Electronic supplementary material
About this article
Cite this article
Luo, N., Wang, J., Hu, Y. et al. Cold and heat climatic variations reduce indigenous goat birth weight and enhance pre-weaning mortality in subtropical monsoon region of China. Trop Anim Health Prod 52, 1385–1394 (2020). https://doi.org/10.1007/s11250-019-02142-3
Received:

Accepted:

Published:

Issue Date:
Keywords
Cold and heat stress

Temperature-humidity index

Goat

Mortality

Low birth weight