Abstract
Indigenous animal genetic resources are vital in agriculture especially in the era of climate change because they are adapted to the harsh local conditions. Therefore, their conservation through utilisation is necessary. Indigenous Tswana pigs are one of the animal genetic resources that need to be protected from becoming extinct. The aim of this study was to determine the population of Tswana pigs, their production characteristics and management practices in the southern districts of Botswana. A survey was done in 15 villages in Kweneng, Kgatleng and South East districts of southern Botswana. A combination of purposive and convenience sampling methods was used to select villages and households where the survey was conducted. A questionnaire with closed- and opened-ended questions was administered to 71 indigenous pig farmers. The data were analysed using descriptive statistics procedure, frequency procedure and principal component analysis. The study established that indigenous Tswana pigs are mainly kept and managed by middle-aged and elderly women with lower level of education and no formal employment. These farmers keep Tswana pigs alongside other livestock species. The population of indigenous Tswana pigs in the surveyed districts is 620. Farmers keep indigenous pigs for cash and for home consumption. The pigs are kept in the backyard and fed kitchen leftovers and others are left to scavenge for feeds. Farmers do not put much effort in attending the health of the indigenous pigs; hence, their ignorance of the parasites and diseases affecting the pigs.
Access options
Buy single article
Instant access to the full article PDF.
US$ 39.95
Tax calculation will be finalised during checkout.
Subscribe to journal
Immediate online access to all issues from 2019. Subscription will auto renew annually.
US$ 79
Tax calculation will be finalised during checkout.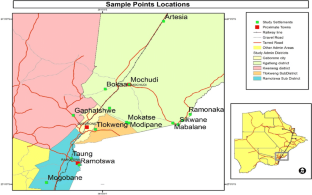 References
Ajayi, B. A, Akinokun, J.O., 2013. Evaluation of some Litter Traits and Heritability Estimates of Nigerian Indigenous Pigs. International Journal of Applied Agricultural and Apicultural Research, 9 (1&2), 113–119

Ayalew, W., Dambaro, G., Dom, M., Amben, S., Besari, F., Moran, C. and Nidup K. 2011. Genetic and cultural significance of indigenous pigs in Papua New Guina and their Phenotypic characteristics. Animal Genetic Resources, 48, 37–46.

Chabo, R.G., Baitsile, P.T. and Rabanna, P.P., 2000. Performance of Tswana Pigs with Traditional Management in SE-Botswana. Der Tropenlandwirt, Beitrᾱge zur tropischen Landwirtschaft und veterinᾱrmedizin, 101. Jahrgang, 99–101

Chiduwa, G., Chimonyo, M., Halimani, T.E., Chisambara, S.R. and Dzama, K., 2008. Herd dynamics and contribution of indigenous pigs to the livelihoods of rural farmers in a semi-arid area of Zimbabwe. Trop Anim Health Prod, 40,125–136

Chimonyo, M., Bhebhe, E., Dzama, K., Halimani, T.E. and Karengoni, A., 2005. Improving smallholder pig production for food security and livelihood of the poor in Southern Africa. African Crop Science Conference Proceedings. 7, 569–573

Edelsten R.M. and Chinombo, D.O., 1995. An outbreak of African swine fever in the southern region of Malawi. Revue Scientifique et technique, 14(3), 655–666.

Els, J.F., 2004. State of Farm Animal Genetic Resources. Draft Country Report.

Gcumisa, S.T., 2013. The untold story of the pig farming sector in rural KwaZulu-Natal : a case study of Uthukela District, University of South Africa, Pretoria, http://hdl.handle.net/10500/14146. Accessed 13 Feb 2019

Gcumisa, S.T., Oguttu, J.W. and Masafu, M.M.2016. Pig farming in rural South Africa: A case study of uThekela District in Kwazulu-Natal. Indian Journal of Animal Research, 50(4), 614–620.

Kagira, J.M., Kanyari, P.W.N., Maingi, N., Githigia, S.M., Ng'ang'a, J.C. and Karuga, J.W., 2010. Characteristics of the Smallholder free-range pig production system in western Kenya. Tropical Animal Health and Production, 42, 865–873.

Madzimure, J., Chimonyo, M., Zander, K. K and Dzama, K., 2013. Potential for using indigenous pigs in subsistence-oriented small-scale farming systems of Southern Africa. Tropical Animal Health and Production, 45, 135–142.

Mbaga, S.H., Lymo, C.M., Kifaro, G.C. and Lekule, F.P., 2005. Phenotypic characterization and production performance of local pigs under village settings in the Southern Highland zone, Tanzania. Animal Genetic resources, 37, 83–90.

Mutua F., Arimi, S., Ogara, W., Dewey, C and Schelling E., 2010. Farmer Perceptions on Indigenous Pig Farming in Kakamega District, Western Kenya. Nordic Journal of African Studies, 19(1), 43–57.

Mutua, E.T., Dewey, C.E., Arimi, S.M., Ogara, W.O., Githigia, S.M., Levy, M and Schelling, E., 2011. Indigenous pig management practices in rural villages of Western Kenya. Livestock Research for Rural Development, 23 (44). http://www.lrrd.org/lrrd23/7/mutu23144.htm. Accessed 15 Nov 2018.

Nidup, K., Joshi, D.D., Gongora, J. and Moran, C. 2011. Farming and biodiversity of indigenous pigs in Nepal. Biodiversity, 11 (3–4), 26–33.

Nsoso, S.J., Mosweu, S., Malela, L. and Podisi, B., 2004. A survey on population, distribution, management and utilisation of indigenous Tswana pigs in Southern Botswana. FAO Corporate document repository.

Nsoso, S.J., Mannathoko, G.G. and Modise, K., 2006. Monitoring production, health and marketing of indigenous Tswana pigs in Ramotswa village of Botswana. Livestock Research for Rural Development, 18 (9)

Phengsavanh, P., Ogle, B., Stȕr, W., Frankow-Lindberg, B.E. and Lindberg, J.E. 2010. Feeding and performance of pigs in smallholder production systems in Northern Lao PDR. Tropical Animal Health and Production, https://doi.org/10.1007/s11250-010-9612-4

Silva, G.L.L.P., Thuy, L.T., Abeykoon, N.D., Hanh, N.T.H., Bett, R.C. Okeyo, M. and Ibrahim, M.N.M. 2016. Comparative study of Indigenous pig production in Vietnam and Sri Lanka. International Journal of Livestock Production, 4 (10), 83–93.

Statistics Botswana. 2015. Agricultural Survey Report, 2013. Statistics Botswana

Statistics Botswana. 2017. Botswana Environment Statistics, Water and Climate Digest 2017.
Acknowledgements
The authors also acknowledge Ms. Khumoetsile Sebotsa and Mr. Joseph Kago Motshwarapitse for their assistance in collecting the data, Ms. Betty Phalalo for her assistance in capturing the data into Microsoft excel and Dr. Lawrence Akanyang for assisting with the map.
Funding
The authors acknowledge Botswana University of Agriculture and Natural Resources for sponsoring this study.
Ethics declarations
Statement of human rights
This study did not collect any confidential or private information of the farmers; therefore, it was approved by Botswana University of Agriculture and Natural Resources Research and Publication Committee.
Statement of animal rights
This article does not contain any studies with animals performed by any of the authors. Therefore, Botswana University of Agriculture and Natural Resources Animal Care and Use Committee was not consulted.
Informed consent
Informed consent was obtained from all individual participants included in the study.
Conflict of interest
The authors declare that they have no conflict of interest.
Additional information
Publisher's note
Springer Nature remains neutral with regard to jurisdictional claims in published maps and institutional affiliations.
About this article
Cite this article
Thutwa, K., Chabo, R., Nsoso, S.J. et al. Indigenous Tswana pig production characteristics and management practices in southern districts of Botswana. Trop Anim Health Prod 52, 517–524 (2020). https://doi.org/10.1007/s11250-019-02037-3
Received:

Accepted:

Published:

Issue Date:
Keywords
Indigenous

Population

Production characteristics

Management practices

Tswana pigs