Abstract
The prevalence and distribution of Trypanosoma evansi (T. evansi) infection on camels in Somaliland were studied using the card agglutination test (CATT/T. evansi). A total of 2575 camels were surveyed. The overall animal-level apparent (test) prevalence in Somaliland was 26.4%. The prevalence was highest in the Sahil Region (37.3%) followed by Togdheer (28.4%), Sanaag (27.4%), and Sool (26.2%). There was a significant difference in the seroprevalence between the regions (χ2 = 35.2, df = 1, P < 0.001) with the prevalence being significantly higher in Sahil than in Woqooyi Galbeed and Awdal, respectively. Camels from the eastern districts were two times more likely to be infected than camels from the western districts (P < 0.001). Herds in the coastal area were also more likely to be infected (37.0%) than herds from the inland areas (26.9%).The seroprevalence varied significantly between body condition score groups (P < 0.001) with the highest seroprevalence in camels of poor body condition (39.5%) and the lowest in camels of good body condition (18.4%) score. Animals in poor body condition were almost three times more likely to be positive than animals in good body condition (OR = 2.9; 95% CI 2.2, 3.8).
Access options
Buy single article
Instant access to the full article PDF.
US$ 39.95
Tax calculation will be finalised during checkout.
Subscribe to journal
Immediate online access to all issues from 2019. Subscription will auto renew annually.
US$ 79
Tax calculation will be finalised during checkout.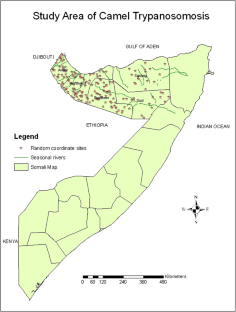 References
Bajyana Song, E., Hamers, R., 1988. A card agglutination test (CATT) for veterinary use based on an early VAT Ro Tat 1/2 of Trypanosoma evansi. Annales de la Societe Belge de Medecine Tropicale 68, 233–240.

Baumann, M.P.O., Zessin, K.H., 1992. Productivity and health of camels (Camelus Dromedarius) in Somalia: Associations with trypanosomosis and brucellosis. Tropical Animal Health and Production 24, 145–156.

Bhutto, B., Gadahi, J.A., Shah, G., Dewani, P., Arijo, A.G., 2010. Field investigation on the prevalence of trypanosomiasis in camels in relation to sex, age, breeds and herd size. Pakistan Veterinary Journal 30, 175–177.

Cameron, A.R. 1999. Survey Toolbox - A Practical Manual and Software Package for Active Surveillance of Livestock Diseases in Developing Countries, ACIAR Monograph No 54,330.

Delafosse, A., Doutoum, A.A., 2004. Prevalence of Trypanosoma evansi infection and associated risk factors in camels in eastern Chad. Veterinary Parasitology 119, 155–164.

Dia, M.L., Diop, C., Aminetou, M., Jacquiet, P., Thiam, A., 1997. Some factors affecting the prevalence of Trypanosoma evansi in camels in Mauritania. Veterinary Parasitology 72, 111–120.

Dirie, M.F., Wallbanks, K.R., Aden, A.A., Bornstein, S., Ibrahim, M.D., 1989. Camel trypanosomiasis and its vectors in Somalia. Veterinary Parasitology 32, 285–291.

Elamin, E.A., Elbashir, M.O.A., Saeed, E.M.A., 1998. Prevalence and infection pattern of Trypanosoma evansi in camels in mid-eastern Sudan. Tropical Animal Health and Production 30, 107–114.

ElSaid, H.M., Nantulya, V.M., Hilali, M., 1998. Diagnosis of Trypanosoma evansi infection among Sudanese camels imported to Egypt using card agglutination test (CATT) and antigen detection Latex Agglutination Test (Suratex). The Journal of protozoology research 8, 194–200.

Enwezor, F.N.C., Sackey, A.K.B., 2005. Camel trypanosomosis - a review. Veterinarski arhiv 75, 439–452.

Hagos, A., Yilkal, A., Esayass, T., Alemu, T., Fikru, R., Feseha, G., Goddeeris, B., Claes, F., 2009. Parasitological and serological survey on trypanosomosis (surra) in camels in dry and wet areas of Bale Zone, Oromyia Region, Ethiopia. 160, 569–573.

Herrera, H.M., Dávila, A.M.R., Norek, A., Abreu, U.G., Souza, S.S., D'Andrea, P.S., Jansen, A.M., 2004. Enzootiology of Trypanosoma evansi in Pantanal, Brazil. Veterinary Parasitology 125, 263–275.

Lemecha, H., Lidetu D, Hussein I, 2008. Prevalence and distribution of camel trypanosomosis in the semi-arid and arid Awash Valley of Ethiopia. ©Ethiopian Society of Animal Production (ESAP) 8, 1–9.

Mohamed, A.S., 2007. Camel Trypanosomiasis in Sahil region of Somaliland. International Scientific Council for Trypanosomiasis Research and Control 124, 471–480.

Ngaira, J.M., Bett, B., Karanja, S.M., Njagi, E.N.M., 2003. Evaluation of antigen and antibody rapid detection tests for Trypanosoma evansi infection in camels in Kenya. Veterinary Parasitology 114, 131–141.

Njiru, Z.K., Constantine, C.C., Ndung, J.M., Robertson, I., Okaye, S., Thompson, R.C.A., Reid, S.A., 2004. Detection of Trypanosoma evansi in camels using PCR and CATT/T. evansi tests in Kenya. Veterinary Parasitology 124, 187–199.

Reid, S.A., Copeman, D.B., 2003. The development and validation of an antibody- ELISA to detect Trypanosoma evansi infection in cattle in Australia and Papua New Guinea. Preventive Veterinary Medicine 61, 195–208.

Rogan, W.J., Gladen, B., 1978. Estimating prevalence from the results of a screening test. American Journal of Epidemiology 107, 71–76.

Sommerlatte, M., Umar, A. 2000. An Ecological Assessment of the Coastal Plains of North Western Somalia (Somaliland) Somali Natural Resources Management ProgrammeWeb-link:http://www.somalilandlaw.com/Somaliland_Coastal_Plains.pdf.

Tadesse, A., Omar, A., Aragaw, K., Mekbib, B., Sheferaw, D., 2012. A study on Camel trypanosomosis in Jijiga zone, eastern Ethiopia. Journal of Veterinary Advances 2, 216–219.

Zeleke, M., Bekele, T., 2001. Effect of season on the productivity of camesl (Camelus dromedarius) and the prevalence of their major parasites in Eastern Ethiopia. Tropical Animal Health and Production 33, 321–329.
Acknowledgements
The authors thanked the Ministry of Livestock of Somaliland for facilitating the study. We would like to acknowledge the cooperation of pastoralist and field technical staff for their considerable support and help. We are grateful for the technical support by Dr. Mohamed F. Dirie and the Somali Animal Health Services Project (Somaliland office) who willingly collaborated in the implementation of this study. We also wish to thank Sheikh Technical Veterinary School for their technical assistance.
Funding
This study was funded by Murdoch University and the International Foundation for Science (IFS) (financial supports from IFS grant number B/5121).
Ethics declarations
Conflict of interest
The authors declare that they have no conflict of interest.
Ethical standards
The authors assert that all procedures including blood-sampling protocols contributing to this work comply with the ethical standards of the Murdoch University.
Additional information
Publisher's note
Springer Nature remains neutral with regard to jurisdictional claims in published maps and institutional affiliations.
About this article
Cite this article
Salah, A.A., Robertson, I. & Mohamed, A.S. Prevalence and distribution of Trypanosoma evansi in camels in Somaliland. Trop Anim Health Prod 51, 2371–2377 (2019). https://doi.org/10.1007/s11250-019-01947-6
Received:

Accepted:

Published:

Issue Date:
Keywords
Trypanosoma evansi

Prevalence

Distribution

Pastoral camel production