Abstract
The aim of the study was to identify the breeding goals, derive the relative goal values (RGV), and develop selection index (SI) for buffalo in Egypt. A structured questionnaire survey of milk-producing buffalo holders in 10 Egyptian governorates was carried out to collect data. The total number of surveyed holders was 1797. Buffalo holders were asked to identify the breeding goal groups (BGG). Breeding goal groups were ranked, according to relative importance to farmers, in descending order. The breeding goal traits (BGT) within each BGG were chosen and ranked in descending order. The survey results reflected the importance of milk production traits as the main breeding goal. Traits of milk yield and fat yield were given the greatest attention. In order to estimate the relative goal values (RGV), the subjective determination procedure was used. A principal component analysis (PCA) followed by cluster analysis (CA) of the principal components were performed. The CA led to the identification of three farmer clusters. Six selection indices were proposed from the PCA. The indices yielded different precision with a maximum of 93% of the holder's preferences variability. The current study revealed that subjective method could be used to identify the RGV. Further studies are needed particularly those related to the production system. Also, measurements of market data and consumers requests and their influence on the selected traits are badly needed.
Access options
Buy single article
Instant access to the full article PDF.
US$ 39.95
Tax calculation will be finalised during checkout.
Subscribe to journal
Immediate online access to all issues from 2019. Subscription will auto renew annually.
US$ 79
Tax calculation will be finalised during checkout.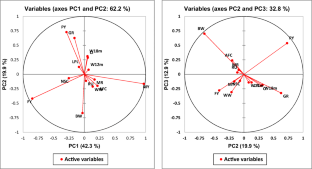 References
Amer, P.R., 2012. Turning science on robust cattle into improved genetic selection decisions. Animal 6, 551–556.

Bazeley, K.J., Barrett, D.C., Williams, P.D. and Reyher, K.K., 2016. Measuring the growth rate of UK dairy heifers to improve future productivity. Veterinary Journal, 212, 9–14.

Byrne, T.J., Amer, P.R., Nühs, J.K., Bryant, J.R. and Cruickshank, G.J., 2012. Using preference survey approaches to define breeding goals in the New Zealand dairy industry. International Committee for Animal Recording, May 2012, Cork, Ireland, Volume: 38.

Byrne, T.J., Amer, P.R., Smith, K.F., Fennessy, P.F. and Hansen, P., 2016. Using preference survey approaches to define breeding goals. J. Dairy Sci. 99(10):8146–8167.

Dezfuli, B.T. and De Seno, L., 2016. Investigation of response to selection for milk traits in dairy Buffalo of Iran based on three sale situations. Buffalo Bulletin, 35(3):405–415.

El-Arian, M.N., 2005. Selection indices for Friesian cows using two methods of calculating relative economic values for some important productive and reproductive traits. J Agric Sci, Mansoura Univ Egypt 30, 7285–96

El-Arian, M.N., Mourad, K.A. and Khattab, A.S., 2001, A comparison of different selection indices for genetic improvement of some milk traits in a herd of Egyptian buffaloes. J Agric Sci, Mansoura Univ Egypt 26, 2687–95

El-Bramony, M.M., Gebreel, I.A. and Fooda, T.A., 2010. Response to selection for milk yield traits in Egyptian buffalo. Egyptian J. Anim. Prod. 47(2):85–92.

Falconer, D.S. and Mackay, T.F.C., 1996. Introduction to quantitative genetic. 4th ed, Longman Group UK Harlow.

FAOSTAT, 2016. FAO Statistics Division., FAO, Rome, Italy, www.fao.org. Accessed 20 Jan 2019.

Groen, A.F., Steine, T., Colleau, J.J., Pedersen, J., Pribyl, J. and Reinsch, N., 1997. Economic values in dairy cattle breeding, with special reference to functional traits. Report of an EAAP-working group. Livestock Production Science 49, 1–21.

Harris, D.L., Stewart, T.S. and Arboleda, C.R., 1994. Animal breeding programmes. A systematic approach to their design. USDA-ARS. AAT-NC. 8-14.

Krupová, Z., Oravcová, M., Krupa, E. and Peškovičová, D., 2008. Methods for calculating economic weights of important traits in sheep. Slovak J. Anim. Sci., 41 (1): 24–29.

MALR, 2015. Statistics of livestock. The Ministry of Agriculture and Land Reclamation/Egypt.

Nanda, A.S. and Nakao, T., 2003. Role of buffalo in the socioeconomic development of rural Asia: Current status and future prospectus. Animal Science Journal, 74, 443–455.

Ponzoni, R.W., 1986. A profit equation for the definition of the breeding objective of Australian Merino sheep. J. Anim. Breed. Genet. 103, 342–357.

Smith, C., 1985. Scope for selecting many breeding stocks of possible economic value in the future. Anim. Prod. 41, 403–412.

Valsalan, J., Chakravarty, A.K., Patil, C.S., Dash, S.K., Mahajan, A.C., Kumar V. and Vohra, V., 2014. Enhancing milk and fertility performances using selection index developed for Indian Murrah buffaloes. Trop Anim Health Prod., 46(6):967–974.

XLSTAT, 2018. Data analysis and statistical solution for MS Excel. Version 6. Addinsoft.

Zbigniew Gołaś, 2017. Determinants of milk production profitability of dairy farms in the EU Member States. Problems of Agricultural Economics, 3(352):19–40.
Acknowledgments
The authors would like to acknowledge Dr. Ali Nigm professor of animal breeding, Department of Animal Production, Faculty of Agriculture, Cairo University, for the valuable revision of the manuscript.
Funding
This research was conducted within the framework of the project no. 1010 titled "Sustainable Breeding Program of Egyptian Buffalo" and funded by the Science and Technology Development Foundation (STDF).
Ethics declarations
Conflict of interest
The author declares that there is no conflict of interest.
Additional information
Publisher's note
Springer Nature remains neutral with regard to jurisdictional claims in published maps and institutional affiliations.
About this article
Cite this article
Abdel-Salam, S.A.M. Identifying breeding goals to develop selection index for buffalo in Egypt using preference survey. Trop Anim Health Prod 51, 2387–2393 (2019). https://doi.org/10.1007/s11250-019-01946-7
Received:

Accepted:

Published:

Issue Date:
Keywords
Breeding goals

Relative goal values

Selection index

Buffalo