Abstract
This study was taken up to assess the impact of supplementing herbal feed additives [HFAs; fruit of Myristica fragrans (Jayphall), seeds of Anethum sowa (Suva), fruit of Apium graveolens (Ajmo), fruit of Cuminum cyminum (Jeera), bark of Cinnamonum zeylanicum (Dalchini), or whole plant of Eclipta alba (Bhangro)] containing essential oils as active component on the nutrient utilization and methane production using wheat straw–based total mixed ration (TMR) as a substrate by in vitro gas production technique. The essential oil content was the highest (P < 0.01) in M. fragrans followed by E. alba and A. sowa. In addition to essential oils, these HFAs also contained saponins, tannins, and antioxidants. The HFAs were supplemented at 1–3% of substrate dry matter (DM). The data were analyzed by 6 × 4 factorial design. Irrespective of level of HFA, the net gas production (NGP) and metabolizable energy (ME) availability was the highest (P < 0.01) in TMR supplemented with C. zeylanicum comparable with E. alba, but higher than TMR supplemented with other HFAs. Supplementation of TMR with different HFAs did not affect the digestibility of neutral detergent fiber (NDF) and true organic matter (TOM) and partitioning factor (PF). The total volatile fatty acids (VFAs), acetate, propionate (P < 0.01), and butyrate (P < 0.05) production was the highest in TMR supplemented with A. sowa, and the lowest was observed in TMR supplemented with C. cyminum. The isobutyrate and valerate production was also the highest (P < 0.01) in diet supplemented with A. sowa, but isovalerate production was the highest (P < 0.01) in diet supplemented with C. zeylanicum. The A:P ratio was the best in TMR supplemented with A. sowa. The efficiency of rumen fermentation was the highest, and efficiency of conversion of hexose to methane was the lowest in diet supplemented with A. sowa as compared to all other supplements. The in vitro methane production expressed as either percent of NGP, ml/100 mg DM of substrate/24 h, or as ml/100 mg of digestible OM/24 h was the lowest in TMR supplemented with A. sowa. The ammonia nitrogen production from TMR supplemented with M. fragrans and A. sowa was comparable, but significantly (P < 0.01) lower than TMR supplemented with other HFAs. Irrespective of the nature of HFA, the NGP and ME availability were significantly (P < 0.01) higher in TMR supplemented with HFAs at all levels as compared to un-supplemented TMR. As compared to control, the digestibility of NDF and that of TOM was depressed slightly in all the HFA-supplemented TMRs. The supplementation of HFAs at 2% of substrate DM improved (P < 0.01) the production of total VFAs, acetate, and propionate, and that of isovalerate in comparison to the un-supplemented TMR. The acetate to propionate ratio increased (P < 0.01) with the increase in the level of supplementation of HFAs containing essential oils. The methane and ammonia productions were depressed significantly when TMR was supplemented at 2% level of HFAs as compared to control TMR. It was concluded that supplementation of TMR with A. sowa at 2% of substrate was fermented better as indicated by the production of total and individual VFA, methane, and ammonia as compared to TMR supplemented with other HFA or un-supplemented TMR.
This is a preview of subscription content, log in to check access.
Access options
Buy single article
Instant access to the full article PDF.
US$ 39.95
Price includes VAT for USA
Subscribe to journal
Immediate online access to all issues from 2019. Subscription will auto renew annually.
US$ 99
This is the net price. Taxes to be calculated in checkout.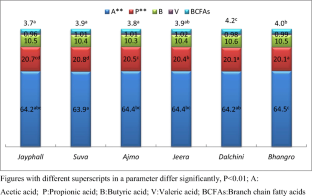 References
Agarwal, N., Shekhar, C., Kumar, R., Chaudhary, L.C. and Kamra, D.N., 2009. Effect of peppermint (Menthapiperita) oil on in vitro methanogenesis and fermentation of feed with buffalo rumen liquor. Animal Feed Science and Technology, 148, 321–327.

Ahmed, M.A., El-Zarkouny, S.Z., El-Shazly, K.A. and Sallam, S.M.A., 2014. Impact of essential oils blend on methane emission, rumen fermentation characteristics and nutrient digestibility in Barki sheep. Journal of Agricultural Science, 6, 144–156. : https://doi.org/10.5539/jas.v6n7p144

Anonymous, 2012. FSSAI Manual of methods of analysis of foods, Microbiological methods. Lab Manual 14, Food Safety and Standards Authority of India, Ministry of Health and Family Welfare, Government of India.

AOAC., 2007. Official Methods of Analysis, 18th edn. Association of Official Analytical Chemists, Gaithersburg, Maryland, USA.

Baccou, J.C., Lambert, F. and Sanvaire, Y., 1977. Spectrophotometric method for the determination of total steroidal sapogenin. Analyst, 102, 458–466.

Bakshi, M.P.S. and Wadhwa, M., 2004. Effect of herbal feed additives on productive performance of buffalo calves, Bubalus bubalis. Journal of Buffalo Science and Techniques, 10, 65–70. [Cross ref] DOI: https://doi.org/10.2527/af.2016-0020

Bakshi, M.P.S., Neelam Rani, Wadhwa, M. and Kaushal, S. 2004. Impact of herbal feed additives on the degradibility of feed stuffs invitro, Indian J. Anim. Nutr. 21: 249–253. [Croos Ref] https://doi.org/10.20546/ijcmas.2018.708.348

Baran, M. and Zitnan, R. 2002. Effect of monensin sodium on fermentation efficiency in sheep rumen. Arch Tierzucht 45: 181–185. DOI: https://doi.org/10.5194/aab-45-181-2002

Burdock, G.A. and Carabin, I.G., 2004. Generally recognized as safe (GRAS): History and description. Toxicology Letters, 150, 3–18.

Calsamiglia, S., Busquet, M., Cardozo, P.W., Castillejos, L. and Ferret, A., 2007. Essential oils for modifying rumen fermentation: A review. Journal of Dairy Science, 90, 2580–2595.

Cottyn, B.G. and Boucque, C.V., 1968. Rapid method for the gas–chromatographic determination of volatile fatty acids in rumen fluid. Journal of Agricultural and Food Chemistry,16, 105–107.

Czerkawski, J.W., 1986. An Introduction to Rumen Studies. Pergamon Press, Oxford, 221–222.

Donoghue, D.J., 2003. Antibiotic residues in poultry tissue and eggs. Human health concerns. Poultry Science, 83, 618–622.

EC., 2005. Ban on antibiotics as growth promoters in animal feed enters into effect. http://europa.eu/rapid/press-release_IP-05-1687_en.htm#fn1

Erwin, E.S., Marco, G.J., Emery, E.M., 1961. Volatile fatty acid analyses of blood and rumen fluid by gas chromatography. Journal of Dairy Science, 44, 1768–1771.

Gunal, M., Ishlak, A., AbuGhazaleh, A.A. and Khattab, W., 2014. Essential oils effect on rumen fermentation and biohydrogenation under in vitro conditions. Czech Journal of Animal Science, 59, 450–459.

Gunal, M., Pinski, B. and AbuGhazaleh, A.A., 2017. Evaluating the effects of essential oils on methane production and fermentation under in vitro conditions. Italian Journal of Animal Science, 16, 500–506.

Hundal, J.S., Wadhwa, M. and Bakshi, M.P.S., 2016a. Effect of supplementing essential oils on the in vitro methane production and digestibility of wheat straw. Journal of Animal Research and Nutrition,1: 14. doi: https://doi.org/10.21767/2572-5459.100014

Hundal, J.S., Wadhwa, M. and Bakshi, M.P.S., 2016b. Methane mitigation potential of tannins and their impact on digestibility of nutrients in-vitro. Animal Nutrition and Feed Technology,16, 505–513.

IAEA., 1985. Laboratory training manual on the Use of Nuclear Techniques in Animal Nutrition. Technical reports series No.248, International Atomic Energy Agency, Vienna, 301.

Karásková, K., Suchý, P. and Straková, E., 2015. Current use of phytogenic feed additives in animal nutrition: A review. Czech Journal of Animal Science, 60, 521–530.

Kumaran, A. and Karakumaran, J., 2007. In vitro antioxidant activities of methanol extracts of five Phyllanthus species from India. LWT - Food Science and Technology, 40, 344–352.

McIntosh, F.M., Williams, P., Losa, R., Wallace, R.J., Beever, D.A. and Newbold, C.J., 2003. Effects of essential oils on ruminal microorganisms and their protein metabolism. Applied Environmental Microbiology, 69, 5011–5014.

Menke, K.H. and Steingass, H., 1988. Estimation of the energetic feed value obtained by chemical analysis and in vitro gas production using rumen fluid. Anim Res Dev 28: 7–55. http://agris.fao.org/agris-search/search.do?recordID=DE88A022488

Menke, K.H., Rabb, L., Salewski, A., Steingass, H., Fritz, D. and Schneider, W., 1979. The estimation of the digestibility and ME content of ruminant feedstuffs from the gas production when they are incubated with rumen liquor in vitro. Journal of Agricultural Science Cambridge, 93, 217–222.

Miguel, M.G., 2010. Antioxidant and anti-inflammatory activities of essential oils: A short review. Molecules, 15, 9252–9287.

NRC., 2007. Nutrient Requirements of Small Ruminants: Sheep, Goats, Cervids, and New World Camelids. National Research Council, National Academy of Sciences, Washington, D.C.

Nweze, B.O. and Nwankwagu, A.E., 2010. Effects of Tetrapleura tetraptera under different feeding regimes on growth performance and gut microbes of broiler chicken. Proc. 35th Conference Nigerian Society of Animal Production, 14–17 March, 2010. Univ. of Ibadan, Nigeria, 299.

Ørskov, E.R., Flatt, W.P. and Moe, P.W., 1968. Fermentation balance approach to estimated extent of fermentation and efficiency of volatile fatty acid formation in ruminants. Journal of Dairy Science, 51, 1429–1435.

Patra, A.K. and Yu, Z., 2012. Effects of essential oils on methane production and fermentation by, and abundance and diversity of, rumen microbial populations. Applied and Environmental Microbiology, 78, 4271–4280.

Porter, L.J., Hrstich, L.N. and Chan, B.G., 1986. The conversion of procyanidins and prodelphinidins to cyanidins and delphinidin. Phytochemistry, 25, 223–230.

Roy, D., Tomar, S.K., Sirohi, S.K., Kumar, V. and Kumar, M., 2014. Efficacy of different essential oils in modulating rumen fermentation in vitro using buffalo rumen liquor.Veterinary World, 7, 213–218.

Skandamis, P., Koutsoumanis, K., Fasseas, K., and Nychas, G.J.E., 2001. Inhibition of oregano essential oil and EDTA on E. coli O157:H7. Italian Journal of Food Science, 13, 65–75. https://eurekamag.com/research/003/478/003478979.php

Snedecor, G.W. and Cochran, W.G., 1994. Statistical Methods. 7th Edn. Oxford and IBH Publications, New Delhi.

SPSS., 2007. Statistical Packages for Social Sciences. Version 16, SPSS Inc., Illinois.

Van Soest, P.J., Robertson, J.B. and Lewis, B.A., 1991. Methods for dietary fiber, neutral detergent fiber, and nonstarch polysaccharides in relation to animal nutrition. Journal of Dairy Science, 74, 3583–3597.

Yang, C., Chowdhury, M.A.K., Hou, Y., Gong, J., 2015. Phytogenic compounds as alternatives to in-feed antibiotics: Potentials and challenges in application. Pathogens, 4, 137–156.

Yeotikar, P.V., Nayyar, S., Singh, C., Mukhopadhaya, C.S., Kakkar, S.S. and Jindal, R., 2018. Levels of heavy metals in drinking water, blood and milk of buffaloes during summer and winter seasons in Ludhiana, Punjab (India), International Journal of Pure and Applied Biosciences, 6, 1265–1274. doi: https://doi.org/10.18782/2320-7051.6416.
Acknowledgments
This work was conducted under National Agriculture Innovative Project (NAIP) entitled 'Rumen microbial diversity in domesticated and wild ruminants and impact of additives on methanogenesis and utilization of poor quality fibrous feeds' and sponsored by Indian Council of Agricultural Research, New Delhi, India.
Ethics declarations
Ethical statement
All applicable international, national, and institutional guidelines for the care and use of animals were followed. Institutional Animal Ethics Committee (IAEC), Guru Angad Dev Veterinary, and Animal Sciences University, Ludhiana. (Registration No. 497/GO/ab/2001/CPCSEA). Memo No.: VMC/14/839-55.
Conflict of interest
The authors declare that they have no conflict of interest.
Additional information
Publisher's note
Springer Nature remains neutral with regard to jurisdictional claims in published maps and institutional affiliations.
About this article
Cite this article
Hundal, J.S., Wadhwa, M. & Bakshi, M.P.S. Herbal feed additives containing essential oil: 1. Impact on the nutritional worth of complete feed in vitro. Trop Anim Health Prod 51, 1909–1917 (2019). https://doi.org/10.1007/s11250-019-01887-1
Received:

Accepted:

Published:

Issue Date:
Keywords
Essential oil

Herbal feed additives

In vitro evaluation

Methane

Nutrient utilization