Abstract
Fungal toxins in feed are leading issue in poultry industry causing a detrimental effect on the performance and health of poultry. The study was carried out to determine the incidence and concentration of the aflatoxins and their major producer Aspergillus flavus in home mix layer poultry feed in respect of seasonal variation throughout the year. A total of (n = 204) home mix poultry layer feed samples were analyzed for the isolation of fungi. The isolates were initially screened through colony morphology and microscopic examination. However, aflatoxin concentration was determined by ELISA. Revealed results indicated that, the highest percentage of A. flavus was found during the months of June to August 50/54 (92.5%) followed by September to November 43/65 (66.1%), March to May 21/40 (52.5%), and December to February 18/45 (40%). As a whole, the incidence was recorded 132/204 (64.7%). Moreover, of the 132 samples, 41 (31%) were exceeded in respect of aflatoxin contamination from the legal limit (20 μg/kg) imposed by Food Drug Association (FDA). Statistically, the growth of A. flavus and aflatoxin production was found significantly different in respect of seasonal variation. As highest total viable fungal count (9.9 × 104 CFU/g) and aflatoxin level (72.27 μg/kg) were recorded during the months of June to August and lowest in December to February. Consequently, instantaneous essential control measures are demanded regarding appropriate storage and adequate drying in post-harvesting season. Along with surveillance plans and austere regulations for monitoring the aflatoxin contents for the wellbeing of consumers.
This is a preview of subscription content, log in to check access.
Access options
Buy single article
Instant access to the full article PDF.
US$ 39.95
Price includes VAT for USA
Subscribe to journal
Immediate online access to all issues from 2019. Subscription will auto renew annually.
US$ 99
This is the net price. Taxes to be calculated in checkout.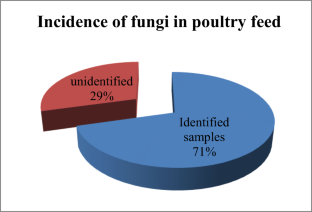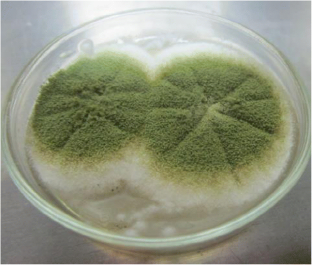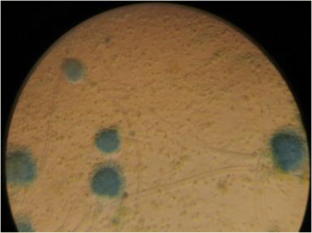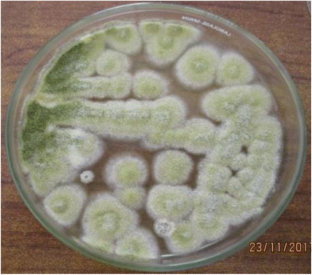 References
Aliyu, R. M., Abubakar, M. B., Adamu, A. Y., and Egwu, E. O., 2012. Mycological quality of commercially prepared and self compounded poultry feeds in Sokoto Metropolis, Sokoto, Nigeria. African Journal of Microbiology Research Vol. 6(46), pp. 7314–7318. https://doi.org/10.5897/AJMR12.761

Aliyu1, R. M., Egwu1, E. O., Abubakar1, M. B., Adamu, A. Y., Salihu, M. D., Dabai, A. I., and Tambuwal, F. M., 2011. Bacteriological quality of commercially prepared and self compounded poultry feeds in Sokoto Metropolis, Sokoto, Nigeria. International Journal of applied Biology and pharmaceutical technology, 3: 345–350.

Barnett, H.L., Hunter, B.B., 1972. Illustrated Genera of Imperfect Fungi. Third Edition. Burgess Publishing Company, Minneapolis. 241 pp.

Bray, G.A. and Ryan, D.H., 2006. Mycotoxins, cancer and health. Pennington Center Nutrition Series, 1st Edn. Vol. 1, Louisiana State University Press, Baton Rouge, and pp: 331–362.

Campbell, C.K., 1994. Forms of aspergillosis. In: Powell KA, Renwick A, Peberdy JF, editors. The genus Aspergillus. New York: Plenum; pp. 313–320.

Davies, R.H., Wales, A.D., 2010. Investigations into Salmonella contamination in poultry feed mills in the United Kingdom. Journal of Applied Microbiology. 109, 1430–40.

Dawlatana, M., Shahida, S., Rahim, M., Hassan, M.T., 2008. Investigation on the occurrence of Ochratoxin A in Maize in Bangladesh. Bangladesh Journal of Scientific and Industrial Research.;43(4):495–500

Dutta, T.K., Das, P., 2001. Isolation of aflatoxigenic strains of Aspergillus and detection of aflatoxin B1 from feeds in India. Mycopathologia 151: 29–33.

Farhat Ali Khan, Muhammad Zahoor, Riaz Ullah, Naser M. AbdEI-Salam, Jafar Khan, Nasim Ullah and Zahoor Ullah.,2014. Assessment of Mycobiota and Aflatoxins in Poultry Feeds Collected from Poultry Farms. Journal of pure & applied microbiology, Vol. 8(Spl. Edn. 2), p. 437–445.

Gentles, A., Smith, E., Kubena, I.F., Duffus, paul johnson, E., Thompson, J., Harvey, R.B., and Edringt, T. S., 1999. Toxicological Evaluations of Cyclopiazonic Acid and Ochratoxin A in Broilers. Poultry Science 78:1380–1384

Ghulam Fareed, Muhammad Ashraf Anjum, Naveed Ahmed., 2014. Determination of Aflatoxin and Ochratoxin in poultry feed ingredients and finished feed in humid semi-tropical environment. Journal of Advanced Veterinary and Animal Research > Vol 1, No 4 )

Girma, G., Abebaw, M., Zemene, M., Mamuye, Y., Getaneh, G., 2016. A Review on Aspergillosis in Poultry. Journal of Veterinary Science and Technology 7: 382. https://doi.org/10.4172/2157-7579.1000382.

Haftu, K., 2016. Exotic Chicken Status, Production Performance and Constraints in Ethiopia: A Review. Asian Journal of Poultry Sciences. 10: 30-39.

Hassan, A.M., Kenawy, W.T., Abbas and Abdel-Wahhab, M. A., 2010. Prevention of cytogenetic, histochemical and biochemical alteration in Oreochromis niloticus by dietary supplement of sorbent materials. Ecotoxicology and Environmental Safety, 73: 1890-1895

Kana, J.R., Gnonlonfin, B.G.J., Harvey, J., Wainaina, J., Wanjuki, I., Skilton, R.A., Teguia, A. 2013. Assessment of aflatoxin contamination of maize, peanut meal and poultry feed mixtures from different agroecological zones in Cameroon. Toxins 5: 884-894.

Kannan, K., Supriya, S., Adhithya, R., and Velazhahan, R., 2014. Aspergillus flavus and Aflatoxin Contamination of Poultry Feeds in Tamil Nadu, India. International Journal of Agriculture, Environment & Biotechnology Citation: IJAEB: 7(2): 361-366. https://doi.org/10.5958/2230-732X.2014.00256.3.

Khosravi, A., Dakhili, M., Shokri, H., 2008. Pakistan Journal of Nutrition, 7, 31-37.

Maetrese Arianne, J., Beley, Franco, G., Teves, M.A., Reina Suzette, B., Madamba., 2013. Isolation of Fungal Species and Detection of Aflatoxin from Soy Milk Products using ELISA method .International Research Journal of Biological Sciences. Vol. 2(5), 45-48.

Magnoli, C., Hallak, C., Astoreca, A., Ponsone, L., Chiacchiera, S.M, Palacio, G., et al., 2005. Surveillance of toxigenic fungi and ochratoxin A in feedstuffs from Córdoba province. Veterinary Research Communication; 29: 431– 445.

Mengesha, M., 2011 .Climate change and the preference of rearing poultry for demand of protein foods. Asian Journal of Poultry Sciences 5: 135-143.

Moretti, A., Logrieco, A.F.,2015. Climate change effects on the biodiversity of mycotoxigenic fungi and their mycotoxins in pre harvest conditions in Europe. In: Botana M.J., Sainz L.M., editors. Climate Change and Mycotoxins. Walter de Gruyter GmbH; Berlin, Germany.

Mustafa, M.Y., and Ali, S.S., 2005. Prevalence of infectious diseases in local and fayoumi breeds of rural poultry (gallus domesticus), Punjab University Journal of Zoology 20 (2), 177-180.

Nemati, Z., Janmohammadi, H., Taghizadeh, A., Maleki Nejad, H., Mogaddam, G.h., and M. Arzanlou M.,2014. Occurrence of Aflatoxins in poultry feed and feed ingredients from northwestern Iran. European Journal of Zoological Research, 3 (3):56-60

Osaro-Methew, Ruth-Chiamaka and otiekwa chidinmia., 2017. Microbial Analysis of Poultry Feeds Produced in Songhai Farms, Rivers State, Nigeria. Journal of Microbiology & Experimentation. Vol 4. Department of microbiology, Michael Okpara University of Agriculture Umudike, Nigeria

Raper, K.B., and Fennell, D.I., 1965. The genus Aspergillus. Williams and Wilkins, company Baltimore, Maryland. 686 p.

Reddy, C.S., Reddy, K.R.N., Kumar, R.N., Laha, G.S., Muralidharan, K., 2004. Exploration of aflatoxin contamination and its management in rice. Indian Journal of Mycology and Plant Pathology; 34(3):816–820.

Rodrigues, I., Naehrer, K .,2012 A three-year survey on the worldwide occurrence of mycotoxins in feedstuffs and feed. Toxins (Basel).4(9):663-75. https://doi.org/10.3390/toxins4090663.

Sabri, M.A., Siddique, M., Khan, M.Z., Samad, H.A., (1989). Prevalence and pathology of mycotoxicosis in young broiler chicks in and around Faisalabad. Pakistan Veterinary Journal, 9: 106-108.

Sanchis, V., Magan, N., 2004. Environmental condtions affecting mycotoxins. In: Magan N., Olsen M., editors. Mycotoxins in Food: Detection and Control. Woodhead Publishing Ltd.; Cambridge, UK.

Seyed Soheil Ghaemmaghami, Mehrdad Modirsaneii,. Ali Reza Khosravi, and Mehdi Razzaghi-Abyaneh., 2016. Study on mycoflora of poultry feed ingredients and finished feed in Iran. Iranian Journal of Microbiology. 8(1): 47–54

Vijayasamundeeswari, A., Mohankumar, M., Karthikeyan, M., Vijayanandraj, S., Paranidharan, V., Velazhahan, R. 2009. Prevalence of aflatoxin B1 contamination in pre- and postharvest maize kernels, food products, poultry and livestock feeds in Tamil Nadu, India. Journal of Plant Protection Research 49: 221-224.

Yaling, W., Tongjie, C., Guozhong, L., Chunsan, Q., Huiyong, D., Meiling, Y., Y. Bert-Andree, Y., and Gerd, S., 2008. Similtaneous detection of airborne aflatoxin, ochratoxin and zearlaenone in poultry house by immunoaffinity column and high performance liquid chromatography. Environ. Res., 107: 139-144.

Yong, R.K. and Cousin, M.A., 2001. Detection of Moulds producing aflatoxins in maize and peanuts by an immunoassay. International Journal of Food and Microbiology, 65: 27-3.

Yu, J., Whitelaw, C.A., Nierman, W.C., Bhatnagar, D., Cleveland, T.E.,2004. Aspergillus flavus expressed sequence tags for identification of genes with putative roles in aflatoxin contamination of crops. FEMS Microbiol Letters.; 237(2):333–340.
Ethics declarations
Conflict of interest
The authors declare that they have no conflict of interest.
Statement of animal rights
This study was conducted on poultry feed samples, which were obtained from commercial poultry farms. Hence, vthis project need no live animal or bird, so no ethical committee approval was required for this study.
Additional information
Publisher's note
Springer Nature remains neutral with regard to jurisdictional claims in published maps and institutional affiliations.
About this article
Cite this article
Iram, S., Fareed, S.K., Chaudhary, M. et al. Identification of Aspergillus flavus and aflatoxin in home mix layer poultry feed in relation to seasons in Karachi, Pakistan. Trop Anim Health Prod 51, 1321–1327 (2019). https://doi.org/10.1007/s11250-019-01818-0
Received:

Accepted:

Published:

Issue Date:
Keywords
Aspergillus flavus

Aflatoxins

ELISA

Fungal count