Abstract
Pasteurella multocida (P. multocida) is an important pathogen that causes bovine respiratory disease (BRD) in China and other countries. To investigate the antimicrobial susceptibility of P. multocida isolated from different provinces in China, we analyzed antimicrobial susceptibility phenotypes and pulsed-field gel electrophoresis (PFGE) types of P. multocida; then, we sequenced the complete genome of strain found to be multidrug-resistant. The isolates exhibited resistance to many antimicrobial agents, especially amikacin, sulfamethoxazole, sulfachloropyridazinesodium, macrolides, and fluoroquinolones. Pulsed-field gel electrophoresis analysis showed that a clonal spread of multidrug-resistant isolates occurred in various provinces. All of the isolates carried class I integron.
This is a preview of subscription content, log in to check access.
Access options
Buy single article
Instant access to the full article PDF.
US$ 39.95
Tax calculation will be finalised during checkout.
Subscribe to journal
Immediate online access to all issues from 2019. Subscription will auto renew annually.
US$ 99
Tax calculation will be finalised during checkout.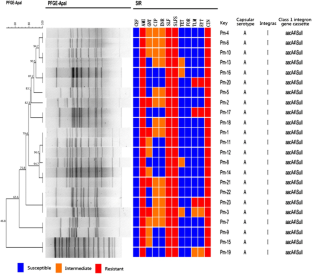 References
Clinical and Laboratory Standards Institute, 2013. Performance standards for antimicrobial disk dilution susceptibility tests for bacteria isolated from animals.approved standard. 4th ed, Wayne, PA: CLSI. CLSI Document VET01-A4.

Ewers, C., Lübke-Becker, A., Bethe, A., Kiebling, S., Filter, M. and Wieler, L.H., 2006 Virulence genotype of Pasteurella multocida strains isolated from different hosts with various disease status, Veterinary microbiology, 114, 304–317.

Ferreira, T.S., Felizardo, M.R., de Gobbi, D.D., Moreno, M. and Moreno, A.M., 2015. Antimicrobial resistance and virulence gene profiles in P. multocidastrains isolated from cats, Brazilian journal of microbiology, 46, 271–277.

Hendriksen, R.S., Mevius, D.J., Schroeter, A., Teale, C., Meunier, D., Butaye, P., Franco, A., Utinane, A., Amado, A., Moreno, M., Greko, C., Stärk, K., Berghold, C., Myllyniemi, A.L., Wasyl, D., Sunde, M. and Aarestrup, F.M., 2008. Prevalence of antimicrobial resistance among bacterial pathogens isolated from cattle in different European countries: 2002-2004, Acta veterinaria scandinavica, 50, 28.

Jamali, H., Rezagholipour, M., Fallah, S., Dadrasnia, A., Chelliah, S., Velappan, R.D., Wei, K.S., and Ismail, S., 2014. Prevalence, characterization and antibiotic resistance of Pasteurella multocida isolated from bovine respiratory infection, veterinaria Journal, 202, 381–383.

Katsuda, K., Kohmoto, M., Mikami, O., Uchida, I., 2009. Antimicrobial resistance and genetic characterization of fluoroquinolone-resistant Mannheimia haemolytica isolates from cattle with bovine pneumonia, Veterinary microbiology, 139, 74–79.

Katsuda, K., Hoshinoo, K., Ueno, Y., Kohmoto, M., and Mikami, O., 2013. Virulence genes and antimicrobial susceptibility in Pasteurella multocida isolates from calves. Veterinary microbiology, 167, 737–741.

Kehrenberg, C., Schwarz, S., 2005. Plasmid-borne florfenicol resistance in Pasteurella multocida, Journal of antimicrobial chemotherapy, 55, 773–775.

Kehrenberg, C., Schwarz, S., 2007. Mutations in 16S rRNA and ribosomal protein S5 associated with high-level spectinomycin resistance in Pasteurella multocida. Antimicrob. Journal of antimicrobial chemotherapy, 51, 2244–2246.

Kong, L.C., Gao, D., Gao, Y.H., Liu, S.M., and Ma, H.X., 2014. Fluoroquinolone resistance mechanism of clinical isolates and selected mutants of Pasteurella multocida from bovine respiratory disease in China, Journal of veterinary medical science, 76, 1655–1657.

Magstadt, D.R., Schuler, A.M., Coetzee, J.F., Krull, A.C.1., O'Connor, A.M., Cooper, V.L., and Engelken, T.J., 2018. Treatment history and antimicrobial susceptibility results for Mannheimia haemolytica, Pasteurella multocida, and Histophilus somni isolates from bovine respiratory disease cases submitted to the Iowa State University Veterinary Diagnostic Laboratory from 2013 to 2015, Journal of veterinary diagnostic investigation, 30, 99–104.

Michael, G.B., Kadlec, K., Sweeney, M.T., Brzuszkiewicz, E., Liesegang, H., Daniel, R., Murray, R.W., Watts, J.L. and Schwarz, S., 2012a. ICEPmu1, an integrative conjugative element (ICE) of Pasteurella multocida: structure and transfer, Journal of antimicrobial chemotherapy, 67, 91–100.

Michael, G.B., Eidam, C., Kadlec, K., Meyer, K., Sweeney, M.T., Murray, R.W., Watts, J.L. and Schwarz, S., 2012b. Increased MICs of gamithromycin and tildipirosin in the presence of the genes erm (42) and msr (E)-mph (E) for bovine Pasteurella multocida and Mannheimia haemolytica, Journal of antimicrobial chemotherapy, 67, 1555–1557.

Rímac, R., Luna, L., Hurtado, R., Rosadio, R. and Maturrano, L., 2017. Detection and genetic characterization of Pasteurella multocida from alpaca (vicugna pacos) pneumonia cases, Tropical Animal Health & Production, 49, 1325–1328.

Rose, S., Desmolaize, B., Jaju, P., Wilhelm, C., Warrass, R. and Douthwaite, S., 2012. Multiplex PCR To Identify Macrolide Resistance Determinants in Mannheimia haemolytica and Pasteurella multocida. Antimicrob Agents Chemother 56, 3664–3669.

Sun, N., Liu, J.H., Yang, F., Lin, D.C., Li, G.H., Chen, Z.L. and Zeng, Z.L., 2012. Molecular characterization of the antimicrobial resistance of Riemerella anatipestifer, isolated from ducks, Veterinary microbiology, 158, 376–383.

Sweeney, M.T., Papich, M.G., Watts, J.L., 2017. New interpretive criteria for danofloxacin antibacterial susceptibility testing against Mannheimia haemolytica and Pasteurella multocida associated with bovine respiratory disease, Journal of veterinary diagnostic investigation, 29, 224–227.

Tang, X., Zhao, Z., Hu, J., Wu, B., Cai, X., He, Q. and Chen, H. 2009. Isolation, Antimicrobial Resistance, and Virulence Genes of Pasteurella multocida Strains from Swine in China, Journal of clinical microbiology, 47, 951–958.

Tong, P., Sun, Y., Ji, X., Du, X., Guo, X., Liu, J., Zhu, L., Zhou, B., Zhou, W., Liu, G. and Feng, S., 2015. Characterization of antimicrobial resistance and extended-spectrum β-lactamase genes in Escherichia coli isolated from chickens, Foodborne Pathogens and Disease, 12, 345–52.

Townsend, K.M., Frost, A.J., Lee, C.W., Papadimitriou, J.M. and Dawkins, H.J., 1998. Development of PCR assays for species-and type-specific identification of Pasteurella multocida isolates, Journal of clinical microbiology, 36, 1096–1100.

Van Engen, N.K., Stock, M.L., Engelken, T., Vann, R.C., Wulf, L.W., Karriker, L.A., Busby, W.D., Lakritz, J., Carpenter, A.J., Bradford, B.J., Hsu, W.H., Wang, C. and Coetzee, J.F., 2014. Impact of oral meloxicam on circulating physiological biomarkers of stress and inflammation in beef steers after long-distance transportation, Journal of animal science, 92, 498–510.
Acknowledgements
We thank Ying Zhang, Lei Liu, and Ren-ge Hu for their laboratory contributions.
Funding
This research was funded by the National Key Research and Development Plan (grant number: 2016YFD0501301), the National Natural Science Foundation of China (grant number: 31702293), the Science and Technology Development Plan of Jilin Province (grant number: 20170520074JH), Jilin Provincial Education Department "the 13th five-year" Science and Technology Project (grant number: JJKH20180696KJ), and the Jilin Agricultural University Research Foundation (grant number: 201702).
Ethics declarations
Statement of animal rights
This study was carried out in accordance with the recommendations of 'Laboratory animal-Guideline for ethical review of animal welfare (GB/T 35892-2018), General Administration of Quality Supervision, Inspection and Quarantine of the People's Republic of China'. The protocol was approved by the Animal Care and Use Committee of the Jilin Agricultural University.
Conflict of interest
The authors declare that they have no conflict of interest.
Additional information
Publisher's note
Springer Nature remains neutral with regard to jurisdictional claims in published maps and institutional affiliations.
About this article
Cite this article
Kong, LC., Wang, Z., Wang, YM. et al. Antimicrobial susceptibility and molecular typing of Pasteurella multocida isolated from six provinces in China. Trop Anim Health Prod 51, 987–992 (2019). https://doi.org/10.1007/s11250-018-1754-9
Received:

Accepted:

Published:

Issue Date:
Keywords
Minimal inhibitory concentration

Pasteurella multocida

Molecular typing