Abstract
This paper examines factors influencing the adoption of alternative response to Foot and Mouth Disease (FMD) among smallholder beef producers in the dry lands of Africa, specifically, North East district in Botswana. Principal component analysis was used to categorise FMD responses. Thereafter, a multivariate probit regression model was used to examine the effect of socioeconomic and institutional factors on the adoption of alternative responses to FMD. The study found that household size, opportunity cost incurred, frequency of contact with extension officers, training received on FMD, distance to the nearest market, as well as distance to grazing and water areas had a positive effect on the adoption of alternative responses to the outbreak. We conclude that although producers are aware of the detriments of FMD to their livelihoods, some still choose not to adopt the responses and socioeconomic and institutional characteristics play a role.
This is a preview of subscription content, log in to check access.
Access options
Buy single article
Instant access to the full article PDF.
US$ 39.95
Price includes VAT for USA
Subscribe to journal
Immediate online access to all issues from 2019. Subscription will auto renew annually.
US$ 99
This is the net price. Taxes to be calculated in checkout.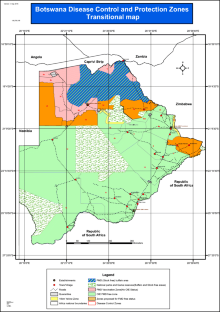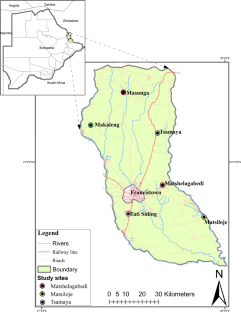 Notes
1.

Zone 6b comprises of cattle keepers along the border, east of the railway line which protects Zone 6a (west of the railway line) from FMD outbreaks.
References
Ayuya, O.I., Gido, E.O, Bett, H.K., Lagat, J.K., Kahi, A.K., and Bauer, S., 2015. Effect of certified organic production systems on poverty among smallholder farmers: empirical evidence from Kenya, World Development, 67, 27—37

Baluka, S. A., Ocaido, M., and Mugisha, A., 2014. Prevalence and economic importance of foot and mouth disease, and contagious bovine pleuropneumonia outbreaks in cattle in Isingiro and Nakasongola districts of Uganda, Journal of Agriculture and Food Sciences, 2, 107—117

Beshir, H., 2014. Factors affecting the adoption and intensity of use of improved forages in North East highlands of Ethiopia, American Journal of Experimental Agriculture, 4, 12—27

Boy, R.L., 2013. Cattle traceability—a threat to sustainable supply of beef to EU: a Botswana meat commission, European Journal of Logistics Purchasing and Supply Chain Management, 1, 1—9

Cappellari, L., and Jenkins, S.P., 2003. Multivariate probit regression using simulated maximum likelihood, The Stata Journal, 3, 278—294

Dambe, L.M., Mogotsi, K., Odubeng, M., and Kgosikoma O.E., 2015. Nutritive value of some important indigenous livestock browse species in semi-arid mixed mopane bushveld, Botswana, Livestock Research for Rural Development, 27, 1—10

Dizyee, K., Baker, D., Rich, K.M., 2017. A quantitative value chain analysis of policy options for the beef sector in Botswana, Agricultural Systems, 156, 13—24

Dougill, A.J., Akanyang, L., Perkins, J.S., Eckardt, F.D., Stringer, L.C., Favretto, N., Atlhopheng, J., and Mulale, K., 2016. Land use, rangeland, degradation and ecological changes in the Southern Kalahari, Botswana, African Journal of Ecology, 54, 59—67

Dube, O.P., 2013. Challenges of wild land fire management in Botswana: towards a community inclusive fire management approach. Weather and Climate Extremes, 1, 26—41

Eygelaar, D., Jori, F., Mokopasetso, M., Sibeko, K.P., Collins, N.E., Vorster, I., Troskie, M., and Oosthuizen, M.C., 2015. Tick-borne haemoparasites in African buffalo (syncerus caffer) from two wildlife areas in Northern Botswana, Journal of Parasites and Vectors, 8, 26

Giannakis, E., Efstratoglou, S., and Antoniades, A., 2018. Off-farm employment and economic crisis: evidence from Cyrpus, Agriculture, 8, 41

Jansen, W., Merkle, M., Daun, A., Flor, M., Grabowski, N.T., Klein, G., 2016. The quantity and quality of illegally imported products of animal origin in personal consignments into the European Union seized at two German airports between 2010 and 2014, PLoS ONE 11, e0150023

Kaiser, H. F., 1974. An index of factor simplicity, Psychometrika 39, 31—36

Kassie, M., Jaleta, M., Shiferaw, B., Mmbando, F., and Mekuria, M., 2013. Analysis of interrelated sustainable agricultural practices in smallholder systems: evidence from rural Tanzania, Technological Forecasting and Social Change, 80, 525—540

Kenamu, E., and Maguza-Tembo, F., 2016. Adoption and its intensity on smallholder goat farming in Southern Malawi, Journal of Economics and Sustainable Development, 7, 54—62

Kim, H., Xiao, N., Moritz, M., Garabed, R., and Pomeroy, L.W., 2016. Simulating the transmission of foot and mouth disease among disease mobile herds in the far North region, Cameroon, Journal of Artificial Societies and Social Simulation, 19, 6

Legesse, Y., Asfaw, Y., Sahle, M., Ayelet, G., Jenberie, S., and Negussie, H., 2013. First confirmation of foot and mouth disease virus serotype sat-1 in cattle and small ruminants in Ethiopia in 2007/08, Journal of Tropical Animal Health Production, 45, 1265—1267

Madzonga, Z., and Mogotsi, K., 2014. Production, harvest and conservation of lablab purpureus (l) sweet forage in semi-arid livestock regions: the case of East central Botswana, Journal of Animal and Plant Sciences, 24, 1085—1090

Masole, C., Mphothwe, G.K., and Moreki, J.C., 2015. Value chain analysis of Botswana poultry industry: the case of Gaborone, Kgatleng, Kweneng and South East districts, Journal of World's Poultry Resources, 5, 64—72

McCallum, R.C., Widaman, K.F., Preacher, K.J., and Hong, S., 2001. Sample size in factor analysis: the role of model error, Multivariate Behavioural Research, 36, 611—637

Middleton, N., Stringer, L.C., Goudie, A., and Thomas, D.S.G., 2011. The forgotten billion: MDG achievement in the drylands. UNCCD-UNDP, New York.

Mogotsi, K., Kgosikoma, O.E., and Lubinda, K.F., 2016. Wildlife-livestock interface, veterinary cordon fence damage, lack of protection zones, livestock theft and owner apathy: complex socio-ecological dynamics in foot and mouth disease control in Southern Africa, Journal of Pastoralism: Research, Policy and Practice, 6, 1—12

Moreki, J.C., Nelson, K., and Boitumelo, W., 2016. Assessment of management practices of Tswana chickens at North East district of Botswana, Journal of Animal Science and Veterinary Medicine, 1, 29—38

Mugi-Ngenga, E.W., Mucheru-Muna, M.W., Mugwe, J.N., Ngetich, F.K., Mairura, F.S., and Mugendi, D.N., 2016. Household's socio-economic factors influencing the level of adaptation to climate variability in the dry zones of Eastern Kenya, Journal of Rural Studies, 43, 49—60

Mulwa, C., Marenya, P., Rahut, D.B., and Kassie, M., 2017. Response to climate risks among smallholder farmers in Malawi: a multivariate probit assessment of the role of information, household demographics and farm characteristics, Climate Risk Management, 16, 208—221

Navid, M.T., Farooq, U., Latif, A., Awais, M.M., Anwar, M.I., Akhtar, M., and Zahur, A.B., 2018. Prevalence of foot and mouth disease virus in apparently healthy buffaloes brought to Islamabad slaughterhouse in Pakistan, Tropical Biomedicine, 35, 161—167

Rodríguez-Entrena, M., and Arriaza, M., 2013. Adoption of conservation agriculture in olive groves: Evidences from southern Spain. Land Use Policy, 34, 294—300

van Engelen, A., Malope, P., Keyser, J., and Neven, D., 2013. Botswana Agrifood Value Chain Project: Beef Value Chain Study. Rome: Food and Agriculture Organization of the United Nations (FAO) and Ministry of Agriculture (MOA), Botswana.

World Organization for Animal Health: OIE 2012. Zoning and Compartmentalizing. In: Terrestrial Animal Health Code, 2015 - FMD Chapter - article 8.8.22.

Yamane, T., 1967. Elementary sampling theory, Prentice Hall: New Jersey.
Ethics declarations
Conflict of interest
The authors declare that they have no conflict of interests.
About this article
Cite this article
Masole, C., Ayuya, O.I. & Moreki, J.C. Determinants of adoption of alternative response to foot and mouth disease: micro-level evidence of smallholder pastoralist in north East District, Botswana. Trop Anim Health Prod 51, 373–382 (2019). https://doi.org/10.1007/s11250-018-1698-0
Received:

Accepted:

Published:

Issue Date:
Keywords
Adoption

Alternative responses

Botswana

Dry lands

Foot and mouth disease

Multivariate probit