Abstract
Caprine tuberculosis is a major health problem for goats and a major zoonosis of veterinary public health interest. In order to prepare a response to and control of caprine tuberculosis, to evaluate the potential risks to public health, and to assess the prevalence of the disease in Katanga province, Democratic Republic of Congo, 656 goats that were slaughtered at the Kabasele abattoir of Mzee Laurent-Desire Kabila Market in Lubumbashi were subjected to rigorous veterinary inspection during June to August 2012. All goat specimens came from the Kasumbalesa, Kasenga, and Kipushi areas of Katanga province. Consequently, suspected organs presenting signs of tuberculosis were collected and examined using Ziehl-Neelsen stains for diagnosis. Through this investigative inspection in the province, we found an overall prevalence of caprine tuberculosis of 1.68%. Although females showed higher prevalence of caprine tuberculosis (1.07%) compared to males (0.61%), and adults showed higher prevalence (1.22%) than juveniles (0.45%), these comparisons were not statically significant. However, lung and intestine infection by tuberculosis showed significantly higher prevalence of positive cases (1.21 and 0.46%, respectively) (p < 0.05). Goats from Kasumbalesa had the highest prevalence of caprine tuberculosis (1.22%) compared to goats from Kipushi (0.31%) and Kasenga (0.18%). These findings show the risk of caprine tuberculosis in the province for the first time, and we therefore recommend the implementation of strict animal biosecurity and tuberculosis controlling protocols.
Access options
Buy single article
Instant access to the full article PDF.
USD 39.95
Price includes VAT (USA)
Tax calculation will be finalised during checkout.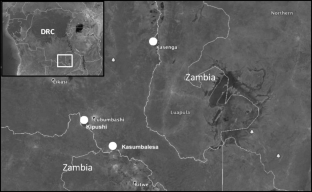 References
Bezos, J., Alvarez J., Romero, B., Aranaz, A., Juan, L.D., 2012. Tuberculosis in goats: assessment of current in vivo cell-mediated and antibody-based diagnostic assays, Veterinary Journal, 191(2), 161–165

Cadmus, S.I., Adesokan, H.K., Jenkins, A.O., van Soolingen, D, 2009. Mycobacterium bovis and M. tuberculosis in goats, Nigeria, Emerging Infectious Diseases, 15(12), 2066–2067

Cordes, D.O., Bullians, J.A., Lake, D.E., Carter, M.E., 1981. Observations on tuberculosis caused by Mycobacterium bovis in sheep, New Zealand Veterinary Journal, 29(4), 60–62

Deresa, B., Conraths, F.J., Ameni, G., 2013. Abattoir-based study on the epidemiology of caprine tuberculosis in Ethiopia using conventional and molecular tools, Acta Veterinaria Scandinavica, 21(55), 15

Gutiérrez Cancela, M.M., García Marín, J.F, 1993. Comparison of Ziehl-Neelsen staining and immunohistochemistry for the detection of Mycobacterium bovis in bovine and caprine tuberculous lesions, Journal of Comparative Pathology, 109(4), 361–370

Hiko, A., Agga, G.E, 2011. First-time detection of mycobacterium species from goats in Ethiopia, Tropical Animal Health and Production, 43(1), 133–139

ILCA, 1989. International Livestock Centre for Africa Annual Report 1988, (ILCA, Addis Ababa)

Kubica, T., Rüsch-Gerdes, S., Niemann S., 2003. Mycobacterium bovis subsp. caprae caused one-third of human M. bovis-associated tuberculosis cases reported in Germany between 1999 and 2001, Journal of Clinical Microbiology, 41(7), 3070–3077

Lamorde, A., 1985. Relevance of veterinary medicine in production of human vaccine, Nigeria Livestock Farming, 4, 153–157

OIE, 2008. Annual report of the OIE Sub-Regional Representation for Southern Africa, (http://www.rr-africa.oie.int/en/RR/en_activities-sa2008.html)

Prodinger, W.M., Indra, A., Koksalan, O.K., Kilicaslan, Z., Richter, E, 2014. Mycobacterium caprae infection in humans. Expert Review of Anti-infective Therapy, 12(12), 1501–1513

Sa'idu, A.S., Okolocha, E.C., Dzikwi, A.A., Kwaga, J.K.P., Gamawa, A.A., Usman, A, Maigari, S.A., Ibrahim, S., 2015. Detection of Mycobacterium bovis in organs of slaughtered cattle by DNA-based polymerase chain reaction and Ziehl-Neelsen techniques in Bauchi State, Nigeria, Journal of Veterinary Medicine, 2015

Sahraoui, N., Müller, B., Guetarni, D., Boulahbal, F., Yala, D., Ouzrout, R., Berg, S., Smith, N.H., Zinsstag, J., 2009. Molecular characterization of Mycobacterium bovis strains isolated from cattle slaughtered at two abattoirs in Algeria, BMC Veterinary Research, 5(4)

Thoen, C.O., Kaplan, B., Thoen, T.C., Gilsdorf, M.J., Shere J.A., 2016. Zoonotic tuberculosis. A comprehensive ONE HEALTH approach, Medicina, 76, 159–165

Tschopp, R., Bobosha, K., Aseffa, A., Schelling, E., Habtamu, M., Iwnetu, R., Hailu, E., Firdessa, R., Hussein, J., Young, D., Zinsstag, J., 2011. Bovine tuberculosis at a cattle-small ruminant-human interface in Meskan, Gurage region, Central Ethiopia, BMC Infectious Diseases,11, 318

WHO, 2013. Global Tuberculosis Report 2013, (World Health Organization, Geneva)

Wirth, T., Hildebrand, F., Allix-Béguec, C., Wölbeling, F., Kubica T., Kremer, K., van Soolingen, D., Rüsch-Gerdes, S., Locht, C., Brisse, S., Meyer, A., Supply, P., Niemann, S., 2008. Origin, spread and demography of the Mycobacterium tuberculosis complex, PLOS Pathogens, 4(9)
Acknowledgements
We want to thank our colleagues who contributed to this study, including the veterinary medicine faculties, the Lubumbashi Veterinary Services, the Veterinarian Inspector, and the laboratory technicians. The authors would like to acknowledge the US Department of Defense's Defense Threat Reduction Agency (DTRA) Cooperative Biological Engagement Program (CBEP) for their support to develop this manuscript. While DTRA/CBEP did not support the research described in this publication, the Program supported the presentation of this research in an international forum and supported grantsmanship training related to the development of this manuscript. The contents of this publication are the responsibility of the authors and do not necessarily reflect the views of DTRA or the US Government. Thanks to Rachel Campbell, Dr. Brad Brooks, and Dennis Lee (Metabiota, Inc.) for their support and for reviewing the manuscript in its final phase.
Authors' contribution
WLL coordinated the study. MM directed the study; MK, NN, BN, and KM contributed to collection and analysis of the samples. TV, XP, and JPG participated in the data analysis and writing of the manuscript.
Ethics declarations
Conflict of interest
The authors declare that they have no conflict of interest.
About this article
Cite this article
Luboya, L.W., Malangu, M., Kaleka, M. et al. An assessment of caprine tuberculosis prevalence in Lubumbashi slaughterhouse, Democratic Republic of Congo. Trop Anim Health Prod 49, 875–878 (2017). https://doi.org/10.1007/s11250-017-1252-5
Received:

Accepted:

Published:

Issue Date:
Keywords
Caprine tuberculosis

Zoonosis

Democratic Republic of Congo

Veterinary public health