Abstract
Ethiopia has 7.1 million donkeys and mules, the majority of which are used as pack animals. Factors such as poor harness quality, long-distance traveling, and heavy cartloads have been linked to reduced work efficiency. Addressing the health and welfare of working equids is imperative not only for the animals but also for the households dependent upon them for livelihood. In developing countries, 75 % of working equids have gait or limb abnormalities, but the relationship between workload and prevalence of lameness is unknown. We examined 450 cart mules in Bahir Dar, Ethiopia. Lameness and workload were assessed through use of a survey and lameness exam. We found that 26.8 % of cart mules were lame, and acute lameness of the forelimb was the most common. Animals with poor harness quality were 2.5 times more likely to have sores and 1.6 times more likely to be lame. Lameness tended to be associated with cartloads >700 kg (P = 0.09), and there was a significant association between multiple-leg lameness and cartload weight (P = 0.03). The presence of sores was the best predictor of lameness (P = 0.001). Possible areas of intervention may include education to reduce average daily workload and improving harness design.
Access options
Buy single article
Instant access to the full article PDF.
USD 39.95
Price excludes VAT (USA)
Tax calculation will be finalised during checkout.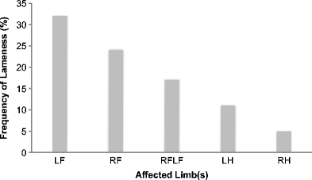 References
American Association of Equine Practitioners Lameness Exams: Evaluating the Lame Horse, 2005. A Bayer Healthcare Brochure http://www.aaep.org/info/horse-health?publication=836 Accessed 20 October 2014

Admassu, B., & Sheferaw, Y., 2011. Donkeys, horses and mules-their contribution to people's livelihoods in Ethiopia, (The Brooke, Addis Ababa)

Ameni, G., 2006. Epidemiology of equine histoplasmosis (epizootic lymphangitis) in carthorses in Ethiopia, The Veterinary Journal, 172, 160–165

Brommer, H., Weeren, P., Brama, P., & Barneveld, A., 2003. Quantification and age related distribution of articular cartilage degeneration in the equine fetlock joint, Equine Veterinary Journal, 35, 697–701

Broster, C., Burn, C., Barr, A., & Whay, H., 2009. The range and prevalence of pathological abnormalities associated with lameness in working horses from developing countries, Equine Veterinary Journal, 41, 474–481

Burn, C. C., Dennison, T. L., & Whay, H. R., 2010. Environmental and demographic risk factors for poor welfare in working horses, donkeys and mules in developing countries, The Veterinary Journal, 186, 385–392

Cantley, C. E., Firth, E., Delahunt, J., Pfeiffer, D., & Thompson, K., 1999. Naturally occurring osteoarthritis in the metacarpophalangeal joints of wild horses, Equine Veterinary Journal, 31, 73–81

Curran, M. M., Feseha, G., & Smith, D., 2005. The impact of access to animal health services on donkey health and livelihoods in Ethiopia, Tropical Animal Health and Production, 37, 47–65

DeBowes, R. M., & Yovich, J. V., 1989. Penetrating wounds, abscesses, gravel, and bruising of the equine foot, The Veterinary Clinics of North America Equine Practice, 5, 179–194

Diarra, M. M., Doumbia, A. and McLean, A.K., 2007. Survey of working conditions and management of donkeys in Niono and Segou, Mali, Journal of Animal Science, 85, 139

Fielding, D. and Pearson, R.A., 1991. Donkeys, mules and horses in tropical agricultural development, (University of Edinburgh, Scotland)

Food and Agriculture Organization of the United Nations. FAO Statistical Yearbook. 2012. http://faostat.fao.org/site/291/default.aspx Accessed 01 Oct 2012

Garrett, C., 2012. Making a Packsaddle, (Unpublished book)

Geiger, M., Hovorka,A. J., 2015. Using physical and emotional parameters to assess donkey welfare in Botswana. Veterinary Record Open, 2.1 e000062.

Goble, D., 2003. Diagnosis and Management of Lameness in the Horse, (Saunders, St. Louis, Missouri)

Hagos, Y., 2010. Investigation of health and welfare problems of donkeys and mules involved in the salt bar trade from afar to different parts of northern Ethiopia, In: Working Equids: Learning from Others, New Delhi, 2010, Sixth International Colloquium on Working Equines, 204–207

Heleski, C. R., Mclean, A., Swanson, J. C., & Grandin, T., 2009. Practical methods for improving the welfare of horses, donkeys and other working draught animals in developing areas, Improving Animal Welfare: A Practical Approach, 252–273

Iqbal, A., Raza, S., Riaz, M., Pearson, R., Muir, C., & Farrow, M., 2007. Developments and research in equine husbandry and welfare: Some issues in Pakistan. In: The Future for Working Equines, Addis Ababa, 2007, Fifth International Colloquium on Working Equines, 11–14

McLean, A. K., Heleski, C. R., Yokoyama, M. T., Wang, W., Doumbia, A., & Dembele, B., 2012. Improving working donkey (Equus asinus) welfare and management in Mali, west Africa, Journal of Veterinary Behavior: Clinical Applications and Research, 7, 123–134

Morgan, R., Pearson, R., Muir, C., & Farrow, M., 2007. The epidemiology of lameness in working donkeys in Addis Ababa and the central Oromia region of Ethiopia: A comparative study of urban and rural donkey populations. In: The Future for Working Equines, Addis Ababa, 2007, Fifth International Colloquium on Working Equines, 99–106

Pearson, R., Nengomasha, E., & Krecek, R., 1999. Meeting the Challenges of Animal Traction: A Resource Book of the Animal Traction Network for Eastern and Southern Africa, (Intermediate Technology Publications, London)

Pritchard, J., Lindberg, A., Main, D. and Whay, H., 2005. Assessment of the welfare of working horses, mules and donkeys, using health and behaviour parameters, Preventive Veterinary Medicine, 69, 265–283

Reix, C.E., Burn, C. C., Pritchard J.C., Barr A.R.S., & Whay H.R., 2014. The range and prevalence of clinical signs and conformation associated with lameness in working draught donkeys in Pakistan, Equine Veterinary Journal, 46, 771–777.

Rooney, J. R., 1981. The draft force in horses pulling loads: Relationship to foreleg lameness and strategy for prevention, Journal of Equine Veterinary Science, 1, 110–112

Stashak, T., 1987. Adams' Lameness in Horses, (Quest-Meridien Ltd, Beckenham, UK)

Svendsen, E.D. 1997. The Professional Handbook of the Donkey, (Whittet Books, Ltd, London)

Whay, H., Waterman, A., Webster, A., & O'brien, J., 1998. The influence of lesion type on the duration of hyperalgesia associated with hindlimb lameness in dairy cattle, The Veterinary Journal, 156, 23–29

Van Den Boom, R., Wilmink, J.M., O'Kane, S., Wood, J. and Ferguson, M.W., 2002. Transforming growth factor‐β levels during second‐intention healing are related to the different course of wound contraction in horses and ponies, Wound Repair and Regeneration, 10, 188–194
Acknowledgments
The authors would like to acknowledge all participating mule owners for their cooperation and support, Dr. Getachew Mulugeta, and the whole Donkey Sanctuary team in Ethiopia for their hospitality and collaboration, as well as Dr. Rolfe Radcliffe and Dr. Daryl Nydam for facilitating training and evaluation of the lameness exams.
Ethics declarations
Conflict of interest
The authors declare that they have no conflicts of interest.
About this article
Cite this article
Ali, A., Orion, S., Tesfaye, T. et al. The prevalence of lameness and associated risk factors in cart mules in Bahir Dar, Ethiopia. Trop Anim Health Prod 48, 1483–1489 (2016). https://doi.org/10.1007/s11250-016-1121-7
Received:

Accepted:

Published:

Issue Date:

DOI: https://doi.org/10.1007/s11250-016-1121-7
Keywords