Abstract
A cross-sectional study was conducted in Submountain undulating, Undulating plain, Western and Western plain agro-climatic zones of Punjab province, India, to determine the prevalence, agreement between diagnostic tests and associated related risk factors of Theileria equi and Babesia caballi infection in equids (horses, donkey, mules). An overall prevalence of 14.14 and 0.0 % of T. equi and B. caballi was recorded by multiplex polymerase chain reaction targeting 18S ribosomal RNA (rRNA) for both the parasites and 75 and 1.11 % by competitive enzyme-linked immunosorbent assay in a representative sample of 180 animals. Only two animals with positive antibody titre from B. caballi and none with PCR indicated T. equi as the predominant haemoprotozoan responsible for equine piroplasmosis in the study area. Among the PCR-positive animals, presence of tick vectors in farm vicinity was the most influential associated with T. equi infection (P = 0.002; odds ratio (OR) 9.30; 95 % confidence interval (CI) = 3.32–27.10). For animals with higher anti-T. equi antibody titres, strong association of sero-prevalence for T. equi was recorded with age, sex, usage, tick infestation and deworming/vaccination status of host animals and farm management strategies. The study has demonstrated the possible absence of B. caballi in both conducive and non-conducive areas of Punjab and demonstrated T. equi as the potential agent of equine piroplasmosis in Punjab.
Access options
Buy single article
Instant access to the full article PDF.
US$ 39.95
Tax calculation will be finalised during checkout.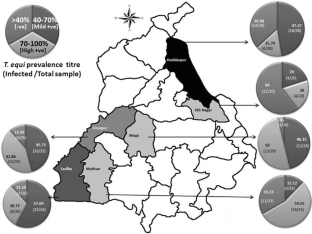 References
Abedi, V., Razmi, G., Seifi, H. and Naghibi, A., 2014. Molecular and serological detection of Theileria equi and Babesia caballi infection in horses and ixodid ticks in Iran. Ticks and Tick-borne Diseases, 5, 239–44.

Abutarbush, S.M., Alqawasmeh, D.M., Mukbel, R.M. and Al-Majali, A.M., 2012. Equine babesiosis: Seroprevalence, risk factors and comparison of different diagnostic methods in Jordan. Transboundary and Emerging Disease, 59, 72–78.

Alhassan, A., Pumidonming, W., Okamura, M., Hirata, H., Battsetseg, B., Fujisaki, K., Yokoyama, N. and Igarashi, I., 2005. Development of a single-round and multiplexPCR method for the simultaneous detection of Babesia caballi and Babesia equi in horse blood. Veterinary Parasitology, 129, 43–49.

Allsopp, M.T.E.P., Lewis, B.D. and Penzhorn, B.L., 2007. Molecular evidence for transplacental transmission of Theileria equi from carrier mares to their apparently healthy foals. Veterinary Parasitology, 148, 130–136.

Altschul, S.F., Gish, W., Miller, W., Myers, E.W. and Lipman, D.J., 1990. Basic local alignment search tool. Journal of Molecular Biology, 215, 403–410.

Baptista, C., Lopes, M.S., Tavares, A.C., Rojer, H., Kappmeyer, L., Mendonc, D. and Machado A.D.C., 2013. Diagnosis of Theileria equi infections in horses in the Azores using cELISA and nested PCR. Ticks and Tick-borne Diseases, 4, 242–245.

Bashiruddin, J.B., Cammà, C. and Rebêlo, E., 1999. Molecular detection of Babesia equi and Babesia caballi in horse blood by PCR amplification of part of the 16S rRNA gene. Veterinary Parasitology, 84, 75–83.

Berlin, D., Nasereddin, A., Azmi, K., Ereqat, S., Abdeen, Z. and Baneth, G., 2010. Longitudinal study of an outbreak of Trypanosoma evansi infection in equids and dromedary camels in Israel. Veterinary Parasitology, 174, 317–322.

Bhoora, R., 2009. Molecular characterization of Babesia caballi and Theileria equi, the aetiological agents of equine piroplasmosis, in South Africa. Ph.D. Thesis. University of Pretoria, South Africa

Bhoora, R., Quan, M., Franssen, L., Butler, C.M., Van der Kolk, J.H., Guthrie, A.J., Zweygarth, E., Jongejan, F. and Collins, N.E., 2010. Development and evaluation of real-time PCR assays for the quantitative detection of Babesia caballi and Theileria equi infections in horses from South Africa. Veterinary Parasitology, 168, 201–211.

Böse, R., Jorgensen, W.K., Dalgliesh, R.J., Friedhoff, K.T. and De Vos, A.J., 1995. Current state and future trends in the diagnosis of babesiosis. Veterinary Parasitology, 57, 61–74.

Brüning, A., 1996. Equine piroplasmosis: an update on diagnosis, treatment and prevention. British Veterinary Journal, 152, 139–51.

Chhabra, S., Ranjan, R., Uppal, S.K. and Singla, L.D., 2011. Transplacental transmission of Babessia equi (Theileria equi) from carrier mares to foals. Journal of Parasitic Diseases DOI 10, 1007/s 12639-011-0072-1.

De Waal D, T., 1992. Equine Piroplasmosis: A Review. British Veterinary Journal 148, 6–14

De Waal, D. and van Heerden, J., 1994. Equine babesiosis. In: Coetzer, J., Thomson, G., Tustin, R. (Eds.), Infectious Diseases of Livestock with Special Reference to South Africa, vol. 1. Oxford University Press, Cape Town, South Africa, pp. 293–304

Garcia-Bocanegra, I., Arenas-Montes, A., Hernandez, E., Adaszek, L., Carbonero, A., Almeria, S., Jaen-Tellez, J.A., Gutierrez-Palomino, P. and Arenas, A., 2013. Seroprevalence and risk factors associated with Babesia caballi and Theileria equi infection in equids. The Veterinary Journal, 195, 172–8.

Gautam, O.P. and Dwivedi, S.K., 1976. Equine babesiosis: A severe outbreak in a stud farm at Hissar. Indian Veterinary Journal, 53, 546–51.

Haque, M., Jyoti., Singh, N.K., Rath, S.S. and Ghosh, S., 2011. Epidemiology and seasonal dynamics of Ixodid ticks of dairy animals of Punjab state, India. Indian Journal of Animal Science, 81, 661–664

Hussain, M.H., Saqib, M., Raza, F., Muhammad, G., Asi, M.N., Mansoor, M.K., Saleem, M. and Jabbar, A., 2014. Seroprevalence of Babesia caballi and Theileria equi in five draught equine populated metropolises of Punjab, Pakistan. Veterinary Parasitology, 202, 248–56.

Jaffer, O., Abdishakur, F., Hakimuddin, F., Riya, A., Wernery, U. and Schuster, R.K., 2009. A comparative study of serological tests and PCR for the diagnosis of equine piroplasmosis. Parasitology Research, 106, 709–713.

Karatepe, B., Karatepe, M., Çakmak, A., Karaer, Z. and Ergün, G., 2009.Investigation of seroprevalence of Theileria equi and Babesia caballi in horses in Nigde province. Tropical Animal Health and Production, 41, 109–113.

Kim, C., Blanco, L.B.C., Alhassan, A., Iseki, H., Yokoyama, N., Xuan, X. and Igarashi, I., 2008. Diagnostic real-time PCR assay for the quantitative detection of Theileria equi from equine blood samples. Veterinary Parasitology, 151, 158–163.

Kouam, M.K., Kantzoura, V., Gajadhar, A.A., Theis, J.H., Papadopoulos, E. and Theodoropoulos, G., 2010. Seroprevalence of equine piroplasms and host-related factors associated with infection in Greece. Veterinary Parasitology, 169, 273–278.

Machado, R.Z., Toledo, C.Z.P., Teixeira, M.C.A., André, M.R., Freschi, C.R. and Sampaio, P.H., 2012. Molecular and serological detection of Theileria equi and Babesia caballi in donkeys (Equus asinus) in Brazil. Veterinary Parasitology, 186, 461– 465.

Mehlhorn, H. and Schein, E., 1998. Redescription of Babesia equi Laveran, 1901 as Theileria equi Mehlhorn, Schein 1998. Parasitology Research, 84, 467–475.

Moretti, A., Mangili, V., Salvatori, R., Maresca, C., Scoccia, E., Torina, A., Moretta, I., Gabrielli, S., Tampieri, M.P. and Pietrobelli, M., 2010. Prevalence and diagnosis of Babesia and Theileria infections in horses in Italy: A preliminary study. The Veterinary Journal, 184, 346–350.

Mujica, F.F., Perrone, T., Forlano, M., Coronado, A., Meléndez, R.D., Barrios, N., Alvarez, R. and Granda, F., 2011. Serological prevalence of Babesia caballi and Theileria equi in horses of Lara State, Venezuela. Veterinary Parasitology, 178, 180–183.

Munkhjargal, T., Sivakumar, T., Battsetseg, B., Nyamjargal, B., Aboulaila, M., Purevtseren, B., Bayarsaikhan, D., Byambaa, B., Terkawi, M.A., Yokoyama, N. and Igarashi, I., 2013 Prevalence and genetic diversity of equine piroplasms in Tov province, Mongolia. Infection, Genetics and Evolution, 16, 178–185.

OIE, 2008. Equine piroplasmosis. In: Manual of Diagnostic Tests and Vaccines for Terrestrial Animals. http://www.oie.int/fileadmin/Home/eng/Health_standards/tahm/2.05.08_Equine_Piroplasmosis.pdf (12-1-2012) (Chapter 2.5.6).

Peckle, M., Pires, M.S., dos Santos, T.M., Roier, E.C.R., da Silva, C.B., Vilela, J.A.R., Santos, H.A. and Massard, C.L., 2013. Molecular epidemiology of Theileria equi in horses and their association with possible tick vectors in the state of Rio de Janeiro, Brazil. Parasitology Research, 112, 2017–2025.

Rampersad, J., Cesar, E., Campbell, M.D., Samlal, M. and Ammons, D., 2003. A field evaluation of PCR for the routine detection of Babesia equiin horses. Veterinary Parasitology, 114, 81–7.

Rebiro, M.F.B., Costa, J.O. and Guimara, A.M., 1999. Epidemiological Aspects of Babesia equi in Horses in Minas Gerais, Brazil. Veterinary Research and Communication, 23, 385–390.

Rüegg, S.R., Torgerson, P., Deplazes, P. and Mathis, A., 2007. Age-dependent dynamics of Theileria equi and Babesia caballi infections in southwest Mongolia based on IFAT and/or PCR prevalence data from domestic horses and ticks. Parasitology, 134, 939–47.

Shkap, V., Cohen, I., Leibovitz, B., Savitsky.,Pipano, S.E., Avni, G., Shofer, S., Giger, U., Kappmeyer, L. and Knowles, D., 1998. Seroprevalence of Babesia equi among horses in Israel using competitive inhibition ELISA and IFA assays. Veterinary Parasitology, 76, 251–259

Soulsby, E.T.L., 1982. Helminthes, Arthropods and Protozoa Of Domesticated Animals, 7th Ed. London, Bailliere and Tindal

Steinmana, A., Zimmermana, T., Klementa, E., Lensky, I.M., Berlina, D., Gottlieb, Y. and Baneth, G., 2012. Demographic and environmental risk factors for infection by Theileria equi in 590 horses in Israel. Veterinary Parasitology, 187, 558– 562.

Sumbria, D., Moudgil, A.D. and Singla, L.D., 2014b. Equine Piroplasmosis: Current status. Veterinaria, 1, 9–14.

Sumbria, D., Singla, L.D., Sharma, A., Moudgil, A.D. and Bal, M.S., 2014a. Equine trypanosomosis in central and western Punjab: Prevalence, haemato-biochemical response and associated risk factors. Acta Tropica, 138, 44–50.

Sumbria, D., Singla, L.D., Sharma, A., Bal, M.S. and Kumar, S., 2015. Multiplex PCR for detection of Trypanosoma evansi and Theileria equi in equids of Punjab, India. Veterinary Parasitology, 211, 293–299.

Thrusfield, M., 2005. Veterinary Epidemiology, second edition. Blackwell Science Ltd United Kingdom
Acknowledgments
The funds for conducting of work were obtained from UGC project entitled "Development of control strategies based on molecular epidemiology and drug efficacy for equine piroplasmosis in Punjab" (C-VPS-UGC-24). We are very grateful to Dr. Sanjay Kumar, Principal Scientist, Veterinary Medicine, National Research Centre on Equines, India, and Dr. Moneeb Qablan, Department of Pathology and Parasitology, University of Veterinary and Pharmaceutical Sciences, Palackeho 1/3, 61241, Brno, Czech Republic, for providing positive DNA samples.
Conflict of interest
The authors declare that they have no conflict of interest.
About this article
Cite this article
Sumbria, D., Singla, L.D. & Sharma, A. Theileria equi and Babesia caballi infection of equids in Punjab, India: a serological and molecular survey. Trop Anim Health Prod 48, 45–52 (2016). https://doi.org/10.1007/s11250-015-0917-1
Received:

Accepted:

Published:

Issue Date:
Keywords
Theileria equi
Babesia caballi

Multiplex PCR

cELISA

Punjab

Risk factors