Abstract
Buffalo is an economically important dairy animal in South Asia but mostly ignored in research priorities. In this retrospective study, the effect of management practices and age of animal on the incidence of mastitis in Nili Ravi buffaloes was investigated. A total of 1,560 quarters of buffaloes (n = 390) were screened by visual examination of the udder and milk (clinical mastitis) and California mastitis test (subclinical mastitis). Household data was collected on a predesigned questionnaire and analyzed. The prevalence of subclinical mastitis, clinical mastitis, and blind quarters was 41.8, 13.6, and 9.7 %, respectively. The highest prevalence was noted in the hind quarters and left side as compared to that in the forequarters and right side. This data significantly (p < 0.05) supported the idea that larger herd size has more chances of mastitis, with the highest prevalence (40, 32, and 27 %) in the large, medium, and small herds, respectively. Stage of lactation was significantly (p < 0.01) involved in mastitis, and the highest incidence (43.3 %) was noted in early lactation. Milk production of lactating buffaloes that ranged 6–10 l/day showed a higher rate of mastitis occurrence (p < 0.05). The cleanliness condition of a farm also contributed significantly. Animal age significantly affected the incidence of mastitis. Results revealed that age of the animal has a positive correlation (R 2 = 0.772) with mastitis. This study concluded that some factors alone or in combination with other factors influence significantly the occurrence of mastitis, and to minimize the infection, these factors should be considered. The outcome of the study will be valuable for policy-making for positive management practices and implementation of preventive measures.
Access options
Buy single article
Instant access to the full article PDF.
US$ 39.95
Tax calculation will be finalised during checkout.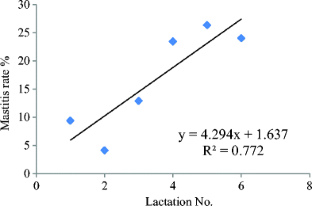 References
Ahmed Abdel-Radyand, Mohammed Syed, 2009. Epidemiological studies on subclinical mastitis in dairy cows in Assiut governorate, Veterinary World, 2(10), 373-380

Ahmadzadeh, A., Frago, F., Shafii, B., Dalton, J.C., Price, W.J., McGuire, M.A., 2009. Effect of clinical mastitis and other diseases on reproductive performance of Holstein cows, Animal Reproduction Science, 112, 273-282

Almaw, G., Zerihun, A., Asfaw, Y., 2008. Bovine mastitis and its association with selected risk factors in small holder dairy farms in and around Bahir Dar, Ethiopia, Tropical Animal Health and Production, 40, 427-432

Andrew, S. M., Moyes, K.M., Borm, A., Fox, L.K., Leslie, K.E., Hogan, J.S., Oliver, S.P., Schukken, Y.H., Owens, W.E., Norman, C., 2009. Factors associated with the risk of antibiotic residues and intramammary pathogen presence in milk from heifers administered prepartum intramammary antibiotic therapy, Veterinary Microbiology, 134, 150-156

Anonymous, 2006. Livestock census report of Pakistan, published by the Statistical Department, Government of Pakistan, Islamabad

Biffa, D., Debela, E., Beyene, F., 2005. Prevalence and risk factors of mastitis in lactating dairy cows in Southern Ethiopia, International Journal of Applied Research in Veterinary Medicine, 3(3), 189-198

Bilal, M.Q, Iqbal, M.U., Muhammad, G., Avaisand, M., Sajid, M.S., 2004. Factors affecting the prevalence of clinical mastitis in buffaloes around Faisalabad district (Pakistan). International Journal of Agriculture and Biology, 6(1), 185-187

Denis, M., Wedlock, D.N., Lacy-Hulbert, S.J., Hillerton, J.E., Buddle, B.M., 2009. Vaccines against bovine mastitis in the New Zealand context: What is the best way forward?, New Zealand Veterinary Journal, 57, 132-140

DeVliegher S., Barkema, H.W., Opsomer, G., Kruif, A.D., Duchateau, L., 2005. Association between somatic cell count in early lactation and culling of dairy heifers using Cox frailty models, Journal of Dairy Science, 88, 560-568

Donovan, D.M., Kerr, D.E., Wall, R.J., 2005. Engineering disease resistant cattle, Transgenic Research, 14, 563-567

Fagiolo, A., Lai, O., 2007. Mastitis in buffalo, Italian Journal of Animal Science, 6 (2), 200-206

F.A.O., 2008. The Economic and Social Department the Statistical Division, Food and Agriculture Organization of United Nations, Rome

Gordon, P.F., van den Borne B.H, Reist, M., Kohler S, Doherr M.G., 2013. Questionnaire-based study to assess the association between management practices and mastitis within tie-stall and free-stall dairy housing systems in Switzerland, BMC Veterinary Research, 9, 200. doi: 10.1186/1746-6148-9-200

Halasa T., Huijps K., Osteras O., Hogeveen H., 2007. Economic effects of bovine mastitis and mastitis management: A review, Veterinary Questions, 29, 18-31

Hussain, R., Javed, M.J., Khan, A., Muhammad, G., 2013. Risks factors associated with subclinical mastitis in water buffaloes in Pakistan, Tropical Animal Health and Production, 45, 1723-1729

Jamil, H., Samad, H.A., Rehman, N., Qureshi, Z.I., Lodhi, L.A., 2011. Effect of somatic cell types and culture medium on in vitro maturation, fertilization and early development capability of buffalo oocytes, Pakistan Veterinary Journal, 31, 105-108

Javaid, S.B., Gadahi, J.A., Khaskeli, M., Bhutto, M.B., Kumbher, S., Panhwar, A.H., 2009. Physical and chemical quality of market milk sold at Tandojam, Pakistan, Pakistan Veterinary Journal, 29, 27-31

Khan, A.Z., Muhammad, G., 2005. Quarter-wise comparative prevalence of mastitis in buffaloes and crossbred cows, Pakistan Veterinary Journal, 25, 9-12

Khan, M.S., 2002. In: Water buffaloes for food security and sustainable rural development in Pakistan. Regional workshop on water buffaloes for Food Security and Sustainable Development (Thailand, Saran). pp 111-116

Lalrintluanga, C, Ralte, E.L., Hmarkunga, 2003. Incidence of mastitis, bacteriology and antibiogram in dairy cattle in Aizawl, Mizoram, Indian Veterinary Journal, 80, 931-932

Liaqat Ali, 2009. Study on epidemiology of mastitis in dairy buffalo and cow in Tehsil Samundri of district Faisalabad. Ph.D thesis, Dept. of Vet. Clinical Medicine and Surgery, Univ. Agri. Faisalabad

Mekibib, B., Furgasa, M., Abunna, F., Megersa, B., Regassa, A., 2010. Bovine mastitis: Prevalence, risk factors and major pathogens in dairy farms of Holeta Town, Central Ethiopia, Veterinary World, 3, 397-403

Moroni, P., Sgoifo Rossi, C., Pisoni, G., Bronzo, V., Castiglioni, B., Boettcher, P.J., 2006. Relationships between somatic cell count and intramammary infection in buffaloes, Journal of Dairy Science, 89, 998-1003

National Mastitis Council Inc., 1990. Microbiological procedure for the diagnosis of udder infection, National Mastitis Council Inc. Wilson Boulevard Arlington, USA

Nyman, A-K., Ekman, T., Emanuelson, U., Gustafsson, A.H., Holtenius, K., Waller, K.P., Sandgren, C.H., 2007. Risk factors associated with the incidence of veterinary-treated clinical mastitis in Swedish dairy herds with a high milk yield and a low prevalence of subclinical mastitis, Preventive Veterinary Medicine, 78, 142-160

Parker, K.I., Compton, C., Anniss, F.M., Weir, A., Heuer, C., McDougall, S., 2007. Subclinical and clinical mastitis in heifers following the use of a teat sealant pre-calving, Journal of Dairy Science, 90, 207-218

Petrovski, K.R., Heuer, C., Parkinson, T.J., Williamson, N.B., 2009. The incidence and aetiology of clinical bovine mastitis on 14 farms in Northland, New Zealand. New Zealand Veterinary Journal, 57,109-115

Radostits, O.M., Gay, C.C., Blood, D.C., Hincheliff, K.W., 2000. Mastitis. In: Veterinary Medicine: A text book of diseases of cattle, sheep, pig, goat and horses. 9th ed., London: W.B. Saunders, pp. 603-700

Salvador, R.T., Beltran, J.M.C., Abes, N.S., Gutierrez, C.A., Mingala, C.N., 2012. Prevalence and risk factors of subclinical mastitis as determined by the California Mastitis Test in water buffaloes (Bubalis bubalis) in Nueva Ecija, Philippines, Journal of Dairy Science, 95(3), 1363-1366

Schneider, R, Jasper, D.E., 1964. Standardization of the California Mastitis Test, American Journal of Veterinary Research, 25, 163-165

Sharif A, Ahmad, T., Umer, M., Bilal, M.Q, Muhammad, G., Sharif, M.A., 2009. Quarter based determination of milk lactose contents and milk somatic cell count from dairy buffaloes under field conditions in Pakistan, Pakistan Journal of Zoology, 9 (Suppl), 313-32

Sharif, A., Muhammad, G., 2009. Mastitis control in dairy animals. Pakistan Veterinary Journal, 29, 145-148

Shoshani, E., Leitner, G., Hanochi, B., Saran, A., Shpigel, N., Berman, A., 2000. Mammary infection with Staphylococcus aureus in cows: progress from inoculation to chronic infection and its detection, Journal of Dairy Research, 67,155-157

Steeneveld, W., Hogeveen, H., Barkema, H.W., Van Den Broek, J.R., Huirne, B.M., 2008. The influence of cow factors on the incidence of clinical mastitis in dairy cows, Journal of Dairy Science, 91, 1391-1402

Suojala, L., Pohjanvirta, T., Simojoki, H., Myllyniemi, A.L., Pitkala, A., Pelkonen, S., Pyorala, S., 2011. Phylogeny, virulence factors and antimicrobial susceptibility of Escherichia coli isolated in clinical bovine mastitis, Veterinary Microbiology, 147, 383-388

Suriyasathaporn, W., Heuer, C., Noordhuizen-Stassen, E.N., Schukken, Y.H., 2000. Hyperketonemia and the impairment of udder defense: a review. Veterinary Research, 31, 397-412

Varshney, J.P., Naresh, R., 2004. Evaluation of homeopathic complex in the clinical management of udder diseases of riverine buffaloes, Homeopathy, 93(1): 17-20
Acknowledgments
The authors would like to acknowledge the support of Dr. Ghufran Ullah, Director General (Research), and Dr. Kisroa Kalim, Livestock and Dairy Development Department, Khyber Pakhtunkhwa Pakistan, for valuable advice and friendly provision of facilities at Livestock Research and Development Station, D.I. Khan.
Conflict of interest
The authors declare that they have no competing interest.
About this article
Cite this article
Ali, T., Rahman, A., Qureshi, M.S. et al. Effect of management practices and animal age on incidence of mastitis in Nili Ravi buffaloes. Trop Anim Health Prod 46, 1279–1285 (2014). https://doi.org/10.1007/s11250-014-0641-2
Accepted:

Published:

Issue Date:
Keywords
Buffalo

Mastitis

Lactation

Age

Management practices