Abstract
Residual antimicrobials in food constitute a risk to human health, but poor knowledge is available about the significance of contaminated meat in developing countries. The purpose of the study was to determine the occurrence of antimicrobial drug residues in pork products in Madagascar. The occurrence of antimicrobial drug residues in pork meat were investigated by the Premi® test (DSM©) technique. There was a high incidence rate of drug residues, with 360 (37.2 %) meat samples being contaminated. A significant increase was observed between 2010 and 2011, with 32 and 39%, respectively. Pork meat samples are less contaminated by drug residues when animals are slaughtered in urban abattoirs (34.4%) vs in provincial abattoirs (42.2%), suggesting that animals under treatment (or sick) are sold preferentially in local abattoir. Drug residue levels in pork meats purchased in Madagascar appear to be serious public health problem at the moment.
Access options
Buy single article
Instant access to the full article PDF.
USD 39.95
Price includes VAT (USA)
Tax calculation will be finalised during checkout.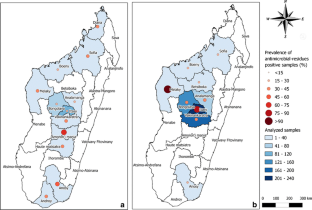 References
Al-Ghamdi, M, Al-Mustafa, Z, El-Morsy, F, Al-Faky, A, Haider, I, Essa, H (2000) Residues of tetracycline compounds in poultry products in the eastern province of Saudi Arabia. Public Health 114, 300–304

Alla, MBW, Mohamed, TE, Abdelgadir, AE (2011) Detection of antibiotics residues in beef in Ghanawa Slaughterhouse, Khartoum State, Sudan. African Journal of Food Science 5, 574–580

Barton, MD (2000) Antibiotic use in animal feed and its impact on human health. Nutrition Research Reviews 13, 279–299

Bogialli, S, Corcia, AD (2009) Recent applications of liquid chromatography–mass spectrometry to residue analysis of antimicrobials in food of animal origin. Analytical and Bioanalytical Chemistry 395, 947–966

Buur, J, Baynes, R, Smith, G, Riviere, J (2006) Use of probabilistic modeling within a physiologically based pharmacokinetic model to predict sulfamethazine residue withdrawal times in edible tissues in swine. Antimicrobial Agents and Chemotherapy 50, 2344–2351

Campagnoloa, ER, Johnson, KR, Karpatia, A, Rubin, CS, Kolpin, DW, Meyer, MT, Esteban, JE, Currier, RW, Smith, K, Thu, KM, McGeehin, M (2002) Antimicrobial residues in animal waste and water resources proximal to large-scale swine and poultry feeding operations. The Science of The Total Environment 299, 89–95

Companyó, R, Granados, M, Guiteras, J, Prat, MD (2009) Antibiotics in food : Legislation and validation of analytical methodologies. Analytical and Bioanalytical Chemistry 395, 877–891

Costard, S, Porphyre, V, Messad, S, Rakotondrahanta, S, Vidon, H, Roger, F, Pfeiffer, DU (2009) Multivariate analysis of management and biosecurity practices in smallholder pig farms in Madagascar. Preventive Veterinary Medicine 92, 199–209

D. J. Alderman, Hastings, TS (1998) Antibiotic use in aquaculture: development of antibiotic resistance—potential for consumer health risks. International Journal of Food Science & Technology 33, 139–155

Dewdney, JM, Maes, L, Raynaud, JP, Blanc, F, Scheid, JP, Jackson, T, Lens, S, Verschueren, C (1991) Risk assessment of antibiotic residues of β-lactams and macrolides in food products with regard to their immuno-allergic potential Food and Chemical Toxicology 29, 477–483

European Commission, 1990. Regulation 90/2377/EEC. L224. 55

Ezenduka, EV, Oboegbulem, SI, Nwanta, JA, Onunkwo, JI (2011) Prevalence of antimicrobial residues in raw table eggs from farms and retail outlets in Enugu State, Nigeria. Tropical Animal Health and Production 43, 557–559

Grunert, KG (2005) Food quality and safety: consumer perception and demand. European Review of Agricultural Economics 32, 369–391

Gustafson, RH, Bowen, RE (1997) Antibiotic use in animal agriculture. Journal of Applied Microbiology 83, 531–541

Henry, I, Granier, S, Courtillon, C, Lalande, F, Chemaly, M, Salvat, G, Cardinale, E (2012) Salmonella enterica subsp. enterica isolated from chicken carcasses and environment at slaughter in Reunion Island: prevalence, genetic characterization and antibiotic susceptibility. Tropical Animal Health and Production 45, 317–326

Ibrahim, AI, Junaidu, AU, Garba, MK (2010 ) Multiple antibiotic residues in meat from slaughtered cattle in Nigeria. The Internet Journal of Veterinary Medicine 8, 6

Ihaka, R, Gentleman, R (1996) R: a language for data analysis and graphics. Journal of Computational and Graphical Statistic 5, 299–314

Kabir, J, Umoh, JU, Umoh, VJ (2002) Characterisation and screening for antimicrobial substances of slaughtered cattle in Zaria, Nigeria. Meat Science 61, 435–439

Kang'ethe, EK, Aboge, GO, Arimi, SM, Kanja, LW, Omore, AO, McDermott, JJ (2005) Investigation of the risk of consuming marketed milk with antimicrobial residues in Kenya. Food Control 16, 349–355

Kilinc, B, Meyer, C, Hilge, V (2007) Evaluation of the EEC four-plate test and Premi test for screening antibiotic residues in trout (Salmo trutta). International Journal of Food Science and Technology 42, 625–628

Love, DC, Rodman, S, Neff, RA, Nachman, KE (2011) Veterinary Drug Residues in Seafood Inspected by the European Union, United States, Canada, and Japan from 2000 to 2009. Environmental Science & Technology 45, 7232–7240

Manie, T, Broumlzel, VS, Veith, WJ, Gouws, PA (1999) Antimicrobial Resistance of Bacterial Flora Associated with Bovine Products in South Africa. Journal of Food Protection 62, 615–618.

Mazaheri Nezhad Fard, R, Heuzenroeder, MW, Barton, MD (2011) Antimicrobial and heavy metal resistance in commensal enterococci isolated from pigs. Veterinary Microbiology 148, 276–282.

McCormick, JB (1998) Epidemiology of emerging/re-emerging antimicrobial-resistant bacterial pathogens. Current Opinion in Microbiology 1, 125–129.

McCullagh, P, Nelder, JA (1989) 'Generalized Linear Models.' (Chapman & Hall: London)

McEwen, SA, Black, WD, Meek, AH (1991) Antibiotic Residue Prevention Methods, Farm Management, and Occurrence of Antibiotic Residues in Milk Journal of Dairy Science 74, 2128–2137.

Mitchell, JM, Griffiths, MW, McEwen, SA, McNab, WB, Yee, AJ (1998 ) Antimicrobial Drug Residues in Milk and Meat: Causes, Concerns, Prevalence, Regulations, Tests, and Test Performance. Journal of Food Protection 61, 742–756.

Petat, EA, Martinet, F, Lemmens, P, Ghysels, G, Verhaegen, J, Vandepitte, J (1990) Human Salmonella and Shigella infections in Moroni, the capital of Great Comoro Island (1987–1988). Annales de la Société belge de médecine tropicale 70, 297–302.

Pham Kim, D, Degand, G, Douny, C, Dubois, M, Delhaut, P, Vu Dinh, T, Granier, B, Scippo, M-L (2012) Screening, post-screening and confirmation analysis of antibiotics in pork and chicken meat marketed in Vietnam, EuroResidue VII: conference on residues of veterinary drugs in food. Egmond aan Zee, The Netherlands, 14–16 May, 2012 (Robert Schilt)

Ravaomanana, J, Jori, F, Vial, L, Pérez-Sánchez, R, Blanco, E, Michaud, V, Roger, F (2011) Assessment of interactions between African swine fever virus, bushpigs (Potamochoerus larvatus), Ornithodoros ticks and domestic pigs in north-western Madagascar. Transboundary and Emerging Diseases 58, 247–254.

Shukla, P, Bansode, FW, Singh, RK (2011) Chloramphenicol Toxicity: A Review. J. Med. Med. Sci. 2, 1313–1316.

Stolker, AAM, Brinkman, UAT (2005) Analytical strategies for residue analysis of veterinary drugs and growth-promoting agents in food-producing animals—a review. Journal of Chromatography A 1067, 15–53.

Thioulouse, J, Dufour, B, Chessel, D (2004) 'The ade4 Package (Version 1.3-3).' Available at http://pbil.univ-lyon1.fr

Van Nhiem, D, Paulsen, P, Suriyasathaporn, W, Smulders, FJM, Kyule, MN, Baumann, MPO, Zessin, KH, Hong Ngan, P (2006) Preliminary Analysis of Tetracycline Residues in Marketed Pork in Hanoi, Vietnam. Annals of the New York Academy of Sciences 1081, 534–542.

Vlieghe, ER, Jacobs, JA, Van Esbroeck, M, Koole, O, Van Gompel, A (2008) Trends of Norfloxacin and Erythromycin Resistance of Campylobacter jejuni/Campylobacter coli Isolates Recovered From International Travelers, 1994 to 2006. Journal of Travel Medicine 15, 419–425.

Wang, Z, Mao, Y, Gale, F (2008) Chinese consumer demand for food safety attributes in milk products. Food Policy 33, 27–36.

Wilson, JS, Otsuki, T, Majumdsar, B (2003) Balancing food safety and risk: do drug residue limits affect international trade in beef? The Journal of International Trade & Economic Development 12, 377–402.

Yamaki, M, Berruga, MI, Althaus, RL, Molina, MP, Molina, A (2004) Occurrence of antibiotic residues in milk from Manchega ewe dairy farms. Journal of Dairy Science 87, 3132–3137.
Acknowledgment
Authors thank gratefully the French Embassy in Madagascar, the Regional Council of La Reunion (French overseas territory), the European Regional development Funds (ERDF), and the French Government for their financial support through the QualiREG research network in Indian Ocean (www.qualireg.org).
About this article
Cite this article
Rakotoharinome, M., Pognon, D., Randriamparany, T. et al. Prevalence of antimicrobial residues in pork meat in Madagascar. Trop Anim Health Prod 46, 49–55 (2014). https://doi.org/10.1007/s11250-013-0445-9
Accepted:

Published:

Issue Date:
Keywords
Pork

Meat

Antibiotics

Drug residue

Veterinary contaminant

Food safety

Madagascar