Abstract
We describe a study to assess the bacteriological quality and safety of meat in Bodija market in Ibadan and to investigate the influence of gender and group membership on food safety. Mixed methods were used to gather information on meat safety and related socioeconomic factors. These methods included a participatory urban appraisal, focus group discussions with eight butchers' associations, in depth discussions with six key informants, a questionnaire study of 269 meat sellers and a cross-sectional survey of meat quality (200 samples from ten associations). We found that slaughter, processing and sale of beef meat take place under unhygienic conditions. The activities involve both men and women, with some task differentiation by gender. Meat sold by association members is of unacceptable quality. However, some groups have consistently better quality meat and this is positively correlated with the proportion of women members. Women also have significantly better food safety practice than men, though there was no significant difference in their knowledge of and attitude towards food safety. Most meat sellers (85 %) reported being ill in the last 2 weeks and 47 % reported experiencing gastrointestinal illness. Eating beef, eating chicken, eating offal, consuming one's own products and belonging to a group with poor quality of meat were all strong and significant predictors of self-reported gastrointestinal illness. We include that gender and group membership influence meat quality and self-reported gastrointestinal illness and that butchers' associations are promising entry points for interventions to improve food safety.
Access options
Buy single article
Instant access to the full article PDF.
US$ 39.95
Tax calculation will be finalised during checkout.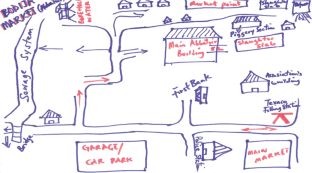 References
Adeyemo, O.K., 2002. Unhygienic operation of a city abattoir in South Western Nigeria: environmental implication, African Journal of Environmental Assessment and Management, 4(1), 23–28.

Cadmus, S.I.B., Adesokan, H.K. and Awosanya, A.E.J., 2008, Public health issues and observations made during meat inspection at Bodija Municipal abattoir, Ibadan, Oyo State, Nigeria, Nigerian Veterinary Journal 29 (2), 43–47.

Canet, C. and N'diaye, C., 1996). Street foods in Africa. Foods, Nutrition and Agriculture, 17/18, (FAO, Rome).

Chowa, G.A.N, 2006. Savings performance among rural households in sub-Saharan Africa: the effect of gender, Social Development Issues, 28(2), 106–116.

Cole, D., Grace, D. and Diamond, M., 2008. Researcher' approaches to evidence on urban agriculture and human health, In: D. Cole, D., Lee-Smith and G. Nasinyama, (eds), Healthy city harvests: Generating evidence to guide policy on urban agriculture, (International Potato Center, Nairobi and Makerere University Press, Makere).

Dosman, D.M., Adamowicz, W.L. and Hrudey, S.E., 2001. Socioeconomic determinants of health- and food safety-related risk perceptions. Risk Analysis 21: 307–317

FAO/WHO, 2002. The Nigerian experience on food safety regulations, FAO/WHO document GF/CRD Nigeria-1. FAO/WHO Global Forum of Food Safety regulators, Marrakesh, Morocco, 28–30 January 2002.

FSNAU, 2010. Offal Consumption among the Somali Population in Boroma, Burao and Bossaso towns. (Food Security and Nutrition Analysis Unit, Somalia)

Losindilo, E., Mussa, A.S. and Akarro, R.R.J., 2010. Some factors that hinder women participation in social, political and economic activities in Tanzania, Arts and Social Sciences Journal, 2010, ASSJ-4.

Lynch, M., Painter, J., Woodruff, R. and Braden, C., 2006. Surveillance for foodborne disease outbreaks—United States, 1998–2002, Morbidity and Mortality Weekly Report, Suppl 10, 1–34.

MDG, 2009. The Millennium Development Goals Report 2009, (United Nations, Geneva).

Nee, S.O and Sani N.A., 2011. Assessment of Knowledge, Attitudes and Practices (KAP) among food handlers at residential colleges and canteen regarding food safety. Sains Malaysiana 40(4): 403–410

Olawoye, J., 2006. Improving Benefits of Urban and Peri-Urban Livestock Production through Management of Associated Human and Environmental Health Risks in Nigeria, (Unpublished report, ILRI, Kenya).

Otte, M.J. and Gumm, I.D., 1997. Intra-cluster correlation coefficients of 20 infections calculated from the results of cluster-sample surveys. Preventive Veterinary Medicine, 31, 147–150.

Stafford, R.J., Schluter, P.J., Wilson, A.J., Kirk, M.D., Hall, G., Unicomb, L. and the OzFoodNet Working Group, 2008. Population-Attributable Risk Estimates for Risk Factors Associated with Campylobacter Infection, Australia. Emerging Infectious Disease, 14(6), 895–901

Walker, C.L. and Black, R.E., 2010. Diarrhoea morbidity and mortality in older children, adolescents, and adults. Epidemiology and Infection, 22,1–12.

WHO, (2008). The Global Burden of Disease: 2004 Update, (WHO, Geneva).
Acknowledgments
The authors wish to thank the CGIAR Systemwide Program on Collective Action and Property Rights for funding this work. We also thank all the members of the Bodija Market Butchers' Associations who participated in this study as well as the officials at Bodija Market, Ibadan.
Additional information
This paper is part of a special supplement on assessing and managing urban zoonoses and food-borne disease in two African cities (Nairobi, Kenya and Ibadan, Nigeria).
About this article
Cite this article
Grace, D., Olowoye, J., Dipeolu, M. et al. The influence of gender and group membership on food safety: the case of meat sellers in Bodija market, Ibadan, Nigeria. Trop Anim Health Prod 44, 53–59 (2012). https://doi.org/10.1007/s11250-012-0207-0
Accepted:

Published:

Issue Date:
Keywords
Food safety

Gender

Group membership

Butchers

Nigeria