Abstract
We carried out a participatory risk assessment to estimate the risk (negative consequences and their likelihood) from zoonotic Cryptosporidium originating in dairy farms in urban Dagoretti, Nairobi to dairy farm households and their neighbours. We selected 20 households at high risk for Cryptosporidium from a larger sample of 300 dairy households in Dagoretti based on risk factors present. We then conducted a participatory mapping of the flow of the hazard from its origin (cattle) to human potential victims. This showed three main exposure pathways (food and water borne, occupational and recreational). This was used to develop a fault tree model which we parameterised using information from the study and literature. A stochastic simulation was used to estimate the probability of exposure to zoonotic cryptosporidiosis originating from urban dairying. Around 6 % of environmental samples were positive for Cryptosporidium. Probability of exposure to Cryptosporidium from dairy cattle ranged from 0.0055 for people with clinical acquired immunodeficiency syndrome in non-dairy households to 0.0102 for children under 5 years from dairy households. Most of the estimated health burden was born by children. Although dairy cattle are the source of Cryptosporidium, the model suggests consumption of vegetables is a greater source of risk than consumption of milk. In conclusion, by combining participatory methods with quantitative microbial risk assessment, we were able to rapidly, and with appropriate 'imprecision', investigate health risk to communities from Cryptosporidium and identify the most vulnerable groups and the most risky practices.
Access options
Buy single article
Instant access to the full article PDF.
US$ 39.95
Tax calculation will be finalised during checkout.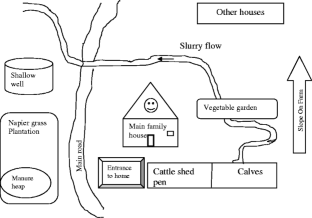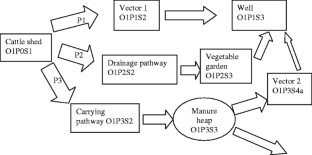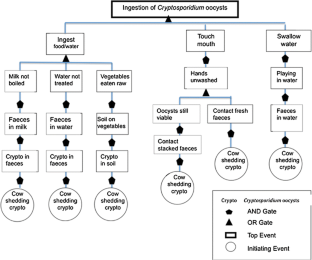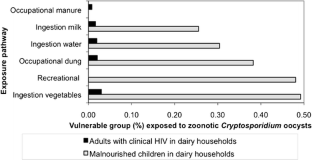 Notes
1.

Appropriate imprecision: not gathering data with more accuracy than is needed to understand the priority issues for evaluation (Chambers 1983)

2.

We used the commercial MeriFluor™ Cryptosporidium/Giardia from Meridian Diagnostics, Ind., and Cincinnati, Ohio according to the manufacturer's protocol.
References
APHRC, 2008, The Economic, Health, and Social Context of HIV Infection in Informal Urban Settlements of Nairobi. Nairobi, (African Population and Health Research Center, Nairobi).

Carey CM, Lee H, Trevors JT, 2004. Biology, persistence and detection of Cryptosporidium parvum and Cryptosporidium hominis oocysts, Water Research, 38 (4), 818–62

Chambers R., 1983. Rural Development: Putting the Last First, (Longman, London).

DuPont, H.L., Chappell, C.L., Sterling, C.R., Okhuysen, P.C., Rose, J.B. and Jakubowski, W., 1995. The infectivity of Cryptosporidium parvum in healthy volunteers, New England Journal of Medicine, 30, 332 (13), 855–9.

FDA, 1998, Enumeration of Escherichia coli and the Coliform Bacteria, Bacteriological Analytical Manual, 8th Edition, Revision A, Chapter 4, (Food and Drug Administration: Silver Spring).

Gatei, W., Wamae, C.N., Mbae, C., Waruru, A., Mulinge, E., Waithera, T., Gatika, S.M., Kamwati, S.K., Revathi, G. and Hart, C.A., 2006. Cryptosporidiosis: prevalence, genotype analysis, and symptoms associated with infections in children in Kenya. American Journal of Tropical Medicine and Hygiene, 75(1), 78–82.

Grace, D., Randolph, T., Olawoye, J., Dipelou, M. and Kang'ethe, E., 2008a. Participatory risk assessment: a new approach for safer food in vulnerable African communities. Development in Practice, 18 (4), 611–618

Grace, D., Omore, A., Randolph, T., Kang'ethe, E., Nasinyama, G.W. and Mohammed, H., 2008b. Risk assessment for E. coli O157:H7 in marketed raw and fermented milk in selected African countries, Journal of Food Protection, 27(2), 257–263.

Hoornstra, C. and Hartog, B., 2003. A quantitative risk assessment on Cryptosporidium in food and water. In: G. Duffy (ed.), Cryptosporidium Research Project, (Teagasc, Dublin).

Hunter, P.R. and Thompson, R.C., 2005. The zoonotic transmission of Giardia and Cryptosporidium, International Journal of Parasitology, 35(11-12), 1181–90.

Kange'the, E.K., McDermott, B., M'ibui, G.M., Randolph, T.F., and Langat, A.K., 2007. Investigation into the prevalence of bovine cryptosporidiosis among small-holder dairy households in Dagoretti Division, Nairobi, Kenya, East African Medical Journal, 84 (Supplement), S76–S82.

Mota, A., Mena, K.D., Soto-Beltran, M., Tarwater, P.M. and Cháidez, C., 2009. Risk assessment of Cryptosporidium and Giardia in water irrigating fresh produce in Mexico, Journal of Food Protection, 72(10), 2184–8.

Nasser AM, Tweto E and Nitzan Y., 2007, Die-off of Cryptosporidium parvum in soil and wastewater effluents. Journal of Applied Microbiology, 102(1),169–76.

PATH, 2010, New policy unveiled to combat diarrhoeal disease, a leading killer of Kenyan children, http://www.path.org/news/pr100330-diarrhea-policy.php

Pintar, K.D., Fazil, A., Pollari, F., Charron, D.F., Waltner-Toews, D. and McEwen, S.A., 2010. A risk assessment model to evaluate the role of fecal contamination in recreational water on the incidence of cryptosporidiosis at the community level in Ontario, Risk Analysis, 30, (1), 49–64.

Pönka, A., Kotilainen, H., Rimhanen-Finne, R., Hokkanen, P., Hänninen, M.L., Kaarna, A., Meri, T. and Kuusi, M., 2009. A foodborne outbreak due to Cryptosporidium parvum in Helsinki, Eurosurveillance, 14 (28), 1–3.

UNAIDS, 2006. Report on the Global AIDS Epidemic, (UNAIDS, Geneva)

UNICEF (2008). Nutritional care of HIV-positive children in Kenya, Malawi and Zambia: A progress review, (UNICEF, Nairobi)

WHO, 2009, Risk Assessment of Cryptosporidium in Drinking-water, (World Health Organisation, Geneva).

World Bank, 2008, Kenya Poverty and inequality assessment, Volume 1 Synthesis report, (World Bank, Washington)
Acknowledgments
The authors wish to thank the International Research Development Centre for funding this work under the grant 103075-001. We also thank all the members of the Dagoretti agricultural and livestock extension team and all the members of the Dagoretti community who took part in this study.
Additional information
This paper is part of a special supplement on assessing and managing urban zoonoses and food-borne disease in two African cities (Nairobi, Kenya and Ibadan, Nigeria).
About this article
Cite this article
Grace, D., Monda, J., Karanja, N. et al. Participatory probabilistic assessment of the risk to human health associated with cryptosporidiosis from urban dairying in Dagoretti, Nairobi, Kenya. Trop Anim Health Prod 44, 33–40 (2012). https://doi.org/10.1007/s11250-012-0204-3
Accepted:

Published:

Issue Date:
Keywords
Urban dairying

Cryptosporidium

Participatory risk assessment

Nairobi

Ecohealth