Abstract
The objective of this was to establish the effects of red spectrum of light (650 nm, treated n = 12) and normal spectrum of light (450 nm control = 12) on GnRH-I mRNA expression, amplitude and frequency of luteinizing hormone (LH), and egg production from 72–82 weeks of age in white leghorn hens. Birds exposed to red spectrum of wavelength significantly improved (P < 0.01) steroid hormone, and egg production improved over old laying 72 to 82 weeks. Weekly interval profiles followed the same pattern. At 77th weeks of age blood, samples from both the groups were collected at every 3 h for 36 h to study the pulsatile secretion of LH surges. Plasma LH concentration was higher (P < 0.01) in treated birds with more number of frequencies and amplitude LH surges in plasma of treated birds. LH frequencies were more pronounced and advanced during 36 h of sampling at 3 h interval in treated birds. Weekly interval of plasma LH, E2β, and P4 concentrations increased (P < 0.01) in treated birds from 72 to 82 weeks of age. GnRH-I mRNA concentration was significantly (P < 0.01) higher in birds exposed to red spectrum of light compared to controls. It is hypothesized that exposure of birds to red spectrum of light-enhanced (P < 0.01) GnRH-I mRNA with more number of yellow yolky follicles was found in birds exposed to red spectrum of light during 77 days (72–82 weeks of age) of experimental period. It is concluded that higher levels of GnRH-I mRNA, LH, E2β, and P4 concentration with lower incidence of pause days enabled the birds to lay more eggs even later in the productive period by modulating the wavelengths of light under normal husbandry conditions.
Access options
Buy single article
Instant access to the full article PDF.
USD 39.95
Price includes VAT (USA)
Tax calculation will be finalised during checkout.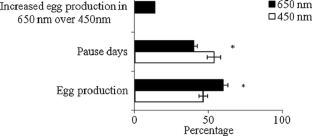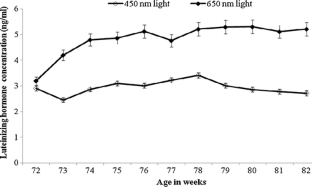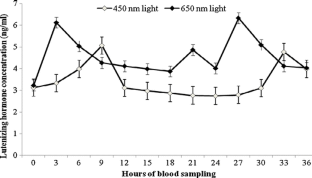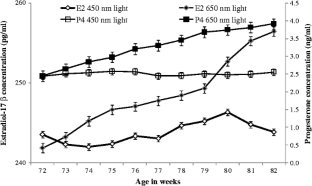 References
Chapman, D.P, Bacon, W.L. Long D.W, Kurima K and Burken W.H, 1994. Photo stimulation changes the pattern of luteinizing hormone secretion in turkey hens. General and Comparative Endocrinology. 96: 63-74

Chaiseha , Y. and El Halawani M.E., 2005. Neuroendocrinology of the female turkey reproductive cycle. Journal of Poultry Science, 42, 87–100.

Dunn, I.C, Beattie, K.K., Maney, D., Sang, H.M., Talbot, R.T., Wilson, P.W., Sharp, P.J., 1996. Regulation of chicken gonadotropin-releasing hormone-I mRNA in incubating, nest-deprived and laying bantam hens. Neuroendocrinology ,63: 504–513.

Dunn, I.C., Lewis, P.D., Wilson, P.W., Sharp, P.J., 2003. Acceleration of maturation of FSH and LH responses to photostimulation in prepubertal domestic hens by oestrogen. Reproduction 126: 217–225.

Guemene, D. and Williams, J.B., 1999., LH responses to chicken luteinizing hormone-releasing hormone I and II in laying, incubating, and out of lay turkey hens. Domestic Animal Endocrinology, 17, 1-15.

Halford, Stephanie, Susana, S. Pires, Michael, Turton, Lei Zheng, Irene Gonzalez Menendez, Wayne, L. Davies, Stuart, N. Peirson, José M, García-Fernández, Mark W. Hankins, and Russell G. Foster. 2009. VA opsin-based photoreceptors in the hypothalamus of birds. Current Biology. 19: 16, Page 1396-1402.

Joseph, N.T., Morgan, K., Sellar, R., McBride, D.,. Millar, R.P and. Dunn, I.C.2009. The chicken type III GnRH receptor homologue is predominantly expressed in the pituitary, and exhibits similar ligand selectivity to the type I receptor. J Endocrinology,202:179–190

Liu, H.K., Long D.W. and. Bacon, W.L.2002. Interval between preovulatory surges of luteinizing hormone increases late in the reproductive period in turkey hens. Biology of Reproduction, 66 1068–1075

Lal, P., Sharp, P.J., Dunn, I.C., Talbot, R.T., 1990. Absence of an effect of naloxone, an opioid antagonist, on luteinizing hormone release in vivo and luteinizing hormone-releasing hormone I release in vitro in intact, castrated, and food restricted cockerels. Gen. Comp. Endocrinology, 77: 239–245.

Lewis, P.D, Ciacciariello, M, Ciccone, N.A, Sharp, P.J, and Gous, R.M., 2005. Lighting regimens and plasma LH and FSH in broiler breeders. British Journal of Poultry Science, 46,349–353.

Lewis, P.D. and Morris, T. R., 2000. Poultry and colored light. World's Poultry Science Journal, 56,189-207.

Presscott NB, and Wathes CM, 2000.Poultry and coloured light. World's poultry Science Journal, 56,189-207

Mobarkey, N, Avital, A, Heiblum, Rozenboim, I, 2010. The role of retinal and extraretinal photostimulation in reproductive activity in broiler breeder hens. General and Comparative Endocrinology, 38:235-243

Pitts ,G.R., Nunemaker, C.S., Moenter, S.M., 2001. Cycles of transcription and translation do not comprise the gonadotropin-releasing hormone pulse generator in GT1 cells. Endocrinology, 142, 1858–1864.

Rossmanith W.G, Scherbaum, W.A., Lauritzen, C., 1991. Gonadotropin secretion during aging in postmenopausal women. Neuroendocrinology, 54, 211–218.

Rubin B.S and Bridges, R.S., 1989. Alterations in luteinizing hormone releasing hormone release from the mediobasal hypothalamus of ovariectomized, steroid-primed middle-aged rats as measured by push–pull perfusion. Neuroendocrinology 49, 225–232.

Shimizu, M and Bedecarrats ,G.Y, 2006. Identification of a novel pituitary-specific chicken gonadotropin-releasing hormone receptor and its splice variants. Biology of Reproduction , 75: 800–808.

Sharp PJ, Dunn IC and Talbot RT, 1987. Sex differences in the LH responses to Chicken LHRH-I and II in the domestic fowl. Journal of Endocrinology. 115, 323-331.

Sharp, P.J., 2005. Photoperiodic regulation of seasonal breeding in birds. Annals of New York Academic of Sciences, 1040,189–99.

Sharp P.J. Dunn., I.C and Cerolini ,S., 1992. Neuroendocrine control of reduced persistence of egg laying in domestic hens: evidence for the development of photo refractoriness. General and Comparative Endocrinology, 94; 221–235

Saldanha, C.J, Silverman, A.J, Silver, R. .2001.Direct innervation of GnRH neurons by encephalic photoreceptors in birds. Journal of Biological Rhythms, 16:39–49

Snedecor, G.W. and. Cochran, W.G., 1994. Statistical Methods 8th (edn.), Iowa State Press, Ames

Tanabe ,Y., Ogawa, T. and Nakamura, T, (1981), The effect of short term starvation on pituitary and plasma LH, plasma LH, plasma estradiol and of progesterone, and pituitary response to LH–RH in the laying hen (Gallus domesticus). General and Comparative Endocrinology, 43 pp. 392–398.

Nakane, Yusuke, Ikegami, Keisuke, Ono Hiroko, Yamamoto, Naoyuki, Shosei, Yoshida, Kanjun, Hirunagi, Shizufumi, Ebihara, Kubo, Yoshihiro, and Yoshimura Takashi.2010. A mammalian neural tissue opsin (opsin 5) is a deep brain photoreceptor in birds. Proceedings of National Academy of Sciences USA 107(34):15264–15268.
Acknowledgments
The authors are thankful to the Director of NIANP, Bangalore for providing necessary facilities to carry out the work. We are thankful to Dr. John. A. Proudman, USDA, USA for providing chicken LH hormone and antisera as a gratis. The project is as a gratis from ICAR, New Delhi.
About this article
Cite this article
Reddy, I.J., David, C.G., Selvaraju, S. et al. GnRH-1 mRNA, LH surges, steroid hormones, egg production, and intersequence pause days alter in birds exposed to longer wavelength of light in the later stages of production in Gallus gallus domesticus . Trop Anim Health Prod 44, 1311–1317 (2012). https://doi.org/10.1007/s11250-012-0073-9
Accepted:

Published:

Issue Date:
Keywords
Different wavelengths of light

GnRH-I mRNA

LH surges

Egg production

Hen