Abstract
A retrospective study was conducted to investigate the cause of rectal prolapse in working donkeys in Ethiopia. Analysis of data on rectal prolapse cases obtained from the Donkey Health and Welfare Project clinic at the School of Veterinary Medicine, Addis Ababa University, from 1995 to 2004 revealed that 83.6% (n = 177) of the cases were associated with Gasterophilus nasalis. The rest 10.7% and 5.7% were associated with work-related (overloading) cause and diarrhoea, respectively. The mean and median numbers of G. nasalis recovered from the rectum of infected donkeys were 66 and 64, respectively, with a range of 2–195. Over 100 G. nasalis larvae were recovered from the rectum of 22% of the donkeys. Circular demarcated ulcer-like and deep circumferential pits or ring-like mucosal lesions were found at the larval attachment sites. G. nasalis infection and the associated rectal prolapse were observed year round. However, the intensity of rectal larval infection and incidence of rectal prolapse were significantly higher during the rainy season (P < 0.01). Age and sex of the donkeys had no significant effect on the intensity of rectal larval infection and incidence of rectal prolapse (P > 0.05).
Access options
Buy single article
Instant access to the full article PDF.
US$ 39.95
Tax calculation will be finalised during checkout.
Subscribe to journal
Immediate online access to all issues from 2019. Subscription will auto renew annually.
US$ 79
Tax calculation will be finalised during checkout.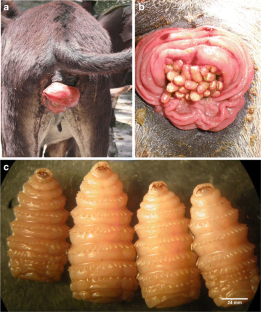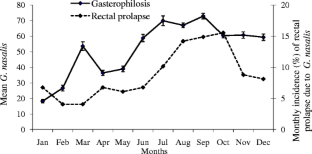 References
Coles, G.C. and Pearson, G.R., 2000. Gasterophilus nasalis infection: prevalence and pathological changes in equids in south-west England. Veterinary Record 146, 222–223

Crane, M., 1997. Medical care of donkeys. In: E.D. Svendsen (ed) The professional handbook of the donkey, 3rd edn. Whittet, London, 19–36

Daoud, M.S., Abid, T.A. and Al-Amary, A.M., 1989. Rectal prolapse due to Gasterophilus intestinalis larvae in horses. Iraqi Journal of Veterinary Science 2, 112–113

Fowler, J.N., 1986. Medical. In: E.D. Svendsen (ed) The professional handbook of the donkey, 1st edn. Sovereign, UK 91–99

Getachew M., 2006. Endoparasites of working donkeys in Ethiopia: sero-epidemiological and mathematical modeling. Unpublished PhD Thesis, University of Glasgow.

Getachew, M., Trawford, A., Feseha, G. and Reid, S.W.J., 2010. Gastrointestinal parasites of working donkeys of Ethiopia. Tropical Animal Health and Production, 42, 27–33

Gökçen, A., Sevgili, M., Altaş, M.G., Camkerten, I., 2008. Presence of Gasterophilus species in Arabian horses in Sanliurfa region. Turkiye Parazitolojii Dergisi, 32, 337–339

Güiris, A.D., Rojas, H.N., Berovides, A.V., Sosa, P. J, Pérez, E.M., Cruz, A.E., Chávez, H.C., Moguel, A.J., Jimenez-Coello, M., Ortega-Pacheco, A., 2010. Biodiversity and distribution of helminths and protozoa in naturally infected horses from the biosphere reserve La Sierra Madre de Chiapas, México. Veterinary Parasitology, 170, 268–77

Lapointe, J.M., Celeste, C. and Villeneue, A., 2003. Septic peritonitis due to colonic perforation associated with aberrant migration of a Gasterophilus intestinalis larva in a horse. Veterinary Pathology, 40, 338–339

Mukbel, R., Torgerson P.R. and Abo-Shehada, M., 2001. Seasonal variations in the abundance of Gasterophilus spp. larvae in donkeys in Northern Jordan. Tropical Animal Health and Production, 33, 501–509

Otranto, D., Milillo, P., Capelli, G. and Colwell, D. D., 2005. Species composition of Gasterophilus spp. (Diptera, Oestridae) causing equine gastric myiasis in southern Italy: parasite biodiversity and risks for extinction. Veterinary Parasitology, 133, 111–118

Pandey, V.S., Ouhelli, H. and Verhulst, A., 1992. Epidemiological observations on Gasterophilus intestinalis and G. nasalis in donkeys from Morocco. Veterinary Parasitology, 41, 285–292

Pawlas-Opiela, M., Sołtysiak Z. and Nicpoń J., 2007. Existence and pathomorphological picture of gasterophilosis in horses from North-East Poland. Medycyna Weterynaryjina, 63, 1377–1380

Pawlas-Opiela, M, Wojciech, Ł, Sołtysiak, Z., Otranto, D. and Ugorski, M., 2010. Molecular comparison of Gasterophilus intestinalis and Gasterophilus nasalis from two distinct areas of Poland and Italy based on cox1 sequence analysis. Veterinary Parasitology, 169, 219–221

Pilo, C., Altea, A., Fois, M.P., Scala A., 2009. Equine gasterophilosis in Sardinia: annual trend of bot eggs laying in different topographic regions of the horse. Veterinary Research Communications, 33 (Suppl 1), S149–S151

Principato, M., 1988. Classification of the main macroscopic lesions produced by larvae of Gasterophilus spp. (Diptera: Gasterophilidae) in free-ranging horses in Umbria. The Cornell Veterinarian, 78, 43–52

R Development Core Team, 2009. R: a language and environment for statistical computing. R Foundation for Statistical Computing, Vienna. ISBN 3-900051-07-0, http://www.R-project.org.

Sakr, E.E., Zayed, A.A. and Hilali, M., 1990. Histopathological studies on donkeys infested with larvae of Gasterophilus species. Veterinary Medical Journal (Giza), 38, 309–319

Schumacher, J., 2002. Diseases of the small colon and rectum. In: T. Mair, T. J. Divers, and N.G. Ducharme (eds) Manual of equine gastroenterology. WB, London, 299–315

Sequeira, J. L., Tostes, R.A. and Oliveira-Sequeira, T.C.G., 2001. Prevalence and macro and microscopic lesions produced by Gasterophilus nasalis (Diptera: Oestridae) in the Botucatu Region, SP, Brazil. Veterinary Parasitology, 102, 261–266

Smith, M. A., McGarry J. W., Kelly, D. F. and Proudman C. J., 2005. Gasterophilus pecorum in the soft palate of a British pony. Veterinary Record, 156, 283–284

Soulsby, E.J.L., 1982. Helminths, arthropods and protozoa of domesticated animals, 7th edn. Baillier, London.

Studzinska, M.B., and Wojcieszak, K. , 2009. Gasterophilus sp. botfly larvae in horses from the South-Eastern part of Poland. Bulletin of the Veterinary Institute in Pulawy, 53, 651–655

Svendsen, E.D., 1997. Donkeys abroad. In: E.D. Svendsen (ed) The professional handbook of the donkey, 3rd edn. Whittet, London, 227–238

Wambwa, E.N., Ogara, W.O., Mudakha, D., 2004. A comparative study of gastrointestinal parasites between ranched and free ranging Burchell's zebra (Equus burchelli antiquorum) in Isiolo district, Kenya. Journal of Veterinary Science, 5, 215–220

Wilson, K. and Grenfell, B. T., 1997. Generalized linear modelling for parasitologists. Parasitology Today, 13, 33–38

Yilma, J.M. Feseha, G. Svendsen, E.D. and Mohammed, A., 1991. Health problems of working donkeys in Debre Zeit and Menagesha regions of Ethiopia. In: D. Fielding and R.A. Pearson (eds) Proceedings of a colloquium on donkeys, mules and horses in tropical agricultural development, Edinburgh, Scotland, 1990, 151–155

Zumpt, F., 1965. Myiasis in man and animals in the old world. Butterworths, London, 111–128
Acknowledgments
This study was financially supported by the Donkey Sanctuary. The authors are grateful to the Faculties of Veterinary Medicine of Addis Ababa University and Glasgow University for their support and provision of the necessary facilities. The technical assistance of the Donkey Health and Welfare Project staff in Ethiopia is highly acknowledged with thanks.
Additional information
The authors declare that they have no conflict of interest.
About this article
Cite this article
Getachew, A.M., Innocent, G., Trawford, A.F. et al. Gasterophilosis: a major cause of rectal prolapse in working donkeys in Ethiopia. Trop Anim Health Prod 44, 757–762 (2012). https://doi.org/10.1007/s11250-011-9961-7
Accepted:

Published:

Issue Date:
Keywords
Gasterophilosis

Rectal prolapse

Donkey

Ethiopia