Abstract
The presence of Eimeria spp. oocysts in fecal samples collected from 1,108 broiler houses in six regions, representing about 12% of all broiler farms in Turkey, was studied using the modified McMaster method. The age of the chickens in the 1,108 pens varied from 1 to 50 days. Oocysts were found in 602 (54.3%) of these broiler houses, and the mean OPG (oocysts per gram of feces) in those samples was 36,498.7 (50–952,000). No indication of clinical coccidiosis or other clinically evident infection or wide mortality was encountered in any of the pens studied. Further study showed that the age of the chickens, the occurrence of diarrhea on the houses and the density of broiler breeding in the area correlated with subclinical coccidiosis prevalence.
Access options
Buy single article
Instant access to the full article PDF.
USD 39.95
Price excludes VAT (USA)
Tax calculation will be finalised during checkout.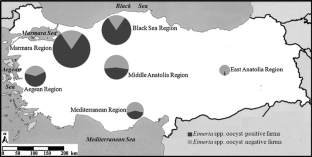 References
Al-Natoura, M.O., Suleimana, M.M., Abo-Shehadab, M.N., 2002. Flock-level prevalence of Eimeria species among broiler chicks in northern Jordan. Preventive Veterinary Medicine, 53, 305–331.

Anonymous, 1986. Ministry of Agriculture, Fisheries and Food: Manual of Veterinary Parasitological Laboratory Techniques. Reference Book. No: 418. Her Majesty's Stationery Office, London.

Chapman, H.D., Cherry, T.E., Danforth, H.D., Richards, G., Shirley M.W., Williams, R.B., 2002. Sustainable coccidiosis control in poultry production: the role of live vaccines. International Journal for Parasitology, 32(5), 617–629.

Chapman, H.D., Matsler, P.L., Muthavarapu, V.K, Chapman M.E., 2005. Acquisition of immunity to Eimeriamaxima in newly hatched chickens given 100 oocysts. Avian Diseases, 49, 426–429.

Conway, D.P. and McKenzie, M.E., 2007. Poultry Coccidosis: Diagnostic and Testing Procedures, 3rd Edition. Wiley-Blackwell, Ames, IA, USA.

Etuk, E.B., Okoli, I.C., Uko, M.U., 2004. Prevalence and management issues associated with poultry coccidiosis in Abak Agricultural Zone of Akwa Ibom State, Nigeria. International Journal of Poultry Science, 3(2), 135–139.

Graat, E.A., Van der Kooij, E., Frankena, K., Henken, A.M., Smeets J.F, Hekerman, M.T., 1998. Quantifying risk factors of coccidiosis in broilers using on-farm data based on a veterinary practice. Preventive Veterinary Medicine, 33, 297–308.

Haug, A., Gjevre, A.G., Thebo, P., Mattsson, J.G., Kaldhusdal, M., 2008. Coccidial infections in commercial broilers: epidemiological aspects and comparison of Eimeria species identification by morphometric and polymerase chain reaction techniques. Avian Pathology, 37(2), 161–170.

Jordan, F.T.W., Pattison, M., 1996. Poultry Diseases, 4th Edition. Saunders, London, UK, pp 261–289.

Kar, S., Karaer, Z., Guven, E., Nalbantoglu, S., Cakmak, A., Ekdal, K., Kocak, A., 2010. Characteristics of oocyst shedding in birds infected with Eimeria spp. and Eimeria maxima. Kafkas Universitesi Veteriner Fakultesi Dergisi, 16(1), 91–96.

Levine, N.D., 1985. Veterinary Protozoology. Iowa State University Press, Ames, IA, pp 130–188.

McDougald, L.R., 2003. Protozoal infections, In: Saif, Y.M., Barnes, H.J., Glisson, J.R., Fadly, A.M., McDougald, L.R., Swayne, D.E. (eds.), Diseases of Poultry, 11th Edition. Iowa State Press, Ames, IA, pp 974–991.

McDougald, L.R., Fuller, L., Mattiello, R., 1997. A survey of coccidia on 43 poultry farms in Argentina. Avian Diseases, 41, 923–929.

Nematollahi, A., Moghaddam, G., Niyazpour, F., 2008. Prevalence of Eimeria sp. among broiler chicks in Tabriz (Northwest of Iran). Research Journal of Poultry Sciences, 2(3), 72–74.

Razmi, G.R., Kalideri, G.A., 2000. Prevalence of subclinical coccidiosis in broiler-chicken farms in the municipality of Mashhad, Khorasan, Iran. Preventive Veterinary Medicine, 44, 247–253

Rommel, M., Eckert, J., Kutzer, E., Körting, W., Schneider, T., 2000. Veterinärmedizinische Parasitologie, 5. Auflage. Blackwell Wissenschafts-Verlag, Berlin.

Schnitzler, B.E., Shirley, M.W., 1999. Immunological aspects of infections with Eimeria maxima: a short review. Avian Pathology, 28, 537–543.

Shirley, M., 2000. The importance of natural immunity. In: Positive Action Conferences: 7th International Poultry Health Conference, Coccidiosis Conference, Hannover, Germany.

Shirley, M.W., 2009. Prevalence and aspects of importance of different Eimeria species and strains in poultry in Europe. In: XVIth World Veterinary Poultry Association Congress, 8–12 November 2009, Marrakesh, Morocco.

Suls, L., 2000. How to reduce the damage caused by coccidiosis. In: Positive Action Conferences: 7th International Poultry Health Conference, Coccidiosis Conference, Hannover, Germany.

Williams, R.B., 1999. A compartmentalized model for the estimation of the cost of coccidiosis to the world's chicken production industry. International Journal for Parasitology, 29, 1209–1229.

Williams, R.B., 2001. Quantification of the crowding effect during infections with the seven Eimeria species of the domesticated fowl: Its importance for experimental designs and the production of oocyst stocks. International Journal for Parasitology, 31, 1056–1069.

Williams, R.B., Bushell, A.C., Reperant, J.M., Doy, T.G., Morgan, J.H., Shirley, M.W., Yvore, P., Carr, M.M., Fremont, Y., 1996. A survey of Eimeria species in commercially-reared chickens in France during 1994. Avian Pathology, 25(1):113–130.

Zahner, H., Homringhausen-Riester, C., Biirger, H.J., 1994. Eimeriosen. In: Rijllinghoff M, Rommel, M. (eds) Immunologische und molekulare Parasitologie. Gustav Fischer Verlag, Jena, pp 67–82.
About this article
Cite this article
Karaer, Z., Guven, E., Akcay, A. et al. Prevalence of subclinical coccidiosis in broiler farms in Turkey. Trop Anim Health Prod 44, 589–594 (2012). https://doi.org/10.1007/s11250-011-9940-z
Accepted:

Published:

Issue Date:

DOI: https://doi.org/10.1007/s11250-011-9940-z
Keywords