Abstract
A survey was conducted between April and July 2007 to generate information on dry season feeding management and livestock poisoning in the southern rangelands of Ethiopia. A total of 119 pastoralists were interviewed using a semi-structured questionnaire. Moreover, additional information was obtained through informal discussions. The study revealed that pastoralists have rich knowledge of natural resource management and utilization and employ various strategies such as migration, collection of grasses and pods, and cutting branches to overcome feed scarcity during dry/drought periods. Migration of livestock and people to areas with better grazing is the widely used strategy. However, the implementation of this strategy is diminishing as a result of changes such as bush encroachment, expansion of settlements, and crop cultivation in dry-season grazing lands. The respondents also indicated the presence of poisonous plants in the rangeland, and about 20 such plants were identified by the respondents. Various species and classes of livestock are reported to be affected by toxic plants particularly in the dry and early rainy seasons when feed is in short supply. A more extensive survey is required to document all poisonous plants in the rangelands and to identify the major toxic principles in the different species. Future development interventions should consider the prevailing constraints and potentials of the rangelands with active participation of the pastoralists.
Access options
Buy single article
Instant access to the full article PDF.
US$ 39.95
Tax calculation will be finalised during checkout.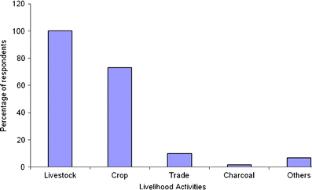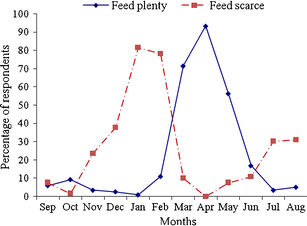 Abbreviations
LVIA:

Lay Volunteers International Association

SORDU:

Southern Rangelands Development Unit

SPSS:

Statistical Package for Social Sciences
References
Abebe, D., Urga, K., Debella, A., Ambaye, C., and Dejene, A., 2001. Survey of poisonous plants in southern Ethiopia, Ethiopian Journal of Health Development, 15(3), 209–221.

Abule, E., Snyman, H.A. and Smit, G.N., 2005. Comparison of pastoralists' perceptions about rangeland resource utilization in Middle Awash Valley of Ethiopia, Journal of Environmental Management, 75, 21--35.

Agaie, B.M., Salisu, A. and Ebbo, A.A., 2007. A survey of common toxic plants of livestock in Sokoto State, Nigeria, Scientific Research and Essay, 2(2), 040--042.

Amir, F., 2009. A model for classification of range suitability for grazing sheep in semi-arid regions of Iran, Livestock Research for Rural Development, Volume 21, Article #68, Retrieved November 5, 2010, from http://www.lrrd.org/lrrd21/5/amir21068.htm

Angassa, A. and Oba, G., 2008. Herder perceptions on impacts of range enclosures, crop farming, fire ban and bush encroachment on the rangelands of Borana, southern Ethiopia, Human Ecology, 36, 201--215.

Angassa, A. and Tolera, A. 2006. Pastoral development efforts and the current status of range condition in Borana. In: K. Berhanu and D. Fantaye (eds), Ethiopia – Rural Development Policies: Trends, Changes and Continuities, (Department of Political Science and International Relations, Addis Ababa University, Addis Ababa, Ethiopia), 107--119.

Botha, C.J. and Penrith M.L., 2008. Poisonous plants of veterinary and human importance in southern Africa, Journal of Ethnopharmacology, 119, 549--558.

Desta, S. and Coppock, D.L., 2002. Cattle population dynamics in the southern Ethiopian rangelands, 1980–97, Journal of Range Management, 55,439--459.

Gemedo-Dalle, T., Maass, B.L. and Isselstein, J., 2005. Plant Biodiversity and Ethnobotany of Borana pastoralists in southern Oromia, Ethiopia, Economic Botany, 59 (1), 43--65.

Hart, C.R. and Carpenter, B.B., 2001. Toxic range plants, AgriLIFE Extension, Texas A&M University System, https://agrilifebookstore.org/ accessed on June 18, 2009

Holechek, J.I., 2002. Do most livestock losses to poisonous plants result from ''poor" range management? Journal of Range Management, 55, 270--276.

Panter, K.E., Gardner, D.R., Lee, S.T., Pfister, J.A., Ralphs, M.H., Stegelmeier, B.L. and James, L.F., 2007. Important poisonous plants of the United States. In: R.C. Gupta, (ed), Veterinary Toxicology: Basic and Clinical Principles, (Academic Press, New York), 825--872.

Pfister, J. A., Provenza, F.D., Panter, K.E., Stegelmeier, B.L. and launchbaugh, K.L., 2002. Risk management to reduce livestock losses from toxic plants, Journal of Range Management, 55, 291--300.

Sori, T., Bekana, M., Girma, A. and Kelbessa, E., 2004. Medicinal plants in the ethnoveterinary practices of Borana pastoralists, southern Ethiopia, International Journal of Applied Research in Veterinary Medicine, 2(3), 220--225.

SPSS (Statistical Package for Social Sciences), 2007, SPSS 15.0 Student Version for Windows, (Prentice Hall)

Tolera, A. and Abebe, A., 2007. Livestock production in pastoral and agro-pastoral production systems of southern Ethiopia, Livestock Research for Rural Development, Volume 19, Article #177, Retrieved June 28, 2010, from http://www.lrrd.org/lrrd19/12/tole19177.htm
Acknowledgments
The authors would like to thank the Norwegian Agency for Development Cooperation (NORAD) for financial support. The authors are also thankful to the former Southern Rangeland Development Unit (SORDU) and Lay Volunteers International Association (LVIA) Moyale office for facilitation during data collection.
About this article
Cite this article
Abebe, A., Eik, L.O., Holand, Ø. et al. Pastoralists' perceptions of feed scarcity and livestock poisoning in southern rangelands, Ethiopia. Trop Anim Health Prod 44, 149–157 (2012). https://doi.org/10.1007/s11250-011-9902-5
Accepted:

Published:

Issue Date:
Keywords
Dry season

Feed shortage

Pastoralists

Poisonous plants

Southern rangelands