Abstract
In order to evaluate the socio-economic characteristics of urban and peri-urban dairy production systems in the North western Ethiopian highlands, a field survey was conducted which included 256 farms. It is concluded that urban farmers tend to specialize on dairy production and support the family income from non-agricultural activities, while agricultural activities other than milk production forms an additional source of income in peri-urban farms. The specialization of urban dairy producers includes the more frequent use of crossbred cows with higher milk yield. Urban and peri-urban dairy production contributes to food security of the population and family income of the farmers' families, but also provides a job opportunity for otherwise unemployed people. Access to farm land, level of education and access to certain input services such as training, veterinary and credit services were identified as the major constraints for the future development of the dairy sector.
Access options
Buy single article
Instant access to the full article PDF.
US$ 39.95
Tax calculation will be finalised during checkout.
Subscribe to journal
Immediate online access to all issues from 2019. Subscription will auto renew annually.
US$ 79
Tax calculation will be finalised during checkout.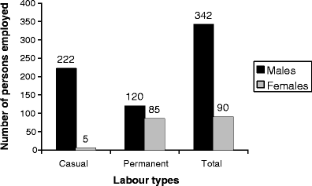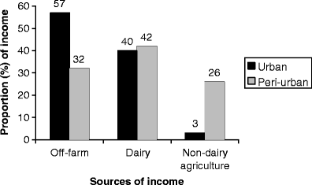 References
Abdinasir, I.B., 2000. Smallholder dairy production and dairy technology adoption in the mixed farming system in Arsi highland, Ethiopia, (unpublished PhD thesis, Humboldt University of Berlin, Germany).

Azage Tegegne, 2004. Urban livestock production and gender in Addis Ababa, Urban Agriculture Magazine, 12, 30–31.

Azage Tegegne, Million Tadesse, Alemu Yami and Yoseph Mekasha, 2006. Market-oriented urban and peri-urban dairy systems, Urban Agriculture Magazine, 2, 23–24.

CSA (Central Statistical Authority), 2003. Agricultural sample enumeration 2001/02 results for Amhara region household and land use. Addis Ababa, Ethiopia.

Davinder, L., 1993. Urban agriculture in East Africa I: record, capacities and opportunities. In: Cities Feeding People – Series Report 2. Mazingira Institute, Nairobi, Kenya.

Dereje, T., Workneh, A. and Hegde, B.P., 2005. Survey of traditional cattle production systems and preferred cattle functions in North and South Wollo zones, Ethiopia, Ethiopian Veterinary Journal, 9, 91–108.

ESAP (Ethiopian Society of Animal Production), 2002. Livestock in Food Security – Roles and Contributions. Proceedings of 9th Annual Conference of the Ethiopian Society of Animal Production (ESAP), Addis Ababa, Ethiopia, August 30–31, 2001.

Gündel, S., 2006. A synthesis of urban and peri-urban agriculture research commissioned by the RNRRS (Renewable Natural Resources Research Strategy) programme, 1995–2006. Final report. Edinburgh, U.K.

Kelay, B.D., 2002. Analysis of dairy cattle breeding practices in selected areas of Ethiopia, (unpublished PhD thesis, Humboldt University of Berlin, Germany).

Lobago, F., Bekana, M., Gustafsson, H. and Kindahl, H., 2007. Longitudinal observation on reproductive and lactation performances of smallholder crossbred dairy cattle in Fitche, Oromia region, central Ethiopia, Tropical Animal Health and Production, 39, 395–403.

Mohamed A.M. Ahmed, Ehui, S. and Assefa, Y., 2003. Dairy Development in Ethiopia. InWEnt, IFPRI, NEPAD, CTA—Conference Successes in African Agriculture, December 1–3, 2003, Pretoria, South Africa, Conference Paper Number 6.

Moses, M., Ikiara, A., Karanja, M.and Davies, T.C., 2004. Collection, transportation and disposal of urban solid waste in Kenya. In: I.S.A. Baud, J. Post and C. Furedy (eds), Solid waste management and recycling: Actors, Partnerships and Policies in Hyderabad, India and Nairobi, Kenya, 2004, (Kluwer Academic Publishers, Dordrecht; The Netherlands), 61–92.

NMSA, 2008. National Meteorological Services Agency of Bahir Dar Station; unpublished data.

SAS (Statistical Analysis System), 2002. User Installation Guide for the SAS System Version 9.1. SAS Institute Inc., Cary, NC, USA.

Sintayehu Yigrem, Fekadu Beyene, Azage Tegegne and Berhanu Gebremedhin, 2008. Dairy production, processing and marketing systems of Shashemene–Dilla area, South Ethiopia. IPMS (Improving Productivity and Market Success) of Ethiopian Farmers Project Working Paper 9, ILRI (International Livestock Research Institute), Nairobi, Kenya. 62 pp.

Solano, C., Bernues, A., Rojas, F., Joaquin, N., Fernandez, W. and Herrero, M., 2000. Relationship between management intensity and structural and social variables in dairy and dual-purpose systems in Santa Cruz, Bolivia, Agricultural Systems, 65, 159–177.

Swai, E.S., Karimuribo, E.D., Schoonman, L., French, N.P., Fitzpatrick, J., Kambarage, D. and Bryant, M. J., 2005. Description, socio-economic characteristics, disease managements and mortality dynamics in smallholder's dairy production system in coastal humid region of Tanga, Tanzania, Livestock Research for Rural Development, Volume 17, Number 41.

Thys, E., Oueadraogo, M., Speybroeck, N. and Geerts, S., 2005. Socio-economic determinants of urban household livestock keeping in semi-arid Western Africa, Journal of Arid Environments, 63, 475–496.

van Veenhuizen, R. and Danso, G., 2007. Profitability and sustainability of urban and peri-urban agriculture. Agricultural Management, Marketing And Finance, 2007 (Food and Agriculture Organization of The United Nations, Rome, Italy; Occasional Paper 19) 95 pp.

World Bank, 2005. The urban transition in Sub-Saharan Africa: implications for economic growth and poverty reduction. Africa Region. Working paper series Number 97. December 2005.

Yoseph Mekasha, Azage Tegegne, Alemu Yami and Umunna, N.N., 2003. Evaluation of the General farm characteristics and dairy herd structure in urban and peri-urban dairy production systems in Addis Ababa Milk Shed. In: Yilma Jobre and Getachew Gebru (eds), Proceedings of the 10th annual conference of the Ethiopian society of animal production, Addis Ababa, Ethiopia, August 21–23, 2003, 139–144.

Yousuf Kurtu, M., 2003. Certain aspects of the dairy systems in the Harar milkshed, Eastern Ethiopia, (unpublished PhD thesis, University of the Free State Bloemfontein).
Acknowledgements
The authors are very grateful to the Austrian Exchange Service (ÖAD) and Amhara Regional Agricultural Research Institute (ARARI, Ethiopia) for their financial support. The support of Dr. Getachew Alemayehu and Dr. Eshete Dejen (ARARI, Ethiopia) were particularly important. We would like also to express our gratitude to the livestock owners for their cooperation during data collection and to the staff of Andasssa Livestock Research Centre for their technical and logistical assistance. Dr. Roswitha Baumung's (BOKU) help in all statistical aspects is highly acknowledged.
About this article
Cite this article
Ayenew, Y.A., Wurzinger, M., Tegegne, A. et al. Socioeconomic characteristics of urban and peri-urban dairy production systems in the North western Ethiopian highlands. Trop Anim Health Prod 43, 1145–1152 (2011). https://doi.org/10.1007/s11250-011-9815-3
Accepted:

Published:

Issue Date:
Keywords
Cattle

Dairy

Ethiopia

Peri-urban agriculture

Socio-economy

Urban agriculture