Abstract
Examination of 3,960 goats brought from six districts of Jammu province and slaughtered at Jammu abattoir from July 2005 to June 2006 revealed 47.22% prevalence of larval stages of warble fly (Przhevalskiana silenus Brauer, 1858) in goats. Highest prevalence was recorded in Udhampur (56.44%) and lowest in Doda district (13.49%). Classification of the study area into four zones based on height (meters above sea level), viz., zone I (300–325 m asl), zone II (325–800 m asl), zone III (800–1,500 m asl), and zone IV (>1,500 m asl), revealed significant (p < 0.01) difference in infestation among animals of zone II (71.68%), zone III (40.12%), and zone IV (22.41%). However, animals of zone I did not reveal any infestation. Statistical analysis in relation to age showed significant (p < 0.01) difference among different age groups, i.e., <1 year (2.81%), 1–3 years (51.17%), and >3 years (43.16%). Breed-wise analysis also showed significantly (p < 0.01) higher infestation rate among Bakerwali (51.51%) goats as compared to Beetal (42.59%). But no significant difference was recorded among male (47.81%) and female (46.82%) animals. The overall mean larva count (L1, L2, and L3) was observed to be 14.72 ± 0.34, ranging from 4 to 72. It was significantly (p < 0.05) higher in animals of zone II (22.20 ± 0.21) as compared to goats of zones III (14.21 ± 0.41) and IV (7.73 ± 0.90). Age-wise analysis of mean larva count also showed significant (P < 0.05) difference between animals of 1–3 years (16.25 ± 0.37) and >3 years of age (13.18 ± 0.40). Mean larvae count in relation to sex and breed did not reveal any significant difference. First-instar larvae (L1) were recorded from May to mid-September, second larval stage (L2) from mid-September to mid-December, and third-stage larvae (L3) from mid-December to February. However, No larvae were recorded from March to April, which is suggestive of pupation period in this region. Thus, it is concluded that adult fly is active in April to June. The results further confirmed that internal life cycle of P. silenus is subcutaneous and no migration of larvae occurs. This is the first report from India, based on slaughter house study on the prevalence and biology of goat warble fly infestation. It will help in devising suitable prophylactic and eradication program to check the economic losses rendered by adult fly.
Access options
Buy single article
Instant access to the full article PDF.
USD 39.95
Price excludes VAT (USA)
Tax calculation will be finalised during checkout.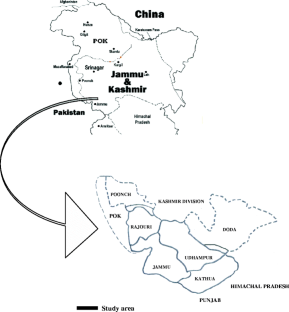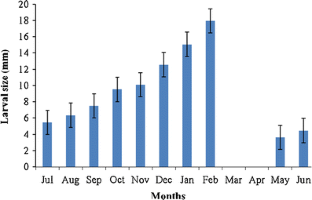 References
Abo-Shehada, M.N., Batainah, T., Abuharfeil, N.M. and Torgerson, P.R., 2006. Przhevalskiana silenus myiasis among slaughter goats in northern Jordan. Veterinary Parasitology, 137, 345–350.

Cross, H.E., 1926. Bot Flies of the Punjab. Bulletin Agriculture Research Institute, Pusa, New Dellhi, Pp 16.

Faliero, S.M., Otranto, D., Traversa, D., Giangaspero, A., Santagada, G., Lia, R. and Puccini, V., 2001. Goat warble fly infestation by Przhevalskiana silenus (Diptera: Oestridae): immunoepidemiologic survey in the Basilicata region (southern Italy). Parassitologia, 43, 131–134.

Khan, M.Q., Cheema, A.H., Inayatullah, C. and Mirza, I.H., 1991. Prevalence and control of goat warbles. Asian- Australian Journal of Animal Sciences, 4, 157–159.

Khan, M.Q., Akhtar, S. and Cheema, A.U., 1994. Efficacy of Ivermectin against goat warbles (Przhevalskiana silenus Brauer) in Pakistan. Veterinary Record, 135, 361.

Le Riche, P.D., Jorgensen, R.J., Campbell, J.B. and Efstathiou, G.C., 1973. Notes on the goat warble fly, P. aegagri Braur, 1863, in Ciprus. Journal of Natural History, 7, 615–622.

Madel, G. and Nahif, A.A., 1971. Zur Entwicklung, Histologie und Sekretion der larvalen Speicheldrüsen der Ziegendasselfliege Crivellia silenus Brauer (Diptera, Hypodermatidae). Zeitschrift fur Parasitenkunde, 37, 211–225.

Oryan, A., Razavi, S.M. and Bahrami, S., 2009. Occurrence and biology of goat warble fly infestation by Przhevalskiana Silenus (Diptera, Oestridae) in Iran. Veterinary Parasitology, 166, 178–181.

Otranto, D. and Puccini, V., 2000. Further evidence on the internal life cycle of Przhevalskiana silenus (Diptera,Oestridae). Veterinary Parasitology, 88, 321–328.

Otranto, D. and Treversa, D., 2004. Molecular evidence indicating that Przhevalskiana silenus, Przhevalskiana aegagri and Przhevalskiana crossii (Diptera : oesteridae ) are one species. Acta Parasitology, 49, 173–176.

Otranto, D., Boulard, C., Giangaspero, A., Carinella, M.P., Rimmele, D. and Puccini V., 1999. Serodiagnosis of goat warble fly infestation by Przhevalskiana silenus with a commercial ELISA kit. Veterinary Record, 19, 726–729.

Papadopoulos, E., Himonas, C. and Boulard, C., 1997. The prevalence of goat hypodermosis in Greece. Parasitologia, 39, 427–429.

Puccini, V., Tassi, P. and Giangaspero, A., 1986. Miasi sottocutanea del Gargano: Studio epizoologico. Parasitologia, 28, 324.

Rahbari, S. and Ghasemi, J., 1997. Study on economic aspects of goat grubs in Iran. Tropical Animal Health and Production, 29, 243–244.

Sayin, F., Mimioglu, M., Meric, I., Dincer, S., Sincer, N. and Orkiz, M., 1973. Ankara Kecisi Hypodermosis'i uzerinde arastirmalar. I- P. silenus (Brauer) 'un Biyolojisi (in Turkish with English Abstract). Ankara Üniversitesi Veteriner Fakültesi Dergisi, 20, 192–202.

Sen, S.K. and Fletcher, T.B., 1962. Veterinary Entomology and Acarology in India. Indian council of Agricultural Research, New Delhi, pp 1–668.

Soni, B.N., 1942. Eggs of the goat warble fly (Hypoderma crossii Patton). Current Science, 11, 280–281.

Tarry, D.W., 1980. Warble fly infestation and climate. Veterinary Record, 106, 559–560.

Tassi, P., Puccini, V. and Giangaspero, A., 1989. Infection by the warble fly Przhevalskiana silenus Brauer, 1858, in the Italian goats. An update up to 1988. Parassitologia, 31, 239–250.

Vaillant, J., Argente, G. and Boulard, C., 1997. Bovine Hypodermosis: a sequential procedure for observation of livestock for surveillance of recrudescence in eradicated zone. Veterinary Research, 28, 461–471.

Yadav, A., Khajuria, J.K. and Soodan, J.S., 2006. Warble fly infestation in goats of Jammu. Journal of Veterinary Parasitology, 20, 149–152.

Zumpt, F., 1965. Myiasis in man and animals of the old world. Butterworths, London, pp. 205–214.
Acknowledgments
The authors are grateful to the Sher-e-Kashmir University of Agricultural Sciences and Technology, Jammu, India for the encouragement and facilities provided. Thanks are also extended to the Commissioner Municipal Committee, Jammu, Dr. P. Bharti, and other staff members of Jammu slaughter house for their cooperation.
About this article
Cite this article
Yadav, A., Katoch, R., Khajuria, J.K. et al. Prevalence and biology of goat warble fly infestation by Przhevalskiana silenus in Jammu province, India. Trop Anim Health Prod 43, 1487–1492 (2011). https://doi.org/10.1007/s11250-011-9813-5
Accepted:

Published:

Issue Date:

DOI: https://doi.org/10.1007/s11250-011-9813-5
Keywords