Abstract
The objectives of this study were to investigate the relationships between body weight and morpho-structural indices to predict body weight from their orthogonal body shape characters using principal component analysis and to morphologically classify the chicken genotypes using multivariate discriminant analysis. Data used were from 273 randomly selected 12-weeks-old indigenous chickens of normal-feathered (NF), frizzle-feathered (FF), naked-neck (NN) and Anak Titan (AT) genotypes. Phenotypic correlation among body weight and most biometric traits ranged from 0.227–0.876, −0.7–0.901, 0.034–0.968 and −0.207–0.849 for NF, NN and AT chickens, respectively. Factor analysis with varimax rotation of interrelated traits revealed three principal components which accounted for 83.1%, 74.4%, 78.8% and 76.5% of the total variance in NF, FF, NN and AT chickens in the order listed. Breast girth, keel length, thigh length, shank length and wing length were found to be the most discriminating variables to separate the chicken genotypes. The longest distance (72.54) occurred between AT and NF genotypes while the shortest distance (4.27) was recorded for FF and NN genotypes. Classification results showed that 85.2% of AT genotype was correctly classified into their source population. However, 22.7% of NF was misclassified as NN, while 33.3% of NN was misclassified as NF chickens. These results suggest that there is high rate of gene flow between these two indigenous chicken genotypes. Information obtained from this study may be considered useful in breed improvement programmes for selection, characterization, conservation and better management of Nigerian indigenous chickens.
This is a preview of subscription content,
to check access.
Access this article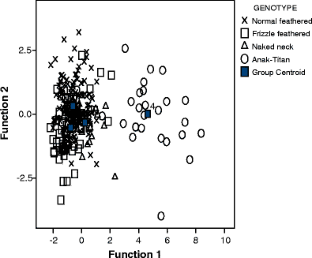 Similar content being viewed by others
Abbreviations
AT:

Anak Titan

BW:

Body weight

BG:

Breast girth

BL:

Body length

FF:

Frizzle feathered

KL:

Keel length

NF:

Normal feathered

NN:

Naked neck

PC:

Principal component

SL:

Shank length

TL:

Thigh length

WL:

Wing length

WS:

Wing span
References
Abdelqader, A., Wollny, C.B.A. and Gauly, M., 2008. On-farm investigation of local chicken biodiversity and performance potentials in rural areas of Jordan, Animal Genetic Resources Information, 43, 49-58.

Adeleke, M.A., Peters, S.O., Ozoje, M.O., Ikeobi, C.O.N., Bamgbose, A.M. and Adebambo, O. A., 2011a. Growth performance of Nigerian local chickens in crosses involving an exotic broiler breeder, Tropical Animal Health and Production, 43 (3), 643-650.

Adeleke, M.A., Peters, S.O., Ozoje, M.O., Ikeobi, C.O.N., Adebambo, A.O., Olowofeso, O., Bamgbose, A.M. and Adebambo, O.A., 2011b. A preliminary screening of genetic lineage of Nigerian local chickens based on blood protein polymorphism, Animal Genetic Resources, 48, 23-28.

Ansari, S., Edriss, M.A. and Pourreza, J., 1997. Genetic and non-genetic variations of body weight in Iranian native chicken and their crosses with exotic breeds, Iran Agricultural Research, 16, 83-96.

Everitt, B.S., Landau, S. and Leese, M., 2001. Cluster analysis. 4th edn., (Arnold Publisher, London).

FAOSTAT, 2011. FAOSTAT database on Agriculture. www.fao.org/library. Accessed on May 24, 2011.

Gunn, H.H., 2008. Effects of frizzling and naked neck gene on growth, haematology, carcass traits and organ weights of the Nigerian local chicken (unpublished M. Agric. Dissertation, Department of Animal Breeding and Genetics, University of Agriculture, Abeokuta)

Martinho de Almeida, A. and Zuber, U., 2009. The effect of the naked neck genotype (Nana), feeding and outdoor rearing on growth and carcass characteristics of free range broilers in a hot climate, Tropical Animal Health and Production, 42, 99-107.

Mendes, M., 2009. Multiple linear regression models based on principal component scores to predict slaughter weight of broiler, Archiv für Geflügelkunde 73, 139–144.

Okeno, T.O., Kahi, A.K. and Peters, K.J., 2011. Characterization of indigenous chicken production systems in Kenya, Tropical Animal Health and Production, DOI 10.1007/s11250-011-9942-x.

Osei-Amponsah, R., Kayang, B.B., and Naazie, A., 2012. Age, genotype and sex effects on growth performance of local chickens kept under improved management in Ghana, Tropical Animal Health and Production, 44:29–34.

Osei-Amponsah, R., Kayang, B.B., Naazie, A., Arthur, P.E. and Barchia, I.M., 2011. Characterisation of local Ghanaian chickens: growth performance evaluation based on Richards growth model and genetic size scaling. Tropical Animal Health and Production, 43, 1195–1201.

Pinto, L.F.B., Dacker, I.U., De melo, C.M.R., Ledur, M.C. and Coutinho, L.L., 2006. Principal components analysis applied to performance and carcass traits in the chicken, Animal Research, 55, 419-425.

Peters, S.O., Adeleke, M.A., Ozoje, M.O., Adebambo, O.A. and Ikeobi, C.O.N., 2007. Bio-prediction of liveweight from linear body measurement traits among pure and crossbred chicken, Nigerian Poultry Science Journal, 4, 1-6.

Rosario, M.F., Silvia, M.A.N., Coelho, A.A.D., Savino, V.J.M. and Dias, C.T.S., 2008. Canonical discriminate analysis applied to broiler chicken performance. Animal, 2, 419-424.

Shahin, K.A. and Hassan, N.S., 2000. Sources of shared variability among body shape characters at marketing age in New Zealand White and Egyptian rabbit breeds. Annales de Zootechnie, 49, 435-445.

SPSS, 2001. Statistical Package for Social Sciences. SPSS Inc., 444 Michigan Avenue, Chicago, IL60611.

Yakubu, A., Kaankuka, F.G. and Ugbo, S.B., 2011. Morphometric traits of Muscovy ducks from two agro-ecological zones of Nigeria, Tropicultura, 29, 121-124.

Yakubu, A., Kuje, D. and Okpeku, M., 2009. Principal components as measures of size and shape in Nigerian indigenous chickens, Thai Journal of Agricultural Science, 42 (3), 167-176.
About this article
Cite this article
Ajayi, O.O., Adeleke, M.A., Sanni, M.T. et al. Application of principal component and discriminant analyses to morpho-structural indices of indigenous and exotic chickens raised under intensive management system. Trop Anim Health Prod 44, 1247–1254 (2012). https://doi.org/10.1007/s11250-011-0065-1
Accepted:

Published:

Issue Date:

DOI: https://doi.org/10.1007/s11250-011-0065-1
Keywords