Abstract
The objective of this study was to investigate the relationship between seroprevalence to Theileria parva infection in cattle and potential environmental and farm-level effects in 80 farms under traditional crop–livestock system in Mbeere District, Kenya. A standardized questionnaire was used to collect the effects characteristics as related to T. parva infection epidemiology. Serum samples were collected from 440 cattle of all ages for detection of T. parva antibodies by the enzyme-linked immunosorbent assay technique. The association between the variables was assessed using a generalized estimation equation logistic regression model. The overall T. parva seroprevalence, accounting for correlation of responses, was 19.3% (95% confidence interval (CI) 14%, 25%). Two variables, "administrative division" and "presence of the vector tick on the farm", were significantly associated with the T. parva seroresponse. Respectively, cattle from farms in Gachoka, Evurore, and Mwea divisions were (and their 95% CI) 1.3 (0.36, 4.8), 4.4 (1.2, 15.9), and 15.2 (4.9, 47.1) times more likely to be seropositive relative to those from Siakago Division (P = 0.000). Cattle from farms in which the vector tick was present were 2.9 (1.2, 6.7) times more likely to be seropositive (P = 0.011). Results of this study suggested that both environmental and farm factors may be associated with T. parva infection epidemiology in Mbeere District. Under such circumstances, characterization of environmental suitability for the vector tick and corresponding environment-specific farm management practices in the district is required both for improved understanding of the disease and in planning disease control programs.
Access options
Buy single article
Instant access to the full article PDF.
US$ 39.95
Tax calculation will be finalised during checkout.
Subscribe to journal
Immediate online access to all issues from 2019. Subscription will auto renew annually.
US$ 79
Tax calculation will be finalised during checkout.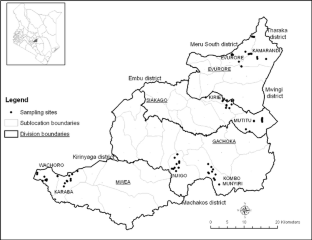 References
Bazarusanga, T., Vercruysse, J., Marcotty, T. and Geysen, D., 2007. Epidemiological studies on theileriosis and the dynamics of Theileria parva infections in Rwanda. Veterinary Parasitology, 143, 214–221.

Chenyambuga, S. W., Waiswa, C., Saimo, M., Ngumi, P. and Gwakisa, P.S., 2010. Knowledge and perceptions of traditional livestock keepers on tick-borne diseases and sero-prevalence of Theileria parva around Lake Victoria Basin. Livestock Research for Rural Development., 22, Art. #135. http://www.lrrd.org/lrrd22/7/chen22135.htm. Accessed July 2010.

Deem, S.L., Perry, B.D., Katende, J.M., McDermott, J.J., Mahan, S.M., Maloo, S.H., Morzaria, S.P., Musoke, A.J. and Rowland, G.J., 1993. Variations in prevalence of tick borne diseases in zebu cattle by agroecological zone: implications for East Coast fever immunisation, Preventive Veterinary Medicine, 16, 171–187.

Dohoo, I., Martin, W. and Stryhn, H., 2003. Veterinary epidemiologic research. In: S.M. Mcpike (Ed.), A comprehensive text for the discipline. AVC, Charlottetown, p. 706.

Gilioli, G., Groppi, M., Vesperoni, M.P., Baumgartner, J. and Gutierrez, A.P., 2009. An epidemiological model of East Coast fever in African livestock. Ecological Modelling, 220, 1652–1662.

Gitau, G.K., Perry, B.D. and McDermott, J.J., 1999. The incidence, calf morbidity and mortality due to Theileria parva infections in smallholder dairy farms in Murang'a District, Kenya. Preventive Veterinary Medicine, 39, 65–79.

Gitau, G.K., Aleri, J.W., Mbuthia, P.G. and Mulei, C.M., 2010. Causes of calf mortality in peri-urban area of Nairobi, Kenya. Tropical Animal Health and Production, doi:10.1007/s11250-010-9614-2.

Jaetzold, R. and Schmidt, H., 1983. Farm management handbook of Kenya, Volume II. Natural conditions and farm management information, Ministry of Agriculture, Kenya.

Kaiser, M.N., Sutherst, R.W., Bourne, S.A., Gorrison, L. and Floyd, R.B., 1988. Population dynamics of ticks on Ankole cattle in five ecological zones in Burundi and strategies for their control. Preventive Veterinary Medicine, 6, 199–222.

Katende, J., Morzaria, S., Toye, P., Skilton, R., Nene, V., Nkonge, C. and Musoke, A., 1998. An enzyme-linked immunosorbent assay for detection of Theileria parva antibodies in cattle using a recombinant polymorphic immunodominant molecule. Parasitology Research, 84, 408–416.

Magona, J.W., Walubengo, J., Olaho-Mukani, W., Jonsson, N.N., Welburn, S.C. and Eisler, M.C., 2008. Clinical features associated with seroconversion to Anaplasma marginale, Babesia bigemina and Theileria parva infections in African cattle under natural tick challenge. Veterinary Parasitology, 155, 273–280.

Maloo, S.H., Rowlands, G.J., Thorpe, W., Gettinby, G. and Perry, B.D., 2001. A longitudinal study of disease incidence and case-fatality on smallholder dairy farms in coastal Kenya. Preventive Veterinary Medicine, 52, 17–29.

Martin S.W., Meek, A.H. and Willeberg, P., 1987. Veterinary epidemiology: principles and methods. Iowa State University Press, Ames, p. 343.

Minjauw, B. and McLeod, A., 2003. Tick-borne diseases and poverty. The impact of ticks and tick-borne diseases on the livelihood of small-scale and marginal livestock owners in India and eastern and southern Africa. Research report, DFID Animal Health Programme, Centre for Tropical Veterinary Medicine, University of Edinburgh, UK, p. 116.

Mugabi, K.N., Mugisha, A. and Ocaido, M., 2010. Socio-economic factors influencing the use of acaricides on livestock: a case study of the pastoralist communities of Nakasongola District, Central Uganda. Tropical Animal Health and Production, 42, 131–136.

Muraguri, G.R., McLeod, A., McDermott, J.J. and Taylor, N., 2005. The incidence of calf morbidity and mortality due to vector-borne infections in smallholder dairy farms in Kwale District, Kenya. Veterinary Parasitology 130, 305–315.

Norval, R.A.I., Perry, B.D. and Young, A.S., 1992. The epidemiology of Theileriosis in Africa. Academic, London, p. 234.

Nshimiyimana, J. and Mutandwa, E., 2010. Seasonal dynamics and distribution of ticks in Rwanda: implications for tick control strategy in Rwanda. International Journal of Animal and Veterinary Advances, 2, 21–25.

Odongo, D.O., Ueti, M.W., Mwaura, S.N., Knowles, D.P., Bishop, R.P. and Scoles, G.A., 2009. Quantification of Theileria parva in Rhipicephalus appendiculatus (Acari: Ixodidae) confirms differences in infection between selected tick strains. Journal of Medical Entomology, 46, 888–894.

Okuthe, O.S. and Buyu, G.E., 2006. Prevalence and incidence of tick-borne diseases in smallholder farming systems in the western-Kenya highlands. Veterinary Parasitology, 141, 307–312.

Olwoch, J.M., Reyers, B., Engelbrecht, F.A. and Erasmus, B.F.N., 2008. Climate change and the tick-borne disease, theileriosis (East Coast fever), in sub-Saharan Africa. Journal of Arid Environments, 72, 108–120.

Onduru, D.D., Gachumbi, L., Maina, F., Muchena, F.N. and de Jager, A., 2002. Sustaining agricultural production in the semi-arid areas of eastern Kenya: a case study of Mbeere District. INMASP Report No. Ke-03: ETC-EA, KARI (NARL) and LEI-DLO.

Phiri, B.J., Benschop, J. and French, N.P., 2010. Systematic review of causes and factors associated with morbidity and mortality on smallholder dairy farms in Eastern and Southern Africa. Preventive Veterinary Medicine, 94, 1–8.

Rubaire-Akiiki, C.M., Okello-Onen, J., Musunga, D., Kabagambe, E.K., Vaarst, M., Okello, D., Opolot, C., Bisagaya, A., Okori, C., Bisagati, C., Ongyera, S. and Mwayi, M.T., 2006. Effect of agro-ecological zone and grazing system on incidence of East Coast fever in calves in Mbale and Sironko Districts of Eastern Uganda. Preventive Veterinary Medicine, 75, 251–266.

StataCorp., 2007. Stata Statistical Software: release 10. College Station: StataCorp LP

Swai, E.S., Karimuribo, E.D., Kambarage, D.M. and Moshy, W.E., 2009. A longitudinal study on morbidity and mortality in youngstock smallholder dairy cattle with special reference to tick borne infections in Tanga region, Tanzania. Veterinary Parasitology, 160, 34–42.

Zeger, S. L. and Liang, K.-Y., 1986. Longitudinal data analysis for discrete and continuous outcomes. Biometrics, 42, 121–130.
Acknowledgments
We are grateful to Mbeere cattle farmers who participated in this study. Logistical support from Mbeere District Veterinary Office is acknowledged. The authors are also grateful to BecA—ILRI Hub and in particular Alice Njeri for laboratory technical assistance. We thank Pamela Ochungo, ILRI, for generating the map of the study area. This work was funded by the Association for Strengthening Agricultural Research in Eastern and Central Africa (ASARECA) and Kenya Agricultural Productivity Project (KAPP).
About this article
Cite this article
Gachohi, J.M., Kitala, P.M., Ngumi, P.N. et al. Environment and farm factors associated with exposure to Theileria parva infection in cattle under traditional mixed farming system in Mbeere District, Kenya. Trop Anim Health Prod 43, 271–277 (2011). https://doi.org/10.1007/s11250-010-9688-x
Accepted:

Published:

Issue Date:
Keywords
Theileria parva

Seroprevalence

Environment and farm factors

Mbeere

Kenya