Abstract
In contrast to a flourishing development of racket rubber coverings, or rubbers, no technical data can be found on their performance under different environmental conditions. In light of this, here we report an experimental study on the frictional response of four different popular rubbers, with pimples-in and pimples-out gometry, tested against three different balls at five levels of relative humidity. It is found that the humidity does affect the frictional characteristics of the rubbers, with all parameters being responsive to changes in the environmental conditions and reaching maximum at the humidity of about 45–60% in a majority of the cases. Probably the most interesting finding is that the ball surface finish has significant effect on the frictional response of all rubbers. This can provide players with the ability to affect the rubber performance at different levels of humidity by simply choosing between different balls.
Graphic Abstract
Access options
Buy single article
Instant access to the full article PDF.
USD 39.95
Price excludes VAT (USA)
Tax calculation will be finalised during checkout.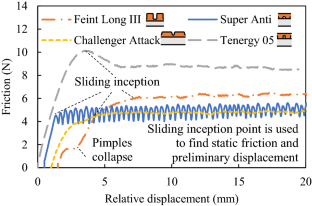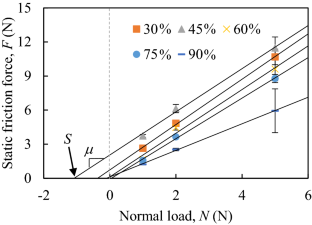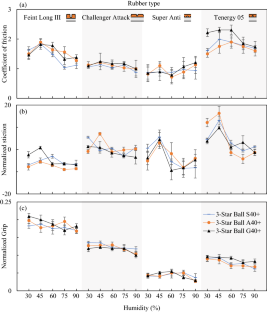 References
ITTF: ITTF Equipment: record number of rubbers online! https://www.ittf.com/2019/10/10/ittf-equipment-record-number-rubbers-online/ (2019). Accessed Sep 2020

Maughan, R.J., Otani, H., Watson, P.: Influence of relative humidity on prolonged exercise capacity in a warm environment. Eur. J. Appl. Physiol. 112, 2313–2321 (2012)

Tsutsumi, H., Tanabe, S.-I., Harigaya, J., Iguchi, Y., Nakamura, G.: Effect of humidity on human comfort and productivity after step changes from warm and humid environment. Build. Environ. 42, 4034–4042 (2007)

Mjamja: Humidity Beat Me (not my opponent). http://mytabletennis.net/forum/humidity-beat-me-not-my-opponent_topic73813.html (2015). Accessed Oct 2020

Harrison, J.R.: Recent problems with equipment. Int. J. Table Tennis Sci 5, 96–100 (2002)

Yoshizawa, H., Chen, Y.L., Israelachvili, J.: Fundamental mechanisms of interfacial friction. 1. Relation between adhesion and friction. J Phys. Chem. 97, 4128–4140 (1993)

Jung, Y.C., Bhushan, B.: Contact angle, adhesion and friction properties of micro-and nanopatterned polymers for superhydrophobicity. Nanotechnology 17, 4970 (2006)

Feiler, A.A., Jenkins, P., Rutland, M.W.: Effect of relative humidity on adhesion and frictional properties of micro-and nano-scopic contacts. J. Adhes. Sci. Technol. 19, 165–179 (2005)

Burton, Z., Bhushan, B.: Hydrophobicity, adhesion, and friction properties of nanopatterned polymers and scale dependence for micro-and nanoelectromechanical systems. Nano Lett. 5, 1607–1613 (2005)

Puthoff, J.B., Prowse, M.S., Wilkinson, M., Autumn, K.: Changes in materials properties explain the effects of humidity on gecko adhesion. J. Exp. Biol. 213, 3699–3704 (2010)

Johnson, K.L., Johnson, K.L.: Contact Mechanics. Cambridge University Press, Cambridge (1987)

Abbott, E., Firestone, F.: Specifying surface quality: a method based on accurate measurement and comparison. Spie Milestone Series MS 107, 63–63 (1995)

Varenberg, M., Varenberg, A.: Table tennis rubber: tribological characterization. Tribol. Lett. 47, 51–56 (2012)

Varenberg, M., Varenberg, A.: Table tennis: preliminary displacement in pimples-out rubber. Tribol. Lett. 53, 101–105 (2014)

Mo, Y., Turner, K.T., Szlufarska, I.: Friction laws at the nanoscale. Nature 457, 1116–1119 (2009)

Kligerman, Y., Varenberg, M.: Elimination of stick-slip motion in sliding of split or rough surface. Tribol. Lett. 53, 395–399 (2014)

Wu, Y., Leamy, M.J., Varenberg, M.: Minimizing self-oscillation in belt drives: Surface texturing. Tribol. Int. 145, 106157 (2020)

Schallamach, A.: How does rubber slide? Wear 17, 301–312 (1971)

Wu, Y., Leamy, M.J., Varenberg, M.: Schallamach waves in rolling: Belt drives. Tribol. Int. 119, 354–358 (2018)

Murarash, B., Itovich, Y., Varenberg, M.: Tuning elastomer friction by hexagonal surface patterning. Soft Matter 7, 5553–5557 (2011)

Murarash, B., Varenberg, M.: Tribometer for in situ scanning electron microscopy of microstructured contacts. Tribol. Lett. 41, 319–323 (2011)

Derjaguin, B.: Molecular theory of friction and sliding. Zhurn. Phis. Khim (in Russian) 5, 1165–1172 (1934)

Derjaguin, B., Toporov, Y.P.: Influence of adhesion on the sliding and rolling friction. Prog. Surf. Sci. 45, 317–327 (1994)

Lian, C., Lee, K.-H., Lee, C.-H.: Effect of temperature and relative humidity on friction and wear properties of silicone-based magnetorheological elastomer. Tribol. Trans. 61, 238–246 (2018)

Klüppel, M., Heinrich, G.: Rubber friction on self-affine road tracks. Rubber Chem. Technol. 73, 578–606 (2000)
Acknowledgements
We thank Yuichi Tsuchiya (Tamasu Co., Japan) for providing the racket coverings and balls used in this study. This work was funded by the Georgia Institute of Technology.
Additional information
Publisher's Note
Springer Nature remains neutral with regard to jurisdictional claims in published maps and institutional affiliations.
About this article
Cite this article
Wu, Y., Varenberg, A. & Varenberg, M. Table Tennis: Effect of Humidity on Racket Rubber Tribology. Tribol Lett 69, 31 (2021). https://doi.org/10.1007/s11249-021-01404-2
Received:

Accepted:

Published:

DOI: https://doi.org/10.1007/s11249-021-01404-2
Keywords
Ping pong

Racket covering

Friction

Stickiness

Grip