Abstract
Biotribology and tribocorrosion are often not included in numerical or computational modeling efforts to predict wear because of the apparent complexity in the geometry, the variability in removal rates, and the challenge associated with mixing time-dependent removal processes such as corrosion with cyclic material removal from wear. The lollipop is an accessible bio-tribocorrosion problem that is well known but underexplored scientifically as a tribocorrosion process. Stress-assisted dissolution was found to be the dominant tribocorrosion process driving material removal in this system. A model of material removal was described and approached by lumping the intrinsically time-dependent process with a mechanically driven process into a single cyclic volumetric material removal rate. This required the collection of self-reported wear data from 58 participants that were used in conjunction with statistical analysis of actual lollipop cross-sectional information. Thousands of repeated numerical simulations of material removal and shape evolution were conducted using a simple Monte Carlo process that varied the input parameters and geometries to match the measured variability. The resulting computations were analyzed to calculate both the average number of licks required to reach the Tootsie Roll® center of a Tootsie Roll® pop, as well as the expected variation thereof.
This is a preview of subscription content, log in to check access.
Access options
Buy single article
Instant access to the full article PDF.
US$ 39.95
Price includes VAT for USA
Subscribe to journal
Immediate online access to all issues from 2019. Subscription will auto renew annually.
US$ 199
This is the net price. Taxes to be calculated in checkout.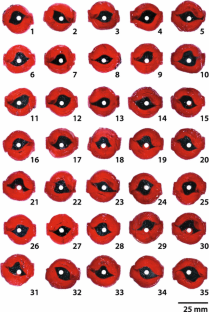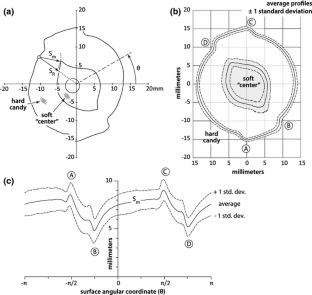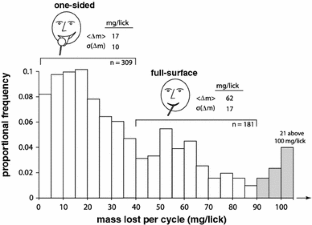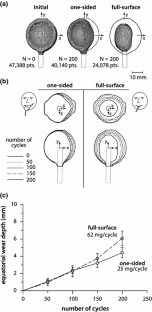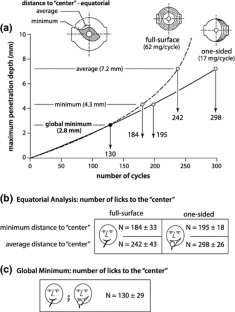 References
1.

Rituerto Sin, J., Hu, X., Emami, N.: Tribology, corrosion and tribocorrosion of metal on metal implants. Tribol.-Mater. Surf. Interfaces 7(1), 1–12 (2013)

2.

Celis, J.-P., Ponthiaux, P., Wenger, F.: Tribo-corrosion of materials: interplay between chemical, electrochemical, and mechanical reactivity of surfaces. Wear 261(9), 939–946 (2006)

3.

Mathew, M.T., Srinivasa Pai, P., Pourzal, R., Fischer, A., Wimmer, M.A.: Significance of tribocorrosion in biomedical applications: overview and current status. Adv. Tribol 2009 (2009). doi:10.1155/2009/250986

4.

Blau, P., Stack, M., Wood, R., Mischler, S., Jiang, J., Drees, D., Rocha, L., Wimmer, M., Celis, J.-P., Cowan, R.: Future needs for tribo-corrosion research and testing. In: Tribo-Corrosion, pp. 1–13. ASTM International (2012)

5.

Jin, Z.: Computational modelling of biomechanics and biotribology in the musculoskeletal system: biomaterials and tissues. Woodhead Publishing Limited, Cambridge, UK (2014)

6.

Zyla, K.A.: The Tootsie project. http://m-net.arbornet.org/~kzyla/tootsie/ (1996). Accessed 28 June 2014

7.

Lien, B.: Getting to the Center of a Tootsie Roll Pop. Technol. Teach. 67(3), 23–26 (2007)

8.

Leslie-Waksman, G.: Tootsie Roll Pop: How many licks? http://gwax.com/content/tootsiepop.html (2009). Accessed 28 June 2014

9.

Heid, C.: How Many Licks to the Tootsie Roll center to a Tootsie Pop? In: 2013 Joint Mathematics Meetings, San Diego, CA (2013)

10.

Iorgulescu, G.: Saliva between normal and pathological. Important factors in determining systemic and oral health. J. Med. Life 2(3), 303–307 (2008)

11.

Chandra, A., Mitchell, A., Shrotriya, P., Lucca, D.A.: Stress assisted dissolution of biomedical grade CoCrMo: influence of contact loads and residual stresses. CIRP Ann. Manuf. Technol. 56(1), 565–568 (2007). doi:10.1016/j.cirp.2007.05.135

12.

Li, D., Yang, F., Nychka, J.: Indentation-induced residual stresses in 45S5 bioglass and the stress effect on the material dissolution. Eng. Fract. Mech. 75(17), 4898–4908 (2008)

13.

Mitchell, A., Shrotriya, P.: Mechanical load-assisted dissolution of metallic implant surfaces: influence of contact loads and surface stress state. Acta Biomater. 4(2), 296–304 (2008)

14.

Prevost, J., Baker, T., Liang, J., Suo, Z.: A finite element method for stress-assisted surface reaction and delayed fracture. Int. J. Solids Struct. 38(30), 5185–5203 (2001)

15.

De Almeida, P.D.V., Gregio, A., Machado, M., De Lima, A., Azevedo, L.R.: Saliva composition and functions: a comprehensive review. J. Contemp. Dent. Pract. 9(3), 72–80 (2008)

16.

Payan, Y., Perrier, P.: Synthesis of VV sequences with a 2D biomechanical tongue model controlled by the Equilibrium Point Hypothesis. Speech Commun. 22(2), 185–205 (1997)

17.

Cheng, S., Gandevia, S.C., Green, M., Sinkus, R., Bilston, L.E.: Viscoelastic properties of the tongue and soft palate using MR elastography. J. Biomech. 44(3), 450–454 (2011). doi:10.1016/j.jbiomech.2010.09.027

18.

Ranc, H., Servais, C., Chauvy, P.F., Debaud, S., Mischler, S.: Effect of surface structure on frictional behaviour of a tongue/palate tribological system. Tribol. Int. 39(12), 1518–1526 (2006). doi:10.1016/j.triboint.2006.01.017

19.

Schmitz, T.L., Action, J.E., Burris, D.L., Ziegert, J.C., Sawyer, W.G.: Wear-rate uncertainty analysis. J. Tribol. 126(4), 802–808 (2004). doi:10.1115/1.1792675

20.

Ulrich Sommer J., Birk, R., Hörmann, K., Stuck, B.A.: Evaluation of the maximum isometric tongue force of healthy volunteers. Eur. Arch Otorhinolaryngol. (2014). doi:10.1007/s00405-014-3103-6

21.

Carmignato, S., Spinelli, M., Affatato, S., Savio, E.: Uncertainty evaluation of volumetric wear assessment from coordinate measurements of ceramic hip joint prostheses. Wear 270(9–10), 584–590 (2011). doi:10.1016/j.wear.2011.01.012

22.

Blanchet, T.A.: The interaction of wear and dynamics of a simple mechanism. J. Tribol. 119(3), 597–599 (1997). doi:10.1115/1.2833543

23.

Sawyer, W.G.: Wear predictions for a simple-cam including the coupled evolution of wear and load. Lubr. Eng. 57(9), 31–36 (2001)

24.

Dickrell, I.D.J., Dooner, D.B., Sawyer, W.G.: The evolution of geometry for a wearing circular cam: analytical and computer simulation with comparison to experiment. J. Tribol. 125(1), 187–192 (2002). doi:10.1115/1.1504092

25.

Sawyer, W.G., Diaz, K.I., Hamilton, M.A., Micklos, B.: Evaluation of a model for the evolution of wear in a scotch-yoke mechanism. J. Tribol. Trans. Asme 125(3), 678–681 (2003). doi:10.1115/1.1537271

26.

Dickrell, D.J., Sawyer, W.G.: Evolution of wear in a two-dimensional bushing. Tribol. Trans. 47(2), 257–262 (2004). doi:10.1080/05698190490439175

27.

Sawyer, W.G.: Surface shape and contact pressure evolution in two component surfaces: application to copper chemical mechanical polishing. Tribol. Lett. 17(2), 139–145 (2004). doi:10.1023/B:TRIL.0000032438.56992.be

28.

Fregly, B.J., Sawyer, W.G., Harman, M.K., Banks, S.A.: Computational wear prediction of a total knee replacement from in vivo kinematics. J. Biomech. 38(2), 305–314 (2005). doi:10.1016/j.jbiomech.2004.02.013

29.

Kim, N.H., Won, D., Burris, D., Holtkamp, B., Gessel, G.R., Swanson, P., Sawyer, W.G.: Finite element analysis and experiments of metal/metal wear in oscillatory contacts. Wear 258(11–12), 1787–1793 (2005). doi:10.1016/j.wear.2004.12.014

30.

Mukras, S., Kim, N.H., Mauntler, N.A., Schmitz, T.L., Sawyer, W.G.: Analysis of planar multibody systems with revolute joint wear. Wear 268(5–6), 643–652 (2010). doi:10.1016/j.wear.2009.10.014

31.

Andersson, J., Almqvist, A., Larsson, R.: Numerical simulation of a wear experiment. Wear 271(11–12), 2947–2952 (2011). doi:10.1016/j.wear.2011.06.018

32.

Erickson, G.M., Krick, B.A., Hamilton, M., Bourne, G.R., Norell, M.A., Lilleodden, E., Sawyer, W.G.: Complex dental structure and wear biomechanics in hadrosaurid dinosaurs. Science 338(6103), 98–101 (2012). doi:10.1126/science.1224495

33.

Rowe, K., Erickson, G., Sawyer, W.G., Krick, B.: Evolution in surfaces: interaction of topography with contact pressure during wear of composites including dinosaur dentition. Tribol. Lett. 54(3), 249–255 (2014). doi:10.1007/s11249-013-0271-2

34.

Landolt, D., Mischler, S., Stemp, M.: Electrochemical methods in tribocorrosion: a critical appraisal. Electrochimica Acta 46(24–25), 3913–3929 (2001). doi:10.1016/S0013-4686(01)00679-X
Acknowledgments
The authors thank the students, teachers, and administration of Edgewater High School in Orlando, Florida for their participation. The staff of the Society of Tribologists and Lubrication Engineers generously organized this event, in particular Karl Phipps. The authors would like to acknowledge all of the participants in this study: Ryan M. Nixon, Gilberto Lobaton, Nicholas Calvo, Marina Kay Wiatt, Alexander Rudy, Jessica Rex, Stephen Hugo Arce, Chris Smith, Greg Umali, Mitchell Ochse, Benjamin Rosenblum, Logan Baker, Abraham Watson, Irakli Mikedladze, Kalvin Mitrofan, David Lausberg, Patrick Tran, Joshua Williams, Michael Hataway, Daniel Martinez, Terressa Tong, Tina Ho, Roshani Ekanayake, Victoria Sibons, Devon Guthrie, Emily Mellowe, Jonathan Henderson, William Flowers, Hayes Hartog, Spencer Bennett, Victor Rodriguez, Matthew Rosenthal, Stuart Rodriguez, Addison Radcliff, Max Gonzalez, Kurtis Swearingen, Curtis Mitchell, Conner Enslen, Faith Whittingham, Lanny Wood, Matthew A. Hamilton, Frederik Wolf, Connor Myant, James Batteas, Mckenna Yingling, Brandon Krick, and David L. Burris.
About this article
Cite this article
Rowe, K.G., Harris, K.L., Schulze, K.D. et al. Lessons from the Lollipop: Biotribology, Tribocorrosion, and Irregular Surfaces. Tribol Lett 56, 273–280 (2014). https://doi.org/10.1007/s11249-014-0407-z
Received:

Accepted:

Published:

Issue Date:
Keywords
Biotribology

Tribocorrosion

Wear prediction

Wear evolution