Abstract
Molybdenum disulfide (MoS2), a lamellar solid lubricant, is used extensively in space applications due to its exceptional performance in vacuum and inert environments. The friction and wear of MoS2, however, increase in the presence of atmospheric contaminants, such as water. Despite numerous studies of the moisture-sensitive friction response of MoS2 over the decades, important fundamental questions remain unanswered. Two leading hypotheses suggest that water affects friction by causing the MoS2 to oxidize or by physically bonding to edge sites, and thereby disrupting easy lamellar shear. This paper presents a parametric study to (1) isolate the effects of water and oxygen on ambient MoS2 friction, (2) identify the effect of water and oxygen on MoS2 oxidation, and (3) distinguish between the effects of water diffusion and surface oxidation on the frictional response of MoS2 coatings. The experimental findings were used to develop a qualitative model for the effects of environment on MoS2 friction; the model is used to explain transients, hysteretic effects, oxidation effects, and effects of physically bound water.
Access options
Buy single article
Instant access to the full article PDF.
USD 39.95
Price excludes VAT (USA)
Tax calculation will be finalised during checkout.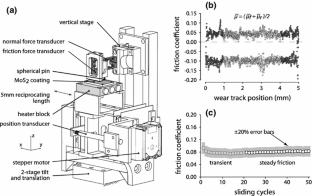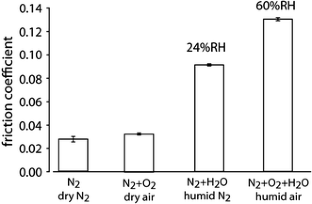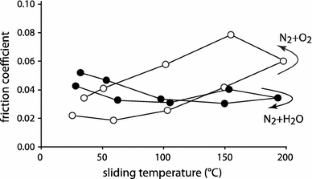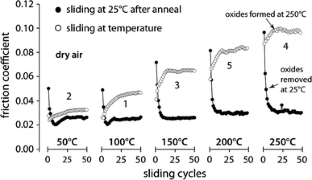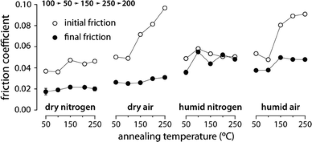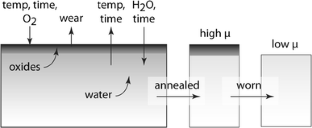 References
Ross, S., Sussman, A.: Surface oxidation of molybdenum disulfide. J. Phys. Chem. 59(9), 889–892 (1955)

Haltner, A.J., Oliver, C.S.: Effect of water vapor on friction of molybdenum disulfide. Ind. Eng. Chem. Fundam. 5(3), 348–355 (1966)

Pardee, R.P.: Effect of humidity on low-load frictional properties of a bonded solid film lubricant. ASLE Trans. 15(2), 130–142 (1972)

Panitz, J.K.G., Pope, L.E., Lyons, J.E., Staley, D.J.: The tribological properties of Mos2 coatings in vacuum, low relative-humidity, and high relative-humidity environments. J. Vac. Sci. Technol. A-Vac. Surf. Films 6(3), 1166–1170 (1988)

Stewart, T.B., Fleischauer, P.D.: Chemistry of sputtered molybdenum-disulfide films. Inorg. Chem. 21(6), 2426–2431 (1982)

Fleischauer, P.D.: Effects of crystallite orientation on environmental stability and lubrication properties of sputtered Mos2 thin-films. ASLE Trans. 27(1), 82–88 (1984)

Dudder, G., Zhao, X., Krick, B., Sawyer, W.G., Perry, S.: Environmental effects on the tribology and microstructure of MoS2-Sb2O3-C films. Tribol. Lett. 42(2), 203–213 (2011)

Midgley, J.W.: The frictional properties of molybdenum disulfide. J. Inst. Petrol. 42, 312–315 (1956)

Johnston, R.R., Moore, A.J.W.: Water adsorption on molybdenum disulfide containing surface contaminants. J. Phys. Chem. 68(11), 3399–3406 (1964)

Roberts, E.W.: Towards an optimised sputtered MoS2 lubricant film. 20th AMS NASA Conference, 103–119 (1986)

Colbert, R.S.: The Role of Water on the Tribological Properties of Molybdenum Disulphide Films. Doctoral Dissertation, University of Florida, Gainesville (2012)

Holinski, R., Gänsheimer, J.: A study of the lubricating mechanism of molybdenum disulfide. Wear 19(3), 329–342 (1972)

Windom, B.C., Sawyer, W.G., Hahn, D.W.: A Raman spectroscopic study of MoS(2) and MoO(3): applications to tribological systems. Tribol. Lett. 42(3), 301–310 (2011)

Kubart, T., Polcar, T., Kopecky, L., Novak, R., Novakova, D.: Temperature dependence of tribological properties of MoS(2) and MoSe(2) coatings. Surf. Coat. Technol. 193(1–3), 230–233 (2005)

Godfrey, N., Nelson, E.C.: Oxidation characteristics of molybdenum disulfide and effect of such oxidation on its role as a solid film lubricant. NACA TN No. 1882 (1949)

Khare, H.S., Burris, D.L.: The effects of environmental water and oxygen on the temperature-dependent friction of sputtered molybdenum disulfide. Tribol. Lett. 52(3), 485–493 (2013). doi:10.1007/s11249-013-0233-8

Hamilton, M.A., Alvarez, L.A., Mauntler, N.A., Argibay, N., Colbert, R., Burris, D.L., Muratore, C., Voevodin, A.A., Perry, S.S., Sawyer, W.G.: A possible link between macroscopic wear and temperature dependent friction behaviors of MoS(2) coatings. Tribol. Lett. 32(2), 91–98 (2008)

Burris, D.L., Perry, S.S., Sawyer, W.G.: Macroscopic evidence of thermally activated friction with polytetrafluoroethylene. Tribol. Lett. 27(3), 323–328 (2007)

Burris, D.L., Sawyer, W.G.: Addressing practical challenges of low friction coefficient measurements. Tribol. Lett. 35(1), 17–23 (2009)

Chromik, R.R., Baker, C.C., Voevodin, A.A., Wahl, K.J.: In situ tribometry of solid lubricant nanocomposite coatings. Wear 262(9–10), 1239–1252 (2007)

Kanaya, K., Okayama, S.: Penetration and energy-loss theory of electrons in solid targets. J. Phys. D Appl. Phys. 5(1), 43 (1972)

Lansdown, A.R.: Molybdenum Disulphide Lubrication, 1st ed. Tribology Series, 35. Elsevier, Amsterdam (1999)

Scharf, T.W., Prasad, S.V.: Solid lubricants: a review. J. Mate. Sci. 48(2), 511–531 (2013). doi:10.1007/s10853-012-7038-2
Acknowledgments
The authors gratefully acknowledge the Air Force Office of Scientific Research (AFOSR YIP FA9550-10-1–0295) and the University of Delaware Graduate Fellowship for financial support of this work.
About this article
Cite this article
Khare, H.S., Burris, D.L. Surface and Subsurface Contributions of Oxidation and Moisture to Room Temperature Friction of Molybdenum Disulfide. Tribol Lett 53, 329–336 (2014). https://doi.org/10.1007/s11249-013-0273-0
Received:

Accepted:

Published:

Issue Date:

DOI: https://doi.org/10.1007/s11249-013-0273-0
Keywords