The in vivo friction of human skin has been measured in the dry, wet and damp states using smooth glass and polypropylene spherically tipped probes. They were selected to be representative of hydrophilic and hydrophobic countersurfaces. The data are interpreted using the adhesion model of friction, which provides an explanation for the influence of the normal load and the surface free energies of the probe materials on the frictional characteristics of the skin. In particular, explanations based on this model are given for the tendency of wet skin to exhibit stick-slip motion and of damp skin to exhibit a peak frictional force against a glass probe.
Access options
Buy single article
Instant access to the full article PDF.
US$ 39.95
Tax calculation will be finalised during checkout.
Subscribe to journal
Immediate online access to all issues from 2019. Subscription will auto renew annually.
US$ 119
Tax calculation will be finalised during checkout.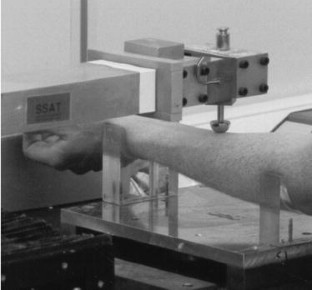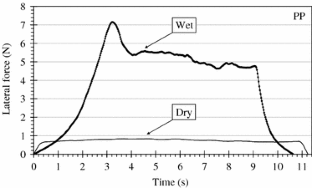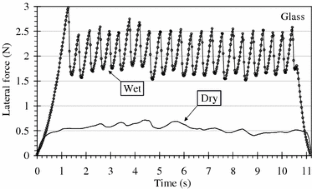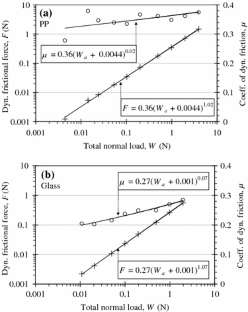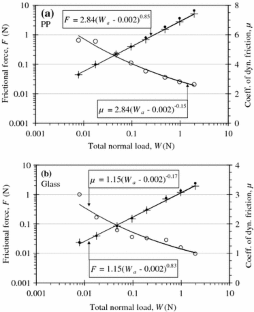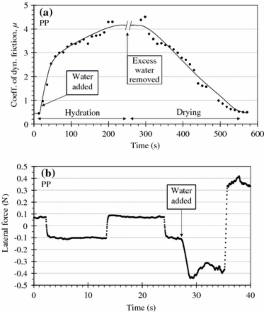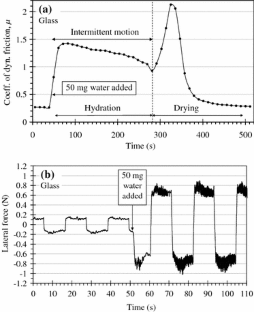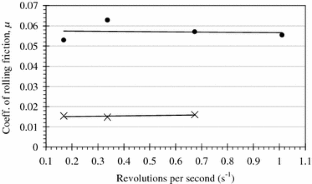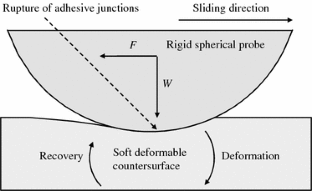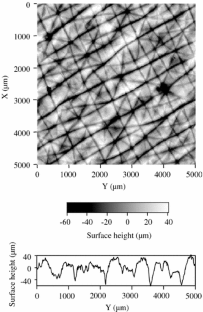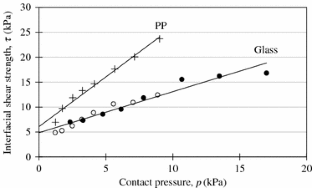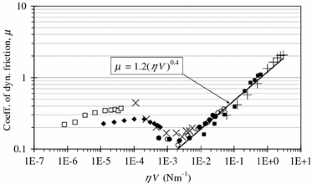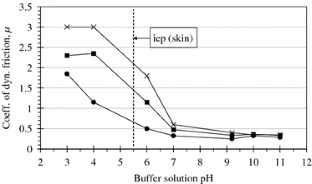 References
1.

K.L. Johnson, in: The Independent (Independent News and Media, London, 31st December 2005)

2.

J.E. Field, in: The Guardian (Guardian Media Group, London, 19th January 2006)

3.

Briscoe B.J., Hutchings I.M. (2006) Trib. Int. 39:591

4.

Special Issue, David Tabor Festschrift, eds. J.E. Field and A.D. Yoffe Phil. Mag. A 43(3) (1981)

5.

Greenwood J.A., D. Tabor (1958) Proc. Phys. Soc. Lond. 71:989

6.

Cohen S.C., Tabor D. (1966) Proc. R. Soc. Lond. A 291: 186

7.

Eldredge K.R., Tabor D. (1955) Proc. R. Soc. Lond. A 229:181

8.

Holbrook K.A., Odland G.F. (1974) J. Invest. Dermatol. 62:415

9.

Fawcett D. (1986) Text Book of Histology. W.B. Saunders Co., Philadelphia

10.

D. Dowson, in: Bioengineering of the Skin: Skin Surface Imaging and Analysis, eds. K.-P. Wilhelm et al. (CRC Press, New York, 1997), ch. 2

11.

Sivamani R.K., Goodman J., Gitis N.V., Maibach H.I. (2003) Skin Res. Technol. 9:227

12.

Sivamani R.K., Wu G., Gitis N.V., Maibach H.I. (2005) Cosmet. Toiletries 120(9):48

13.

Gitis N., Sivamani R. (2004) Trib. Trans. 47:461

14.

Asserin J., Zahouani H., Ph. Humbert, Couturaud V., Mougin D. (2000) Coll. Surf. B: Biointerf. 19:1

15.

Sivamani R.K., Goodman J., Gitis N.V., Maibach H.I. (2003) Skin Res. Technol. 9:235

16.

Wolfram L.J. (1983) J. Soc. Cosmet. Chem. 34: 465

17.

S.A. Johnson, D.M. Gorman, M.J. Adams and B.J. Briscoe, in: Thin Films in Tribology. Proceedings of the 19th Leeds/Lyon Symposium on Tribology, eds. D. Dowson et al. (Elsevier Science, Amsterdam, 1993), p. 663

18.

Highley D.R., Coomey M., DenBeste M., Wolfram L.J. (1977) J. Invest. Dermatol. 69:303

19.

M.J. Adams, D.M. Gorman, S.A. Johnson and B.J. Briscoe, in: Supramolecular and Colloidal Structures in Biomaterials and Biosubstrates, eds. M. Lal et al. (Imperial College Press-The Royal Society, London, 2000), p. 277

20.

Bowden F.P., Tabor D. (1954) Friction and Lubrication of Solids. Oxford University Press, London

21.

Archard J.F. (1957) Proc. R. Soc. Lond. A 243:190

22.

Adams M.J., Briscoe B.J., Law J.Y.C., Luckham P.F., Williams D.R. (2001) Langmuir 17:6953

23.

B.J. Briscoe, A. Arvanitaki, M.J. Adams and S.A. Johnson, in: Tribology Research: From Model Experiment to Industrial Problem: A Century of Efforts in Mechanics, Materials Science and Physico-Chemistry. Proceedings of the 27th Leeds/Lyon Symposium on Tribology, eds. G. Dalmaz et al. (Elsevier Science, Amsterdam, 2001), p. 661

24.

Johnson K.L. (1985) Contact Mechanics. Cambridge University Press, Cambridge

25.

Briscoe B.J., Tabor D. (1975) Wear 34:29

26.

B.J. Briscoe and A.C. Smith, in: Reviews on the Deformation Behaviour of Materials, Vol. 3(3), ed. P. Feltham (Scientific Publications, Israel, 1980), p. 152

27.

B.J. Briscoe, in: Adhesion V, ed. K.W. Allen (Applied Science, London, 1981), p. 49

28.

Elkhyat A., Courderot-Masuyer C., Gharbi T., Humbert P. (2004) Skin Res. Technol. 10:215

29.

Pooley C.M., Tabor D. (1972) Proc. R. Soc. Lond. A 329:251

30.

Briscoe B.J., Stolarski T.A. (1981) Trans. ASME J. Lubr. Technol. 103:503

31.

Briscoe B.J., Tabor D. (1978) J. Adhesion 9:145

32.

Greenwood J.A., Williamson J.B.P. (1966) Proc. R. Soc. Lond. A 295:300

33.

Greenwood J.A., Tripp J.H.. (1967) Trans. ASME J. Appl. Mech. 34:153

34.

Dussaud A.D., Adler P.M., Lips A. (2003) Langmuir 19:7341

35.

M.J. Adams, B.J. Briscoe and S.L. Kremnitzer, in: Microscopic Aspects of Adhesion and Lubrication, ed. J.M. George (Elsevier, Amsterdam, 1982), p. 405

36.

Fuller K.N.G., Tabor D. (1975) Proc. R. Soc. Lond. A 345:327

37.

Middleton J.D. (1968) Br. J. Derm. 80:437

38.

Potts R.O. (1986) J. Soc. Cosmet. Chem. 37:9

39.

Kasting G.B., Barai N.D. (2003) J. Pharm. Sci. 92:1624

40.

Anathapadmanabhan K.P., Lips A., Vincent C., Meyer F., Caso S., Johnson A., Subramanyan K., Vethamuthu M., Rattinger G., Moore D.J. (2003) Int. J. Cosmet. Sci. 25:103

41.

Park A.C., Baddiel C.B. (1972) J. Soc. Cosmet. Chem. 23:3

42.

Park A.C., Baddiel C.B. (1972) J. Soc. Cosmet. Chem. 23:471

43.

Yuan Y., Verma R. (2006) Coll. Surf. B: Biointerf. 48:6

44.

Johnson K.L., Kendall K., Roberts A.D. (1971) Proc. R. Soc. Lond. A 324:301

45.

Roberts A.D., Tabor D. (1971) Proc. R. Soc. Lond. A 325:323

46.

M.J. Adams, B.J. Briscoe and L. Pope, in: Tribology in Particulate Technology, eds. B.J. Briscoe and M.J. Adams (Adam Hilger, Bristol, 1987), p. 8

47.

Adams M.J., McKeown R., Whall A. (1997) J. Phys. D 30:912

48.

Amuzu J.K.A. (1984) J. Mater. Sci. Lett. 3:291

49.

El-Shimi A.F. (1977) J. Soc. Cosmet. Chem. 28:37

50.

Nacht S., J.-A. Close, Young D., Gans E.H. (1981) J. Soc. Cosmet. Chem. 32:55

51.

Dowson D., Higginson G.R. (1966) Elasto-hydrodynamic Lubrication Pergamon Press, Oxford

52.

S.A. Johnson, M.J. Adams and A. Arvanitaki and B.J. Briscoe, in: Elastohydrodynamics-'96: Fundamentals and Applications in Lubrication and Traction. Proceedings of the 23rd Leeds/Lyon Symposium on Tribology, eds. D. Dowson et al. (Elsevier Science, Amsterdam, 1997), p. 199

53.

Hamrock B.J., Dowson D. (1978) Trans. ASME J. Lubr. Technol. 100:236

54.

J. de Vicente, J.R. Stokes and H.A. Spikes, Trib. Lett. 20 (2005) 273; Food Hydrocolloids 20 (2006) 483

55.

Williams J.A. (1994) Engineering Tribology. Oxford University Press, Oxford

56.

Zheng Y., Mak A.F.T. (1999) IEEE Trans. Rehab. Eng. 7:257

57.

C. Pailler-Mattéi and H. Zahouani, J. Adhesion Sci. Technol. 18 (2004) 1739; Trib. Int. 39 (2006) 12

58.

Hendriks F.M., Brokken D., van Eemeren J.T.W.M., Oomens C.W.J., Baaijens F.P.T., Horsten J.B.A.M. (2003) Skin Res. Technol. 9:274

59.

Richards S.C., Roberts A.D. (1994) J. Nat. Rubb. Res. 9:190

60.

Roberts A.D. (1971) J. Phys. D: Appl. Phys. 4:433
About this article
Cite this article
Adams, M.J., Briscoe, B.J. & Johnson, S.A. Friction and lubrication of human skin. Tribol Lett 26, 239–253 (2007). https://doi.org/10.1007/s11249-007-9206-0
Received:

Accepted:

Published:

Issue Date:
Keywords
biotribology

friction mechanisms

contact mechanics

low elastic modulus EHL

stick-slip