Abstract
Only a few transcription factors (TFs) regulating which cells of the ovule epidermis differentiate into lint fibres have been identified in cotton (Gossypium hirsutum L.). In this study, the effect on lint yield and fibre quality of over-expressing three TFs in cotton, GhHD-1, GhMYB25 and GhMYB25Like, and their double and triple combinations, were evaluated in field experiments over two seasons. The expression of single or stacked TFs were all driven either by an ovule-specific promoter, FBP 7, or a constitutive promoter, Stunt 7, in a Coker 315 background. TF type, either singly or in combination, was found to be the most significant factor affecting lint yield. Among 64 transgenic lines tested, seven were higher yielding than null segregant lines in one or both seasons and were all from the sets with single and double over-expressed TF combinations. A reduced yield was associated with the set of triple combinations. The two most stable high yielding lines across the seasons recorded 12–22% higher yields than the nulls, although were not competitive to locally adapted commercial controls. Over-expression of TFs singly or in combination did not significantly alter fibre length and strength, but sometimes increased fibre micronaire. There were positive relationships between lint yield and lint percentage and lint yield and fibre density amongst the transgenic lines. Our preliminary results suggest that manipulating TF expression, either singly or in pairs, can increase the density of fibres initiated on developing seeds and fibre yields under field conditions while maintaining overall fibre quality.
This is a preview of subscription content,
to check access.
Access this article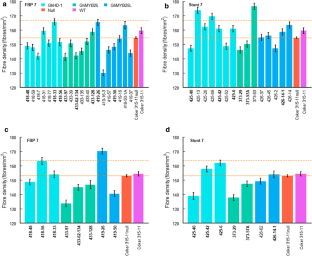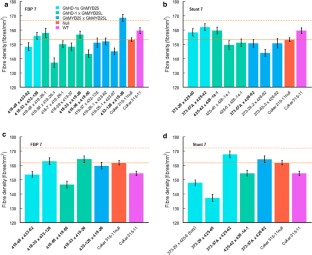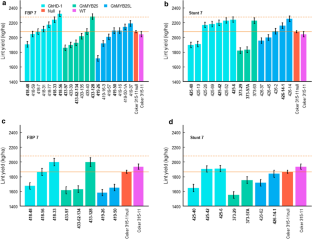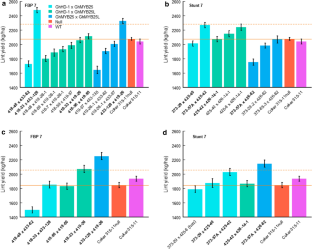 Availability of data and material (data transparency)
Materials described in this study are available subject to CSIRO's commercial germplasm agreements with third parties.
References
Ahmed M, Shahid AA, Din SU, Akhtar S, Ahad A, Rao AQ et al (2018) An overview of genetic and hormonal control of cotton fiber development. Pak J Bot 50:433–443

Applequist WL, Cronn R, Wendel JF (2001) Comparative development of fiber in wild and cultivated cotton. Evol Dev 3:3–17. doi:https://doi.org/10.1046/j.1525-142x.2001.00079.x

Bange MP, Constable GA, Gordon SG, Long RL, Naylor GRS, van der SLuijs MHJ (2009) FIBREpak. The Cotton Catchment Communities Cooperative Research Centre, Narrabri

Basra AS, Malik CP (1984) Development of the cotton fiber. In: Bourne GH, Jeon JFDKW (eds) International review of cytology, vol 89. Academic Press, Cambridge, pp 65–113. https://doi.org/10.1016/S0074-7696(08)61300-5

Bedon F, Ziolkowski L, Walford SA, Dennis ES, Llewellyn DJ (2014) Members of the MYBMIXTA-like transcription factors may orchestrate the initiation of fiber development in cotton seeds. Front Plant Sci. https://doi.org/10.3389/fpls.2014.00179

Bowman DT, Van Esbroeck GA, Van't Hof J, Jividen GM (2001) Ovule fibre cell numbers in modern upland cottons. J Cotton Sci 5:81–83

Butler DG, Cullis BR, Gilmour AR, Gogel BJ (2009) ASREML-R reference manual, Queensland Department of Primary Industries & Fisheries, NSW Department of Primary Industries, 3rd ed. Department of Primary Industries & Fisheries, The State of Queensland

Calhoun DS, Bowman DT, May OL (1994) Pedigree of upland and pima cotton cultivars released between 1970 and 1990. Mississippi Agricultural and Forestry Experiment Station Bulletin 1017. Mississippi State University, Mississippi, pp 1–42

Campbell BT, Myers GO (2015) Quantitative genetics. In: Cotton. Agronomy monograph, vol 57. ASA, CSSA, SSSA, Madison, pp 187–204. https://doi.org/10.2134/agronmonogr57.2013.0024

Chen Y, Rivlin A, Lange A et al (2014) High throughput Agrobacterium tumefaciens-mediated germline transformation of mechanically isolated meristem explants of cotton (Gossypium hirsutum L.). Plant Cell Rep 33:153–164. https://doi.org/10.1007/s00299-013-1519-x

Clement JD, Constable GA, Walford SA (2014) Improving the precision in estimating cotton seed fibre density. Field Crops Res 160:77–80. doi:https://doi.org/10.1016/j.fcr.2014.01.011

Conaty WC, Constable GA (2020) Factors responsible for yield improvement in new Gossypium hirsutum L. cotton cultivars. Field Crops Res 250:107780. https://doi.org/10.1016/j.fcr.2020.107780

Constable GA, Bange MP (2015) The yield potential of cotton (Gossypium hirsutum L.). Field Crops Res 182:98–106. doi:https://doi.org/10.1016/j.fcr.2015.07.017

Coyle GG, Smith CW (1997) Combining ability for within-boll yield components in cotton, Gossypium hirsutum L. Crop Sci 37:1118–1122

Deutscher SA, Wilson LJ, Mansah RK (2005) Integreated Pest Management Guidelines for Cotton Production Systems in Australia. Australian Cotton Cooperative Research Centre & Cotton Research and Development Corporation, Narrabri

Fryxell PA (1963) Morphology of the base of seed hairs of Gossypium I. Gross morphology. Bot Gaz 124:196–199. doi:https://doi.org/10.1086/336192

Groves FE, Bourland FM (2010) Estimating seed surface area of cotton seed. J Cotton Sci 14:74–81

Hodson EA (1920) Lint frequency in cotton with a method for determination. Arkansas Agricultural Experiment Station Bulletin 168

Kalbande BB, Patil AS (2016) Plant tissue culture independent Agrobacterium tumefaciens mediated in-planta transformation strategy for upland cotton (Gossypium hirsutum). J Genet Eng Biotechnol 14:9–18

Lee JJ, Woodward AW, Chen ZJ (2007) Gene expression changes and early events in cotton fibre development. Ann Bot 100:1391–1401. https://doi.org/10.1093/aob/mcm232

Liu Q, Llewellyn DJ, Singh SP, Green AG (2012) Cotton seed development: opportunities to add value to a byproudct of fibre production. In: Oosterhuis D, Cothren T (eds) Cotton flowering and fruiting. The Cotton Foundation, Memphis, pp 353–382

Liu SM, Constable GA (2017) Effect of self-generation for initial selection on breeding better cotton. Euphytica 213:17. doi:https://doi.org/10.1007/s10681-017-2052-8

Liu SM, Constable GA, Reid PE, Stiller WN, Cullis BR (2013) The interaction between breeding and crop management in improved cotton yield. Field Crops Res 148:49–60. doi:https://doi.org/10.1016/j.fcr.2013.04.006

Loguercio LL, Zhang JQ, Wilkins TA (1999) Differential regulation of six novel MYB-domain genes defines two distinct expression patterns in allotetraploid cotton (Gossypium hirsutum L.). Mol Gen Genet 261:660–671. doi:https://doi.org/10.1007/s004380050009

Lovell D, Wu Y, White R, Machado A, Llewellyn DJ, Dennis ES, Anderssen RS (2007) Phenotyping cotton ovule fibre initiation with spatial statistics. Aust J Bot 55:608–617

Machado A, Wu Y, Yang Y, Llewellyn DJ, Dennis ES (2009) The MYB transcription factor GhMYB25 regulates early fibre and trichome development. Plant J 59:52–62. doi:https://doi.org/10.1111/j.1365-313X.2009.03847.x

Morohashi K, Grotewold E (2009) A systems approach reveals regulatory circuitry for Arabidopsis trichome initiation by the GL3 and GL1 selectors. PLOS Genet 5:e1000396. https://doi.org/10.1371/journal.pgen.1000396

Paterson AH, Wendel JF, Gundlach H, Guo H, Jenkins J, Jin DC, Llewellyn D, Showmaker KC, Shu SQ, Udall J (2012) Repeated polyploidization of Gossypium genomes and the evolution of spinnable cotton fibres. Nature 492. doi:https://doi.org/10.1038/nature11798

Pattanaik S, Patra B, Singh SK, Yuan L (2014) An overview of the gene regulatory network controlling trichome development in the model plant, Arabidopsis. Front Plant Sci 5:259. https://doi.org/10.3389/fpls.2014.00259

Perez-Rodriguez M, Jaffe FW, Butelli E, Glover BJ, Martin C (2005) Development of three different cell types is associated with the activity of a specific MYB transcription factor in the ventral petal of Antirrhinum majus flowers. Development 132:359–370

Pu L, Li Q, Fan X, Yang W, Xue Y (2008) The R2R3 MYB transcription factor GhMYB109 is required for cotton fiber development. Genetics 180:811–820. doi:https://doi.org/10.1534/genetics.108.093070

Qin Y-M, Zhu Y-X (2011) How cotton fibers elongate: a tale of linear cell-growth mode. Curr Opin Plant Biol 14:106–111. https://doi.org/10.1016/j.pbi.2010.09.010

Rochester IJ (2006) Effect of genotype, edaphic, environmental conditions, and agronomic practices on Cry1Ac protein expression in transgenic cotton. J Cotton Sci 10:252–262

Romano GB, Taliercio EW, Turley RB, Scheffler JA (2011) Fibre initiation in 18 culitvars and experimental lines of three Gossypiumm species. J Cotton Sci 15:61–72

Ruan Y, Chourey PS (2006) Carbon partitioning in developing seed. In: Basra AS (ed) Handbook of seed science and technology. Food Products Press, Binghamton, pp 125–152

Ruan YL (2005) Recent advances in understanding cotton fibre and seed development. Seed Sci Res 15:269–280. doi:https://doi.org/10.1079/ssr2005217

Schünmann PHD, Llewellyn DJ, Surin B, Boevink P, Feyter RCD, Waterhouse PM (2003) A suite of novel promoters and terminators for plant biotechnology. Funct Plant Biol 30:443–452. https://doi.org/10.1071/FP02166

Shi Y-H, Zhu S-W, Mao X-Z, Feng J-X, Qin Y-M, Zhang L, Cheng J, Wei L-P, Wang Z-Y, Zhu Y-X (2006) Transcriptome profiling, molecular biological, and physiological studies reveal a major role for ethylene in cotton fiber cell elongation. Plant Cell 18:651–664. doi:https://doi.org/10.1105/tpc.105.040303

Stewart JM (1975) Fibre intiation on the cotton ovule (Gossypium hirsutum). Amer J Bot 62:723–730

Suo J, Liang X, Pu L, Zhang Y, Xue Y (2003) Identification of GhMYB109 encoding a R2R3 MYB transcription factor that expressed specifically in fiber initials and elongating fibers of cotton (Gossypium hirsutum L.). Biochim. Biophys Acta 1630:25–34. doi:https://doi.org/10.1016/j.bbaexp.2003.08.009

Walford S-A, Wu Y, Llewellyn DJ, Dennis ES (2011) GhMYB25-like: a key factor in early cotton fibre development. Plant J 65:785–797. doi:https://doi.org/10.1111/j.1365-313X.2010.04464.x

Walford S-A, Wu Y, Llewellyn DJ, Dennis ES (2012) Epidermal cell differentiation in cotton mediated by the homeodomain leucine zipper gene, GhHD-1. Plant J 71:464–478. doi:https://doi.org/10.1111/j.1365-313X.2012.05003.x

Worley S, Culp TW, Harrell DC (1974) Relative contributions of yield components to lint yield of upland cotton, Gossypium hirsutum L. Euphytica 23:399–403

Wu Y, Machado A, White RG, Llewellyn DJ, Dennis ES (2006) Identification of early genes expressed during cotton fibre initiation using cDNA microarrays. Plant Cell Physiol 47:107–127

Zhang M, Zheng X, Song S, Zeng Q, Hou L, Li D, Zhao J, Wei Y, Li X, Luo M, Xiao Y, Luo X, Zhang J, Xiang C, Pei Y (2011) Spatiotemporal manipulation of auxin biosynthesis in cotton ovule epidermal cells enhances fiber yield and quality. Nature Biotechnol 29:453–458. https://doi.org/10.1038/nbt.1843

Zhang X, Wang J, Peng S, Li Y, Tian X, Wang G, Zhang Z, Dong Z, Chen Y, Chen D (2017) Effects of soil water deficit on insecticidal protein expression in boll shells of transgenic Bt cotton and the mechanism. Front Plant Sci. https://doi.org/10.3389/fpls.2017.02107
Acknowledgements
The authors acknowledge the technical support of our past and present CSIRO team members, at Narrabri: David Shann, Heidi Clements, Kellie Cooper, Deon Cameron, Chris Allen, Max Barnes, Louise Zemcevicius, Kay Smith, Sandra Magann, Scott McCarron, Michael Price, Adam Suckling, and in Canberra: Todd Collins, Merran Hunter, Judy Radik, Judith Gaudron. The authors thank Drs. Qianhao Zhu and Warren Conaty for the critical reading of the manuscript prior to submission whose comments have improved the manuscript. This study was funded through Cotton Breeding Australia, a Joint Venture between CSIRO and Cotton Seed Distributors (Wee Waa, NSW 2388, Australia).
Funding
This study was funded through Cotton Breeding Australia, a Joint Venture between CSIRO and Cotton Seed Distributors (Wee Waa, NSW 2388, Australia).
Ethics declarations
Conflicts of interest
The authors declare no conflict of interests.
Ethical standards
This study doesn't contain any work involving human participants and/or animals.
Additional information
Publisher's Note
Springer Nature remains neutral with regard to jurisdictional claims in published maps and institutional affiliations.
Electronic supplementary material
Below is the link to the electronic supplementary material.
About this article
Cite this article
Liu, S.M., Koebernick, J.C., Walford, SA. et al. Improved lint yield under field conditions in cotton over-expressing transcription factors regulating fibre initiation. Transgenic Res 29, 529–550 (2020). https://doi.org/10.1007/s11248-020-00214-x
Received:

Accepted:

Published:

Issue Date:

DOI: https://doi.org/10.1007/s11248-020-00214-x
Keywords