Abstract
The lack of naturally occurring resistance to citrus psorosis virus (CPsV) necessitates a transgenic approach for the development of CPsV-resistant citrus. To evaluate the feasibility of conferring resistance to a non-transgenic scion, we have assembled citrus plants by grafting combining a non-transgenic Sweet Orange as scion, CPsV-resistant transgenic Sweet Orange lines expressing intron-hairpin (ihp) RNA derived from the viral coat protein (ihpCP) as interstock, and a non-transgenic citrus as rootstock. We demonstrated that ihpCP-transcripts translocate through the graft from interstock to scion, triggering the silencing of coat protein mRNA target. Two independent CPsV challenge assays showed that expression of ihpCP in the interstock provides resistance against CPsV in the interstock, and different levels of protection in the non-tg scion, depending of the virus delivery site. These results indicated that grafting is a promising biotechnological alternative to protect woody plants against virus infections in vegetative propagated plants.
Access options
Buy single article
Instant access to the full article PDF.
US$ 39.95
Tax calculation will be finalised during checkout.
Subscribe to journal
Immediate online access to all issues from 2019. Subscription will auto renew annually.
US$ 119
Tax calculation will be finalised during checkout.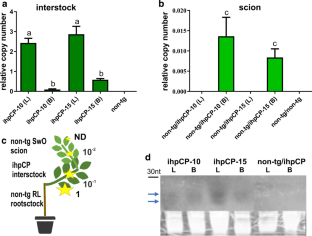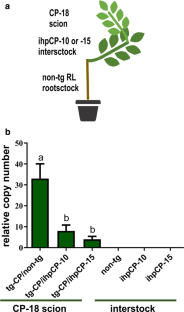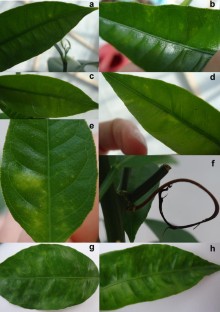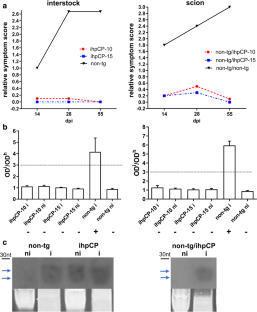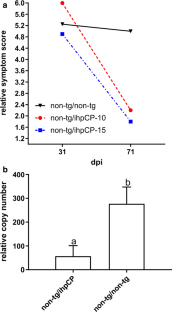 References
Anderson C (2000) Presentation on the Argentinean certification program. In: Proceedings of global citrus germplasm network, 7–8 Dec 2000

Dalakouras A, Tzanopoulou M, Tsagris M, Wassenegger M, Kalantidis K (2011) Hairpin transcription does not necessarily lead to efficient triggering of the RNAi pathway. Transgenic Res 20(2):293–304. https://doi.org/10.1007/s11248-010-9416-3

De Francesco A, Costa N, Plata MI, García ML (2015) Improved detection of citrus psorosis virus and coat protein-derived transgenes in citrus plants: comparison between RT-qPCR and TAS-ELISA. J Phytopathol 163:915–925. https://doi.org/10.1111/jph.12392

De Francesco A, Costa N, García ML (2017) Citrus psorosis virus coat protein-derived hairpin construct confers stable transgenic resistance in citrus against psorosis A and B syndromes. Transgenic Res 26:225–235. https://doi.org/10.1007/s11248-016-0001-2

Dunoyer P, Schott G, Himber C, Meyer D, Takeda A, Carrington JC et al (2010) Small RNA duplexes function as mobile silencing signals between plant cells. Science 328(5980):912–916. https://doi.org/10.1126/science.1185880

Fire A (1999) RNA-triggered gene silencing. Trends Genet 15:358–363. https://doi.org/10.1016/S0168-9525(99)01818-1

García ML, Dal Bo E, Grau O, Milne RG (1994) The closely related citrus ringspot and citrus psorosis viruses have particles of novel filamentous morphology. J Gen Virol 75:3585–3590. https://doi.org/10.1099/0022-1317-75-12-3585

García ML, Dal Bo E, Da Graça JV, Gago-Zachert S, Hammond J, Moreno P et al (2017) Rename the family ophioviridae and its constituent species. http://doi.org/10.13140/RG.2.2.29947.21282

Guo O, Liu Q, Smith NA, Liang G, Wang M (2016) RNA silencing in plants: mechanisms, technologies and applications in horticultural crops. Curr Genom 17:476–489. https://doi.org/10.2174/1389202917666160520103117

Helliwell C, Waterhouse P (2003) Constructs and methods for high-throughput gene silencing in plants. Methods 30(4):289–295. https://doi.org/10.1016/S1046-2023(03)00036-7

Jovel J, Walker M, Sanfaçon H (2007) Recovery of nicotiana benthamiana plants from a necrotic response induced by a nepovirus is associated with RNA silencing but not with reduced virus titer. J Virol 81(22):12285–12297. https://doi.org/10.1128/JVI.01192-07

Kalantidis K, Psaradakis S, Tabler M, Tsagris M (2002) The occurrence of CMV-specific short Rnas in transgenic tobacco expressing virus-derived double-stranded RNA is indicative of resistance to the virus. Mol Plant Microbe Interact 15(8):826–833. https://doi.org/10.1094/MPMI.2002.15.8.826

Kamthan A, Chaudhuri A, Kamthan M, Datta A (2015) Small RNAs in plants: recent development and application for crop improvement. Front Plant Sci 6:208. https://doi.org/10.3389/fpls.2015.00208

Kehr J, Buhtz A (2008) Long distance transport and movement of RNA through the phloem. J Exp Bot 59(1):85–92. https://doi.org/10.1093/jxb/erm176

Li F, Ding SW (2006) Virus counterdefense: diverse strategies for evading the RNAsilencing immunity. Annu Rev Microbiol 60:503–531. https://doi.org/10.1146/annurev.micro.60.080805.142205

Ma X, Nicole MC, Meteignier LV, Hong N, Wang G, Moffett P (2015) Different roles for RNA silencing and RNA processing components in virus recovery and virus-induced gene silencing in plants. J Exp Bot 66(3):919–932. https://doi.org/10.1093/jxb/eru447

MacDiarmid R (2005) RNA silencing in productive virus infections. Annu Rev Phytopathol 43:523–544. https://doi.org/10.1146/annurev.phyto.43.040204.140204

Milne RG, García ML, Grau O (2000) Genus Ophiovirus. In: van Regenmortel MVH, Fauquet CM, Bishop DHL, Carstens EB, Estes MK, Lemon SM, Maniloff J, Mayo MA, Mc Geoch DJ, Pringle CR, Wickner RB (eds) Virus taxonomy. Seventh report of the international committee on taxonomy of virus. Academic Press, New York, pp 627–631

Molnar A, Melnyk CW, Bassett A, Hardcastle TJ, Dunn R, Baulcombe DC (2010) Small silencing RNAs in plants are mobile and direct epigenetic modification in recipient cells. Science 328(5980):872–875. https://doi.org/10.1126/science.1187959

Moreno P, Guerri J, Garcia ML (2015) The psorosis disease of citrus: a pale light at the end of the tunnel. J Cit Pathol 2:1–18. https://escholarship.org/uc/item/0tn7m65m

Naum-Ongania G, Gago-Zachert S, Peña E, Grau O, García ML (2003) Citrus psorosis virus RNA 1 is of negative polarity and potentially encodes in its complementary strand a 24 K protein of unknown function and 280 K putative RNA dependent RNA polymerase. Virus Res 96:49–61. https://doi.org/10.1016/S0168-1702(03)00172-2

Pall GS, Hamilton AJ (2008) Improved northern blot method for enhanced detection of small RNA. Nat Protoc 3:1077–1084. https://doi.org/10.1038/nprot.2008.67

Reyes CA, De Francesco A, Peña EJ, Costa N, Plata MI, Sendin L, Castagnaro AP, García ML (2011) Resistance to Citrus psorosis virus in transgenic sweet orange plants is triggered by coat protein–RNA silencing. J Biotechnol 151:151–158. https://doi.org/10.1016/j.jbiotec.2010.11.007

Reyes CA, Ocolotobiche EE, Marmisollé FE, Robles Luna G, Borniego MB, Bazzini AA, Asurmendi S, García ML (2015) Citrus psorosis virus 24 K protein interacts with citrus miRNA precursors, affects their processing and subsequent miRNA accumulation and target expression. Mol Plant Pathol 17(3):317–329. https://doi.org/10.1111/mpp.12282

Reyes CA, De Francesco A, Ocolotobiche EE, Costa N, García ML (2016) Uncontrolled Citrus psorosis virus infection in Citrus sinensis transgenic plants expressing a viral 24 K derived hairpin that does not trigger RNA silencing. Physiol Mol Plant Pathol 94:149–155. https://doi.org/10.1016/j.pmpp.2016.05.001

Robles Luna G, Peña EJ, Borniego MB, Heinlein M, García ML (2013) Ophioviruses CPsV and MiLBVV movement protein is encoded in RNA 2 and interacts with the coat protein. Virol J 441:152–161. https://doi.org/10.1016/j.virol.2013.03.019

Robles Luna G, Reyes CA, Peña EJ, Ocolotobiche E, Baeza C, Borniego MB, Kormelink R, García ML (2017) Identification and characterization of two RNA silencing suppressors encoded by ophioviruses. Virus Res 235:96–105. https://doi.org/10.1016/j.virusres.2017.04.013

Roistacher CN (1991) Psorosis complex: psorosis-A, psorosis-B and ringspot. In: International Organization of Citrus Virologists (ed) Graft-transmissible diseases of citrus, handbook for detection and diagnosis. Food and Agriculture Organization of the United Nations, Rome, pp 115–126

Sánchez de la Torre ME, Riva O, Zandomeni R, Grau O, García ML (1998) The top component of citrus psorosis virus contains two ssRNAs, the smaller encodes the coat protein. Mol Plant Pathol 25:261–276

Smith NA, Singh SP, Wang MB, Stoutjesdijk PA, Green AG, Waterhouse PM (2000) Total silencing by intron-spliced hairpin RNAs. Nature 407:319–320. https://doi.org/10.1038/35030305

Spiegelman Z, Golan G, Wolf S (2013) Don't kill the messenger: long-distance trafficking of mRNA molecules. Plant Sci 213:1–8. https://doi.org/10.1016/j.plantsci.2013.08.011

Stegemann S, Bock R (2009) Exchange of genetic material between cells in plant tissue grafts. Science 324(5927):649–651. https://doi.org/10.1126/science.1170397

Yousif Gaffar F, Koch A (2019) Catch me if you can! RNA Silencing-based improvement of antiviral plant immunity. Viruses 11:673. https://doi.org/10.3390/v11070673

Zanek MC, Peña E, Reyes CA, Figueroa J, Stein B, Grau O (2006) Detection of Citrus psorosis virus in the northwestern citrus production area of Argentina by using an improved TAS-ELISA. J Virol Methods 137:245–251. https://doi.org/10.1016/j.jviromet.2006.06.021

Zanek MC, Reyes CA, Cervera M, Peña EJ, Velazquez K, Costa N, Plata MI, Grau O, Peña L, García ML (2008) Genetic transformation of sweet orange with the coat protein gene of Citrus psorosis virus and evaluation of resistance against the virus. Plant Cell Rep 27:57–66. https://doi.org/10.1007/s00299-007-0422-8
Acknowledgements
We thank Fabián Ramos (EEA-Concordia) and Claudio Mazo (IBBM-UNLP) for plant maintenance in the greenhouses, and Dr. Alex Blacutt (UC Riverside) for English revision on the manuscript. This work was supported by Agencia Nacional de Promoción Científica y Tecnológica (ANPCYT) PICT 2014-1007, Consejo Nacional de Investigaciones Científicas y Técnicas (CONICET) Proyectos de Investigación de Unidades Ejecutoras – (IBBM), Universidad Nacional de La Plata (UNLP) X-692, and Instituto Nacional de Tecnología Agropecuaria (INTA) (PNFRU-1172; 11721; ERIOS-630081).
Additional information
Publisher's Note
Springer Nature remains neutral with regard to jurisdictional claims in published maps and institutional affiliations.
Electronic supplementary material
Below is the link to the electronic supplementary material.
About this article
Cite this article
De Francesco, A., Simeone, M., Gómez, C. et al. Transgenic Sweet Orange expressing hairpin CP-mRNA in the interstock confers tolerance to citrus psorosis virus in the non-transgenic scion. Transgenic Res 29, 215–228 (2020). https://doi.org/10.1007/s11248-020-00191-1
Received:

Accepted:

Published:

Issue Date:
Keywords
Citrus psorosis virus

Hairpin-RNA

Transgenic Sweet Orange

Virus resistance

Silencing