Abstract
Expression of recombinant proteins in plants is a technology for producing vaccines, pharmaceuticals and industrial enzymes. For the past several years, we have produced recombinant proteins in maize kernels using only the embryo, primarily driving expression of foreign genes with the maize globulin-1 promoter. Although strong expression is obtained, these lines use only 10–12% of the seed tissue. If strong embryo expression could be combined with strong endosperm expression, much more recombinant protein could be recovered from a set amount of seed biomass. In this study, we tested three endosperm promoters for expression of a cellulase gene. Promoters tested were rice globulin and glutelin promoters and a maize 19 kDa α-zein promoter. The rice promoters were used in two tandem expression constructs as well. Although the rice promoters were active in producing stable amounts of cellulase, the α-zein promoter was by far the most effective: as much as 9% of total soluble protein was recovered from seed of several independent events and plants. One or two inserts were detected by Southern blot in several lines, indicating that copy number did not appear to be responsible for the differences in protein accumulation. Tissue print analysis indicated that expression was primarily in the endosperm.
This is a preview of subscription content, log in to check access.
Access options
Buy single article
Instant access to the full article PDF.
US$ 39.95
Tax calculation will be finalised during checkout.
Subscribe to journal
Immediate online access to all issues from 2019. Subscription will auto renew annually.
US$ 199
Tax calculation will be finalised during checkout.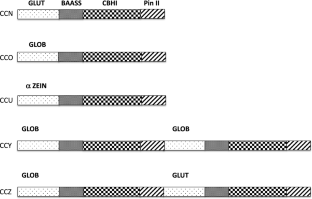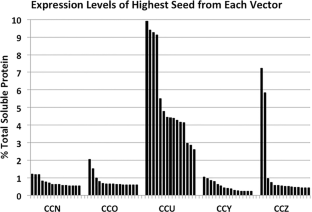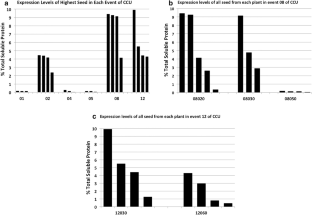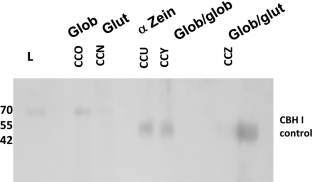 References
An G, Mitra A, Choi HK, Costa MA, An K, Thornburg RW, Ryan CA (1989) Functional analysis of the 3'control region of the potato wound-inducible proteinase inhibitor II gene. Plant Cell Online 1:115–122

Armstrong C, Green C, Phillips R (1991) Development and availability of germplasm with high type II culture formation response. Maize Genet Coop Newslett 65:92–93

Austin S, Bingham ET, Koegel RG, Mathews DE, Shahan MN, Straub RJ, Burgess RR (1994) An overview of a feasibility study for the production of industrial enzymes in Transgenic Alfalfaa. Ann NY Acad Sci 721:234–244

Baulcombe D (2004) RNA silencing in plants. Nature 431:356–363

Bergquist P, Te'o V, Gibbs M, Cziferszky A, de Faria F, Azevedo M, Nevalainen H (2002) Expression of xylanase enzymes from thermophilic microorganisms in fungal hosts. Extremophiles 6:177–184

Bradford MM (1976) A rapid and sensitive method for the quantitation of microgram quantities of protein utilizing the principle of protein-dye binding. Anal Biochem 72:248–254

Clough RC, Pappu K, Thompson K, Beifuss K, Lane J, Delaney DE, Harkey R, Drees C, Howard JA, Hood EE (2006) Manganese peroxidase from the white-rot fungus Phanerochaete chrysosporium is enzymatically active and accumulates to high levels in transgenic maize seed. Plant Biotechnol J 4:53–62

Egelkrout E, McGaughey K, Keener T, Ferleman A, Woodard S, Devaiah S, Nikolov Z, Hood E, Howard J (2013) Enhanced expression levels of cellulase enzymes using multiple transcription units. BioEnergy Res 6:699–710

Hood EE (2004) Bioindustrial and biopharmaceutical products from plants. In: New directions for a diverse planet: proceedings for the 4th international crop science congress, 26 September–1 October 2004. The Regional Institute Ltd, Brisbane

Hood EE, Requesens DV (2012) Production of industrial proteins in plants. In: Wang A, Ma S (eds) Molecular farming in plants: recent advances and future prospects. Springer, Dordrecht, pp 161–181

Hood EE, Helmer GL, Fraley RT, Chilton MD (1986) The hypervirulence of Agrobacterium tumefaciens A281 is encoded in a region of pTiBo542 outside of T-DNA. J Bacteriol 168:1291–1301

Hood E, Witcher D, Maddock S, Meyer T, Baszczynski C et al (1997) Commercial production of avidin from transgenic maize: characterization of transformant, production, processing, extracting, and purification. Mol Breed 3:291–306

Hood EE, Bailey MR, Beifuss K, Magallanes-Lundback M, Horn ME, Callaway E, Drees C, Delaney DE, Clough R, Howard JA (2003) Criteria for high-level expression of a fungal laccase gene in transgenic maize. Plant Biotechnol J 1:129–140

Hood EE, Love R, Lane J, Bray J, Clough R, Pappu K, Drees C, Hood KR, Yoon S, Ahmad A, Howard JA (2007) Subcellular targeting is a key condition for high-level accumulation of cellulase protein in transgenic maize seed. Plant Biotechnol J 5:709–719

Hood EE, Devaiah SP, Fake G, Egelkrout E, Teoh K, Requesens DV, Hayden C, Hood KR, Pappu KM, Carroll J, Howard JA (2012) Manipulating corn germplasm to increase recombinant protein accumulation. Plant Biotechnol J 10:20–30

Howard JA, Hood E (2005) Bioindustrial and biopharmaceutical products produced in plants. Adv Agron 85:91–124

Howard JA, Hood EE (2015) Strategies to maximize recombinant protein expression in maize kernels. In: Azhakanandam K, Silverstone A, Daniell H, Davey MR (eds) Recent advancements in gene expression and enabling technologies in crop plants. Springer, New York, p 500

Howard JA, Nikolov Z, Hood EE (2011) Enzyme production systems for biomass conversion. In: Hood EE, Nelson P, Powell R (eds) Plant biomass conversion. Wiley, Hoboken, pp 227–253

Ishida Y, Saito H, Ohta S, Hiei Y, Komari T, Kumashiro T (1996) High efficiency transformation of maize (Zea mays L.) mediated by Agrobacterium tumefaciens. Nat Biotechnol 14:745–750

Kermode AR (2012) Seed expression systems for molecular farming. In: Wang A, Ma S (eds) Molecular farming in plants: recent advances and future prospects. Springer, Dordrecht, pp 89–123

Komari T, Hiei Y, Saito Y, Murai N, Kumashiro T (1996) Vectors carrying two separate T-DNAs for co-transformation of higher plants mediated by Agrobacterium tumefaciens and segregation of transformants free from selection markers. Plant J 10:165–174

Ma JK-C, Drake P, Christou P (2003) The production of recombinant pharmaceutical proteins in plants. Nat Rev Genet 4:794–805

Nahampun HN, Lee CJ, Jane JL, Wang K (2013) Ectopic expression of bacterial amylopullulanase enhances bioethanol production from maize grain. Plant Cell Rep 32:1393–1405. https://doi.org/10.1007/s00299-013-1453-y

Nakase M, Hotta H, Adachi T, Aoki N, Nakamura R, Masumura T, Tanaka K, Matsuda T (1996) Cloning of the rice seed α-globulin-encoding gene: sequence similarity of the 5′-flanking region to those of the genes encoding wheat high-molecular-weight glutenin and barley D hordein. Gene 170:223–226

Qu LQ, Takaiwa F (2004) Evaluation of tissue specificity and expression strength of rice seed component gene promoters in transgenic rice. Plant Biotechnol J 2:113–125

Requesens DV, Egelkrout E, Devaiah S, Hood E (2010) A method for transient expression in maize endosperm. Vitro Cell Dev Biol Plant 46:485–490

Rogers JC (1985) Two barley alpha-amylase gene families are regulated differently in aleurone cells. J Biol Chem 260:3731–3738

Silveira M, Jonas R (2002) The biotechnological production of sorbitol. Appl Microbiol Biotechnol 59:400–408

Sticklen MB (2008) Plant genetic engineering for biofuel production: towards affordable cellulosic ethanol. Nat Rev Genet 9:433–443

Streatfield S (2007) Approaches to achieve high-level heterologous protein production in plants. Plant Biotechnol J 5:2–15

Streatfield S, Mayor J, Barker D, Brooks C, Lamphear B, Woodard S, Beifuss K, Vicuna D, Massey L, Horn M, Delaney D, Nikolov Z, Hood E, Jilka J, Howard J (2002) Development of an edible subunit vaccine in corn against enterotoxigenic strains of escherichia coli. Vitro Cell Dev Biol Plant 38:11–17

Takaiwa F, Kikuchi S, Oono K (1987) A rice glutelin gene family—a major type of glutelin mRNAs can be divided into two classes. Mol Gen Genet MGG 208:15–22

Twyman R, Schillberg S, Fischer R (2013) Optimizing the yield of recombinant pharmaceutical proteins in plants. Curr Pharm Des 19:5486–5494

White J, Chang SY, Bibb MJ, Bibb MJ (1990) A cassette containing the bar gene of Streptomyces hygroscopicus: a selectable marker for plant transformation. Nucleic Acids Res 18:1062

Woodard S, Mayor J, Bailey M, Barker D, Love R, Lane J, Delaney D, McComas-Wagner J, Mallubhotla H, Hood E (2003) Maize (Zea mays)-derived bovine trypsin: characterization of the first large-scale, commercial protein product from transgenic plants. Biotechnol Appl Biochem 38:123–130
Acknowledgements
This work was supported by Department of Energy Grant #DE FG36 GO88025; Walmart Foundation, Walton Family Foundation, and Arkansas State University Biosciences Institute. We would also like to acknowledge the technical assistance of Erin Egelkrout.
Additional information
Publisher's Note
Springer Nature remains neutral with regard to jurisdictional claims in published maps and institutional affiliations.
Electronic supplementary material
Below is the link to the electronic supplementary material.
About this article
Cite this article
Vicuna Requesens, D., Gonzalez Romero, M.E., Devaiah, S.P. et al. The maize α-zein promoter can be utilized as a strong inducer of cellulase enzyme expression in maize kernels. Transgenic Res 28, 537–547 (2019). https://doi.org/10.1007/s11248-019-00162-1
Received:

Accepted:

Published:

Issue Date:
Keywords
Maize

Endosperm promoters

Rice globulin

Rice glutelin

Maize α zein

Recombinant protein expression