Abstract
No usable resources with high-level resistance to sheath blight (SB) have yet been found in rice germplasm resources worldwide. Therefore, creating and breeding new disease-resistant rice resources with sheath blight resistance (SBR) are imperative. In this study, we inoculated rice plants with hyphae of the highly pathogenic strain RH-9 of rice SB fungus Rhizoctonia solani to obtain eight stable transgenic rice lines harbouring the chitinase gene (McCHIT1) of bitter melon with good SBR in the T5 generation. The mean disease index for SB of wild-type plants was 92% and 37–44% in transgenic lines. From 24 h before until 120 h after inoculation with R. solani, chitinase activity in stable transgenic plants with increased SBR was 2.0–5.5 and 1.8–2.7 times that of wild-type plants and plants of a disease-susceptible stable transgenic line, respectively. The correlation between SBR and chitinase activity in McCHIT1-transgenic rice line plants was significant. This work stresses how McCHIT1 from bitter melon can be used to protect rice plants from SB infection.
Access options
Buy single article
Instant access to the full article PDF.
USD 39.95
Price excludes VAT (USA)
Tax calculation will be finalised during checkout.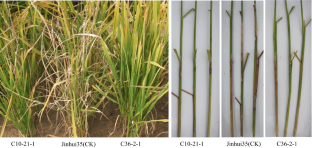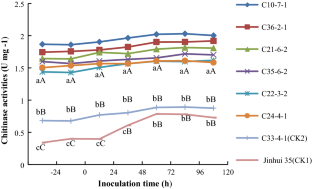 Abbreviations
ANOVA:

Analysis of variance

BSA:

Bovine serum albumin

GlcNAc:

N-acetylglucosamine

GUS:

β-Glucuronidase

NaAc:

Sodium acetate

PMSF:

Pheylmethylsulfonyl fluoride

PR:

Pathogenesis-related gene

SB:

Sheath blight

SBR:

Sheath blight resistance

SSR:

Shortest significant ranges

X-Gluc:

5-Bromo-4-chloro-3-indolyl glucuronide
References
Boller T, Mauch F (1988) Colorimetric assay for chitinase. Methods Enzymol 161:430–435

Boller T, Gehri A, Mauch F, Vögeli U (1983) Chitinase in bean leaves: induction by ethylene, purification, properties, and possible function. Planta 157:22–31

Bradford MM (1976) A rapid and sensitive method for the quantitation of microgram quantities of protein utilizing the principle of protein-dye binding. Anal Biochem 72:248–254

Chen H, Lin YJ, Zhang QF (2009) Review and prospect of transgenic rice research. Chin Sci Bull 54:4049–4068

Chen B, Li LW, Lin YJ, Wang ZH, Lu GD (2014) Evaluation of seedling resistance of rice germplasm. Cereal Res Commun 42:495–502

Datta K, Tu J, Oliva N, Ona I, Velazhahan R, Mew TW, Muthukrishnan S, Datta SK (2001) Enhanced resistance to sheath blight by constitutive expression of infection-related rice chitinase in transgenic elite indica rice cultivars. Plant Sci 160:405–414

Groth DE, Bond JA (2006) Initiation of rice sheath blight epidemics and effect of application timing of azoxystrobin on disease incidence, severity, yield, and milling quality. Plant Dis 90:1073–1076

Hedrick SA, Bell JN, Boller TS, Lamb CJ (1988) Chitinase cDNA cloning and mRNA induction by fungal elicitor, wounding, and infection. Plant Physiol 86:182–186

Ignacimuthu S, Ceasar SA (2012) Development of transgenic finger millet (Eleusine coracana (L.) Gaertn.) resistant to leaf blast disease. Biosci J 37:135–147

Jefferson RA (1987) Assaying chimeric genes in plants: the GUS gene fusion system. Plant Mol Biol Rep 5:387–405

Kalpana K, Maruthasalam S, Rajesh T, Poovannan K, Kumar KK, Kokiladevi E, Raja JAJ, Sudhakar D, Velazhahan R, Samiyappan R, Balasubramanian P (2006) Engineering sheath blight resistance in elite indica rice cultivars using genes encoding defense proteins. Plant Sci 170:203–215

Kim JK, Jang IC, Wu R, Zuo WN, Boston RS, Lee YH, Ahn IP, Nahm BH (2003) Co-expression of a modified maize ribosome-inactivating protein and a rice basic chitinase gene in transgenic rice plants confers enhanced resistance to sheath blight. Transgenic Res 12:475–484

Kumar KK, Poovannan K, Nandakumar R, Thamilarasi K, Geetha C, Jayashree N, Kokiladevi E, Raja JAJ, Samiyappan R, Sudhakar D, Balasubramanian P (2003) A high throughput functional expression assay system for a defence gene conferring transgenic resistance on rice against the sheath blight pathogen, Rhizoctonia solani. Plant Sci 165:969–976

Lee FN, Rush MC (1983) Rice sheath blight: a major rice disease. Plant Dis 67:829–832

Li P, Pei Y, Sang XC, Ling YH, Yang ZL, He GH (2009) Transgenic indica rice expressing a bitter melon (Momordica charantia) class I chitinase gene (McCHIT1) confers enhanced resistance to Magnaporthe grisea and Rhizoctonia solani. Eur J Plant Pathol 125:533–543

Lin W, Anuratha CS, Datta K, Potrykus I, Muthukrishnan S, Datta SK (1995) Genetic engineering of rice for resistance to sheath blight. Nat Biotech 13:686–691

Liu M, Sun ZX, Zhu J, Xu T, Harman GE, Lorito M (2004) Enhancing rice resistance to fungal pathogens by transformation with cell wall degrading enzyme genes from Trichoderma atroviride. Zhejiang Univ Sci 5:133–136

Maximova SN, Marelli JP, Young A, Pishak S, Verica JA, Guiltinan MJ (2006) Over-expression of a cacao class I chitinase gene in Theobroma cacao L. enhances resistance against the pathogen, Colletotrichum gloeosporioides. Planta 224:740–749

Mew TW, Cottyn B, Pamplona R, Barrios H, Li XM, Chen ZY, Lu F, Nilpanit N, Arunyanart P, Kim PV, Du PV (2004a) Applying rice seed-associated antagonistic bacteria to manage rice sheath blight in developing countries. Plant Dis 88:557–564

Mew TW, Leung H, Savary S, Cruz CMV, Leach JE (2004b) Looking ahead in rice disease research and management. Crit Rev Plant Sci 23:103–127

Molla KA, Karmakar S, Chanda PK, Ghosh S, Sarkar SN, Datta SK, Datta K (2013) Rice oxalate oxidase gene driven by green tissue-specific promoter increases tolerance to sheath blight pathogen (Rhizoctonia solani) in transgenic rice. Mol plant pathol 14:910–922

Nandakumar R, Babu S, Kalpana K, Raguchander T, Balasubramanian P, Samiyappan R (2007) Agrobacterium-mediated transformation of indica rice with chitinase gene for enhanced sheath blight resistance. Biol Plant 51:142–148

Neuhaus JM, Sticker L, Meins F, Boller T (1991) A short C-terminal sequence is necessary and sufficient for the targeting of chitinases to the plant vacuole. Proc Natl Acad Sci USA 88:10362–10366

Park DS, Sayler RJ, Hong YG, Nam MH, Yang Y (2008) A method for inoculation and evaluation of rice sheath blight disease. Plant Dis 92:25–29

Pasonen HL, Seppänen SK, Degefu Y, Rytkönen A, von Weissenberg K, Pappinen A (2004) Field performance of chitinase transgenic silver birches (Betula pendula): resistance to fungal diseases. Theor Appl Genet 109:562–570

Peng D, Li SD, Wang JX, Chen CJ, Zhou MG (2014) Integrated biological and chemical control of rice sheath blight by Bacillus subtilis NJ-18 and jinggangmycin. Pest Manag Sci 70:258–263

Punja ZK (2001) Genetic engineering of plants to enhance resistance to fungal pathogens—a review of progress and future prospects. Can J Plant Pathol 23:216–235

Rassouli H, Tohidfar M, Haghnazari A, Ghareyazie B, Najafi J (2008) Evaluation of stability of chitinase gene in transgenic offspring of cotton (Gossypium hirsutum). Iran J Biotechnol 6:208–214

Selitrennikoff CP (2001) Antifungal proteins. Appl Environ Microb 67:2883–2894

Shah JM, Raghupathy V, Veluthambi K (2009) Enhanced sheath blight resistance in transgenic rice expressing an endochitinase gene from Trichoderma virens. Biotechnol Lett 31:239–244

Shah JM, Singh R, Veluthambi K (2013) Transgenic rice lines constitutively co-expressing tlp-D34 and chi11 display enhancement of sheath blight resistance. Biol Plant 57:351–358

Sharma KK, Bhatnagar-Mathur P, Thorpe TA (2005) Genetic transformation technology: status and problems. In Vitro Cell Dev Biol Plant 41:102–112

Shimahara K, Takiguchi Y (1988) Preparation of crustacean chitin. Methods Enzymol 161:417–423

Shin S, Mackintosh CA, Lewis J, Heinen SJ, Radmer L, Dill-Macky R, Baldridge GD, Zeyen RJ, Muehlbauer GJ (2008) Transgenic wheat expressing a barley class II chitinase gene has enhanced resistance against Fusarium graminearum. J Exp Bot 59:2371–2378

Sripriya R, Raghupathy V, Veluthambi K (2008) Generation of selectable marker-free sheath blight resistant transgenic rice plants by efficient co-transformation of a cointegrate vector T-DNA and a binary vector T-DNA in one Agrobacterium tumefaciens strain. Plant Cell Rep 27:1635–1644

Wang Y, Pinson SRM, Fjellstrom RG, Tabien RE (2012) Phenotypic gain from introgression of two QTL, qSB9-2 and qSB12-1, for rice sheath blight resistance. Mol Breed 30:293–303

Xian HQ, Li JR, Zhang LQ, Li DC (2012) Cloning and functional analysis of a novel chitinase gene Trchi1 from Trichothecium roseum. Biotechnol Lett 34:1921–1928

Xiao YH, Li XB, Yang XY, Luo M, Hou L, Guo SH, Luo XY, Pei Y (2007) Cloning and characterization of a balsam pear class I chitinase gene (Mcchit1) and its ectopic expression enhances fungal resistance in transgenic plants. Biosci Biotechnol Biochem 71:1211–1219

Zeng XF, Li L, Li JR, Zhao DG (2016) Constitutive expression of McCHIT1–PAT enhances resistance to rice blast and herbicide, but does not affect grain yield in transgenic glutinous rice. Biotechnol Appl Biochem 63:77–85

Zhu YY, Zhao FL, Zhao DG (2011) Regeneration and transformation of a maize elite inbred line via immature embryo culture and enhanced tolerance to a fungal pathogen Exserohilum turcicum with a balsam pear class I chitinase gene. Afr J Agr Res 6:1923–1930

Zou JH, Pan XB, Chen ZX, Xu JY, Lu JF, Zhai WX, Zhu LH (2000) Mapping quantitative trait loci controlling sheath blight resistance in two rice cultivars (Oryza sativa L.). Theor Appl Genet 101:569–573

Zuo SM, Zhang L, Wang H, Yin YJ, Zhang YF, Chen ZX, Ma YY, Pan XB (2008) Prospect of the QTL-qSB-9Tq utilized in molecular breeding program of japonica rice against sheath blight. J Genet Genomics 35:499–505

Zuo SM, Zhang YF, Chen ZX, Chen XJ, Pan XB (2010) Current progress in genetics and breeding in resistance to rice sheath blight. Scientia Sinica Vitae 40:1014–1023. https://doi.org/10.1360/052010-323 (in Chinese)

Zuo SM, Yin YJ, Pan CH, Chen ZX, Zhang YF, Gu SL, Zhu LH, Pan XB (2013) Fine mapping of qSB-11 LE, the QTL that confers partial resistance to rice sheath blight. Theor Appl Genet 126:1257–1272
Acknowledgements
The study was funded by Major Projects of National New Transgenic Species Breeding (2016ZX08001-002), General Projects of Technological Innovation and Application Demonstration (Social Livelihood) in Chongqing City (cstc2018jscx-msybX0250), and PhD Funds (including the Talent Introduction Plan) of Southwest University (Project SWU112077).
Additional information
Publisher's Note
Springer Nature remains neutral with regard to jurisdictional claims in published maps and institutional affiliations.
Changwei Zhang and Manyu Huang have equally contributed
About this article
Cite this article
Zhang, C., Huang, M., Sang, X. et al. Association between sheath blight resistance and chitinase activity in transgenic rice plants expressing McCHIT1 from bitter melon. Transgenic Res 28, 381–390 (2019). https://doi.org/10.1007/s11248-019-00158-x
Received:

Accepted:

Published:

Issue Date:

DOI: https://doi.org/10.1007/s11248-019-00158-x
Keywords