Abstracts
Processes of traditional trait development in plants depend on genetic variations derived from spontaneous mutation or artificial random mutagenesis. Limited availability of desired traits in crossable relatives or failure to generate the wanted phenotypes by random mutagenesis led to develop innovative breeding methods that are truly cross-species and precise. To this end, we devised novel methods of precise genome engineering that are characterized to use pre-assembled CRISPR/Cas9 ribonucleoprotein (RNP) complex instead of using nucleic ands or Agrobacterium. We found that our methods successfully engineered plant genomes without leaving any foreign DNA footprint in the genomes. To facilitate introduction of RNP into plant nucleus, we first obtained protoplasts after removing the transfection barrier, cell wall. Whole plants were regenerated from the single cell of protoplasts that has been engineered with the RNP. Pending the improved way of protoplast regeneration technology especially in crop plants, our methods should help develop novel traits in crop plants in relatively short time with safe and precise way.
Access options
Buy single article
Instant access to the full article PDF.
US$ 39.95
Tax calculation will be finalised during checkout.
Subscribe to journal
Immediate online access to all issues from 2019. Subscription will auto renew annually.
US$ 119
Tax calculation will be finalised during checkout.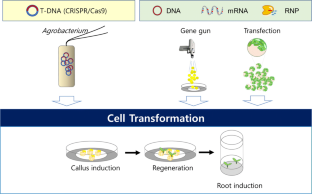 References
Alonso JM et al (2003) Genome-wide insertional mutagenesis of Arabidopsis thaliana. Science 301:653

Baek K et al (2016) DNA-free two-gene knockout in Chlamydomonas reinhardtii via CRISPR–Cas9 ribonucleoproteins. Sci Rep 6:30620

Bak S et al (2011) Cytochromes p450. Arabidopsis Book 9:e0144

Camacho A et al (2014) Genetically engineered crops that fly under the US regulatory radar. Nat Biotechnol 32:1087

Choe S, Feldmann KA (1998) T-DNA mediated gene tagging. In: Lindsey K (ed) Transgenic plant research. Harwood Academic Publishers, Switzerland, pp 57–73

Gaj T, Gersbach CA, Barbas CF III (2013) ZFN, TALEN, and CRISPR/Cas-based methods for genome engineering. Trends Biotechnol 31:397

Jinek M et al (2014) Structures of Cas9 endonucleases reveal RNA-mediated conformational activation. Science 343:1247997

Kim H et al (2017) CRISPR/Cpf1-mediated DNA-free plant genome editing. Nat Commun 8:14406

Liang Z et al (2017) Efficient DNA-free genome editing of bread wheat using CRISPR/Cas9 ribonucleoprotein complexes. Nat Commun 8:14261

Lloyd J, Meinke D (2012) A comprehensive dataset of genes with a loss-of-function mutant phenotype in Arabidopsis. Plant Physiol 158:1115

Malnoy M et al (2016) DNA-free genetically edited grapevine and apple protoplast using CRISPR/Cas9 ribonucleoproteins. Front Plant Sci 7:1904

Subburaj S et al (2016) Site-directed mutagenesis in Petunia × hybrida protoplast system using direct delivery of purified recombinant Cas9 ribonucleoproteins. Plant Cell Rep 35(7):1535–1544

Svitashev S et al (2016) Genome editing in maize directed by CRISPR–Cas9 ribonucleoprotein complexes. Nat Commun 7:13274

Waltz E (2016) Gene-edited CRISPR mushroom escapes US regulation. Nature 532:293

Woo JW et al (2015) DNA-free genome editing in plants with preassembled CRISPR–Cas9 ribonucleoproteins. Nat Biotechnol 33:1162

Xu G, Ma H, Nei M, Kong H (2009) Evolution of F-box genes in plants: different modes of sequence divergence and their relationships with functional diversification. Proc Natl Acad Sci USA 106:835
Additional information
Publisher's Note
Springer Nature remains neutral with regard to jurisdictional claims in published maps and institutional affiliations.
Disclaimer: The opinions expressed and arguments employed in this paper are the sole responsibility of the authors and do not necessarily reflect those of the OECD or of the governments of its Member countries.
About this article
Cite this article
Park, J., Choe, S. DNA-free genome editing with preassembled CRISPR/Cas9 ribonucleoproteins in plants. Transgenic Res 28, 61–64 (2019). https://doi.org/10.1007/s11248-019-00136-3