Abstract
Genetic engineering approaches offer an alternative method to the conventional breeding of Citrus sp. 'W. Murcott' mandarin (a hybrid of 'Murcott' and an unknown pollen parent) is one of the most commercially important cultivars grown in many regions around the world. Transformation of 'W. Murcott' mandarin was achieved by direct DNA uptake using a protoplast transformation system. DNA construct (pAO3), encoding Green Fluorescent Protein (GFP) and the cDNA of Xa21, a Xanthomonas resistance gene from rice, was used to transform protoplasts of 'W. Murcott' mandarin. Following citrus protoplast culture and regeneration, transformed micro calli were microscopically designated via GFP expression, physically isolated from non-transformed tissue, and cultured on somatic embryogenesis induction medium. More than 150 transgenic embryos were recovered and from them, ten transgenic lines were regenerated and cultured on rooting medium for shoot elongation. Transgenic shoots were micrografted and established in the greenhouse with 3–5 replicates per line. The insertion of Xa21 and GFP was confirmed by PCR and southern blot analysis. GFP expression was verified by fluorescence microscopy and western blot analysis revealed expression of Xa21 although it was variable among transgenic lines, as shown by RT-qPCR. Transgenic plants challenged with the citrus canker pathogen by syringe inoculation showed a reduction in lesion number and bacterial populations within lesions compared to non-transgenic control plants. Transgenic 'W. Murcott' mandarin lines with improved canker resistance via protoplast transformation from embryogenic callus with the Xa21 gene from rice are being evaluated under field conditions to validate the level of resistance.
This is a preview of subscription content,
to check access.
Access this article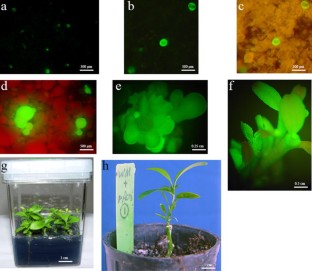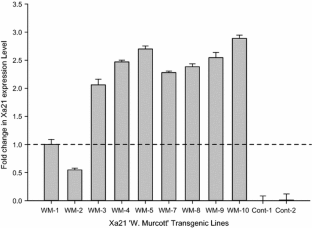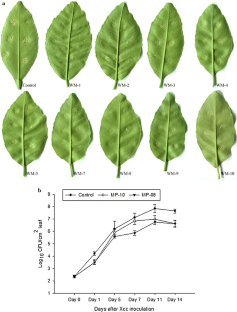 References
Afroz A, Chaudhry Z, Rashid U, Ali GM, Nazir F, Iqbal J, Khan MR (2011) Enhanced resistance against bacterial wilt in transgenic tomato (Lycopersicon esculentum) lines expressing the Xa21 gene. Plant Cell Tiss Org Cult 104:227–237

Böhlenius H, Huang T, Charbonnel-Campaa L, Brunner AM, Jansson S, Strauss SH, Nilsson O (2006) CO/FT regulatory module controls timing of flowering and seasonal growth cessation in trees. Science 312:1040–1043

Boscariol RL, Monteiro M, Takahashi EK, Chabregas SM, Vieira MLC, Vieira LGE, Pereira LFP, Mourao Filho FAA, Cardoso SC, Christiano RSC (2006) Attacin A gene from Tricloplusia ni reduces susceptibility to Xanthomonas axonopodis pv. citri in transgenic Citrus sinensis cv. Hamlin. J Am Soc Hortic Sci 131:530–536

Brunings AM, Gabriel DW (2003) Xanthomonas citri: breaking the surface. Mol Plant Pathol 4:141–157

Cervera M, López M, Navarro L, Peña L (1998) Virulence and supervirulence of Agrobacterium tumefaciens in woody fruit plants. Physiol Mol Plant Pathol 52:67–78

Cervera M, Ortega C, Navarro A, Navarro L, Pena L (2000) Generation of transgenic citrus plants with the tolerance to salinity gene HAL2 from yeast. J Hortic Sci Biotechnol 75:26–30

Cervera M, Navarro A, Navarro L, Pena L (2008) Production of transgenic adult plants from clementine mandarin by enhancing cell competence for transformation and regeneration. Tree Physiol 28:55–66

Chandler JL, Viloria Z, Grosser JW (2000) Acid citrus fruit cultivar improvement via interploid hybridization. Proc Fla State Hortic Soc 113:124–126

Deng XX, Grosser JW, Gmitter FG (1992) Intergeneric somatic hybrid plants from protoplast fusion of Fortunella crassifolia cultivar Meiwa with Citrus sinensis cultivar Valencia. Sci Hort 49:55–62

Deng XX, Guo WW, Sun XH (1996) Advance in breeding and selection of seedless types of Citrus in China (in Chinese). Acta Hortic 23:235–240

Dong J, Teng W, Buchholz WG, Hall TC (1996) Agrobacterium-mediated transformation of Javanica rice. Mol Breed 2:267–276

Endo T, Shimada T, Fujii H, Kobayashi Y, Araki T, Omura M (2005) Ectopic expression of an FT homolog from Citrus confers an early flowering phenotype on trifoliate orange (Poncirus trifoliata L. Raf.). Transgenic Res 14:703–712

Fleming GH, Olivares-Fuster O, Del-Bosco SF, Grosser JW (2000) An alternative method for the genetic transformation of sweet orange. In Vitro Cell Dev Biol Plant 36:450–455

Francis MI, Redondo A, Burns JK, Graham JH (2009) Soil application of imidacloprid and related SAR-inducing compounds produces effective and persistent control of citrus canker. Eur J Plant Pathol 124:283–292

Fu X-Z, Liu J-H (2013) Transcriptional profiling of canker-resistant transgenic sweet orange (Citrus sinensis Osbeck) constitutively overexpressing a spermidine synthase gene. BioMed Res Int 2013:article ID 918136

Fu X-Z, Gong X-Q, Zhang Y-X, Wang Y, Liu J-H (2012) Different transcriptional response to Xanthomonas citri subsp. citri between kumquat and sweet orange with contrasting canker tolerance. PLoS ONE 7:e41790

Ghorbel BR, Navarro L, Duran-Vila N (1998) Morphogenesis and regeneration of whole plants of grape fruit (C. paradisi), sour orange (C. aurantium) and alemow (C. macrophylla). J Hortic Sci Biotechnol 73:323–327

Gottwald T, Graham J, Bock C, Bonn G, Civerolo E, Irey M, Leite R, Lopez M, McCollum G, Parker P, Ramallo J, Riley T, Schubert T, Stein B, Taylor E (2009) The epidemiological significance of post-packinghouse survival of Xanthomonas citri subsp. citri for dissemination of asiatic citrus canker via infected fruit. Crop Prot 28:508–524

Graham JH, Gottwald TR, Cubero J, Achor DS (2004) Xanthomonas axonopodis pv. citri: factors affecting successful eradication of citrus canker. Mol Plant Pathol 5:1–15

Grosser JW, Gmitter FG Jr (1990) Protoplast fusion and citrus improvement. Plant Breed Rev 8:339–374

Grosser JW, Gmitter FG Jr (2011) Protoplast fusion for production of tetraploids and triploids: applications for scion and rootstock breeding in citrus. Plant Cell Tiss Org Cult 104:343–357

Grosser JW, Ollitrault P, Olivares-Fuster O (2000) Somatic hybridization in citrus: an effective tool to facilitate variety improvement. In Vitro Cell Dev Biol Plant 36:434–449

Grosser JW, Graham JH, McCoy CW, Hoyte A, Rubio HM, Bright DB, Chandler JL (2003) Development of "tetrazyg" rootstocks tolerant of the diaprepes/phytophthora complex under greenhouse conditions. Proc Fla State Hortic Soc 116:263–267

Guo WW, Deng XX, Yi HL (2000) Somatic hybrids between navel orange and grapefruit for seedless triploid breeding. Euphytica 116:281–285

Hensz RA (1977) Mutation breeding and development of 'Star Ruby' grapefruit. Proc Int Soc Citricult 2:582–585

Krasnyanski S, May RA, Loskutov A, Ball TM, Sink KC (1999) Transformation of the limonene synthase gene into peppermint (Mentha piperita L.) and preliminary studies on the essential oil profiles of single transgenic plants. Theor Appl Genet 99:676–682

Li D, Xiao X, Guo W (2014) Production of transgenic anliucheng sweet orange (Citrus sinensis Osbeck) with Xa21 gene for potential canker resistance. J Integr Agric 13:2370–2377

Livak KJ, Schmittgen TD (2001) Analysis of relative gene expression data using real-time quantitative PCR and the 2ΔΔCT method. Methods 25:402–408

Mehlenbacher SA (1995) Classical and molecular approaches to breeding fruit and nut crops for disease resistance. HortScience 30:466–477

Mendes BMJ, Cardoso SC, Boscariol-Camargo RL, Cruz RB, Mourao Filho FAA, Bergamin Filho A (2010) Reduction in susceptibility to Xanthomonas axonopodis pv. citri in transgenic Citrus sinensis expressing the rice Xa21 gene. Plant Pathol 59:68–75

Moore GA, Jacona CC, Neidigh JL, Lawrence SD, Cline K (1992) Agrobacterium-mediated transformation of citrus stem segments and regeneration of transgenic plants. Plant Cell Rep 11:238–242

Murashige T, Tucker DP (1969) Growth factor requirements of citrus tissue culture. In: Proceeding of the 1st international citrus symposium, vol 3, pp 1155–1161

Navarro L (1992) Citrus shoot tip grafting in vitro. In: Bajaj YPS (ed) Biotechnology in agriculture and forestry, No 18 high-tech and micropropagation, vol 18. Springer, Berlin, pp 327–338

Omar AA, Song WY, Grosser JW (2007) Introduction of Xa21, a Xanthomonas-resistance gene from rice, into 'Hamlin' sweet orange [Citrus sinensis (L.) Osbeck] using protoplast-GFP co-transformation or single plasmid transformation. J Hortic Sci Biotechnol 82:914–923

Omar AA, Dekkers MGH, Graham JH, Grosser JW (2008) Estimation of transgene copy number in transformed citrus plants by quantitative multiplex Real-Time PCR. Biotechnol Prog 24:1241–1248

Omar AA, Dutt M, Gmitter FG Jr, Grosser JW (2016) Somatic embryogenesis: still a relevant technique in Citrus improvement. In: Germanà MA, Lambardi M (eds) In vitro embryogenesis in higher plants, vol 1359. Springer, New York, pp 289–327

Orbovic V, Shankar A, Peeples ME, Hubbard C, Zale J (2015) Citrus transformation using mature tissue explants. In: Wang K (ed) Agrobacterium protocols: volume 2, vol 1224. Springer, New York, pp 259–273

Peña L, Martín-Trillo M, Juárez J, Pina JA, Navarro L, Martínez-Zapater JM (2001) Constitutive expression of Arabidopsis LEAFY and APETALA1 genes in citrus reduces their generation time. Nat Biotechnol 19:263–267

Ronald PC, Albano B, Tabien R, Abenes L, Wu KS, McCouch S, Tanksley SD (1992) Genetic and physical analysis of the rice bacterial blight disease resistance locus, Xa21. Mol Gen Genet 236:113–120

Roose ML, Williams TE (2007) Mandarin tree named 'Tango'. In: California TRotUo (ed) vol US20070056064. Google Patents, USA

Sambrook J, Russell D (2001) Molecular cloning: a laboratory manual, 3rd edn. Cold Spring Harbor Laboratory Press, New York

Schubert TS, Rizvi SA, Sun X, Gottwald TR, Graham JH, Dixon WN (2001) Meeting the challenge of eradicating citrus canker in Florida-again. Plant Dis 85:340–356

Song WY, Wang GL, Chen LL, Kim HS, Pi LY, Holsten T, Gardner J, Wang B, Zhai WX, Zhu LH, Fauquet C, Ronald P (1995) A receptor kinase-like protein encoded by the rice disease resistance gene, Xa21. Science 270:1804–1806

Wang GL, Song WY, Ruan DL, Sideris S, Ronald PC (1996) The cloned gene, Xa21, confers resistance to multiple Xanthomonas oryzae pv. oryzae isolates in transgenic plants. Mol Plant Microbe Interact 9:850–855

Xu W-H, Wang Y-S, Liu G-Z, Chen X, Tinjuangjun P, Pi L-Y, Song W-Y (2006) The autophosphorylated Ser686, Thr688, and Ser689 residues in the intracellular membrane domain of XA21 are implicated in stability control of rice receptor-like kinase. Plant J 45:740–751

Zhai W, Chen C, Zhu X, Chen X, Zhang D, Li X, Zhu L (2004) Analysis of T-DNA-Xa21 loci and bacterial blight resistance effects of the transgene Xa21 in transgenic rice. Theor Appl Genet 109:534–542
Acknowledgements
Authors would like to thank the Citrus Research and Development Foundation (CRDF), and New Varieties Development and Management Corporation (NVDMC) for financial support.
Ethics declarations
Conflict of interest
The authors declare that they have no conflict of interest.
Electronic supplementary material
Below is the link to the electronic supplementary material.
About this article
Cite this article
Omar, A.A., Murata, M.M., El-Shamy, H.A. et al. Enhanced resistance to citrus canker in transgenic mandarin expressing Xa21 from rice. Transgenic Res 27, 179–191 (2018). https://doi.org/10.1007/s11248-018-0065-2
Received:

Accepted:

Published:

Issue Date:

DOI: https://doi.org/10.1007/s11248-018-0065-2
Keywords