Abstract
Astaxanthin from a transgenic maize line was evaluated as feed supplement source conferring effective pigmentation of rainbow trout flesh. An extraction procedure using ethanol together with the addition of vegetal oil was established. This resulted in an oily astaxanthin preparation which was not sufficiently concentrated for direct application to the feed. Therefore, a concentration process involving multiple phase partitioning steps was implemented to remove 90 % of the oil. The resulting astaxanthin raw material contained non-esterified astaxanthin with 12 % 4-keto zeaxanthin and 2 % zeaxanthin as additional carotenoids. Isomeric analysis confirmed the exclusive presence of the 3S, 3′S astaxanthin enantiomer. The geometrical isomers were 89 % all-E, 8 % 13-Z and 3 % 9-Z. The incorporation of the oily astaxanthin preparation into trout feed was performed to deliver 7 mg/kg astaxanthin in the final feed formulation for the first 3.5 weeks and 72 mg/kg for the final 3.5 weeks of the feeding trial. The resulting pigmentation of the trout fillets was determined by hue values with a colour meter and further confirmed by astaxanthin quantification. Pigmentation properties of the maize-produced natural astaxanthin incorporated to 3.5 µg/g dw in the trout fillet resembles that of chemically synthesized astaxanthin. By comparing the relative carotenoid compositions in feed, flesh and feces, a preferential uptake of zeaxanthin and 4-keto zeaxanthin over astaxanthin was observed.
This is a preview of subscription content,
to check access.
Access this article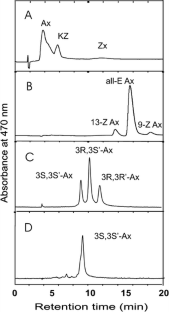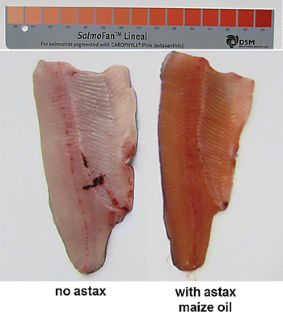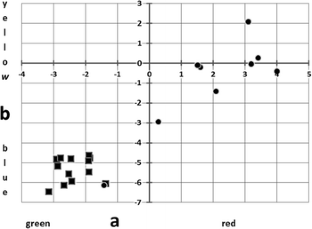 Similar content being viewed by others
References
Ambati RR, Moi PS, Ravi S, Aswathanarayana RG (2014) Astaxanthin: sources, extraction, stability, biological activities and its commercial applications—a review. Mar Drugs 12:128–152

Büyükcapar HM, Yanar M, Yanar Y (2007) Pigmentation of rainbow trout (Oncorhynchus mykiss) with carotenoids from marigold flower (Tagetes erecta) and red pepper (Capsicum annum). Turk J Vet Anim Sci 31:7–12

Choubert G, Mendes-Pinto MM, Morais R (2006) Pigmenting efficacy of astaxanthin fed to rainbow trout Oncorhynchus mykiss: effect of dietary astaxanthin and lipid sources. Aquaculture 257:429–436

Decourcelle M, Perez-Fons L, Baulande S, Steiger S, Couvelard L, Hem S, Zhu C, Capell T, Christou P, Fraser P, Sandmann G (2015) Combined transcript, proteome, and metabolite analysis of transgenic maize seeds engineered for enhanced carotenoid synthesis reveals pleotropic effects in core metabolism. J Exp Bot 66:3141–3150

Englert G, Vecchi M (1980) Trans/cis isomerization of astaxanthin diacetate/isolation by HPLC and identification by 1H-NMR spectroscopy of three mono-cis-and six di-cis-isomers. Helv Chim Acta 63:1711–1718

Farré G, Perez-Fons L, Decourcelle M, Breitenbach J, Hem S, Zhu C, Capell T, Christou C, Fraser PD, Sandmann G (2016) Metabolic engineering of astaxanthin biosynthesis in maize endosperm and characterization of a prototype high oil hybrid. Transgenic Res. doi:10.1007/s11248-016-9943-7

Foss P, Storebakken T, Schiedt K, Liaaen-Jensen S, Austreng E, Streiff K (1984) Carotenoids in diets for salmonids I. pigmentation of rainbow trout with the individual optical isomers of astaxanthin in comparison with canthaxanthin. Aquaculture 41:213–226

Gassel S, Breitenbach J, Sandmann G (2014) Genetic engineering of the complete carotenoid pathway towards enhanced astaxanthin formation in Xanthophyllomyces dendrorhous starting from a high-yield mutant. Appl Microbiol Biotechnol 98:345–350

Gaye-Siessegger J, McCullagh JSO, Focken U (2011) The effect of dietary amino acid abundance and isotopic composition on the growth rate, metabolism and tissue δ13C of rainbow trout. Br J Nutr 105:1764–1771

Hamilton PB, Tirado JF, Garcia-Hernandez F (1990) Deposition in egg yolks of the carotenoids from saponified and unsaponified oleoresin of red pepper (Capsicum annuum). Poult Sci 69:462–470

Huang JC, Zhong YJ, Liu J, Sandmann G, Chen F (2013) Metabolic engineering of tomato for high-yield production of astaxanthin. Metab Eng 17:59–67

Jayaraj J, Devlin R, Punja Z (2008) Metabolic engineering of novel ketocarotenoid production in carrot plants. Transgenic Res 17:489–501

Kurnia A, Satoh S, Haga Y, Kudo H, Nakada M, Matsumura H, Watanabe Y, Adachi S (2015) Muscle coloration of rainbow trout with astaxanthin sources from marine bacteria and synthetic astaxanthin. J Aquac Res Dev 6:337

Lorenz RT, Cysewski GR (2000) Commercial potential for Haematococcus microalgae as a natural source of astaxanthin. Trends Biotechnol 18:160–167

Megdal PA, Craft NA, Handelman GJ (2009) A simplified method to distinguish farmed (Salmo salar) from wild salmon: fatty acid ratios versus astaxanthin chiral isomers. Lipids 44:569–576

Moretti VM, Mentasti T, Bellagamba F, Luzzana U, Caprino F, Turchini GM, Giani I, Valfrè F (2006) Determination of astaxanthin stereoisomers and colour attributes in flesh of rainbow trout (Oncorhynchus mykiss) as a tool to distinguish the dietary pigmentation source. Food Addit Contam 23:105610–105663

Nobre B, Marcelo F, Passos R, Beirao L, Palavra A, Gouveia L, Mendes R (2006) Supercritical carbon dioxide extraction of astaxanthin and other carotenoids from the microalga Haematococcus pluvialis. Eur Food Res Technol 223:787–790

Research and Markets (2015) Global astaxanthin market 2015. http://www.prnewswire.com/news-releases/global-astaxanthin-market-2015—sources-technologies-and-application-market-projected-to-reach-670-metric-tons-valued-at-us11-billion-by-2020-497446251.html

Roncarati A, Sirri F, Felici A, Stocchi L, Melotti P, Meluzzi A (2011) Effects of dietary supplementation with krill meal on pigmentation and quality of flesh of rainbow trout (Oncorhynchus mykiss). Ital J Animal Sci 10:e27

Sander LC, Sharpless KE, Craft NE, Wise SA (1994) Development of engineered stationary phases for the separation of carotenoid isomer. Anal Chem 66:1667–1674

Sandmann G (2001) Genetic manipulation of carotenoid biosynthesis: strategies, problems and achievements. Trends Plant Sci 6:14–17

Sandmann G (2002) Combinatorial biosynthesis of carotenoids in a heterologous host: a powerful approach for the biosynthesis of novel structures. ChemBioChem 3:629–635

Schiedt K, Liaaen-Jensen S (1995) Isolaton and analysis. In: Britton G, Liaaen-Jensen S, Pfander H (eds) Carotenoids: isolation and analysis, vol 1A. Birkhauser-Verlag, Basel, pp 81–108

Schiedt K, Bischof S, Glinz E (1995) Worked examples of isolation and analysis. 5. Fish. In: Britton G, Liaaen-Jensen S, Pfander H (eds) Carotenoids: isolation and analysis, vol 1A. Birkhauser-Verlag, Basel, pp 243–252

Schüep W, Schierle J (1995) Worked examples of isolation and analysis. 9. Astaxanthin. In: Britton G, Liaaen-Jensen S, Pfander H (eds) Carotenoids: isolation and analysis, vol 1A. Birkhauser-Verlag, Basel, pp 273–276

Storebakken T, No HK (1992) Pigmentation of rainbow trout. Aquaculture 100:209–229

Takaichi S, Matsui K, Nakamura M, Muramatsu M, Hanadac S (2003) Fatty acids of astaxanthin esters in krill determined by mild mass spectrometry. Comp Biochem Physiol B 136:317–322

Torrissen OJ, Hardy KW, Shearer KD (1989) Pigmentation of salmonids—carotenoid deposition and metabolism. CRC Crit Rev Aquat Sci 1:209–225

Tyczkowski JK, Hamilton PB (1986) Absorption, transport, and deposition in chickens of lutein diester, a carotenoid extracted from marigold (Tagetes erecta) petals. Poult Sci 65:1526–1531

Visser H, Sandmann G, Verdoes JC (2005) Xantophylls in fungi: metabolic engineering of the astaxanthin biosynthetic pathway in Xantophyllomyces denrorhous. In: Barredo J (ed) Methods biotechnol, microbial processes and products. Totowa, pp 257–272

Wang C, Armstrong DW, Chang C (2008) Rapid baseline separation of enantiomers and a mesoform of all-trans-astaxanthin, 13-cis-astaxanthin, adonirubin, and adonixanthin in standards and commercial supplements. J Chromatogr A 1194:172–177

Ytrestøyl T, Bjerkeng B (2007) Intraperitoneal and dietary administration of astaxanthin in rainbow trout (Oncorhynchus mykiss)—plasma uptake and tissue distribution of geometrical E/Z isomers. Comp Biochem Physiol B Biochem Mol Biol 147:250–259

Zhao X, Hu J, Zhang X, Li X, Leng X, Wu S, Cheng D (2016) Effects of E/Z isomers and coating materials of astaxanthin products on the pigmentation and antioxidation of rainbow trout, Oncorhynchus mykiss. J World Aquac Soc. doi:10.1111/jwas.12277

Zhu C, Naqvi S, Breitenbach J, Sandmann G, Christou P, Capell T (2008) Combinatorial genetic transformation generates a library of metabolic phenotypes for the carotenoid pathway in maize. Proc Natl Acad Sci USA 105:18232–18237
Acknowledgments
Funding through the Plant KBBE project CaroMaize is gratefully acknowledged. Part of this article is based on work from COST Action CA15136. Further support to PC was by the Ministerio de Economia y Competitividad, Spain (BIO2014-54441-P, BIO2011-22525) and a European Research Council Advanced Grant (BIOFORCE) and Proof of Concept Grant (Multinutrient Maize) PROGRAMA ESTATAL DE INVESTIGACIÓN CIENTÍFICA Y TÉCNICA DE EXCELENCIA, Spain (BIO2015-71703-REDT). PDF and LP are grateful for funding from the EU FP7 project DISCO Grant Number 613513.
About this article
Cite this article
Breitenbach, J., Nogueira, M., Farré, G. et al. Engineered maize as a source of astaxanthin: processing and application as fish feed. Transgenic Res 25, 785–793 (2016). https://doi.org/10.1007/s11248-016-9971-3
Received:

Accepted:

Published:

Issue Date:

DOI: https://doi.org/10.1007/s11248-016-9971-3
Keywords