Abstract
In this study, we show that compositional differences in grain harvested from genetically modified (GM) maize hybrids derived from near-isogenic trait-positive and trait-negative segregant inbreds are more likely related to backcrossing practices than to the GM trait. To demonstrate this, four paired GM trait-positive (NK603: herbicide tolerance) and trait-negative near-isogenic inbred male lines were generated. These were crossed with two different females (testers) to create a series of trait-positive and trait-negative hybrid variants. The hypothesis was, that compositional variation within the hybrid variants would reflect differences associated with backcrossing practices and provide context to any observed differences between GM and non-GM hybrids. The F1 hybrids, as well as corresponding conventional comparator hybrids, were grown concurrently at four field sites across the United States during the 2013 season. Grain was harvested for compositional analysis; proximates (protein, starch, and oil), amino acids, fatty acids, minerals, tocopherols (α-, δ-, γ-), β-carotene, phytic acid, and raffinose were measured. Statistical analysis showed that within each hybrid tester set, there were very few significant (p < 0.05) differences between the paired trait-positive and trait-negative hybrids or between the conventional comparators and the trait-positive or trait-negative hybrids. Assessments of the magnitudes of differences and variance component analysis highlighted that growing location, and the tester used in hybrid formation, had a markedly greater effect on composition than did the GM trait. Significantly, for each tester set, compositional differences within the trait-positive and trait-negative hybrid variants were greater than differences between the GM and non-GM comparators. Overall, GM trait insertion is not intrinsically a meaningful contributor to compositional variation, and observed differences between GM and non-GM comparators typically reflect incidental changes associated with conventional breeding practices. These results contribute to ongoing discussions on the relevance of negative segregants as comparators in GM assessments.
This is a preview of subscription content,
to check access.
Access this article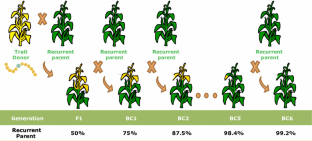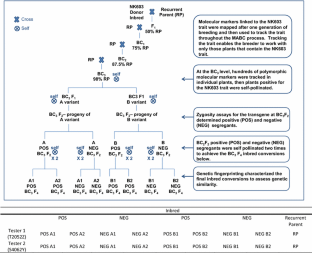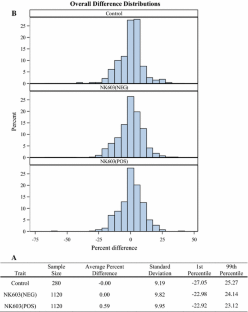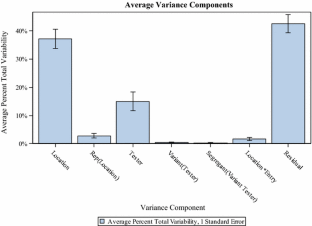 References
Alba R, Phillips A, Mackie S, Gillikin N, Maxwell C, Brune P et al (2010) Improvements to the international life sciences crop composition database. J Food Comp Anal 23:741–748

Allard RW (1999) Principles of plant breeding, 2nd edn. Wiley, London

Baenziger PS, Russell WK, Graef GL, Campbell BT (2006) Improving lives. 50 years of crop breeding, genetics and cytology (C-1). Crop Sci 46:2230–2244

Collard B, Mackill D (2008) Marker-assisted selection: an approach for precision plant breeding in the twenty-first century. Phil Trans R Soc B 363:557–572

Crosbie TM, Eathington SR, Johnson GR, Edwards M, Reiter R, Stark S et al (2008) Plant breeding: past, present, and future. In: Plant breeding: the Arnel R. Hallauer international symposium. Blackwell Publishing, Iowa, pp 3–50

Da Fonseca RR, Smith BD, Wales N, Cappelini E, Skoglund P, Fumagalli M et al (2015) The origin and evolution of maize in the Southwestern United States. Nat Plants 1:1–5

Drury SM, Reynolds TL, RidleyWP Bogdanova N, Riordan S, Nemeth MA et al (2008) Composition of forage and grain from second-generation insect-protected corn MON 89034 is equivalent to that of conventional corn (Zea mays L.). J Agric Food Chem 56:4623–4630

Eathington SR, Crosbie TM, Edwards MD, Reiter RS, Bull JK (2007) Molecular markers in a commercial breeding program. Crop Sci 47(Supplement 3):S154–S163

EFSA (2011) EFSA scientific committee. Statistical significance and biological relevance. EFSA J 9:2372

Fasoula VA, Boerma HR (2005) Divergent selection at ultra-low plant density for seed protein and oil content within soybean cultivars. Field Crops Res 91:217–229

Harrigan GG, Lundry D, Drury S, Ridley WP, Riordan SG, Nemeth MA et al (2010) Natural variation in crop composition and the impact of transgenesis. Nat Biotechnol 28:402–404

Herman RA, Price WD (2013) Unintended compositional changes in genetically modified (GM) crops: 20 years of research. J Agric Food Chem 61:11695–11701

James C (2014) Global status of commercialized biotech/GM crops: 2012. ISAAA brief no. 46. ISAAA, Ithaca, NY

Moose SP, Mumm RH (2008) Molecular plant breeding as the foundation for 21st century crop improvement. Plant Phys 147:969–977

Mumm RH (2013) A look at product development with genetically modified crops: examples from maize. J Agric Food Chem 61:8254–8259

Prado JR et al (2014) Genetically engineered crops: from idea to product. Annu Rev Plant Biol 65:769–790

Privalle LS, Chen J, Clapper G, Hunst P, Spiegelhalter F, Zhong C (2012) Development of an agricultural biotechnology crop production testing from discovery to commercialization. J Agric Food Chem 60:10179–10187

Tokatlidis IS, Tsikrikoni C, Lithourgidis AS, Jt Tsialtas, Tzantarmas C (2011) Intra-cultivar variation in cotton: response to single-plant yield selection at low density. J Agric Sci 149:197–204

Venkatesh TV, Cook K, Liu B, Perez T, Willse A, Tichich R et al (2015) Compositional differences between near-isogenic GM and conventional maize hybrids are associated with backcrossing practices in conventional breeding. Plant Biotechnol J 13:200–210

Xu Y, Crouch JH (2008) Marker-assisted selection in plant breeding: from publications to practice. Crop Sci 48:391–407
Electronic supplementary material
Below is the link to the electronic supplementary material.
About this article
Cite this article
Venkatesh, T.V., Bell, E., Bickel, A. et al. Maize hybrids derived from GM positive and negative segregant inbreds are compositionally equivalent: any observed differences are associated with conventional backcrossing practices. Transgenic Res 25, 83–96 (2016). https://doi.org/10.1007/s11248-015-9910-8
Received:

Accepted:

Published:

Issue Date:

DOI: https://doi.org/10.1007/s11248-015-9910-8
Keywords