Abstract
Bacillus thuringiensis (Bt) transgenic rice line (mfb-MH86) expressing a synthetic cry1Ab gene can be protected against feeding damage from Lepidopteran insects, including Sesamia inferens, Chilo suppressalis, Tryporyza incertulas and Cnaphalocrocis medinalis. Rice flour from mfb-MH86 and its near-isogenic control MH86 was separately formulated into rodent diets at concentrations of 17.5, 35 and 70 % (w/w) for a 90-day feeding test with rats, and all of the diets were nutritionally balanced. In this study, the responses of rats fed diets containing mfb-MH86 were compared to those of rats fed flour from MH86. Overall health, body weight and food consumption were comparable between groups fed diets containing mfb-MH86 and MH86. Blood samples were collected prior to sacrifice and a few significant differences (p < 0.05) were observed in haematological and biochemical parameters between rats fed genetically modified (GM) and non-GM diets. However, the values of these parameters were within the normal ranges of values for rats of this age and sex, thus not considered treatment related. In addition, upon sacrifice a large number of organs were weighed, macroscopic and histopathological examinations were performed with only minor changes to report. In conclusion, these results demonstrated that no toxic effect was observed in the conditions of the experiment, based on the different parameters assessed. GM rice mfb-MH86 is as safe and nutritious as non-GM rice.
Access options
Buy single article
Instant access to the full article PDF.
USD 39.95
Price excludes VAT (USA)
Tax calculation will be finalised during checkout.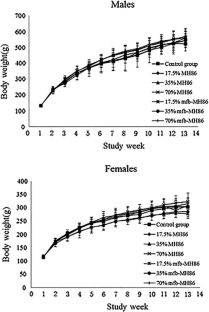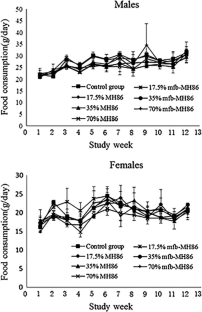 Abbreviations
GM:

Genetically modified

Bt:

Bacillus thuringiensis

Cry:

Crystal

OECD:

Organization for Economic Cooperation and Development

SPF:

Specific pathogen free

ANOVA:

One-way analysis of variance

SD:

Standard deviation

GMOs:

Genetically modified organisms

EU:

European Union

EFSA:

The European Food Safety Authority
References
Areal FJ, Riesgo L, RodrÍGuez-Cerezo E (2012) Economic and agronomic impact of commercialized GM crops: a meta-analysis. J Agric Sci 151:7–33

Arjó G, Capell T, Matias-Guiu X, Zhu CF, Christou P, Piñol C (2012) Mice fed on a diet enriched with genetically engineered multivitamin corn show no sub-acute toxic effects and no sub-chronic toxicity. Plant Biotechnol J 10:1026–1034

Arjó G, Portero M, Piñol C, Viñas J, Matias-Guiu X, Capell T, Bartholomaeus A, Parrott W, Christou P (2013) Plurality of opinion, scientific discourse and pseudoscience: an in depth analysis of the Séralini et al. study claiming that RoundupTM Ready corn or the herbicide Roundupcause cancer in rats. Transgenic Res 22:255–267

Avilla C, Vargas-Osuna E, González-Cabrera J, Ferré J, González-Zamora J (2005) Toxicity of several δ-endotoxins of Bacillus thuringiensis against Helicoverpa armigera (Lepidoptera: Noctuidae) from Spain. J Invertebr Pathol 90:51–54

Bartholomaeus A, Parrott W, Bondy G, Walker K (2013) The use of whole food animal studies in the safety assessment of genetically modified crops: limitations and recommendations. Crit Rev Toxicol 43:1–24

Bhattacharya S, Ganguli A, Mukhopadhyay A, Ghosh UC, Chattopadhyay D (2013) Impacts of genetically modified foods on environment, economy and health: a comprehensive review. Int J Environ Biol 3:64–70

Brookes G, Barfoot P (2014) Economic impact of GM crops: the global income and production effects 1996-2012. GM Crops Food Biotechnol Agric Food Chain 5:65–75

Cao SS, Xu WT, Luo YB, He XY, Yuan YF, Ran WJ, Liang LX, Huang KL (2011) Metabonomics study of transgenic Bacillus thuringiensis rice (T2A-1) meal in a 90-day dietary toxicity study in rats. Mol BioSyst 7:2304–2310

Chen H, Lin YJ (2013) Promise and issues of genetically modified crops. Curr Opin Plant Biol 16:255–260

Dame C, Sutor AH (2005) Primary and secondary thrombocytosis in childhood. Br J Haematol 129:165–177

Demont M, Stein AJ (2013) Global value of GM rice: a review of expected agronomic and consumer benefits. New Biotechnol 30:426–436

Devos Y, De Schrijver A, De Clercq P, Kiss J, Romeis J (2012) Bt-maize event MON 88017 expressing Cry3Bb1 does not cause harm to non-target organisms. Transgenic Res 21:1191–1214

Devos Y, Aguilera J, Diveki Z, Gomes A, Liu Y, Paoletti C, Jardin PD, Herman L, Perry JN, Waigmann E (2014) EFSA's scientific activities and achievements on the risk assessment of genetically modified organisms (GMOs) during its first decade of existence: looking back and ahead. Transgenic Res 23:1–25

EFSA (2012) Final review of the Seralini et al. (2012a) publication on a 2-year rodent feeding study with glyphosate formulations and GM maize NK603 as published online on 19 September 2012 in Food and Chemical Toxicology. EFSA J 10:2986–2996

El Sanhoty R, Abd El Rahman AA, Bögl KW (2004) Quality and safety evaluation of genetically modified potatoes Spunta with Cry V gene: compositional analysis, determination of some toxins, antinutrients compounds and feeding study in rats. Food Nahr 48:13–18

Flynn MM, Reppun TS, Bhagavan NV (1986) Limitations of red blood cell distribution width (RDW) in evaluation of microcytosis. Am J Clin Pathol 85:445–449

Frutos R, Rang C, Royer M (1999) Managing insect resistance to plants producing Bacillus thuringiensis toxins. Crit Rev Biotechnol 19:227–276

Gajendra Babu B, Udayasuriyan V, Asia Mariam M, Sivakumar NC, Bharathi M, Balasubramanian G (2002) Comparative toxicity of Cry1Ac and Cry2Aa δ-endotoxins of Bacillus thuringiensis against Helicoverpa armigera (H.). Crop Prot 21:817–822

Gao YL, Hu Y, Fu Q, Zhang J, Oppert B, Lai FX, Peng YF, Zhang ZT (2010) Screen of Bacillus thuringiensis toxins for transgenic rice to control Sesamia inferens and Chilo suppressalis. J Invertebr Pathol 105:11–15

Grunewald W, Bury J (2013) Comment on ''Long term toxicity of a Roundup herbicide and a Roundup-tolerant genetically modified maize'' by Séralini et al. Food Chem Toxicol 53:447–448

Hammond BG, Dudek R, Lemen JK, Nemeth MA (2006) Results of a 90-day safety assurance study with rats fed grain from corn borer-protected corn. Food Chem Toxicol 44:1092–1099

He XY, Huang KL, Li X, Qin W, Delaney B, Luo YB (2008) Comparison of grain from corn rootworm resistant transgenic DAS-59122-7 maize with non-transgenic maize grain in a 90-day feeding study in Sprague–Dawley rats. Food Chem Toxicol 46:1994–2002

Heinrichs E, Medrano F, Rapusas H (1985) Genetic evaluation for insect resistance in rice. International Rice Research Institute, Los Baños

Holdstock C, Joseph M, Thomas N, Bracey T, Cross TJ (2013) PWE-121 comparison of kings score, Apri and AST/ALT ratio in determining severity of liver disease versus liver biopsy. Gut 62:A180–A180

Huang JK, Hu RF, Rozelle S, Pray C (2005) Insect-resistant GM rice in farmers' fields: assessing productivity and health effects in China. Science 308:688–690

Huang JK, Hu RF, Rozelle S, Pray C (2008) Genetically modified rice, yields, and pesticides: assessing farm-level productivity effects in China. Econ Dev Cult Change 56:241–263

James C (2013) Global Status of Commercialized Biotech/GM Crops: 2013. ISAAA Brief 46. ISAAA, Ithaca

Jany KD (2013) Critical remarks on the long-term feeding study by Séralini et al. (2012). Eur Food Feed Law Rev 3:176–186

Knecht S, Nentwig W (2010) Effect of Bt maize on the reproduction and development of saprophagous Diptera over multiple generations. Basic Appl Ecol 11:346–353

Kuiper HA, Kok EJ, Davies HV (2013) New EU legislation for risk assessment of GM food: no scientific justification for mandatory animal feeding trials. Plant Biotechnol J 11:781–784

Kuntz M, Ricroch AE (2012) Is it time to adjust the current regulatory risk assessment for GM food and feed? ISB News Report, Agric Environ Biotechnol pp 1–4

Liao CY, Heckel DG, Akhurst R (2002) Toxicity of Bacillus thuringiensis insecticidal proteins for Helicoverpa armigera and Helicoverpa punctigera (Lepidoptera: Noctuidae), major pests of cotton. J Invertebr Pathol 80:55–63

Liu PF, He XY, Chen DL, Luo YB, Cao SS, Song H, Liu T, Huang KL, Xu WT (2012) A 90-day subchronic feeding study of genetically modified maize expressing Cry1Ac-M protein in Sprague–Dawley rats. Food Chem Toxicol 50:3215–3221

Lou YG, Zhang GR, Zhang WQ, Hu Y, Zhang J (2013) Biological control of rice insect pests in China. Biol Control 67:8–20

Lu YF, Yan JW, Wu Q, Shi JZ, Liu J, Shi JS (2011) Realgar-and cinnabar-containing An-Gong-Niu-Huang Wan (AGNH) is much less acutely toxic than sodium arsenite and mercuric chloride. Chem Biol Interact 189:134–140

Mannion AM, Morse S (2013) GM crops 1996–2012: a review of agronomic, environmental and socio-economic impacts. Centre for Environmental Strategy, University of Surrey, UK & Department of Geography and Environmental Science, University of Reading, UK

Mestdagh S, Devos Y, Ehlert C, Liu Y, Podevin N, Rodighiero S, Waigmann E, Kiss J, Perry JN, Sweet JB (2014) EFSA guidelines on the environmental risk assessment of genetically modified animals in the EU: the process and risk assessment considerations. J Verbrauch Lebensm 9:S85–S91

Noteborn H, Bienenmann-Ploum ME, Van den Berg JHJ, Alink GM, Zolla L, Reynaerts A, Pensa M, Kuiper HA (1995) Safety assessment of the Bacillus thuringiensis insecticidal crystal protein CRYIA (b) expressed in transgenic tomatoes. J Am Chem Soc 605:134–147

Park SY, Lee SM, Yeo Y, Kweon SJ, Cho HS, Kim JK (2013) Comparison of the nutritional compositions of insect-resistant and glufosinate-tolerant rice and conventional rice. Appl Biol Chem 56:5–9

Picone G, Mezzetti B, Babini E, Capocasa F, Placucci G, Capozzi F (2011) Unsupervised principal component analysis of NMR metabolic profiles for the assessment of substantial equivalence of transgenic grapes (Vitis vinifera). J Agric Food Chem 59:9271–9279

Pinto LMN, Ziegler DR, Fiuza LM (2014) The use of transgenic plants in insect control. In: Sahayaraj K (ed) Basic and applied aspects of biopesticides. Springer, India, pp 319–329

Reiting R, Grohmann L, Moris G, Mäde D (2013) Detection and characterization of an unknown rice event in Basmati rice products. Eur Food Res Technol 236:715–723

Roberts GT, EI Badawi SB (1985) Red blood cell distribution width index in some hematologic diseases. Am J Clin Pathol 83:222–226

Rodriguez-Almazan C, Ruiz de Escudero I, Cantón PE, Muñoz Garay C, Pérez C, Gill SS, Soberón M, Bravo A (2010) The amino-and carboxyl-terminal fragments of the Bacillus thuringensis Cyt1Aa toxin have differential roles in toxin oligomerization and pore formation. Biochemistry 50:388–396

Romeis J, McLean MA, Shelton AM (2013) When bad science makes good headlines: Bt maize and regulatory bans. Nat Biotechnol 31:386–387

Sanahuja G, Banakar R, Twyman RM, Capell T, Christou P (2011) Bacillus thuringiensis: a century of research, development and commercial applications. Plant Biotechnol J 9:283–300

Sauka DH, Sánchez J, Bravo A, Benintende GB (2007) Toxicity of Bacillus thuringiensis δ-endotoxins against bean shoot borer (Epinotia aporema Wals.) larvae, a major soybean pest in Argentina. J Invertebr Pathol 94:125–129

Schroder M, Poulsen M, Wilcks A, Kroghsbo S, Miller A, Frenzel T, Danier J, Rychlik M, Emami K, Gatehouse A, Shu Q, Engel KH, Altosaar I, Knudsen I (2007) A 90-day safety study of genetically modified rice expressing Cry1Ab protein (Bacillus thuringiensis toxin) in Wistar rats. Food Chem Toxicol 45:339–349

Seck PA, Diagne A, Mohanty S, Wopereis MC (2012) Crops that feed the world 7: rice. Food Secur 4:7–24

Séralini GE, Cellier D, Cellier D, De Vendomois JS (2007) New analysis of a rat feeding study with a genetically modified maize reveals signs of hepatorenal toxicity. Arch Environ Contam Toxicol 52:596–602

Séralini GE, Clair E, Mesnage R, Gress S, Defarge N, Malatesta M, Hennequin D, de Vendômois JS (2014) Republished study: long-term toxicity of a Roundup herbicide and a Roundup-tolerant genetically modified maize. Environ Sci Eur 26:14

Snell C, Bernheim A, Berge JB, Kuntz M, Pascal G, Paris A, Ricroch AE (2012) Assessment of the health impact of GM plant diets in long-term and multigenerational animal feeding trials: a literature review. Food Chem Toxicol 50:1134–1148

Tang XM, Han FT, Zhao K, Xu Y, Wu X, Wang JB, Jiang LX, Shi W (2012) A 90-day dietary toxicity study of genetically modified rice T1C-1 expressing Cry1C protein in Sprague Dawley rats. PLoS ONE 7:e52507

Tu JM, Zhang GA, Datta K, Xu CG, He YQ, Zhang QF, Khush GS, Datta SK (2000) Field performance of transgenic elite commercial hybrid rice expressing Bacillus thuringiensis δ-endotoxin. Nat Biotechnol 18:1101–1104

Wang ZH, Wang Y, Cui HR, Xia YW, Altosaar I, Shu QY (2002) Toxicological evaluation of transgenic rice flour with a synthetic cry1Ab gene from Bacillus thuringiensis. J Sci Food Agric 82:738–744

Wang YM, Zhang GA, Du JP, Liu B, Wang MC (2010) Influence of transgenic hybrid rice expressing a fused gene derived from cry1Ab and cry1A on primary insect pests and rice yield. Crop Prot 29:128–133

Xia H, Lu BR, Xu K, Wang W, Yang X, Yang C, Luo J, Lai FX, Ye W, Fu Q (2011) Enhanced yield performance of Bt rice under target-insect attacks: implications for field insect management. Transgenic Res 20:655–664

Ye GY, Yao HW, Shu QY, Cheng X, Hu C, Xia YW, Gao MW, Altosaar I (2003) High levels of stable resistance in transgenic rice with a cry1Ab gene from Bacillus thuringiensis Berliner to rice leaffolder, Cnaphalocrocis medinalis (Guenée) under field conditions. Crop Prot 22:171–178

Ye RJ, Huang HQ, Yang Z, Chen TY, Liu L, Li XH, Chen H, Lin YJ (2009) Development of insect-resistant transgenic rice with Cry1C*-free endosperm. Pest Manag Sci 65:1015–1020

Yu HL, Li YH, Wu KM (2011) Risk assessment and ecological effects of transgenic Bacillus thuringiensis crops on non-target organisms. J Integr Plant Biol 53:520–538

Yuan YF, Xu WT, Luo YB, Liu HY, Lu J, Su CY, Huang KL (2011) Effects of genetically modified T2A-1 rice on faecal microflora of rats during 90 day supplementation. J Sci Food Agr 91:2066–2072

Zhang GL, Han CX, Yao HW, Ye GY (2007) Susceptibility of rice lepidopterans to four insecticidal proteins from Bacillus thuringiensis. Plant Prot 33:78–80
Acknowledgments
This work was supported by the Genetically Modified Organisms Breeding Major Projects of P.R. China(2012ZX08011-003).
Conflict of interest
The authors declare that there are no conflicts of interest.
Additional information
Huan Song and Xiaoyun He have contributed equally to this work.
About this article
Cite this article
Song, H., He, X., Zou, S. et al. A 90-day subchronic feeding study of genetically modified rice expressing Cry1Ab protein in Sprague–Dawley rats. Transgenic Res 24, 295–308 (2015). https://doi.org/10.1007/s11248-014-9844-6
Received:

Accepted:

Published:

Issue Date:

DOI: https://doi.org/10.1007/s11248-014-9844-6
Keywords
Genetically modified rice

Cry1Ab

Safety assessment

90-Day feeding study

Rat