Abstract
During the development of a genetically modified (GM) crop product, extensive phenotypic and agronomic data are collected to characterize the plant in comparison to a conventional control with a similar genetic background. The data are evaluated for potential differences resulting from the genetic modification process or the GM trait, and the differences—if any—are subsequently considered in the context of contributing to the pest potential of the GM crop. Ultimately, these study results and those of other studies are used in an ecological risk assessment of the GM crop. In the studies reported here, seed germination, vegetative and reproductive growth, and pollen morphology of Roundup Ready 2 Yield® soybean, MON 89788, were compared to those of A3244, a conventional control soybean variety with the same genetic background. Any statistically significant differences were considered in the context of the genetic variation known to occur in soybean and were evaluated as indicators of an effect of the genetic modification process and assessed for impact on plant pest (weed) characteristics and adverse ecological impact (ecological risk). The results of these studies revealed no effects attributable to the genetic modification process or to the GM trait in the plant that would result in increased pest potential or adverse ecological impact of MON 89788 compared with A3244. These results and the associated risk assessments obtained from diverse geographic and environmental conditions in the United States and Argentina can be used by regulators in other countries to inform various assessments of ecological risk.
Access options
Buy single article
Instant access to the full article PDF.
USD 39.95
Price excludes VAT (USA)
Tax calculation will be finalised during checkout.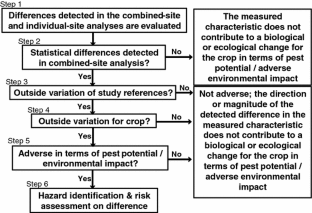 References
Alexander MP (1980) A versatile stain for pollen, fungi, yeast and bacteria. Stain Technol 55:13–18

Association of Official Seed Analysts (2000) Tetrazolium testing handbook. AOSA, Lincoln, NE

Association of Official Seed Analysts (2002) Rules for testing seeds. AOSA, Lincoln, NE

Baker HG (1974) The evolution of weeds. Annu Rev Ecol Syst 5:1–24

CERA (Center for Environmental Risk Assessment) (2011) A review of the environmental safety of the CP4 EPSPS protein. Environ Biosaf Res 10:5–25

CFIA (Canadian Food Inspection Service) (2012) Directive 94-08, revised July 4, 2012. Assessment criteria for determining environmental safety of plants with novel traits. CFIA, Ottawa. http://www.inspection.gc.ca/plants/plants-with-novel-traits/applicants/directive-94-08/eng/1304475469806/1304475550733. Accessed 29 January 2014

CFR (U.S. Code of Federal Regulations) (2008) Title 7, Part 340. Introduction of organisms and products altered or produced through genetic engineering which are plant pests or which there is reason to believe are plant pests. Animal and Plant Health Inspection Service, USDA

Conner AJ, Glare TR, Nap JP (2003) The release of genetically modified crops into the environment. Plant J 33:19–46

EFSA (European Food Safety Authority) (2004) Guidance document of the Scientific Panel on Genetically Modified Organisms for the risk assessment of genetically modified plants and derived food and feed. EFSA J 99:1–94

Heck GR, Armstrong CL, Astwood JD, Behr CF, Bookout JT, Brown SM, Cavato TA, DeBoer DL, Deng MY, George C, Hillyard JR, Hironaka CM, Howe AR, Jakse EH, Ledesma BE, Lee TC, Lirette RP, Mangano ML, Mutz JN, Qi Y, Rodriguez RE, Sidhu SR, Silvanovich A, Stoecker MA, Yingling RA, You J (2005) Development and characterization of a CP4 EPSPS-based, glyphosate-tolerant corn event. Crop Sci 44:329–339

Hill RA, Sendashonga C (2003) General principles for risk assessment of living modified organisms: lessons from chemical risk assessment. Environ Biosafety Res 2:81–88

Horak MJ, Rosenbaum EW, Phillips SL, Huizinga K, Kendrick DL, Carson D, Clark PL, Nickson TE. Characterization of the ecological interactions of Roundup Ready 2 Yield® soybean, MON 89788, for use in ecological risk assessment. Transgenic Res (submitted)

Horak MJ, Rosenbaum EW, Woodrum CL, Martens AB, Mery RF, Cothren JT, Burns JA, Nickson TE, Pester TA, Jiang C, Hart JL, Sammons B (2007) Characterization of Roundup Ready Flex cotton, 'MON 88913', for use in ecological risk assessment: evaluation of seed germination, vegetative and reproductive growth, and ecological interactions. Crop Sci 47:268–277

Mumm RH, Walters DS (2001) Quality control in the development of transgenic crop seed products. Crop Sci 41:1381–1389

Nickson TE (2008) Planning environmental risk assessment for genetically modified crops: problem formulation for stress-tolerant crops. Plant Physiol 147:494–502

Organisation for Economic Co-operation and Development (1993) Safety considerations for biotechnology: scale-up of crop plants. OECD, Paris

Organisation for Economic Co-operation and Development (2000) Consensus document on the biology of Glycine max (L.) Merr. (soybean). Series on Harmonization of Regulatory Oversight in Biotechnology No. 15. OECD, Paris

Pedersen P (2004) Soybean growth and development. Publication PM 1945. Iowa State University, Ames, IA

Phillips McDougall (2011) The cost and time involved in the discovery, development and authorisation of a new plant biotechnology derived trait. http://croplife.org/plant-biotechnology/regulatory-2/cost-of-bringing-a-biotech-crop-to-market/. Accessed 8 June 2014

Prado JR, Segers G, Voelker T, Carson D, Dobert R, Phillips J, Cook K, Cornejo C, Monken J, Grapes L, Reynolds T, Martino-Catt S (2014) Genetically engineered crops: from idea to product. Annu Rev Plant Biol 65:769–790

Radosevich S, Holt J, Ghersa C (1997) Weed ecology: implications for management, 2nd edn. Wiley, New York

Raybould A (2007) Ecological versus ecotoxicological methods for assessing the environmental risks of transgenic crops. Plant Sci 173:589–602

Roberts A, Devos Y, Raybould A, Bigelow P, Gray A (2013) Environmental risk assessment of GE plants under low-exposure conditions. Transgenic Res. doi:10.1007/s11248-013-9762-z

Sammons B, Whitsel J, Stork LG, Reeves W, Horak M (2014) Characterization of drought-tolerant maize MON 87460 for use in environmental risk assessment. Crop Sci 54:719–729

SAS Institute (2002–2003) SAS Version 9.1 online documentation. SAS Inst., Cary, NC

Warwick SI, Stewart CN Jr (2005) Crops come from wild plants—how domestication, transgenes, and linkage together shape ferality. In: Gressel JB (ed) Crop ferality and volunteerism. CRC Press, Boca Raton, pp 9–30

Wolt JD, Keese P, Raybould A, Fitzpatrick JW, Burachik M, Gray A, Olin SS, Schiemann J, Sears M, Wu F (2010) Problem formulation in the environmental risk assessment for genetically modified plants. Transgenic Res 19:425–436
Acknowledgments
The authors acknowledge the assistance of Virginia M. Peschke of Oakside Editorial Services in the preparation of this paper. The authors also acknowledge the support of Tom Armstrong and James Colyer of the Monsanto Regulatory Agronomy team for providing supporting data sets.
Additional information
Roundup Ready®, Roundup Ready 2 Yield®, Roundup Ready® Flex cotton, Roundup Ready® corn, Roundup Ready® alfalfa, Roundup Ready® cotton, Roundup Ready® canola, Roundup Ready® sugarbeets, and Roundup® are registered trademarks of Monsanto Technology, LLC, St. Louis, MO.
SAS® is a registered trademark of SAS Institute, Inc., Cary, NC.
Electronic supplementary material
Below is the link to the electronic supplementary material.
About this article
Cite this article
Horak, M.J., Rosenbaum, E.W., Kendrick, D.L. et al. Plant characterization of Roundup Ready 2 Yield® soybean, MON 89788, for use in ecological risk assessment. Transgenic Res 24, 213–225 (2015). https://doi.org/10.1007/s11248-014-9839-3
Received:

Accepted:

Published:

Issue Date:

DOI: https://doi.org/10.1007/s11248-014-9839-3
Keywords
Soybean

Ecological risk assessment

Glyphosate tolerance