Abstract
One of the major abiotic stress conditions limiting healthy growth of trees is salinity stress. The use of gene manipulation for increased tolerance to abiotic stress has been successful in many plant species. Overexpression of the Arabidopsis SALT TOLERANT1 (STO1) gene leads to increased concentrations of 9-cis-epoxycarotenoid dioxygenase3, a vital enzyme in Arabidopsis abscisic acid biosynthesis. In the present work, the Arabidopsis STO1 gene (AtSTO1) was overexpressed in poplar to determine if the transgene would confer enhanced salt tolerance to the generated transgenics. The results of multiple greenhouse trials indicated that the transgenic poplar lines had greater levels of resistance to NaCl than wild-type plants. Analysis using RT-PCR indicated a variation in the relative abundance of the STO1 transcript in the transgenics that coincided with tolerance to salt. Several physiological and morphological changes such as greater overall biomass, greater root biomass, improved photosynthesis, and greater pith size were observed in the transgenics when compared to controls undergoing salt stress. These results indicated overexpression of AtSTO1 improved salt tolerance in poplar.
Access options
Buy single article
Instant access to the full article PDF.
USD 39.95
Price includes VAT (USA)
Tax calculation will be finalised during checkout.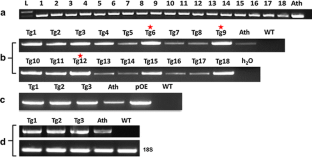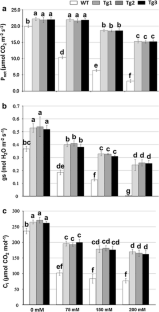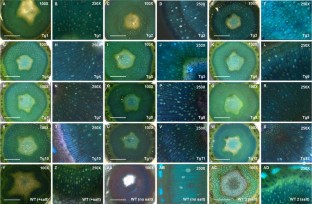 References
Achard P, Cheng H, De Grauwe L, Decat J, Schoutteten H, Moritz T, Van Der Straeten D, Peng J, Harberd NP (2006) Integration of plant responses to environmentally activated phytohormonal signals. Science 311:91–94. doi:10.1126/science.1118642

Adnan Y, Atif R, Sana I, Tahira N, Mansoor H, Sana F, Riffat B, Farooq A (2013) Salinity-induced structural and functional changes in 3 cultivars of Alternanthera bettzickiana (Regel) G. Nicholson. Turk J Agr Forest 37:674–687. doi:10.3906/tar-1301-78

Ahi SM, Powers WL (1938) Salt tolerance of plants at various temperatures. Plant Physiol 13:767–789. doi:10.1104/pp.13.4.767

Atia A, Debez A, Barhoumi Z, Smaoui A, Abdelly C (2011) Effects of different salts and mannitol on seed imbibition, germination and ion content of Crithmum maritimum L. (Apiaceae). J Biol Res Thessalon 15:37–45

Biemelt S, Tschiersch H, Sonnewald U (2004) Impact of altered gibberellin metabolism on biomass accumulation, lignin biosynthesis, and photosynthesis in transgenic tobacco plants. Plant Physiol 135(1):254–265. doi:10.1104/pp.103.036988

Bonawitz ND, Chapple C (2010) The genetics of lignin biosynthesis: connecting genotype to phenotype. Annu Rev Genet 44:337–363. doi:10.1146/annurev-genet-102209-163508

Chinnusammy V, Zhu J, Zhu JK (2007) Cold stress regulation of gene expression in plants. Trends Plant Sci 12:444–451. doi:10.1016/j.tplants.2007.07.002

Colebrook EH, Thomas SG, Phillips AL, Hedden P (2014) The role of gibberellin signalling in plant responses to abiotic stress. J Exp Biol 217:67–75. doi:10.1242/jeb.089938

Cseke LJ, Cseke SB, Podila GK (2007) High efficiency poplar transformation. Plant Cell Rep 26:1529–1538. doi:10.1007/s00299-007-0365-0

Dolatabadian A, Modarressanavy SAM, Granati F (2011) Effect of salinity on growth, xylem structure and anatomical characteristics of soybean. Notulae Sci Biol 3:41–45

Flowers TJ (2004) Improving crop salt tolerance. J Exp Bot 55:307–319. doi:10.1093/jxb/erh003

Fujibe T, Saji H, Watahiki MK, Yamamoto KT (2006) Overexpression of the radical-induced cell death (RCD1) gene of Arabidopsis causes weak rcd1 phenotype with compromised oxidative-stress responses. Biosci Biotech Biochem 70:1827–1831. doi:10.1271/bbb.50673

Gao W, Bai S, Li Q, Gao C, Liu G, Li G, Tan F (2013) Overexpression of TaLEA gene from Tamarix androssowii improves salt and drought tolerance in transgenic poplar (Populus simonii × P. nigra). PLoS ONE 8(6):e67462. doi:10.1371/journal.pone.0067462

Han MS, Noh EW, Han DH (2013) Enhanced drought and salt tolerance by expression of AtGSK1 gene in poplar. Plant Biotechnol Rep 7:39–47. doi:10.1007/s11816-012-0258-8

Hasbullah NA, Taha RM, Saleh A, Mohamed N (2012) Physiological responses of callus from Gerbera jamesonii Bolus ex. Hook f. to gamma irradiation. Braz Arch Biol Technol 55(3):411–416. doi:10.1590/S1516-89132012000300012

Hayward HE, Bernstein L (1958) Plant-growth relationships on salt affected soils. Bot Rev 24:584–635. doi:10.1007/BF02872595

Helaly AEA (2004) Molecular studies on plants to enhance their stress tolerance. Dissertation, University of Potsdam

Iuchi S, Kobayashi M, Taji T, Naramoto M, Seki M, Kato T, Tabata S, Kakubari Y, Yamaguchi-Shinozaki K, Shinozaki K (2001) Regulation of drought tolerance by gene manipulation of 9-cis-epoxycarotenoid dioxygenase, a key enzyme in abscisic acid biosynthesis in Arabidopsis. Plant J 27:325–333. doi:10.1046/j.1365-313x.2001.01096.x

Jiang C, Zheng Q, Liu Z, Xu W, Liu L, Zhao G, Long X (2012) Overexpression of Arabidopsis thaliana Na+/H+ antiporter gene enhanced salt resistance in transgenic poplar (Populus × euramericana 'Neva'). Trees Struct Funct 26:685–694. doi:10.1007/s00468-011-0635-x

Katiyar-Agarwal S, Zhu J, Kim K, Agarwal M, Fu M, Huang A, Zhu JK (2006) The plasma membrane Na+/H+ antiporter SOS1 interacts with RCD1 and functions in oxidative stress tolerance in Arabidopsis. Proc Natl Acad Sci USA 103:18816–18821. doi:10.1073/pnas.0604711103

Khan MA, Duke NC (2001) Halophytes—A resource for the future. Wetlands Ecol Manage 9(6):455–456. doi:10.1023/A:1012211726748

Krasensky J, Jonak C (2012) Drought, salt, and temperature stress-induced metabolic rearrangements and regulatory networks. J Exp Bot 63:1593–1608. doi:10.1093/jxb/err460

Krishnamurthy P, Ranathunge K, Nayak S, Schreiber L, Mathew MK (2011) Root apoplastic barriers block Na+ transport to shoots in rice (Oryza sativa L.). J Exp Bot 62:4215–4228. doi:10.1093/jxb/err135

Leidi EO, Barragán V, Rubio L, El-Hamdaoui Ruiz MT, Cubero B, Fernández JA, Bressan RA, Hasegawa PM, Quintero FJ, Pardo JM (2010) The AtNHX1 exchanger mediates potassium compartmentation in vacuoles of transgenic tomato. Plant J 61:495–506. doi:10.1111/j.1365-313X.2009.04073.x

Ma C, Strauss SH, Meilan R (2004) Agrobacterium-mediated transformation of the genome-sequenced poplar clone, Nisqually-1 (Populus trichocarpa). Plant Mol Biol Rep 22:1–9. doi:10.1007/BF02773145

Martínez-Atienza J, Jiang X, Garciadeblas B, Mendoza I, Zhu JK (2007) Conservation of the salt overly sensitive pathway in rice. Plant Physiol 143:1001–1012. doi:10.1104/pp.106.092635

Munns R, Tester M (2008) Mechanisms of salinity tolerance. Annu Rev Plant Biol 59:651–681. doi:10.1146/annurev.arplant.59.032607.092911

Nagaoka S, Takano T (2003) Salt tolerance-related protein STO binds to a Myb transcription factor homologue and confers salt tolerance in Arabidopsis. J Exp Bot 54:2231–2237. doi:10.1093/jxb/erg241

Nargis N, Mansoor H, Tahira N, Riffat B, Muhammad A, Farooq A, Tahira R (2013) Structural adaptations in the desert halophyte Aeluropus lagopoides (Linn.) Trin. ex Thw. under high salinity. J Biol Res Thessalon 19:150–164

Noël N, Leplé JC, Pilate G (2002) Optimization of in vitro micropropagation and regeneration for Populus x interamericana and Populus × euramericana hybrids (P. deltoides, P. trichocarpa, and P. nigra). Plant Cell Rep 20:1150–1155. doi:10.1007/s00299-002-0465-9

O'Brien TP, Feder N, McCully ME (1964) Polychromatic staining of plant cell walls by toluidine blue O. Protoplasma 59(2):368–373. doi:10.1007/BF01248568

Quan R, Lin H, Mendoza I, Zhang Y, Cao W, Yang Y, Shang M, Chen S, Pardo JM, Guo Y (2007) SCABP8/CBL10, a putative calcium sensor, interacts with the protein kinase SOS2 to protect Arabidopsis shoots from salt stress. Plant Cell 19:1415–1431. doi:10.1105/tpc.106.042291

Ruggiero B, Kiowa H, Manabe Y, Quist TM, Inan G, Saccardo F, Joly RJ, Hasegawa PM, Bressan RA, Maggio A (2004) Uncoupling the effects of abscisic acid on plant growth and water Relations. Analysis of sto1/nced3, an abscisic acid-deficient but salt stress-tolerant mutant in Arabidopsis. Plant Physiol 136:3134–3147. doi:10.1104/pp.104.046169

Schaper H, Chacko EK (1991) Relation between extractable chlorophyll and portable chlorophyll meter readings in leaves of eight tropical and subtropical fruit-tree species. J Plant Physiol 138:674–677. doi:10.1016/S0176-1617(11)81314-3

Shi H, Ishitani M, Kim C, Zhu JK (2000) The Arabidopsis thaliana salt tolerance gene SOS1 encodes a putative Na+/H+ antiporter. Proc Natl Acad Sci USA 97:6896–6901. doi:10.1073/pnas.120170197

Tan BC, Schwartz SH, Zeevaart JAD, McCarty DR (1997) Genetic control of abscisic acid biosynthesis in maize. Proc Natl Acad Sci USA 94:12235–12240. doi:10.1073/pnas.94.22.12235

Tang W, Page M (2013) Overexpression of the Arabidopsis AtEm6 gene enhances salt tolerance in transgenic rice cell lines. Plant Cell Tissue Organ 114:339–350. doi:10.1007/s11240-013-0329-8

Tuskan GA, Difazio S, Jansson S, Bohlmann J, Grigoriev I, Hellsten U, Putnam N, Ralph S, Rombauts S, Salamov A, Schein J, Sterck L, Aerts A, Bhalerao RR, Bhalerao RP, Blaudez D, Boerjan W, Brun A, Brunner A, Busov V, Campbell M, Carlson J, Chalot M, Chapman J, Chen GL, Cooper D, Coutinho PM, Couturier J, Covert S, Cronk Q, Cunningham R, Davis J, Degroeve S, Déjardin A, dePamphilis C, Detter J, Dirks B, Dubchak I, Duplessis S, Ehlting J, Ellis B, Gendler K, Goodstein D, Gribskov M, Grimwood J, Groover A, Gunter L, Hamberger B, Heinze B, Helariutta Y, Henrissat B, Holligan D, Holt R, Huang W, Islam-Faridi N, Jones S, Jones-Rhoades M, Jorgensen R, Joshi C, Kangasjärvi J, Karlsson J, Kelleher C, Kirkpatrick R, Kirst M, Kohler A, Kalluri U, Larimer F, Leebens-Mack J, Leplé JC, Locascio P, Lou Y, Lucas S, Martin F, Montanini B, Napoli C, Nelson DR, Nelson C, Nieminen K, Nilsson O, Pereda V, Peter G, Philippe R, Pilate G, Poliakov A, Razumovskaya J, Richardson P, Rinaldi C, Ritland K, Rouzé P, Ryaboy D, Schmutz J, Schrader J, Segerman B, Shin H, Siddiqui A, Sterky F, Terry A, Tsai CJ, Uberbacher E, Unneberg P, Vahala J, Wall K, Wessler S, Yang G, Yin T, Douglas C, Marra M, Sandberg G, Van de Peer Y, Rokhsar D (2006) The genome of black cottonwood, Populus trichocarpa (Torr. & Gray). Science 313:1596–1604. doi:10.1126/science.1128691

Wang YC, Qu GZ, Li HY, Wu YJ, Wang C, Liu GF, Yang CP (2010) Enhanced salt tolerance of transgenic poplar plants expressing a manganese superoxide dismutase from Tamarix androssowii. Mol Biol Rep 37:1119–1124. doi:10.1093/mp/ssn058

Wang M, Wang Y, Sun J, Ding M, Deng S, Hou P, Ma X, Zhang Y, Wang F, Sa G, Tan Y, Lang T, Li J, Shen X, Chen S (2013) Overexpression of PeHA1 enhances hydrogen peroxide signaling in salt-stressed Arabidopsis. Plant Physiol Biochem 71:37–48. doi:10.1016/j.plaphy.2013.06.020

Xiong L, Ishitani M, Lee H, Zhu JK (2001) Arabidopsis LOS5/ABA3 Locus Encodes a Molybdenum Cofactor Sulfurase and Modulates Cold Stress– and Osmotic Stress-Responsive Gene Expression. Plant Cell 13:2063–2083. doi:10.2307/3871428

Yang Q, Chen ZZ, Zhou XF, Yin HB, Li X, Xin XF, Hong XH, Zhu JK, Gong Z (2009) Overexpression of SOS (Salt Overly Sensitive) genes increases salt tolerance in transgenic Arabidopsis. Mol Plant 2(1):22–31. doi:10.1093/mp/ssn058

Zhang HX, Blumwald E (2001) Transgenic salt-tolerant tomato plants accumulate salt in foliage but not in fruit. Nat Biotechnol 19:765–768. doi:10.1038/90824

Zhang HX, Hodson JN, Williams JP, Blumwald E (2001) Engineering salt-tolerant Brassica plants: Characterization of yield and seed oil quality in transgenic plants with increased vacuolar sodium accumulation. Proc Natl Acad Sci USA 98:12832–12836. doi:10.1073/pnas.231476498

Zheng QS, Liu L, Liu ZP, Chen JM, Zhao GM (2009) Comparison of the response of ion distribution in the tissues and cells of the succulent plants Aloe vera and Salicornia europaea to saline stress. J Plant Nutr Soil Sci 172(6):875–883. doi:10.1002/jpln.200900122

Zhu JK (2003) Regulation of ion homeostasis under salt stress. Curr Opin Plant Biol 6:441–445. doi:10.1016/S1369-5266(03)00085-2
Acknowledgments
The authors would like to thank Drs. Jaemo Yang and Zhonglian Huang for their comments and critiques of a previous version of this manuscript. Mention of a trademark, proprietary product, or vendor does not constitute a guarantee or warranty of the product by the US Department of Agriculture and does not imply its approval to the exclusion of other products or vendors that also may be suitable.
Electronic supplementary material
Below is the link to the electronic supplementary material.
Supplemental Fig. 1 Root development in control and transgenic poplar plants. In vitro image of the comparison between (a) control (WT) and (b) transgenic plant roots. Visible differences in lateral root growth (arrows) and overall root length and biomass (bracket) were indicated. Supplementary material 1 (TIFF 1,307 kb)
Supplemental Fig. 2 Salinity tolerance of control and transgenic poplar plants. Ex vitro study to visualize plant condition and later root biomass under 200 mM NaCl conditions. (a) Plant conditions 45 d after salt exposure. (b) control (WT) and (c) transgenic plant roots after soil was gently washed away show the significant difference in root biomass between the plants. The dramatic difference in amount of healthy (c, arrows) white roots in the transgenic plant is another indicator of the better health of transgenics when compared to control plants. Supplementary material 2 (TIFF 2847 kb)
Supplemental Fig. 3 In vitro analysis of transgenic STO1 salt tolerances. (a) Transgenic line 1 (Tg 1) after 2 wk at selected NaCl concentrations. (b) Transgenic line 2 (Tg 2) after 1 wk at 0, 200, 250, and 300 mM NaCl. (c) Tg 1 after 1 wk at 250 mM NaCl. (d) Transgenic line 3 (Tg 3) after 4 wk, 3 wk, and 2 wk at 250 mM NaCl. Supplementary material 3 (TIFF 1173 kb)
About this article
Cite this article
Lawson, S.S., Michler, C.H. Overexpression of AtSTO1 leads to improved salt tolerance in Populus tremula × P. alba . Transgenic Res 23, 817–826 (2014). https://doi.org/10.1007/s11248-014-9808-x
Received:

Accepted:

Published:

Issue Date:
Keywords
Salt tolerance

Poplar

Arabidopsis

STO1

Pith