Abstract
Results of transcriptome analyses suggest that expansin genes play an active role in seed development and yield, but gain- or loss-of-function studies have not yet elucidated the functional role(s) of the expansin gene(s) in these processes. We have overexpressed a sweetpotato expansin gene (IbEXP1) in Arabidopsis under the control of cauliflower mosaic 35S promoter in an attempt to determine the effect of the expansin gene in seed development and yield in heterologous plants. The growth rate was enhanced in IbEXP1-overexpressing (ox) plants relative to wild-type Col-0 plants during early vegetative growth stage. At the reproductive stage, the number of rosette leaves was higher in IbEXP1-ox plants than that in Col-0 plants, and siliques were thicker. IbEXP1-ox plants produced larger seeds, accumulated more protein and starch in each seed, and produced more inflorescence stems and siliques than Col-0 plants, leading to a 2.1–2.5-fold increase in total seed yield per plant. The transcript level of IbEXP1 was up-regulated in response to brassinosteroid (BR) treatment in sweetpotato, and the transcript levels of three BR-responsive genes, fatty acid elongase 3-ketoacyl-CoA synthase 1, HAIKU1 and MINISEED3, were also increased in IbEXP1-ox Arabidopsis plants, suggesting a possible involvement of IbEXP1 in at least one of the BR signaling pathways. Based on these results, we suggest that overexpression of IbEXP1 gene in heterologous plants is effective in increasing seed size and number and, consequently, seed yield.
Access options
Buy single article
Instant access to the full article PDF.
US$ 39.95
Tax calculation will be finalised during checkout.
Subscribe to journal
Immediate online access to all issues from 2019. Subscription will auto renew annually.
US$ 119
Tax calculation will be finalised during checkout.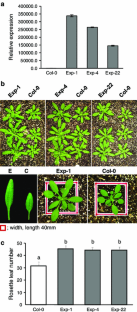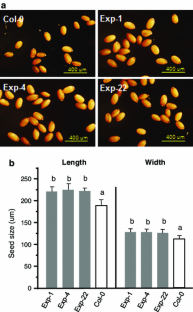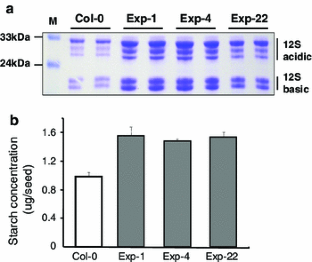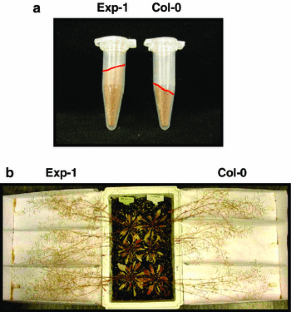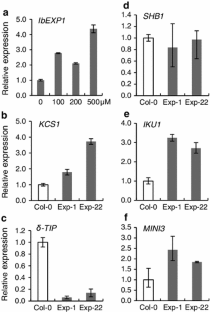 References
Ashikari M, Sakakibara H, Lin S, Yamamoto T, Takashi T, Nishimura A, Angeles ER, Qian Q, Kitano H, Matsuoka M (2005) Cytokinin oxidase regulates rice grain production. Science 309:741–745

Brummell DA, Harpster MH, Civello PM, Palys JM, Bennett AB, Dunsmuir P (1999) Modification of expansin protein abundance in tomato fruit alters softening and cell wall polymer metabolism during ripening. Plant Cell 11:2203–2216

Cho HT, Cosgrove DJ (2000) Altered expression of expansin modulates leaf growth and pedicel abscission in Arabidopsis thaliana. Proc Natl Acad Sci USA 97:9783–9788

Choe S, Fujioka S, Noguchi T, Takatsuto S, Yoshida S, Feldmann KA (2001) Overexpression of DWARF4 in the brassinosteroid biosynthetic pathway results in increased vegetative growth and seed yield in Arabidopsis. Plant J 26:573–582

Choi D, Lee Y, Cho HT, Kende H (2003) Regulation of expansin gene expression affects growth and development in transgenic rice plants. Plant Cell 15:1386–1398

Clough SJ, Bent AF (1998) Floral dip: a simplified method for Agrobacterium-mediated transformation of Arabidopsis thaliana. Plant J 16:735–743

Coll-Garcia D, Mazuch J, Altmann T, Müssig C (2004) EXORDIUM regulates brassinosteroid-responsive genes. FEBS Lett 563:82–86

Cosgrove DJ, Li LC, Cho HT, Hoffmann-Benning S, Moore RC, Blecker D (2002) The growing world of expansins. Plant Cell Physiol 43:1436–1444

Dai F, Zhang C, Jiang X, Kang M, Yin X, Lü P, Zhang X, Zheng Y, Gao J (2012) RhNAC2 and RhEXPA4 are involved in the regulation of dehydration tolerance during the expansion of rose petals. Plant Physiol 160:2064–2082

Fleming AJ, McQueen-Mason S, Mandel T, Kuhlemeier C (1997) Induction of leaf primordia by the cell wall protein expansin. Science 276:1415–1418

Fu J, Thiemann A, Schrag TA, Melchinger AE, Scholten S, Frisch M (2010) Dissecting grain yield pathways and their interactions with grain dry matter content by a two-step correlation approach with maize seedling transcriptome. BMC Plant Biol 10:63

Garcia D, Saingery V, Chambrier P, Mayer U, Jürgens G, Berger F (2003) Arabidopsis haiku mutants reveal new controls of seed size by endosperm. Plant Physiol 131:1661–1670

Giroux MJ, Shaw J, Barry G, Cobb BG, Greene T, Okita T, Hannah LC (1996) A single mutation that increases maize seed weight. Proc Natl Acad Sci USA 93:5824–5829

Green PB (1997) Expansin and morphology: a role for biophysics. Trends Plant Sci 2:365–366

Guo W, Zhao J, Li X, Qin L, Yan X, Liao H (2011) A soybean β-expansin gene GmEXPB2 intrinsically involved in root system architecture responses to abiotic stresses. Plant J 66:541–552

Han YY, Li AX, Li F, Zhao MR, Wang W (2012) Characterization of a wheat (Triticum aestivum L.) expansin gene, TaEXPB23, involved in the abiotic stress response and phytohormone regulation. Plant Physiol Biochem 54:49–58

Jiang WB, Huang HY, Hu YW, Zhu SW, Wang ZY, Lin WH (2013) Brassinosteroid regulates seed size and shape in Arabidopsis. Plant Physiol 162:1965–1977

Kwon YR, Lee HJ, Kim KH, Hong SW, Lee SJ, Lee H (2008) Ectopic expression of Expansin3 or Expansinβ1 causes enhanced hormone and salt stress sensitivity in Arabidopsis. Biotechnol Lett 30:1281–1288

Lee Y, Choi D, Kende H (2001) Expansins: ever-expanding numbers and functions. Curr Opin Plant Biol 4:527–532

Lee DK, Ahn JH, Song SK, Choi YD, Lee JS (2003) Expression of an expansin gene is correlated with root elongation in soybean. Plant Physiol 131:985–997

Li Y, Jones L, McQueen-Mason S (2003) Expansins and cell growth. Curr Opin Plant Biol 6:603–610

Li F, Asami T, Wu X, Tsang EW, Cutler AJ (2007) A putative hydroxysteroid dehydrogenase involved in regulating plant growth and development. Plant Physiol 145:87–97

Li F, Xing S, Guo Q, Zhao M, Zhang J, Gao Q, Wang G, Wang W (2011) Drought tolerance through over-expression of the expansin gene TaEXPB23 in transgenic tobacco. J Plant Physiol 168:960–966

Lin C, Choi HS, Cho HT (2011) Root hair-specific EXPANSIN A7 is required for root hair elongation in Arabidopsis. Mol Cells 31:393–397

Lizana XC, Riegel R, Gomez LD, Herrera J, Isla A, McQueen-Mason SJ, Calderini DF (2010) Expansins expression is associated with grain size dynamics in wheat (Triticum aestivum L.). J Exp Bot 61:1147–1157

Luo M, Dennis ES, Berger F, Peacock WJ, Chaudhury A (2005) MINISEED3 (MINI3), a WRKY family gene, and HAIKU2 (IKU2), a leucine-rich repeat (LRR) KINASE gene, are regulators of seed size in Arabidopsis. Proc Natl Acad Sci USA 102:17531–17536

McQueen-Mason S, Cosgrove D (1995) Expansin mode of action on cell walls. Analysis of wall hydrolysis, stress relaxation, and binding. Plant Physiol 107:87–100

McQueen-Mason S, Durachko DM, Cosgrove DJ (1992) Two endogenous proteins that induce cell wall extension in plants. Plant Cell 4:1425–1433

Müssig C, Fischer S, Altmann T (2002) Brassinosteroid-regulated gene expression. Plant Physiol 129:1241–1251

Noh SA, Park SH, Huh GH, Paek K-H, Shin JS, Bae JM (2009) Growth retardation and differential regulation of expansin genes in chilling-stressed sweetpotato. Plant Biotechnol Rep 3:75–85

Noh SA, Lee HS, Huh EJ, Huh GH, Paek KH, Shin JS, Bae JM (2010) SRD1 is involved in the auxin-mediated initial thickening growth of storage root by enhancing proliferation of metaxylem and cambium cells in sweetpotato (Ipomoea batatas). J Exp Bot 61:1337–1349

Noh SA, Lee HS, Kim YS, Paek KH, Shin JS, Bae JM (2013) Down-regulation of the IbEXP1 gene enhanced storage root development in sweetpotato. J Exp Bot 64:129–142

Ohto MA, Fischer RL, Goldberg RB, Nakamura K, Harada JJ (2005) Control of seed mass by APETALA2. Proc Natl Acad Sci USA 102:3123–3128

Park CH, Kim TW, Son SH, Hwang JY, Lee SC, Chang SC, Kim SH, Kim SW, Kim SK (2010) Brassinosteroids control AtEXPA5 gene expression in Arabidopsis thaliana. Phytochemistry 71:380–387

Pien S, Wyrzykowska J, McQueen-Mason S, Smart C, Fleming A (2001) Local expression of expansin induces the entire process of leaf development and modifies leaf shape. Proc Natl Acad Sci USA 98:11812–11817

Roxrud I, Lid SE, Fletcher JC, Schmidt ED, Opsahl-Sorteberg HG (2007) GASA4, one of the 14-member Arabidopsis GASA family of small polypeptides, regulates flowering and seed development. Plant Cell Physiol 48:471–483

Schipper O, Schaefer D, Reski R, Flemin A (2002) Expansins in the bryophyte Physcomitrella patens. Plant Mol Biol 50:789–802

Van Daele I, Gonzalez N, Vercauteren I, de Smet L, Inzé D, Roldán-Ruiz I, Vuylsteke M (2012) A comparative study of seed yield parameters in Arabidopsis thaliana mutants and transgenics. Plant Biotechnol J 10:488–500

Wang E, Wang J, Zhu X, Hao W, Wang L, Li Q, Zhang L, He W, Lu B, Lin H, Ma H, Zhang G, He Z (2008) Control of rice grain-filling and yield by a gene with a potential signature of domestication. Nat Genet 40:1370–1374

Wang A, Garcia D, Zhang H, Feng K, Chaudhury A, Berger F, Peacock WJ, Dennis ES, Luo M (2010) The VQ motif protein IKU1 regulates endosperm growth and seed size in Arabidopsis. Plant J 63:670–679

Wang G, Gao Y, Wang J, Yang L, Song R, Li X, Shi J (2011) Overexpression of two cambium-abundant Chinese fir (Cunninghamia lanceolata) α-expansin genes ClEXPA1 and ClEXPA2 affect growth and development in transgenic tobacco and increase the amount of cellulose in stem cell walls. Plant Biotechnol J 9:486–502

Wang S, Wu K, Yuan Q, Liu X, Liu Z, Lin X, Zeng R, Zhu H, Dong G, Qian Q, Zhang G, Fu X (2012) Control of grain size, shape and quality by OsSPL16 in rice. Nat Genet 44:950–954

Werner T, Motyka V, Laucou V, Smets R, Van Onckelen H, Schmülling T (2003) Cytokinin-deficient transgenic Arabidopsis plants show multiple developmental alterations indicating opposite functions of cytokinins in the regulation of shoot and root meristem activity. Plant Cell 15:2532–2550

You MK, Hur CG, Ahn YS, Suh MC, Jeong BC, Shin JS, Bae JM (2003) Identification of genes possibly related to storage root induction in sweetpotato. FEBS Lett 536:101–105

Zenoni S, Reale L, Tornielli GB, Lanfaloni L, Porceddu A, Ferrarini A, Moretti C, Zamboni A, Speghini A, Ferranti F, Pezzotti M (2004) Downregulation of the Petunia hybrida α-expansin gene PhEXP1 reduces the amount of crystalline cellulose in cell walls and leads to phenotypic changes in petal limbs. Plant Cell 16:295–308

Zenoni S, Fasoli M, Tornielli GB, Dal Santo S, Sanson A, de Groot P, Sordo S, Citterio S, Monti F, Pezzotti M (2011) Overexpression of PhEXPA1 increases cell size, modifies cell wall polymer composition and affects the timing of axillary meristem development in Petunia hybrida. New Phytol 191:662–677

Zhou Y, Zhang X, Kang X, Zhao X, Zhang X, Ni M (2009) SHORT HYPOCOTYL UNDER BLUE1 associates with MINISEED3 and HAIKU2 promoters in vivo to regulate Arabidopsis seed development. Plant Cell 21:106–117
Acknowledgments
This work was carried out with the support of "Cooperative Research Program for Agriculture Science & Technology Development" (Next-Generation BioGreen 21 Program No. PJ00810302 and No. PJ00807603), Rural Development Administration, Republic of Korea.
Electronic supplementary material
Below is the link to the electronic supplementary material.
About this article
Cite this article
Bae, J.M., Kwak, M.S., Noh, S.A. et al. Overexpression of sweetpotato expansin cDNA (IbEXP1) increases seed yield in Arabidopsis. Transgenic Res 23, 657–667 (2014). https://doi.org/10.1007/s11248-014-9804-1
Received:

Accepted:

Published:

Issue Date:
Keywords
Expansin

Seed yield

Arabidopsis

Brassinosteroid