Abstract
Scientific advances in methods of producing genetically modified (GM) animals continue, yet few such animals have reached commercial production. Existing regulations designed for early techniques of genetic modification pose formidable barriers to commercial applications. Radically improved techniques for producing GM animals invite a re-examination of current regulatory regimes. We critically examine current GM animal regulations, with a particular focus on the European Union, through a framework that recognises the importance of interactions among regulatory regimes, innovation outcomes and industry sectors. The current focus on the regulation of risk is necessary but is unable to discriminate among applications and tends to close down broad areas of application rather than facilitate innovation and positive industry interactions. Furthermore, the fields of innovative animal biosciences appear to lack networks of organisations with co-ordinated future oriented actions. Such networks could drive coherent programmes of innovation towards particular visions and contribute actively to the development of regulatory systems for GM animals. The analysis presented makes the case for regulatory consideration of each animal bioscience related innovation on the basis of the nature of the product itself and not the process by which it was developed.
We're sorry, something doesn't seem to be working properly.
Please try refreshing the page. If that doesn't work, please contact support so we can address the problem.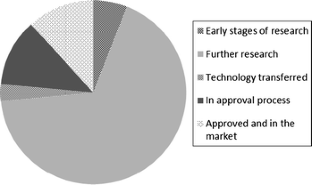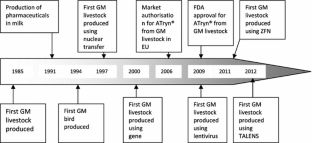 References
AFAA (2004) Biotechnology and animal production. AgriFood Awareness Australia

Alexandratos N, Bruinsma J (2012) World Agriculture Trends 2030/2050. The 2012 Revision. ESA working paper no. 12-03. Food and Agriculture Organization of the United Nations. http://www.fao.org/docrep/016/ap106e/ap106e.pdf. Accessed 27 May 2013

Bronzwaer S (2008) EFSA scientific forum 'from safe foods to healthy diets'. EU risk assessment—past, present and future. Trends Food Sci Technol 19:52–58

Brown N, Rappert B, Webster A, Cabello C, Sans-Menendez L, Markx F, van de Meulen B (2001) Final Report of the FORMAKIN Project, TSER Programme, Stage 2, Work Package 5/6, Jan, 2001. http://www.york.ac.uk/media/satsu/documents-papers/Brown-Rappert-2001-formakin.PDF. Accessed 9 April 2013

Buck EH (2011) Genetically Engineered Fish and Seafood: Environmental Concerns. Congressional Research Service. Report for Congress

Capecchi, MR (1989) Altering the genome by homologous recombination. Science 244:1288–1292 PMID2660260

Carlson DF, Wenfang Tan W, Lillico SG, Stverakovad D, Proudfoot C, Michelle Christiana M, Voytasa DF, Longf CR, Whitelaw CBA, Fahrenkrug SC (2012) Efficient TALEN-mediated gene knockout in livestock. PNAS 109(43):17382–17387

CAST (2009) Animal productivity and genetic diversity. Part 8, IP43

Clark J, Whitelaw B (2003) A future for transgenic livestock. Nat Rev 4:825–833

Chataway J, Tait J, Wield D (2004) Understanding company R&D strategies in agro-biotechnology: trajectories and Blindspots. Res Policy 33(6–7):1041–1057

Codex Alimentarius (2008) Guideline for the conduct of food safety assessment of foods derived from recombinant DNA animals. http://www.codexalimentarius.org/codex-home/en/. Accessed 4 April 2013

COGEM (2011) Genetically modified animals: a wanted and unwanted reality. COGEM Topic Report (CGM/120111-01) Independent scientific advice and information for the Dutch Government

DeFrancesco L (2011) Move over ZFNs. Nat Biotechnol 29(7):681–684

Dove A (2000) Milking the genome for profit. Nat Biotechnol 18(10):1045–1047

Durai S, Mani M, Kandavelou K, Wu J, Porteus MH, Chandrasegaran S (2005) Zinc finger nucleases: custom designed molecular scissors for genome engineering of plant and mammalian cells. Nucleic Acids Res 33(18):5978–5990

EFSA Panels on GMO and AHAW (2012) Guidance on the risk assessment of food and feed from genetically modified animals and on animal health and welfare aspects. EFSA J 10(1):2501–2544

EFSA (2013) Guidance on the environmental risk assessment of genetically modified animals. EFSA J 11(5):3200 http://www.efsa.europa.eu/en/efsajournal/pub/3200.htm?utm_source=feedly. Accessed 25 May 2013

Ekser B, Edwin Klein E, Jing H, Stolz DB, Echeverri GJ, Long C, Lin CC, Mohamed E, Hidetaka H, Veroux M, Ayares D, Cooper DKC, Gridelli B (2012) Genetically engineered pig to baboon liver xenotransplantation: histopathology of xenografts and native organs. PLoS ONE 7(1):e29720

Fahrenkrug SC, Blake A, Carlson DF, Doran T, Van Eenennaam A, Faber D, Galli C, Gao Q, Hackett PB, Li N, Maga EA, Muir WM, Murray JD, Shi D, Stotish R, Sullivan E, Taylor JF, Walton M, Wheeler M, Whitelaw B, Glenn BP (2010) Precision genetics for complex objectives in animal agriculture. J Anim Sci 88:2530–2539

FAO (2009) The state of food and agriculture—livestock in the balance. Food and Agriculture Orgainzation of the United Nations, Rome

FDA (2009) The Regulation of Genetically Engineered Animals containing Heritable Recombinant DNA constructs. Final Guidance

FDA (2011) Advancing regulatory science at FDA: a strategic plan. August 2011. http://www.fda.gov/ScienceResearch/SpecialTopics/RegulatoryScience/ucm267719.htm. Accessed 17 March 2013

FDA (2012) AquAdvantage salmon preliminary finding. Prepared by the Center for Veterinary Medicine, United States Food and Drug Administration Department of Health and Human Services. 4 May 2012 http://www.fda.gov/AnimalVeterinary/DevelopmentApprovalProcess/GeneticEngineering/GeneticallyEngineeredAnimals/ucm280853.htm. Accessed 31 May 2013

Fernandez M, Schook L (2005) Introduction. In A Future for Animal Biotechnology. Proceedings from a forum hosted by the University of Illinois and the Pew Initiative on Food and Biotechnology, Chicago, Illinois, Dec. 2005, pp 5–6 http://www.pewtrusts.org/uploadedFiles/wwwpewtrustsorg/Summaries_-_reports_and_pubs/PIFB_Future_for_Animal_Biotech_Workshop_Proceedings.pdf. Accessed 17 March 2013

Foresight. The Future of Food and Farming (2011) Final Project Report. The Government Office for Science, London

GAIN (2011) China—People's Republic of, GE plants and animals. Annual 2010. GAIN report number CH11002. USDA Global Agricultural Information Network. http://gain.fas.usda.gov/Recent%20GAIN%20Publications/Biotechnology%20-%20GE%20Plants%20and%20Animals_Beijing_China%20-%20Peoples%20Republic%20of_3-15-2011.pdf. Accessed 31 May 2013

Garnett T (2009) Livestock-related greenhouse gas emissions: impacts and options for policy makers. Environ Sci Policy 12:491–503

Gaskell G, Allansdottir A, Allum N, Castro P, Esmer Y, Fischler C, Jackson J, Kronberger N, Hampel J, Mejlgaard N, Quintanvilha A, Rammer A, Revuelta G, Stares S, Torgersen H, Wager W (2011) The 2010 Eurobarometer on the life sciences. Nat Biotechnol 29(2):113–114

Golovan SP, Meidinger RG, Ajakaiye A, Cottrill M, Wiederkehr M, Barney D, Plante C, Pollard J, Fan MZ, Hayes MA, Laursen J, Hjorth JP, Hacker RR, Phillips JP, Forsberg CW (2001) Pigs expressing salivary phytase and acid phosphatase activities. Can J Microbiol 46:59–71

Gordon JW, Scangos GA, Plotkin DJ, Barbosa JA, Ruddle FH (1980) Genetic transformation of mouse embryos by microinjection of purified DNA. Proc Natl Acad Sci USA 77:7380–7384

Geurts AM, Cost GJ, Freyvert Y, Zeitler B, Miller JC, Choi VM, Jenkins SS, Wood A (2009) Knockout rats via embryo microinjection of zinc-finger nucleases. Science 325(5939):433

Health Canada (2011) The Regulation of genetically modified food. http://www.hc-sc.gc.ca/sr-sr/pubs/biotech/reg_gen_mod-eng.php. Accessed 4 March 2013

Houdebine L-M (2009) Production of pharmaceutical proteins by transgenic animals. Comp Immunol Microbiol Infect Dis 32(2):107–121

Huang J, Wang Q (2002) Agricultural biotechnology development and policy in China. AgBioForum 5(4):122–131

Hume DA, Whitelaw CBA, Archibald AL (2011) The future of animal production; improving productivity and sustainability. J Agric Sci 149:9–16

Ittner LM, Gotz J (2007) Pronuclear injection for the production of transgenic mice. Nat Protoc 2:1206–1215

Jabed A, Wagner S, McCraken J, Wells DW, Laible G (2012) Targeted microRNA expression in dairy cattle directs production of β-lactoglobulin-free high-casein milk. Proc Nat Acad Sci USA 109(42):16811–16816

Kaneko T, Moisyadi S, Suganuma R, Hohn B, Yanagimachi R, Pelczar P (2005) Recombinase-mediated mouse transgenesis by intracytoplasmic sperm injection. Theriogenology 64:1704–1715

Kleter GA, Kok EJ (2010) Safety assessment of biotechnology used in animal production, including Genetically Modified (GM) feed and GM animals—a review. Animal Sci Pap Rep 28(2):105–114

Lazaris A, Arcidiacono S, Huang Y, Zhou J-F, Duguay F, Chretien N, Welsh EA, Soareas W, Karatzas CN (2002) Spider silk fibers spun from soluble recombinant silk produced in mammalian cells. Science 295:472–476

Le Provost F, Lillico S, Passet B, Young R, Whitelaw B, Vilotte J-L (2009) Zinc finger nuclease technology heralds a new era in mammalian transgenesis. Trends Biotechnol 28(3):134–141

Lusser M, Davies HV (2013) Comparative regulatory approaches for groups of new plant breeding techniques. New Biotechnol (in press) http://dx.doi.org/10.1016/j.nbt.2013.02.004

Lyall J, Irvine RA, Sherman A, McKinley TJ, Nunez A, Purdie A, Outtrim L, Brown IH, Rolleston-Smith G, Sang H, Tiley L (2011) Suppression of avian influenza transmission in genetically modified chickens. Science 33:223–226

Maga EA, Murray JD (2010) Welfare applications of genetically engineered animals for use in agriculture. J Anim Sci 88:1588–1591

Mandel GN (2004) Gaps, inexperience, inconsistencies and overlaps: crisis in the regulation of genetically modified plants and animals. William Mary Law Rev 45:2167–2260

Marshall KM, Hurley WL, Shanks RD, Wheeler MB (2006) Effects of suckling intensity on milk yield and piglet growth from lactation-enhanced gilts. J Anim Sci 84:2346–2351

Martineau B (2001) First Fruit. The creation of the Flavr Savr™ tomato and the birth of biotech food. McGraw-Hill, New York

Mastroeni M, Tait J, Rosiello A (2013) Regional innovation policies in a globally connected environment. Sci Public Policy 40(1):8–16

Mastroeni M, Mittra J, Tait J (2012) Methodology for the Analysis of Life Science Innovation Systems (ALSIS) and its Application to Three Case Studies. TSB Regenerative Medicine Programme: Value Systems and Business Models. REALISE Project. Innogen Centre Report to Technology Strategy Board. 29th May, 2012. http://www.genomicsnetwork.ac.uk/media/REALISE%20Case%20Study%20Report%20-%20Innogen.pdf. Accessed 4 April 2013

McGrew MJ, Sherman A, Ellard FM, Lillico SG, Gilhooley HJ, Kingsman AJ, Mitrophanous KA, Sang H (2004) Efficient production of germline transgenic chickens using lentiviral vectors. EMBO Rep 5:728–733

Mendon A-Hagler L, Souza L, Aleixo L, Oda L (2008) Trends in biotechnology and biosafety in Brazil. Environ Biosafety Res 7:115–121

Mittra J, Tait J, Wield D (2011) From maturity to value-added innovation: lessons from the pharmaceutical and agro-biotechnology industries. Trends Biotechnol 29(3):105–109

Milne CP, Tait J (2009) Evolution along the government-governance continuum: FDA'S orphan products and fast track programs as exemplars of "what works" for innovation and regulation. Food and Drug Law J 64(4):733–753

Mittra J, Tait J (2012) Analysing stratified medicine business models and value systems: innovation-regulation interactions. New Biotechnol 29(6):709–719

Murray JD, Maga EA (2010) Is there a risk from not using GE animals? Transgenic Res 19:357–361

Murray JD, Mohamad-Fauzi N, Cooper CA, Maga EA (2010) Current status of transgenic animal research for human health applications. Acta Sci Vet 38(2):627–632

Niemann H, Kues W, Carnwath JW (2009) Transgenic farm animals: present and future. Rev Sci Tech 24:285–298

Noyes H, Brass A, Obara I, Anderson S, Archibald AL, Bradley DG, Fisher P, Freeman A, Gibson J, Gicheru M, Hall L, Hanotte O, Hulme H, McKeever D, Murray C, Oh SJ, Tate C, Smith K, Tapio M, Wambugo J, Williams DJ, Agaba M, Kemp SJ (2011) Genetic and expression analysis of cattle identifies candidate gene in pathways responding to Trypanosoma congolense infection. Proc Natl Acad Sci 108(22):9304–9309

Novosleva TA, Meuwissen MPM, Huirne RBM (2007) Adoption of GM technology in livestock production chains: an integrating framework. Trends Food Sci Technol 18:175–188

Palmiter RD, Brinster RL, Hammer RE, Trumbauer ME, Rosenfeld MG, Birnberg NC, Evans RM (1982) Dramatic growth of mice that develop from eggs microinjected with metallothionein-growth hormone fusion genes. Nature 300:611–615

Park F (2007) Lentiviral vectors; are they the future of animal transgenesis? Physiol Genomics 31:159–173

Pig Progress (2012) Enviropig project halted as Ontario Pork pulls the plug. http://www.pigprogress.net/Health-Diseases/Research/2012/4/Enviropig-project-halted-as-Ontario-Pork-pulls-the-plug-PP008578W/. Accessed 4 April 2012

Pray L (2008) Recombinant DNA technology and transgenic animals. Nature Education 1(1)

Regaldo A (2010) Building a Better Goat. MIT Technology Review. http://www.technologyreview.com/news/421268/building-a-better-goat/. Accessed 10 March 2013

Ridley M (2013) Editing our Genes, One Letter at a Time. The Wall Street Journal, Mind and Matter. January 11th

Salamone D, Barañao L, Santos C, Bussmann L, Artuso J, Werning C, Prync A, Carbonetto C, Dabsys S, Munar C, Salaberry R, Berra G, Berra I, Fernández N, Papouchado M, Foti M, Judewicz N, Mujica I, Muñoz L, Alvarez SF, González E, Zimmermann J, Criscuolo M, Melo C (2006) High level expression of bioactive recombinant hormone growth hormone in the milk of transgenic cows. J Biotechnol 124(2):46–72

Schnieke AE, Kind AJ, Ritchie WA, Mycock K, Scott AR, Ritchie M, Wilmut I, Colman A, Campbell KH (1997) Human factor IX transgenic sheep produced by transfer of nuclei from transfected fetal fibroblasts. Science 278:2130–2133

Service F (2002) Mammalian cells spin a spidery new yarn. Science 295(5554):419–421

Subramanian V (2012) Driving forces in global agriculture. Rice Today—International Rice Research Institute. 11(2):40–41

Suk J, Bruce A, Gertz R, Whitelaw CBA, Braun A, Oram C, Rodriguez-Cerezo E, Papatryfon I (2007) Dolly for dinner? Assessing commercial and regulatory trends in cloned livestock. Nat Biotechnol 25(1):47–53

Tait J (2007) Systemic interactions in life science innovation. Technol Anal Strateg Manag 19(3):257–277

Tait J (2008) Risk governance of genetically modified crops: European and American perspectives. In: Renn O, Walker K (eds) Global risk governance: concept and practice using the IRGC framework. Springer Science and Business Media, Dordrecht, pp 133–153

Tait J, Barker G (2011) Global food security and the governance of modern biotechnologies: opportunities and challenges for Europe. EMBO Rep 12:763–768

Tait J, Levidow L (1992) Proactive and reactive approaches to risk regulation: the case of biotechnology. Futures 24(3):219–231

Tait J, with Wield D, Chataway J, Bruce A (2008) Health Biotechnology to 2030. Report to OECD International Futures Project, "The Bio-Economy to 2030: Designing a Policy Agenda", OECD, Paris, pp 51; http://www.oecd.org/dataoecd/12/10/40922867.pdf. Accessed 4 April 2013

Tomley FM, Shirley MW (2009) Livestock infectious diseases and zoonoses. Philos Trans R Soc B 364:2637–2642

Van Eenennaam AL, Muir WM (2011) Transgenic salmon: a final leap to the grocery shelf. Nat Biotechnol 29(8):706–7011

Vàzquez-Salat N, Salter B, Smets G (2010) International Multi-level Governance of Genetically Modified Organisms: EU, USA and India. Work Package 6: Activity 6.1. PEGASUS

Vàzquez-Salat N, Houdebine LM (2013) Will GM animals follow the GM plant fate? Transgenic Res 22:5–13

Vàzquez-Salat N, Salter B, Smets G, Houdebine LM (2012) The current state of GMO governance: are we ready for GM animals? Biotechnol Adv 30:1336–1343

Waigmann E, Paoletti C, Davies H, Perry J, Kärenlampi S, Kuiper H (2012) Risk assessment of genetically modified organisms (GMOs). EFSA J 10(10) s1008:1–7 http://www.efsa.europa.eu/en/efsajournal/pub/s1008.htm . Accessed 31 May 2013

Wang H, Yang H, Shivalila CS, Dawlaty MM, Cheng AW, Zhang F, Jaenisch R (2013) One-step generation of mice carrying mutations in multiple genes by CRISPR/cas-mediated genome engineering. Cell 153(4):910–918

World Trade Organization (WTO) (2010) European communities—measures affecting the approval and marketing of biotech products. http://www.wto.org/english/tratop_e/dispu_e/cases_e/ds291_e.htm. Accessed 27 May 2013

Yang W (2003) Regulation of genetically modified organisms in China. RECIEL 12(1):99–108

Yang B, Wang J, Tang B, Liu Y, Guo C, Yang P, Yu T, Li R, Zhao J, Zhang L, Dai Y, Li N (2011) Characterisation of bioactive recombinant human lysozyme expressed in milk of transgenic cattle. PLoS ONE 6(3):1–10
Acknowledgments
The research forming the basis of this paper was supported by the Economic and Social Research Council (grant RES-000-22-3737) and formed part of the research programme at the ESRC Innogen Centre at the University of Edinburgh. CBAW is supported by a BBSRC ISP Grant. We are very grateful for thoughtful comments from four anonymous reviewers.
About this article
Cite this article
Bruce, A., Castle, D., Gibbs, C. et al. Novel GM animal technologies and their governance. Transgenic Res 22, 681–695 (2013). https://doi.org/10.1007/s11248-013-9724-5
Received:

Accepted:

Published:

Issue Date:
Keywords
GM animals

Biotechnology

Livestock

Company strategies

Regulatory science

Governance