Abstract
The genomic structure and generational stability of the transgene carried by the Cassie (CA) line of the transgenic Enviropig™, a prospective food animal, are reported here. This transgene is composed of the Escherichia coli phytase coding sequence regulated by the mouse parotid secretory protein promoter to direct secretion of phytase in the saliva. In the CA line the transgene integrated in chromosome 4 is present as a concatemer of three copies, two in a head to tail orientation and the third in a reverse orientation 3′ to the other copies with a 6 kbp deletion in the 5′ promoter region. The overall size of the integrated transgene complex is 46 kbp. During integration a 66 kbp segment of the chromosome was deleted, but a BLAST search of the segment from a GenBank clone did not reveal any essential genes. The transgene integration site was stable through 9 generations analyzed. Phytase activity in the saliva was similar among 11 day old hemizygous boars and gilts and remained relatively constant through nine generations of hemizygous pigs. However, as the pigs grew there generally was a gradual decrease in activity that stabilized when pigs reached the finisher phase of growth (4–6 months old). Homozygous pigs exhibited 1.5 fold higher phytase activity (P < 0.0001) than that of hemizygous littermates. Moreover, no differential salivary phytase activity was seen in hemizygotes arising from CA-Yorkshire and CA-Duroc breed outcrosses, suggesting that expression of the transgene is unaffected by genetic background. This data demonstrates that an exogenous phytase gene can be stably transmitted and expressed in the salivary glands of a domestic food animal.
Access options
Buy single article
Instant access to the full article PDF.
USD 39.95
Price includes VAT (USA)
Tax calculation will be finalised during checkout.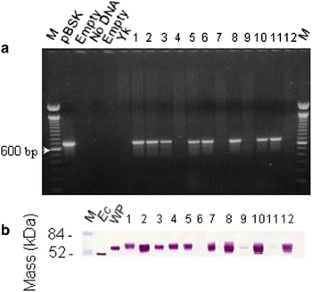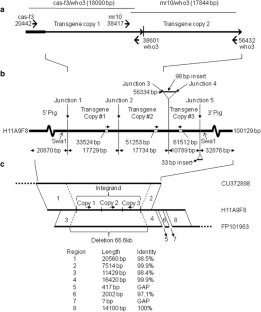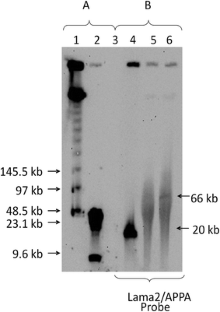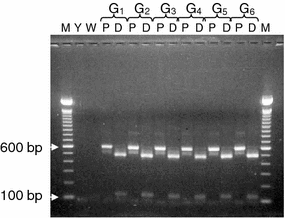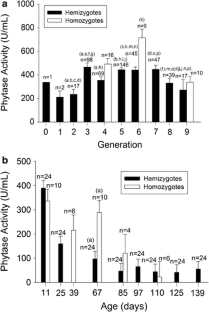 References
Bishop JO (1996) Chromosomal insertion of foreign DNA. Reprod Nutr Dev 36:607–618

Brinster RL, Chen HY, Trumbauer ME, Yagle MK (1985) Factors affecting the efficiency of introducing foreign DNA into mice by microinjecting eggs. Proc Natl Acad Sci USA 82:4438–4442

Carpenter SR (2008) Phosphorus control is critical to mitigating eutrophication. Proc Natl Acad Sci USA 105:11039–11040

Corring T (1980) Endogenous secretions in the pig. In: Low AG, Partridge IG (eds) Current concepts of digestion and absorption in pigs. National Institute for Research in Dairying, Reading, pp 136–150

Covarrubias L, Nishida Y, Terao M, D'Eustachio P, Mintz B (1987) Cellular DNA rearrangements and early developmental arrest caused by DNA insertion in transgenic mouse embryos. Mol Cell Biol 7:2243–2247

Ewing B, Green P (1998) Base-calling of automated sequencer traces using phred. II. Error probabilities. Genome Res 8:186–194

Ewing B, Hillier L, Wendl MC, Green P (1998) Base-calling of automated sequencer traces using Phred. I. Accuracy assessment. Genome Res 8:175–185

Garrick D, Fiering S, Martin DIK, Whitelaw E (1998) Repeat-induced gene silencing in mammals. Nat Genet 18:56–59

Gerber PJ, Vellinga TV, Steinfeld H (2010) Issues and options in addressing the environmental consequences of livestock sector's growth. Meat Sci 84:244–247

Golovan S, Wang G, Zhang J, Forsberg CW (2000) Characterization and overproduction of the Escherichia coli appA encoded bifunctional enzyme which exhibits both phytase and acid phosphatase activities. Can J Microbiol 46:59–71

Golovan SP, Hayes MA, Phillips JP, Forsberg CW (2001a) Transgenic mice expressing bacterial phytase as a model for phosphorus pollution control. Nat Biotechnol 19:429–433

Golovan SP, Meidinger RG, Ajakaiye A, Cottrill M, Wiederkehr MZ, Barney D, Plante C, Pollard J, Fan MZ, Hayes MA, Laursen J, Hjorth JP, Hacker RR, Phillips JP, Forsberg CW (2001b) Pigs expressing salivary phytase produce low phosphorus manure. Nat Biotechnol 19:741–745

Hamada T, Sasaki H, Seki R, Sakaki Y (1993) Mechanism of chromosomal integration of transgenes in microinjected mouse eggs: sequence analysis of genome-transgene and transgene–transgene junctions at two loci. Gene 128:197–202

Hammer RE, Pursel VG, Rexroad CE Jr, Wall RJ, Bolt DJ, Ebert KM, Palmiter RD, Brinster RL (1985) Production of transgenic rabbits, sheep and pigs by microinjection. Nature 315:680–683

Higuchi R (1989) Simple and rapid preparation of samples for PCR. In: Erlich HA (ed) PCR technology: principles and applications for DNA amplification. MacMillan Publishers; Stockton Press, New York, pp 31–38

Key N, McBride WD, Ribaudo M, Sneeringer S (2011) Trends and developments in hog manure management: 1998–2009. 81:1–33. USDA (http://www.ers.usda.gov/Publications/EIB81/)

Lam JS, Mutharia LM (1994) Antigen-antibody reactions. In: Gerhardt P, Murray RGE, Wood WA, Krieg NR (eds) Methods for general and molecular bacteriology. American Society for Microbiology, Washington DC, pp 104–132

Rohan RM, King D, Frels WI (1990) Direct sequencing of PCR-amplified junction fragments from tandemly repeated transgenes. Nucleic Acids Res 18:6089–6095

Sharma PL, Nurpeisov V, Schinazi RF (2005) Retrovirus reverse transcriptases containing a modified YXDD motif. Antivir Chem Chemother 16:169–182

Smith PK, Krohn RI, Hermanson GT, Mallia AK, Gartner FH, Provenzano MD, Fujimoto EK, Goeke NM, Olson BJ, Klenk DC (1985) Measurement of protein using bicinchoninic acid. Anal Biochem 150:76–85

Sommer JR, Wong F, Petters RM (2011) Phenotypic stability of Pro347Leu rhodopsin transgenic pigs as indicated by photoreceptor cell degeneration. Transgenic Res 20:1391–1395

Viveros A, Centeno C, Brenes A, Canales R, Lozano A (2000) Phytase and acid phosphatase activities in plant feedstuffs. J Agric Food Chem 48:4009–4013

Wagner EF, Stewart TA, Mintz B (1981) The human beta-globin gene and a functional viral thymidine kinase gene in developing mice. Proc Natl Acad Sci USA 78:5016–5020

Wurtele H, Little KC, Chartrand P (2003) Illegitimate DNA integration in mammalian cells. Gene Ther 10:1791–1799
Acknowledgments
This study was funded by research grants from Ontario Pork Producers' Marketing Board, the Natural Science and Engineering Research Council of Canada, and the Ontario Ministry of Agriculture and Food.
Electronic supplementary material
Below is the link to the electronic supplementary material.
About this article
Cite this article
Forsberg, C.W., Meidinger, R.G., Liu, M. et al. Integration, stability and expression of the E. coli phytase transgene in the Cassie line of Yorkshire Enviropig™. Transgenic Res 22, 379–389 (2013). https://doi.org/10.1007/s11248-012-9646-7
Received:

Accepted:

Published:

Issue Date:
Keywords
Transgenic

Porcine

Saliva

Phytase

Phosphorus