Abstract
Based on the use of Agrobacterium tumefaciens-mediated transformation commodity crop improvement through genetic engineering is the fastest adopted crop technology in the world (James 2010). However, the complexity of the Agrobacterium patent landscape remains a challenge for non-patent holders who wish to generate novel varieties for a commercial purpose. The potential of non-Agrobacterium strains (Transbacter™) to modify a plant genome has previously been described. However, they are unlikely to be widely used without significant adjustments in transformation protocols in order to improve their gene transfer efficiencies. In this study we set out to identify alternative bacteria species that could (a) utilize vir genes for genetic transformation and (b) substitute for A. tumefaciens in existing transformation protocols, without a prerequisite for protocol modifications. To this end we isolated a collection (n = 751) of plant-associated bacteria from the rhizosphere of commercially grown crops. Based on various screens, including plant transformation with the open-source vector pCAMBIA5105, we identified a strain of the bacterium Ensifer adhaerens with the capacity to transform both Arabidopsis thaliana (0.12%) and potato (mean transformation frequency 35.1%). Thereafter, Ensifer adhaerens was used to generate blight- (causative organism Phytophthora infestans) resistant potato using the Solanum bulbocastanum 'resistance to blight' (RB) gene. Resistant genotypes were confirmed by associated molecular analysis and resistant phenotypes demonstrated by the development of hypersensitive lesions on inoculated leaf tissue post-pathogen inoculation. These data confirm the potential of Ensifer-mediated transformation (EMT) as a novel platform for the high frequency generation of transgenic potato.
Access options
Buy single article
Instant access to the full article PDF.
US$ 39.95
Tax calculation will be finalised during checkout.
Subscribe to journal
Immediate online access to all issues from 2019. Subscription will auto renew annually.
US$ 119
Tax calculation will be finalised during checkout.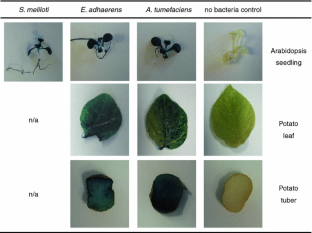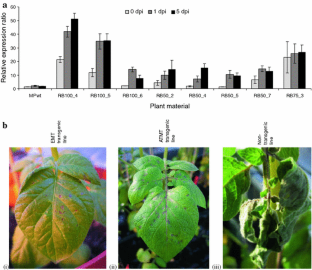 References
Bent AF (2000) Arabidopsis in planta transformation. Uses, mechanisms, and prospects for transformation of other species. Plant Physiol 124(4):1540–1547

Bradeen JM, Kole C (eds) (2011) Cloning of late blight resistance genes: strategies and progress. In: Genetics, genomics, and breeding of potato. Science Publishers, Enfield

Bradeen JM, Iorizzo M, Mollov DS, Raasch J, Kramer LC, Millett BP, Austin-Phillips S, Jiang JM, Carputo D (2009) Higher copy numbers of the potato RB transgene correspond to enhanced transcript and late blight resistance levels. Mol Plant Microbe Interact 22(4):437–446. doi:10.1094/mpmi-22-4-0437

Broothaerts W, Mitchell HJ, Weir B, Kaines S, Smith LMA, Yang W, Mayer EJ, Rodriguez CR, Jefferson RA (2005) Gene transfer to plants by diverse bacteria. Nature 433(10):629–633

Casida LEJ (1982) Ensifer adhaerens gen. nov., sp. nov.: a bacterial predator of bacteria in soil. Int J Syst Bacteriol 32(3):339–345. doi:10.1099/00207713-32-3-339

Chen Y, Halterman D (2011) Phenotypic characterization of potato late blight resistance mediated by the broad-spectrum resistance gene RB. Phytopathology 101:263–270

Dafny-Yelin M, Tzfira T (2007) Delivery of multiple transgenes to plant cells. Plant Physiol 145(4):1118–1128. doi:10.1104/pp.107.106104

Dafny-Yelin M, Levy A, Tzfira T (2008) The ongoing saga of Agrobacterium-host interactions. Trends Plant Sci 13(3):102–105

D'Costa VM, McGrann KM, Hughes DW, Wright GD (2006) Sampling the antibiotic resistome. Science 311(5759):374–377. doi:10.1126/science.1120800

de Framond AJ, Barton KA, Chilton M-D (1983) Mini-Ti: a new vector strategy for plant genetic engineering. Nat Biotech 1(3):262–269

EC (2001) Directive 2001/18/EC of the European Parliament and of the Council of 12th March 2001 on the deliberate release into the environment of genetically modified organisms and repealing Council Directive 90/220/EC. Official Journal of the European Communities L106: 1–39

Fraley RT, Rogers SG, Horsch RB, Sanders PR, Flick JS, Adams SP, Bittner ML, Brand LA, Fink CL, Fry JS, Galluppi GR, Goldberg SB, Hoffmann NL, Woo SC (1983) Expression of bacterial genes in plant cells. Proc Natl Acad Sci USA 80(15):4803–4807

Gelvin SB (1998) The introduction and expression of transgenes in plants. Curr Opin Biotechnol 9:227–232

Gelvin SB (2000) Agrobacterium and plant genes involved in T-DNA transfer and integration. Annu Rev Plant Physiol Plant Molecul Biol 51(1):223–256. doi:10.1146/annurev.arplant.51.1.223

Gelvin SB (2009) Agrobacterium in the genomics age. Plant Physiol 150(4):1665–1676. doi:10.1104/pp.109.139873

Haas JH, Moore LW, Ream W, Manulis S (1995) Universal PCR primers for detection of phytopathogenic Agrobacterium strains. Appl Environ Microbiol 61(8):2879–2884

Hanahan D (1983) Studies on transformation of Escherichia coli with plasmids. J Mol Biol 166(4):557–580

Herrera-Estrella L, Depicker A, Van Montagu M, Schell J (1983) Expression of chimaeric genes transferred into plant cells using a Ti-plasmid-derived vector. Nature 303(5914):209–213

Herres P, Schippers-Rozenboom M, Jacobsen E, Visser R (2002) Transformation of a large number of potato varieties: genotype-dependent variation in efficiency and somaclonal variability. Euphytica 124:13–22

Hooykaas PJJ, Klapwijk PM, Nuti MP, Schilperoort RA, Rorsch A (1977) Transfer of the Agrobacterium tumefaciens TI plasmid to avirulent agrobacteria and to rhizobium ex planta. J Gen Microbiol 98(2):477–484. doi:10.1099/00221287-98-2-477

James C (2010) Global status of commercialized biotech/GM crops: 2010. International service for the aquisition of agri-biotech applications, Ithaca

Janssen PH, Yates PS, Grinton BE, Taylor PM, Sait M (2002) Improved culturability of soil bacteria and isolation in pure culture of novel members of the divisions acidobacteria, actinobacteria, proteobacteria, and verrucomicrobia. Appl Environ Microbiol 68:2391–2396

Kamoun S (2001) Nonhost resistance to Phytophthora: novel prospects for a classical problem. Curr Opin Plant Biol 4(4):295–300

Kramer LC, Choudoir MJ, Wielgus SM, Bhaskar PB, Jiang JM (2009) Correlation between transcript abundance of the RB gene and the level of the RB-mediated late blight resistance in potato. Mol Plant Microbe Interact 22(4):447–455. doi:10.1094/mpmi-22-4-0447

Lacroix B, Tzfira T, Vainstein A, Citovsky V (2006) A case of promiscuity: Agrobacterium's endless hunt for new partners. Trends Genet 22(1):29–37

Maniatis T, Fritsch EF, Sambrook J (2002) Molecular cloning. Cold Spring Harbor, New York

Martin MO (2002) Predatory prokaryotes: an emerging research opportunity. J Mol Microbiol Biotechnol 4(5):467–477

Naqvi S, Farré G, Sanahuja G, Capell T, Zhu C, Christou P (2010) When more is better: multigene engineering in plants. Tr Plant Sci 15(1):48–56

Nottenburg C, Rodríguez CR (2008) Agrobacterium-mediated gene transfer: a lawyer's perspective. In: Tzfira T, Citovsky V (eds) Agrobacterium: From Biology to Biotechnology. Springer, New York, pp 699–735. doi:10.1007/978-0-387-72290-0_20

Petti C, Wendt T, Meade C, Mullins E (2009) Evidence of genotype dependency within Agrobacterium tumefaciens in relation to the integration of vector backbone sequence in transgenic Phytophthora infestans-tolerant potato. J Biosci Bioeng 107:301–306

Pichon B, Egan D, Rogers M, Gray J (2003) Detection and identification of pathogens and host DNA in unfed host-seeking Ixodes ricinus L. (Acari: Ixodidae). J Med Entomol 40(5):723–731. doi:10.1603/0022-2585-40.5.723

Pitzschke A, Hirt H (2010) New insights into an old story: Agrobacterium-induced tumour formation in plants by plant transformation. EMBO J 29(6):1021–1032

Prokaryotes JCOTICOSO (2008) The genus name Sinorhizobium Chen et al. 1988 is a later synonym of Ensifer Casida 1982 and is not conserved over the latter genus name, and the species name 'Sinorhizobium adhaerens' is not validly published. Opinion 84. Int J Syst Evol Microbiol 58 (8):1973. doi:10.1099/ijs.0.2008/005991-0

Rogel MA, Hernandez-Lucas I, Kuykendall LD, Balkwill DL, Martinez-Romero E (2001) Nitrogen-fixing nodules with Ensifer adhaerens harboring Rhizobium tropici symbiotic plasmids. Appl Environ Microbiol 67(7):3264–3268. doi:10.1128/aem.67.7.3264-3268.2001

Song J, Bradeen JM, Naess SK, Raash JA, Wielgus SM, Haberlach GT, Liu J, Kuang H, Austin-Phillips S, Buell CR, Helgeson JP, Jiang J (2003) Gene RB cloned from Solanum bulbocastanum confers broad spectrum resistance to potato late blight. Pro Natl Acad Sci USA 100(16):9128–9133

Tzfira T, Citovsky V (2006) Agrobacterium-mediated genetic transformation of plants: biology and biotechnology. Curr Opin Biotechnol 17:147–154

Van der Vossen E, Sikkema A, te Lintel Hekkert B, Gros J, Stevens P, Muskens M, Wouters D, Pereira A, Stiekema W, Allefs S (2003) An ancient R gene from the wild potato species Solanum bulbocastanum confers broad-spectrum resistance to Phytophthora infestans in cultivated potato and tomato. Plant J 36(6):867–882

Van der Vossen E, Gros J, Sikkema A, Muskens M, Wouters D, Wolters P, Pereira A, Allefs S (2005) The Rpi-blb2 gene from Solanum bulbocastanum is a Mi-1 gene homolog conferring broad-spectrum late blight resistance in potato. Plant J 44(2):208–222

van Veen RJM, den Dulk-Ras H, Bisseling T, Schilperoort RA, Hooykaas PJJ (1988) Crown gall tumor and root nodule formation by the bacterium Phyllobacterium myrsinacearum after the introduction of an Agrobacterium Ti plasmid or a Rhizobium Sym plasmid. Mol Plant Microbe Interact 1:231–234

van Veen RJM, Dulk-Ras H, Schilperoort RA, Hooykaas PJJ (1989) Ti plasmid containing Rhizobium meliloti are non-tumorigenic on plants, despite proper virulence gene induction and T-strand formation. Arch Microbiol 153(1):85–89. doi:10.1007/bf00277546

Vandesompele J, De Preter K, Pattyn F, Poppe B, Van Roy N, De Paepe A, Speleman F (2002) Accurate normalization of real-time quantitative RT-PCR data by geometric averaging of multiple internal control genes. Genome Biol 3 (7):research0034.0031–research0034.0011

Velázquez E, Palomo JL, Rivas R, Guerra H, Peix A, Trujillo ME, García-Benavides P, Mateos PF, Wabiko H, Martínez-Molina E (2010) Analysis of core genes supports the reclassification of strains Agrobacterium radiobacter K84 and Agrobacterium tumefaciens AKE10 into the species Rhizobium rhizogenes. Syst Appl Microbiol 33(5):247–251

Visser R, Bachem C, de Boer J, Bryan G, Chakrabati S, Feingold S, Gromadka R, van Ham R, Huang S, Jacobs J, Kuznetsov B, de Melo P, Milbourne D, Orjeda G, Sagredo B, Tang X (2009) Sequencing the potato genome: outline and first results to come from the elucidation of the sequence of the world's third most important food crop. Am J Potato Res 86(6):417–429. doi:10.1007/s12230-009-9097-8

Wendt T, Doohan F, Winckelmann D, Mullins E (2011) Gene transfer into Solanum tuberosum via Rhizobium spp. Transgenic Res 20(2):377–386. doi:10.1007/s11248-010-9423-4

Willems A, Fernandez-Lopez M, Munoz-Adelantado E, Goris J, De Vos P, Martinez-Romero E, Toro N, Gillis M (2003) Description of new Ensifer strains from nodules and proposal to transfer Ensifer adhaerens Casida 1982 to Sinorhizobium as Sinorhizobium adhaerens comb. nov. request for an opinion. Int J Syst Evol Microbiol 53(4):1207–1217. doi:10.1099/ijs.0.02264-0

Zhang Z, Schwartz S, Wagner L, Miller W (2000) A greedy algorithm for aligning DNA sequences. J Comput Biol 7(1–2):203–214. doi:10.1089/10665270050081478
Acknowledgments
The authors wish to acknowledge the Teagasc Core Research Program for funding this research and the Teagasc Walsh Fellowship Scheme for providing a stipend for T. W.
Electronic supplementary material
Below is the link to the electronic supplementary material.
About this article
Cite this article
Wendt, T., Doohan, F. & Mullins, E. Production of Phytophthora infestans-resistant potato (Solanum tuberosum) utilising Ensifer adhaerens OV14. Transgenic Res 21, 567–578 (2012). https://doi.org/10.1007/s11248-011-9553-3
Received:

Accepted:

Published:

Issue Date:
Keywords
Ensifer adhaerens

Transformation

Non-Agrobacterium strains
Solanum tuberosum

Transgenic

Phytophthora infestans